Part One What is a Pediatric Nurse?
Pediatric nurses are Registered Nurses (RNs) or Advanced Practice Registered Nurses (APRNs), who decide to pursue specialty training in pediatrics. Doing so allows them to take on roles in which they can work specifically with babies, toddlers, tweens, and teens. Because there are so many conditions and issues that are specific to growing and developing bodies, pediatric nursing requires specialized knowledge to provide the best patient care. This article will explain how to become a pediatric nurse. 
Pediatric RNs may work in a hospital's pediatric department, for example. They need to have at the minimum an Associate's Degree in Nursing (ADN) or a Bachelor's of Science in Nursing (BSN) and be certified as Registered Nurses in order to practice in this role.
There are also Pediatric Nurse Practitioners (PNPs) who take on additional responsibilities such as prescribing medications, performing developmental screenings, and administering immunizations. They hold advanced degrees in nursing and pass additional exams in order to practice.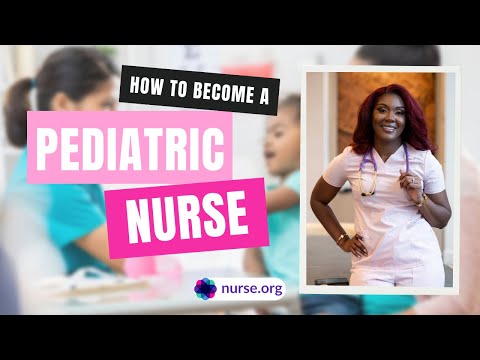 Being a pediatric nurse means that you'll have to know how to handle the sensitivities and limitations of the age of the patient you're caring for. You'll have to be a great communicator with a comforting bedside manner who can inform and educate worried parents. Helping children to grow up big and strong is really at the heart of what pediatric nurses do every day, making it an important career for a healthy population.
Part Two What Does a Pediatric Nurse Do?
Every job has its own unique job responsibilities, but one thing that remains constant through every pediatric nursing job is interaction with children. Patients ranging in age from newborn to teens have far different needs and frames of reference than adults do, so though pediatric nurses will require the same nursing skills as those who provide care to adult populations, they will also benefit from background knowledge in subjects ranging from fairy tales and cartoon characters to video games and the latest songs.  
Depending upon the work setting, duties will include:
Administering and educating about vaccines
Administering medication and treatments
Assessing patients' conditions
Creating nursing care plans for patients
Helping perform diagnostic tests and analyzing their results
Helping to coordinate follow-up medical care
Monitoring vital signs
Observing behaviors and recording observations
Performing physical assessments
Recording symptoms and medical histories
Taking blood and urine samples
Teaching patients and their families how to manage illnesses or injuries
While pediatric nurses working in a physician's office will see far different patients and families than their compatriots who work in a PICU (pediatric intensive care unit) or a pediatric oncology center, all pediatric nurses will require the ability to listen and observe both verbal and non-verbal cues; to understand the unique needs and healing powers of children; and to be able to understand that though their patients are the children, they will also need to extend their care practice to the adults in their patients' lives.
Part Three What Is it Like to Work as a Pediatric Nurse?
As for what the daily job is like, it really depends on the type of health care facility. Pediatric nurses in hospitals will work a variety of shifts that provide care 24/7, while those working for a community organization might have more traditional hours.
The hours that a pediatric nurse will work are also dependent upon these variables, as well as whether the facility assigns nurses to specific shifts. In most hospitals, pediatric nurses will work a 12-hour period per shift, and that may stretch into more time if patient needs are high. If the facility uses a three-shift model with overlapping shifts, the pediatric nurse will likely work a ten-hour shift.
For those pediatric nurses who work in clinics or private offices, working hours will generally be restricted to daytime, between 8 in the morning and 5 at night, though an increasing number of pediatric sites are offering extended evening and weekend hours.
Part Four Pediatric Nurse Salary
The median annual salary for RNs was $77,600 or $37.31 per hour, according to the Bureau of Labor Statistics (BLS) but Salary.com reports that the average Pediatric Nurse salary in the United States is $75,000. 
Keep in mind that salaries for any nurse can vary greatly, increasing with experience and depending on the employer. For example, a school nurse in a small private school will likely earn much less than a pediatric nurse at a prestigious children's hospital.
Highest Paying Cities for Pediatric Nurses
Another big determining factor in a pediatric nurse's salary is the location in which one works. According to ZipRecruiter.com, the 10 cities with the highest average salary for pediatric nurses include:
New York City, NY - $100,308
San Mateo, CA - $97,221
Boston, MA - $95,350
Daly City, CA - $95,267
Berkeley, CA - $95,217 
Green River, WY - $94,516 
Santa Monica, CA - $94,110
Renton, WA - $94,025
Juneau, AK - $93,774
Palm Springs, CA - $93,692
Part Five How to Become a Pediatric Nurse
Whether becoming a pediatric nurse has been your lifelong dream or whether you're newly considering the profession, you'll find that the effort you put into attaining the skills and education needed for this specialty are well worth it.  Though there are a variety of options for how to achieve this goal, today most nurses follow a path that involves pursuing either a Bachelor's degree in nursing or a Master's degree. Here's an overview of how long it will take:
Earn your Bachelor of Science in Nursing or your Master's Degree – 4-5 years
Get licensed as a Registered Nurse 
Gain invaluable experience working as a Registered Nurse – 2 years
Take and pass the National Certification Examination for Certified Pediatric Nurse 
Step One: Become an RN
The first step for becoming any type of nurse is to become an RN, or Registered Nurse. From there, you can go into different specialty areas like pediatric nursing. To become a licensed RN, you must complete an approved program of study (either a bachelor's or associate degree program), and pass the NCLEX-RN.
For more information on becoming an RN, see our RN Career Guide.
Step Two: Gain Experience
Once you become a practicing RN, you can seek out positions that will give you experience in pediatrics. This can help you decide whether to pursue the specialty and earn additional certifications.
Step Three: Decide Whether to Pursue an Advanced Degree
As mentioned, to become an RN, you must complete a degree program in nursing. You may also choose to pursue an advanced degree or even go on to become a nurse practitioner who specializes in pediatrics.
See our Nurse Practitioner Guide for more details on this career path.
Step Four: Get Certified
To really showcase a special knowledge of pediatrics, RNs can take additional certification exams.
There are currently three organizations that offer pediatric nurse certification: 
Each has an exam, requirements for recertification, and exam eligibility criteria.
>> Explore Pediatric Nurse Certification Review Materials* 
Part Six Top Pediatric Nurse Practitioner Programs
There are numerous programs that prepare students to become pediatric nurse practitioners and our panel of nurses ranked them based on factors mentioned in the methodology. Because individual nursing pathways and careers take various forms, the top 10 programs are ranked in no particular order. 
Annual Tuition: $78,720
Online: No
Program Length: 1 year
Founded in 1740, the Philadelphia-based University of Pennsylvania is one of the oldest institutions in the nation. The university has an impressive 6:1 student-to-faculty ratio, so nursing students get plenty of one-on-one time with professors. UPenn's pediatric primary care nurse practitioner program comes in either a full-time one-year option or 2-3 year part-time option, so students have several options. The program leads to an MSN, meaning students take fewer courses than if they enrolled in a DNP. UPenn prefers applicants to have a BSN, RN license, and a year of pediatric nursing experience. 
Tuition: $12,896/semester
Online: Yes
Program Length: 2 years
Often considered one of the best universities in the world, Duke University teaches over 15,500 students each year. Duke's NP programs, including its pediatric NP-primary care MSN, are also among the best in the world. The pediatric NP MSN takes just one year to complete, comes in both part-time and full-time formats, and uses a hybrid of online courses and onsite clinicals and simulations. Current NPs looking to transition into pediatric nursing can enroll in Duke's post-graduate pediatric NP-primary care program, too. 
Quarterly Tuition: $9,934/resident $14,150/non-resident
Online: Hybrid
Program Length: 3 years
Located in Seattle, the University of Washington doesn't offer an MSN in pediatric nursing. Instead, aspiring pediatric nurses enroll in UW's pediatric NP primary care DNP, a three-year program designed for current BSN holders. Students practice at some of the best healthcare facilities in the region, including Seattle Children's Hospital. At the end of the program, students complete a final project with a local clinical agency or organization. Courses come in a hybrid format, so students must live in the Seattle area. 
Annual Tuition: $68,140
Online: No
Program Length: 2 - 3 years
A top research center located in busy New York City, Columbia University is a top destination for graduate students. Columbia's DNP in pediatric primary care takes two to three years to complete, and students complete clinicals across the tri-state area. Columbia states that students complete coursework over a two-year period, though clinicals can easily push this program closer to three years in length. Upon graduation, students become eligible to earn licensure in New York, though many graduates go on to work in other states. 
Annual Tuition: $50,713
Online: No
Program Length: 2 years
Yale University, an Ivy League school founded in 1701, offers its pediatric nurse practitioner-acute care program as both an MSN or post-master's certificate. The master's degree takes two years to complete, so the total program cost could be higher than other options. However, Yale also lets students select a concentration in diabetes care, oncology, gender and sexuality health justice, or research. Students can also opt to study part-time and continue working while earning their degree. 
Annual In-State Tuition: $28,278 Annual Out-of-State Tuition: $33,770
Online: Hybrid
Program Length: 3 years
Founded as the Pittsburgh Academy in 1787, the University of Pittsburgh is now one of the best public schools in the nation. Pitt is particularly renowned for its doctoral programs, including the DNP in pediatric primary care. Created for current BSN holders, the DNP takes three years to complete and leads to certification in Pennsylvania. Most courses in the program are on-campus, though several can be completed from a distance. Pitt also offers an MSN-DNP for current NPs, and this option comes entirely online. As a public school, Pitt is an excellent option for anyone who can take advantage of the in-state tuition rate. 
Annual Tuition: $39,168 (based on per-credit tuition rate)
Online: Yes
Program Length: 2-3.5 years
The academic part of Rush University Medical Center, Rush University, provides some of the best medical and nursing programs in the MidWest. Located in Chicago, Illinois, Rush provides students with plenty of excellent clinical practice sites. Rush's DNP in primary care pediatric nursing takes as little as two years to complete, though some students take as many as three and a half years. Created for nurses with a BSN, the DNP primarily comes in a part-time format with most courses offered online. Students complete their clinicals around Chicago, the main in-person requirement for the DNP. 
Annual Tuition: $57,518

Online: Hybrid
Program Length: 3 years
Johns Hopkins University, a private school located in Baltimore, Maryland, is the nation's original research university. The university is best known for its graduate degrees, particularly those in scientific fields. The DNP in pediatric primary care nursing has students complete most of their courses online, except for some on-campus immersions. The program only accepts BSN or MSN students with at least one year of RN experience, though no previous pediatric nursing experience is required. While the cost is steep, Johns Hopkins is recognized worldwide for its academic excellence. 
Tuition: $1,883/Credit Hour 
Online: Hybrid
Program Length: 1 year
Vanderbilt University has a prime location in Nashville, Tennessee, and is home to one of the best medical facilities in the region. Nurses who enroll in the pediatric NP MSN program complete clinical at Vanderbilt and in the nearby area, including in Kentucky and Alabama. Students can also ask to get placed outside of the area, which is useful for anyone looking for certification in a specific state. The MSN embraces distance learning, letting students complete a large portion of their education online. Full-time students finish this program in just one year, so the steep price is essentially a one-time cost. 
Annual In-State Tuition: $31,755 Annual Out-of-State Tuition: $44,000
Online: No
Program Length: 2 years
A national leader in healthcare education, the University of California San Francisco offers one of the best MSN programs in pediatric nurse practitioner primary care. Students in the program enjoy clinical rotations in various settings across the Bay Area, from public health clinics to private family practices. Interestingly, UCSF does not require any previous RN experience, so anyone can apply for this advanced nursing program. Of course, non-RN applicants must complete basic nursing courses and clinicals during the program. Anyone who lives in California can take advantage of UCSF's lower in-state tuition rates, too. 
Methodology
This list is based on a number of factors including:
Reputation
Tuition
Acceptance rate, when available
Only ACEN or CCNE accredited schools are eligible
Many pediatric nurses choose to earn a graduate degree, so this list takes into account the best graduate degrees for pediatric nurses. 
Nurse Panel
Our selection panel is made up of 3 Registered Nurses with years of experience and multiple degrees:
Tracy Everhart, MSN, RN, CNS
Tyler Faust, MSN, RN
Kathleen Gaines, MSN, BSN, RN, BA, CBC
Part Seven Where Can a Pediatric Nurse Work?
One of the real perks of becoming a pediatric nurse is that you can choose from all sorts of employment opportunities, as long as there are babies or children involved. Hospitals and private pediatrician offices are the most obvious choices; however, there is a need for pediatric nurses in clinics, government agencies, social service agencies, community groups, and schools.
Some pediatric nurses choose to focus on positions that provide family health education and offer health fair presentations and screenings.
According to The Institute of Pediatric Nursing, here is a breakdown of the most common pediatric nursing jobs:
30.3% in free-standing children's hospitals
28.3% in children's hospitals associated with a major medical center
11.7% in outpatient specialty care
9.9% in community hospitals
5.1% in an outpatient primary care
4.8% in a major medical center
2.4% in a school setting
2% in home health care
0.8% in an ambulatory surgery center
0.4% in a psychiatric/mental health facility
0.2% in urgent care
0.2% in rehabilitation or extended care facilities
Part Eight What Skills Do You Need to Be a Pediatric Nurse?
Pediatric nurses require a wide range of skills, including the ability to remain calm under pressure and communicate easily with both children and adults.
Additionally, it is helpful for nurses working with this special patient population to possess personal characteristics that will help them to engage with their patients and provide them with the high level of compassion, relatability, and understanding that they need.
People who are sensitive, empathetic, emotionally stable and responsible make excellent pediatric nurses.
Part Nine
What is the Career Outlook for a Pediatric Nurse?
Nursing will continue to be an in-demand field because of the impending nursing shortage and the aging population. In fact, RN jobs are projected to have a growth rate of 9% through the year 2030, which is faster than most occupations, according to the BLS. Adding a specialty like pediatric nursing will likely provide even more job security.
In addition, pediatric nurses are highly sought after by some types of employers. For instance, working for a children's hospital is a natural fit for pediatric nurses. Considering that Children's Hospital of Philadelphia, Texas Children's Hospital in Houston, and Boston Children's Health are all on the list of the 25 Best Hospitals to Work For 2021-22, you can understand why pediatric nursing can be a very rewarding career.
Having specialized skills is also an excellent way to be a strong candidate for travel nursing jobs. Travel nurses get to work short-term jobs all over the country, usually for 12-week contracts (or sometimes longer). Being experienced and having credentials in a high-demand area like pediatrics can give you an edge.
Part Ten Where Can I Learn More About Pediatric Nursing Careers?
To learn more about pediatric nursing careers, it's a good idea to explore the resources offered by the various professional associations. Here are a few to start with:
Additionally, Nurse.org is an invaluable resource for everything you need to know about a career as a pediatric nurse. You'll find the answers to many of your questions in these articles:
Being a pediatric nurse is an incredibly rewarding career. By helping children thrive, you help the world to do so too.
*Indicates an affiliate link. At no additional cost to you, Nurse.org may earn a commission if you click through and use this service.
RN
$70,000 - $90,000
Associate
Bachelors
Pediatric
Bedside