Neonatal Intensive Care Unit (NICU) nursing is a specialty of nursing that deals with the care of sick or premature babies, as well as babies dealing with birth defects. NICU nurses are registered nurses that have gained experience working with neonatal patients and potentially also become certified in an area related to this. You can have either an ADN or a BSN to work as a neonatal nurse.
It takes a special person to become a nurse, but that's even more true for those who go on to become Neonatal Intensive Care Unit (NICU) nurses. These dedicated professionals care for the most fragile patients there are -- sick and premature newborns. In addition, they are on the front lines when it comes to helping scared parents through what is often a traumatic experience. 
Find out more about what it takes to become a NICU nurse, and why those who choose this track, are doing society a special service.
Part One What Is a Neonatal Nurse?
There are many types of nursing specialties, some of which deal with a particular type of patient. That is the case for Neonatal Intensive Care Unit (NICU) Nurses. Their primary patients are sick and/or premature babies, or babies dealing with various forms of birth defects. These patients need to be cared for and monitored, sometimes for weeks or months, until they are hopefully healthy and developed enough to go home.
According to the National Association of Neonatal Nurses (NANN), there are approximately 40,000 low-birth-weight infants born each year in the United States. Thanks to advances in medicine, highly skilled NICU nurses, and other healthcare professionals, survival rates are improving. In fact the survival rate is now 10 times better than it was 15 years ago.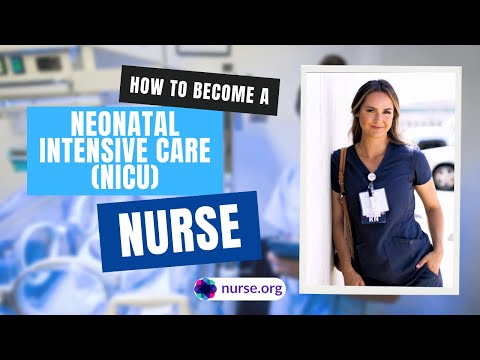 Show Me Neonatal Nursing Programs
Part Two What Does a Neonatal Nurse Do?
In addition to hands-on patient care, monitoring, and feeding of the babies, NICU nurses also work intimately with moms and dads, who are going through this emotional experience with their newborn. NICU nurses provide comfort and education to help families get through this trying time.
According to NANN, neonatal nursing generally involves care for newly-born infants in crisis, but may additionally encompass neonates who suffer from long-term problems related to being born early, or from some severe illness encountered soon after birth. Some neonatal nurses may even care for babies up to about 2 years of age. NICU nurses are not only responsible for the care of the babies but also the entire family unit. They often act as a shoulder to cry for distraught parents, assist with breastfeeding to new mothers, and provide lasting memories to new parents. 
Day in the Life of a Neonatal NICU Nurse
A day in the life of a NICU nurse is demanding and can range from basic newborn care to monitoring seriously ill patients. NICU units operate 24/7, so most nurses work 12-hour shifts, which include some nights and weekends. Most large private and public hospitals have a NICU, while smaller facilities or medical centers may not have a full department or any at all.
NICU nurses will at times have more "downtime" than a typical bedside nurse. Because sleep and rest are so important to growth in the neonatal population, nurses working in the NICU will generally provide hands-on care to patients every three to four hours and monitor in between. 
NICU Levels of Care
Level I: Basic newborn care
Level II: More advanced newborn care 
Level III: Neonatal ICU (Where most NICU nurses will work)
Level IV: This is the most intense level of newborn care for babies born with serious birth defects. Usually found at children's hospitals, university hospitals, or destination centers.
Generally speaking, working in a NICU is considered level three nursing care (level one is care for healthy infants, and level two is for less serious neonatal cases). 
NICU nurses monitor the vital signs of the more seriously ill or premature infants day and night to make sure they are breathing and developing properly. They also administer medications, record the newborn's progress and recovery, change diapers, and calm babies in distress.
How Many Patients Does a Neonatal Nurse Work With?
Depending on the status of the patients and how many babies are born in a given period of time, NICU nurses usually work with just a few infants at a time. Typically nurses can expect to care for one or two patients at a time. If there are serious medical issues, the more experienced NICU nurses in a team might focus on just one or two cases.
Skills Needed to be a Neonatal Nurse
It does take a specialized set of skills–beyond just medical ones–to work in the NICU.  It can be fast-paced, stressful, and emotional, especially when working with family members. Strong communication skills and a calm, empathetic demeanor are key. In addition, because the patients are so tiny and even the smallest error can be life-threatening, a precise attention to detail cannot be understated.
Neonatal Nurse Scope of Practice
Like other RNs, NICU nurses work under a Scope of Practice, a set of state laws that define your rights and responsibilities as a nurse, and authorize you on how to function when providing various aspects of medical care.
You can find your state's Nurse Practice Act via the National Council of State Boards of Nursing. 
Listen to Nurse Tori on the Ask Nurse Alice Podcast "ALL ABOUT NICU NURSING: why Nurse Tori became a NICU nurse" now on Apple Podcasts, Spotify, and all podcasting platforms. 
Part Three Neonatal (NICU) Nurse Salary
When it comes to salary ranges for nursing, a good rule of thumb is to understand how much RNs earn, and then estimate that the compensation will be slightly higher for the specialization. However, that is not true for all nursing specialties. Generally speaking, NICU nurses earn more than other nursing specialties because of the complexity and acuity of the patients. 
According to ZipRecruiter, as of July 2022, the average neonatal (NICU) nurse salary is $120,317 annually or $57.84 per hour.
In New York City, for example, ZipRecruiter reports an average annual salary of $140,308, which is above the national average.
The highest paying states for NICU nurses according to ZipRecruiter are:
Highest Paying States for NICU Nurses

| State | Annual Salary | Hourly Wage |
| --- | --- | --- |
| New York | $140,308 | $67.46 |
| New Hampshire | $132,557 | $63.73 |
| Vermont | $130,712 | $62.84 |
| Arizona | $123,248 | $59.25 |
| Montana | $122,844 | $59.06 |
It's fair to say that NICU nurses–and in all areas of nursing–salary is commensurate with experience, and large cities and well-known medical institutions will pay higher salaries.
Opportunities for overtime, bonuses, and other financial perks will also vary by employer. However, in most cases, when working for a hospital or medical facility, nurses receive a generous benefits package to go along with salary.
Show Me Neonatal Nursing Programs
Part Four What Is the Career Outlook for Neonatal Nurses? 
The job outlook for nursing professionals of all types is expected to be strong. As reported in The Atlantic, about one million registered nurses (RNs) working today (about a third of the workforce) are over the age of 50. Nearly 700,000 nurses are projected to retire or leave the labor force by 2024. The U.S. Bureau of Labor Statistics estimates that the healthcare sector has lost nearly half a million workers since February 2020. While the number doesn't specifically identify the number of nurses that have left - an overwhelming number are bedside nurses.
As they begin retiring over the next decade, new RNs will be in demand to fill those roles; in fact, there is expected to be 1.2 million vacancies between 2014 and 2022. As such, the BLS projects that the employment of registered nurses should grow 9 percent from 2020 to 2030. Making a nursing career an excellent choice. 
For NICU nurses specifically, that demand may even be slightly greater. Anytime specialized credentials and skills are involved, it can be more challenging to keep the talent pipeline full. In other words, nurses who go on to careers in the NICU are equipped with a skill set that will be in demand for years to come.
Part Five How Do You Become a Neonatal Nurse?
Before you become a NICU nurse, you have to become a registered nurse and gain some experience. Here are the steps you need to take:
1. Become an RN
In order to become a registered nurse, you have to graduate from a program of study that is approved by your State Nursing Board, either a bachelor's degree or associate degree program. Upon completion, you have to pass the NCLEX-RN.
2. Gain Experience
You'll need to get two or more years of clinical experience working with neonatal patients under your belt before applying to take a certification exam for neonatal nursing. In order to eventually work in a NICU, you should aim for experience in units such as:
Pediatric Nursing
Maternal-Child Nursing
Well Baby Nursing
Labor and Delivery Nursing
3. Take a Certification Exam
Although certification isn't necessarily required to work in a NICU, earning one will help with career advancement and qualify you for more prestigious or higher-level positions.
There are several main certifications available to NICU nurses. These include:
Part Six Top Neonatal Nurse Programs
Methodology
This list is based on a number of factors including:
Reputation
NCLEX pass rate
Tuition
Acceptance rate, when available
Only ACEN or CCNE accredited schools are eligible
Nurse Panel
Our selection panel is made up of 3 Registered Nurses with years of experience and multiple degrees:
Tracy Everhart, MSN, RN, CNS
Tyler Faust, MSN, RN
Kathleen Gaines, MSN, BSN, RN, BA, CBC
There are numerous registered nursing programs and our panel of nurses ranked them based on factors mentioned in the methodology. Because individual nursing pathways and careers take various forms, the top 10 neonatal NICU nurse programs are ranked in no particular order. 
Annual In-State Tuition: $14,677 Annual Out-of-State Tuition: $35,139
Online: No
Program Length: 4 years
The University of Massachusetts Boston, located on the water right next to the John F. Kennedy Library and Presidential Museum, offers a prime combination of excellent location and low cost for MA residents. The BSN program takes 2.5-4 years to complete (depending on whether students select direct entry or transfer in), and students get to enjoy clinicals at excellent locations across the area, including the renowned Boston Children's Hospital. This could help students gain early NICU exposure, preparing them for their future careers. Also, all NE region residents receive a discounted tuition rate, so students in the area should consider this program.
Annual Tuition: $56,212
Online: No
Program Length: 4 years
A private, Ivy League school located in Philadelphia, the University of Pennsylvania might have the best all-around nursing school in the nation. Students who enroll in the BSN learn important nursing skills with an emphasis placed on cultural awareness and community involvement. Those planning on becoming NICU nurses could benefit from the great clinical locations, including the Children's Hospital of Philadelphia, the nation's first-ever hospital devoted entirely to children. The cost of this private school is steep, but BSN students would have a hard time finding a better program. 
Quarterly In-State Tuition: $4,026 Quarterly Out-of-State Tuition: $13,302
Online: No
Program Length: 4 years
Located in Seattle, the University of Washington is one of the best schools in the state. Perhaps best known for its research degrees, UW still boasts an excellent BSN program that sees students complete over 1,000 clinical hours at sites across the region. Aspiring NICU nurses could get placed at Seattle Children's Hospital, one of the best children's hospitals in the West. Over 98% of nurses in the program graduate and UW boasts an above-average NCEX pass rate for first-time test-takers. 
Annual In-State Tuition: $25,110 Annual Out-of-State Tuition: $44,100
Online: No
Program Length: 4 years
With its main campus located in downtown Denver, the University of Colorado Denver is the state's only public, urban research institution. However, students enrolled in the BSN will attend courses at CU Denver's nearby campus in Aurora. Students can choose from various BSN routes, though most students choose the traditional BSN, a two-year program that accepts students who completed two years of prerequisite courses. The program uses a cohort system, so nursing students work closely with one another. Also, the university might place students in clinicals at Children's Hospital Colorado, a top-ranked children's hospital. 
Annual Tuition: $61,872
Online: No
Program Length: 4 years
Georgetown University, located in Washington, D.C., is one of the nation's top research universities. The university also happens to be private, meaning students don't get access to discounted tuition rates. While costly, nursing students do get to earn one of the best BSN degrees in the nation. The BSN allows for direct-entry, and students begin clinicals during their first year. By the end of the program, students will have earned over 850 clinical hours at excellent sites in the area, including Children's National Hospital. Graduates of the program end up in a variety of positions, including neonatal nursing. 
Annual Tuition: $42,230
Online: No
Program Length: 4 years
A Jesuit university located in Cincinnati, Xavier University is a mid-sized school with just 4,500 undergraduate students. The small size might make the nursing school more exclusive, but Xavier's 98% of graduates find a healthcare role within six months of graduating. Many graduates also end up working at Cincinnati Children's Hospital Medical Center, a great place to earn NICU experience and one of Xavier's top clinical rotation sites. Xavier may have a high private school cost, but many students secure some form of financial aid. 
Annual In-State Tuition: $37,129 Annual Out-of-State Tuition: $68,155
Online: No
Program Length: 4 years
Known for its great location and excellent sports, the University of California Los Angeles also has some of the top academic programs in the region, including its BSN. A great choice for anyone who wants to become a nurse in California, UCLA's BSN includes plenty of clinical experience and a clinically-based scholarly project at the end of students' fourth year. Students enjoy clinicals at great sites, including Children's Hospital Los Angeles. The early exposure to working with children and UCLA's location could help graduates secure an NICU position in California. 
Annual In-State Tuition: $23,452 Annual Out-of-State Tuition: $41,508
Online: No
Program Length: 4 years
Founded in 1787, the University of Pittsburgh now teaches nearly 23,500 undergraduate students. Pitt strives to give nursing students an all-around education, requiring courses through the Dietrich School of Arts and Sciences as students also take nursing courses. Students get clinical exposure during their first year through a skills lab, then get placed in rotations during their second year. Clinical sites include many of the best regional healthcare facilities, including Pitt's own UMPC Children's. Graduates could end up finding a position at UMPC Children's or other great spots in the area.
Annual In-State Tuition: $14,544.60 Annual Out-of-State Tuition: $29,784.60
Online: No
Program Length: 4 years
With over 46,000 students, the University of Houston is one of the largest on this list. However, UH's size doesn't detract from the quality of its nursing program. BSN students earn over 900 hours of clinical experience through rotations and labs, and those interested in neonatal nursing could gain experience at Texas Children's Hospital. Nursing students complete the first two years of the BSN in Houston, followed by two years at the Katy instructional site. On top of the low in-state tuition rate, students can also secure financial aid and scholarships.
Annual In-State Tuition: $9,351 Annual Out-of-State Tuition: $24,237
Online: No
Program Length: 4 years
The Ohio State University, a top public university located in Columbus, enrolls over 68,000 students, making it the largest school on this list. Despite the university's large size, OSU's BSN program is highly competitive, particularly for Ohio residents looking to secure in-state tuition. Graduates end up finding excellent careers, and gaining clinical experience at Columbus' Nationwide Children's Hospital could help prepare students for a career in NICU nursing. Overall, OSU offers relatively low tuition rates for a great education, making this a good pick for anyone looking to become a neonatal nurse. 
Show Me Neonatal Nursing Programs
Part Seven What Are the Continuing Education Requirements for Neonatal Nurses?
NICU nurses do not necessarily have specific requirements beyond state-mandated continuing education. However, advanced certification such as the CCRN and RNC-NIC do require specific  CEUs.
All NICU nurses are required to maintain an RN license regardless of advanced certification.
Continuing education requirements for the license differ for each state. Monetary fees and other state-specific criteria are also associated with all license and certification renewals.  
Examples of continuing education requirements for RNs are as follows: 
California - 30 CEUs every two years
Florida - 24 CEUs every two years
Hawaii - 30 CEUs every two years
Oklahoma - 24 CEUs every two years
Pennsylvania - 30 CEUs every two years
 A comprehensive list can be found here.  
Certification CEU requirements are specific to the certification. It is important to check the certification body prior to renewal date to ensure all requirements are being met. For example, the CCRN Neonatal requires the following for recertification,
Completion of 100 CERPs is required, with a minimum of 60 CERPs in Category A and 10 each in Categories B and C, plus 20 in the category of your choice.

CERPs are a specific type of continuing education

Clinical practice hours are required. Practice as an RN or APRN for 432 hours in direct care of acutely/critically ill neonatal patients during the three-year certification renewal period, with 144 of those hours accrued in the 12-month period prior to the scheduled renewal date is required.
Part Eight What is the Difference Between a Neonatal Nurse and a Neonatal Nurse Practitioner?
A Neonatal Intensive Care Unit (NICU) Nurses and Neonatal Nurse Practitioners are similar roles, but the difference is in the education requirements and scope of practice. A Neonatal Nurse is a Registered Nurse that works in the NICU and works under the supervision of physicians and Neonatal Nurse Practitioners. Neonatal Nurse Practitioners have completed either a Master's or Doctorate level of education and become certified. For more on what a Neonatal Nurse Practitioner is and what they do, check out our Neonatal Nurse Practitioner Career Guide. 
Show Me Neonatal Nursing Programs
Part Nine Where Can I Learn More About Neonatal Nursing?
To learn more about Neonatal and NICU nursing, take advantage of the resources provided and consider joining the following professional associations:
Part Ten Neonatal Nurse Jobs
The more advanced your degrees and/or certifications are, the more likely you are to get the position you want as a Neonatal Intensive Care Nurse. 
The best opportunities will be in large hospitals that have a full-fledged NICU department that provides both level II and level III care. 
NICU nurses play perhaps one of the most important roles in our health care system in that they are there when life begins, and are often instrumental in helping high-risk newborns survive and thrive. They also act as a great source of comfort and information to the parents who spend those first few days or weeks as parents in the NICU.
For aspiring nurses who love the idea of working with infants to improve their health and get them home, NICU nursing is not only a high-demand specialization, but also a fulfilling career choice. Check out NICU nurse jobs hiring now on our job board. 
*Indicates an affiliate link. At no additional cost to you, Nurse.org may earn a commission if you click through and use this service.
RN
$70,000 - $90,000
Associate
Bachelors
Neonatal
Bedside