Pros & Cons of Getting a Master's Degree in Nursing (MSN)
Whether you're a nursing professional, a Registered Nurse, or a nursing student you might be looking to taking your career to the next level. To obtain the most advanced nursing positions, one of the biggest requirements is that you complete a master's degree in nursing, also called a Master of Science in Nursing or MSN.
Of course, like any graduate-level program of study, pursuing an MSN is a big investment of money, time, and effort, so you want to be sure that you know what you're getting into before you move forward.
Start by exploring what an MSN is all about, and then consider some of the pros and cons of an MSN so you can decide if the benefits are worth it.
You might decide it's something you can handle right now, or you may want to revisit this endeavor later.
How To Get Your Master of Science in Nursing (MSN)
Master's degree in nursing programs are similar to other master's level programs in that they usually take about two years to complete (if you're taking a full course load, that is).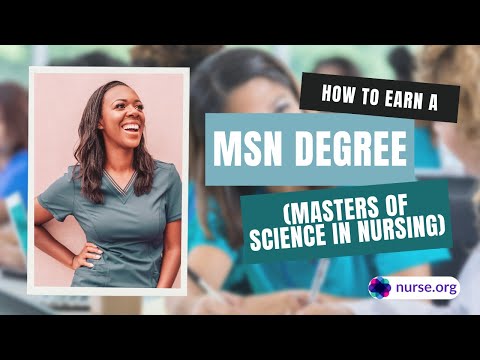 What makes nursing programs unique is that there are a couple of different routes toward earning a master's degree.
Types of MSN Degrees
This route is for applicants with a bachelor's degree in a non-nursing field and no nursing experience. This path takes you through entry-level nursing coursework first.
2. BSN-MSN
The most traditional way to go for your master's is after already completing a bachelor's degree program in nursing (BSN). 
To go this route, you earn your Bachelor's in Nursing (BSN) first, then enroll in a master's program. This MSN program takes around two years, full-time. The MSN coursework can include training to specialize as a nurse practitioner or other advanced practice role, or be a general MSN without additional licensing.
3. RN-MSN
For applicants with a two-year nursing degree or a diploma RN, there are programs called RN-to-MSN, which helps nurses who do not have bachelor's degree in nursing or another field. With an RN-to-MSN bridge program, you can pursue a master's without having to earn a bachelor's first. These programs usually take a bit longer and might be more intensive since there is more material to cover.
All MSN programs cover both general nursing topics like anatomy and pharmacology, along with coursework in a variety of nursing specializations, depending on which track you choose to pursue.
You will also have to complete a certain number of clinical rotation hours.
When choosing an MSN program as a means to earn an advanced nursing certification, make sure that it will satisfy the requirements so you can sit for the corresponding licensing exams.
4. ADN-to-MSN
This path is similar to RN-to-BSN in that applicants have a two-year nursing degree. Some programs that use this term, however, require an associate's degree in nursing, and don't allow diploma RNs.
5. Bridge RN-to-MSN
This is for RNs with a two-year degree in nursing and a 4-year bachelor's degree in a non-nursing field.
Advantages Of Getting Your MSN
Now that you have an idea of what an MSN program entails, here are some of the biggest reasons why people choose to complete them.
1. An MSN can open up new career doors
Besides the fact that some nursing specializations require a master's degree, certain positions at prestigious hospitals and healthcare organizations may give preference to candidates who have their MSN as well.
If you have any intentions of focusing on one type of nursing, like nursing informatics or nurse practitioner or taking on a managerial role in a hospital, completing an MSN is probably in your best interest.
Following are some advanced practice roles that require an MSN
Nurse Practitioner
Nurse Educator
Clinical Nurse Specialist
Nurse Anesthetist
Psychiatric Nurse Practitioner
Nurse Midwife
2. You have the potential to earn a higher salary with an advanced degree
As mentioned above, some advanced nursing practices do require an MSN, but they also have significantly higher salaries than what an RN typically earns. For example, Certified Registered Nurse Anesthetists earned a median salary of $195,610 as of May 2022, according to the Bureau of Labor Statistics, more than double that of an average RN's salary.
3. There are many program options
From part-time programs to accelerated ones, and even online MSN degrees, there are more choices than ever for earning an advanced nursing degree. Students can choose full or part-time in some cases, and customize their course schedules thanks to schools catering more to adult students, and technology that allows for remote and distance learning. This is especially helpful for people who would like to continue working while they go to school.
4. You'll gain a deeper knowledge of a specific area of nursing
Some advanced nursing practices may require learning an advanced skill set than what typical RNs are exposed to, whether it's working exclusively with cardiac patients, in a neonatal unit, or as a forensic nurse. MSN programs often allow students to choose a specialty track so they go more in-depth with their studies, and become experts in their field.
Drawbacks Of Getting Your MSN
If MSN programs were simple and free, everyone would get one. But like any other educational pursuit, there are some potential obstacles to consider.
1. MSN programs are expensive
There's no avoiding the fact that advanced degrees are a big investment, costing in the tens of thousands of dollars. Even though they have the potential to pay for themselves in a few years, coming up with the money to pay tuition or borrowing funds is sometimes a deterrent.
US News estimates that an online master's degree in nursing can cost somewhere between $35,000 and $60,000 depending on the school and degree focus.
2. Advanced degrees in nursing are tough
Master's programs are challenging – there's no doubt about that. But even more so for nurses who are continuing to work and juggle family responsibilities as they take classes. It can certainly be done, as thousands of students prove each year, but it's not an endeavor to be taken lightly.
3. Coursework and clinical hours are time-consuming
Even if you decide to take your time or go the online MSN route, you should still be prepared to dedicate a significant number of hours per week to your studies and/or clinical requirements. Doing so will likely require some shuffling around of responsibilities, and a strong support network at home and work.
4. You may need prerequisites
Some MSN programs have prerequisites required for enrollment, such as a recent statistics class or experience as a nurse
Is a Master's Degree In Nursing Right For Me?
An MSN degree is probably a good idea for those who want to pursue:
Advanced practice areas such as

Nurse practitioner (NP)
Clinical nurse specialist (CNS)
Certified nurse midwife (CNM)

Nurse leadership such as a nurse administrator role
Education-related roles at the postsecondary level
Research-related roles such as in clinical trials and case studies
Legal consultation practice within and outside of the hospital setting 
Other advanced career opportunities with higher pay
How Much More Will I Earn With An MSN?
The exact figure will vary considerably based on your specialty, employment setting, and full- or part-time employment.
It's not uncommon for a nurse with an MSN to earn more than $100,000 per year. According to the U.S. Bureau of Labor Statistics, some advanced practice registered nurses like nurse anesthetists, nurse midwives, and nurse practitioners earn an average of $123,780 annually.
How Much Does An MSN Cost?
One study1 found that the average MSN degree (of 36 programs studied, and assuming you have a BSN) cost $36,646. The least expensive program (disregarding in-state tuitions) was $285 per credit hour and the most expensive was $1,059.02 per credit hour.
Your program may be more or less than average depending on your current degree level, your in-state status, and obviously, the school you choose.
MSN Degree Accreditation
Whatever school you choose, make sure it is accredited by either the Accreditation Commission for Education in Nursing (ACEN) or the Commission on Collegiate Nursing Education (CCNE).
If your school was not accredited, your degree may not help you. That's because hospitals and other employers check the school accreditation for any degrees before hiring.
What Will I Learn/What Classes Will I Take In An MSN Program?
A lot depends on your area of focus and which school you attend. A few courses from one school (BSN-MSN program) with classes posted online are as follows:
 MSN Professional Nursing Core

Professional Presence and Influence 
Organizational Leadership and Interprofessional Team Development 
Pathopharmacological Foundations for Advanced Nursing Practice 

Nursing Science

Advanced Information Management and the Application of Technology

Nursing Education

Emerging Trends and Challenges in 21st Century Nursing Education 
Evolving Roles of Nurse Educators in Diverse Environments 
Facilitation of Context-Based Student-Centered Learning 
Assessment and Evaluation Strategies for Measuring Student Learning 
This is just a small sample of total course work, and only from one school. To find out your particular path, you will need to find a program based on your
Current degree level and experience
Desired specialization
Ability to take online or local, in-person classes
Making Your Choice
Getting your MSN is certainly an option for nurses who want to change the trajectory of their careers, earn more, or specialize. But by no means do you have to feel pressure to get one right away.
Many nurses wait until they are in a good place financially or have more time to dedicate to a program of study before they head back to the classroom. If you're considering an MSN, it is a big decision, so think through the pros and cons to decide if it's a good professional move for you.
FAQs
What does an MSN degree stand for?

How long does it take to get an MSN?

If you have a BSN already, and have clinical experience, an MSN takes around 15-24 months to complete, assuming a full-time course load, 2-4 years if you're doing it part-time. If you have a bachelor's degree in a different field, an MSN will take around three years of full-time study since the first year is focused on entry-level nursing coursework. If you need an RN-to-MSN program because you don't have a BSN, and you take classes full-time, you can expect to be in school for three years if full-time, and 3-4 years part-time.

How much does a nurse with an MSN make per year?

According to the BLS, some advanced practice registered nurses like nurse anesthetists, nurse midwives, and nurse practitioners earn an average of $123,780 annually.

If I don't have a BSN, should I get an MSN instead?

It might be worth "skipping" from RN/ADN to MSN by spending additional time and money achieving the higher degree, especially if it's in your long-term plan to get an MSN. By finding an RN-to-MSN bridge program, you have to apply for and be accepted into one program. If you earn a BSN first, then an MSN later, it's likely that you'll spend more time and money overall. It would take three years of full-time study to go from ADN to MSN, and about two years to get your BSN. For some, it may be worth spending the extra year of full-time study to graduate with a more valuable degree. Some MSNs make double the salary of BSNs.

What kind of jobs can you get with an MSN degree?

Some of the jobs you can get as a nurse with an MSN degree are Certified Registered Nurse anesthetist, Certified Nurse Midwife, Nurse Practitioner, Clinical Nurse Specialist, Nurse Administrator, Clinical Nurse Leader, Nurse Educator and Informatics Nurse. 
*Indicates an affiliate link. At no additional cost to you, Nurse.org may earn a commission if you click through and use this service.
1 https://www.geteducated.com/online-college-ratings-and-rankings/best-rn-to-msn-online