Part One What is a Nurse Practitioner (NP)?
A Nurse Practitioner (NP) is an Advanced Practice Registered Nurse (APRN) who has completed the required nurse practitioner schooling: either a Master of Science in Nursing (MSN) or a Doctor of Nursing Practice (DNP). They can serve as either a primary or specialty care provider. 
The main difference between being an RN vs NP is that nurse practitioners have more authority and have similar responsibilities to those of a doctor. They can serve as primary care or specialty care providers and typically focus their care on a specific population, such as families, children, or the elderly. As clinicians, they focus on health promotion and disease prevention in their patients. 
This guide will explain how to become a nurse practitioner, what they do, how much you can make, and more.
Degree Requirements
MSN or DNP Degree
How Long to Become
6-7 years
Part Two How to Become a Nurse Practitioner
If you're looking to become a nurse practitioner, you'll need to complete the following steps.
1. Become a Registered Nurse
The first step to becoming a nurse practitioner is becoming a registered nurse. You'll do this by enrolling in either an Associate Degree in Nursing (ADN) or Bachelor's Degree in Nursing (BSN) program. 
2. Get Your Bachelor's Degree
If you don't already hold a BSN, you may want to enroll in and earn your Bachelor's in Nursing Science degree. Nurses who have their ADN can enroll in accelerated RN-BSN programs, many of which can be completed online. However, it is possible to go straight from your ADN to an MSN degree if you want to skip the step of earning your Bachelor's degree. (More on that in step four.)
3. Gain Nursing Experience
Some nurses may choose to skip this step and go right into enrolling in a graduate program, while others choose to get a few years of experience under their belt before continuing their education. 
4. Enroll in a Nurse Practitioner Program
There are a lot of different options for nurse practitioner programs depending on where you are starting out and what your requirements are.
5. Earn Your Advanced Practice Nursing Licensure in Practical Nursing
The specifics for NP licensure are set by the individual states, which means that you will have to search the requirements to become an NP in the state that you plan to work in. There is also talk of a national model for NP licensure, but currently, it does vary from state to state. 
6. Get Your First Nurse Practitioner Job
Congratulations! You've made it, and now you're ready to find your first job as a nurse practitioner. You can work with a nurse recruiter or check out nursing job boards to help find the right position for you. 
Show Me Nurse Practitioner Programs
Part Three Nurse Practitioner Schooling
As we mentioned, there's not just one way to become an NP. Nurse practitioners have several different schooling options depending on where they're starting out and what degree they want to obtain. 
Nurse Practitioner Degrees
In order to become a nurse practitioner, you need to complete at least one of these 2 degree options:
Deciding between an MSN vs DNP? MSNs might be better for nurses who are looking to specialize clinically, while a DNP may be the better choice if you're looking to get into a  leadership position. Those are not hard and fast rules, however; ultimately, the decision depends on the type of education you want. 
There has also been talk of changing the requirements for Advanced Practice Registered Nurses from an MSN to a DNP, so that is a consideration as well if you are planning your education advancement further into the future. For instance, if you won't be enrolling in your graduate education for a few years, you should be aware that the requirements may change by then. 
Part Four What Do Nurse Practitioners Do?
Before becoming one, you should understand what nurse practitioners do on an average day. NPs are healthcare providers who can prescribe medication, examine patients, order diagnostic tests, diagnose illnesses, and provide treatment, much like physicians do.
Their experience as working nurses gives them a unique approach to patient care, while their advanced studies qualify them to take on additional duties that are usually left to physicians.
In fact, as reported by the Kaiser Family Foundation (KFF), it's estimated that NPs can provide 80-90 percent of the care that primary care physicians offer.
Show Me Nurse Practitioner Programs
Nurse Practitioner Scope of Practice
NP scope of practice has three levels: full, reduced, and restricted practice authority. Nurse practitioners have full practice authority in 25 states, meaning that they do not have to work under the supervision of a doctor.
In the remaining states, NPs still have more authority than RNs, but they need a medical doctor to sign off on certain patient care decisions.
Nurse Practitioner Scope of Practice by State
Part Five Nurse Practitioner Specialties
In addition to being a general nurse practitioner, NPs can also specialize in a specific population. They will often attend a nursing program that allows them to specialize in this area and obtain clinical competency. If they choose a specialization, they'll also need to become certified in the specific specialty area.
Here are some of the popular nurse practitioner specialties, but you can check out our article on the complete list of nurse practitioner specialties for more details. 
Family Nurse Practitioner
Acute Care Nurse Practitioner
Aesthetic Nurse Practitioner
Pediatric Nurse Practitioner
Emergency Nurse Practitioner
Adult-Gerontology Nurse Practitioner
Psychiatric Nurse Practitioner
Neonatal Nurse Practitioner
Women's Health Nurse Practitioner
Orthopedic Nurse Practitioner
Oncology Nurse Practitioner
Family Nurse Practitioner
Family nurse practitioners or Family Practice Nurse Practitioners (FNPs) provide primary health care services for individuals and families throughout their lifespans. They often act as a primary care provider for their patients, and this can be especially rewarding for those who enjoy developing long-term relationships and getting to know people over time.
Acute Care Nurse Practitioner
Acute Care Nurse Practitioners (ACNPs) are advanced practice registered nurses that provide care to patients in acute care and/or hospital settings. Acute Care NPs see patients when they are sick, admitted to the hospital, or after a surgical procedure and/or trauma. Their focus is solely on caring for the adult population with complex diseases.
Aesthetic Nurse Practitioner
Aesthetic Nurse Practitioners specialize in cosmetic medical procedures that improve their patient's appearance. They examine and evaluate patients, counsel them on a variety of procedures, perform those procedures, and care for them as they recover. 
Pediatric Nurse Practitioner
Pediatric Nurse Practitioners are Advanced Practice Registered Nurses whose sole focus lies in treating children from infancy through the time they become adults. They see patients on a one-on-one basis, offering care ranging from well check-ups and immunizations to diagnosing illnesses and treating chronic and acute conditions. 
Emergency Nurse Practitioner
Emergency Nurse Practitioners assess, diagnose and manage injuries and illnesses that need urgent care. They are able to work with or without supervision, determining which patients need the most immediate care, making decisions about treatment, monitoring patient conditions, and providing education and consultation.
Adult-Gerontology Nurse Practitioner
Adult-Gerontology Nurse Practitioners specialize in the care of adults from adolescence all the way up to geriatric care. They work with patients and their caregivers to manage chronic conditions, diseases, and other health conditions.
Psychiatric Nurse Practitioner
Psychiatric Nurse Practitioners or Psychiatric Mental Health Nurse Practitioners (PMHNPs) specialize in the mental health needs of adults, children, families, groups, and/or communities. They help individuals cope with different psychiatric disorders and illnesses and can also help people with substance abuse disorders. 
Neonatal Nurse Practitioner
Neonatal Nurse Practitioners care for premature and sick newborns, including diagnosing them, providing treatment plans, and prescribing medication. They can also assist in delivering patients in certain settings. 
Women's Health Nurse Practitioner
A Women's Health Nurse Practitioner (WHNP) specializes in the comprehensive care of women throughout their lives. They focus on reproductive, obstetric, and gynecological health and usually work in a primary care office setting, rather than a hospital or delivery room.
Orthopedic Nurse Practitioner
An Orthopedic Nurse Practitioner focuses on the care and treatment of patients suffering from musculoskeletal problems. These can include disease and/or injuries of the bones, muscles, joints, and supporting connective tissue. 
Oncology Nurse Practitioner
An  Oncology Nurse Practitioner provides comprehensive care to patients who have been diagnosed with cancer. They collaborate with other healthcare providers, including physicians, to develop treatment plans for cancer patients. 
Show Me Nurse Practitioner Programs
Part Six
Nurse Practitioner Salary
Nurse practitioners earn a median average annual salary of $121,610 in the United States, according to the U.S. Bureau of Labor Statistics as of May 2022, which places their income at more than double the average annual salary for all other occupations.
Nurse Practitioners make, on average, around $39,000 more than Registered Nurses each year. And compared to an LPN's annual wages of $54,620, becoming an NP will more than DOUBLE your earnings.
The average nurse practitioner salary will vary by many factors, including location, experience, and specialty. Certain specializations earn more than others, so be sure to check our article on the highest-paying nurse practitioner specialties to find the ones with the highest earning potential. 
Nurse Practitioner Salaries by Specialty
| | | |
| --- | --- | --- |
| | General Nurse Practitioner | $121,610 |
| | Family Nurse Practitioner | $105,898 |
| | Adult-Gerontology Nurse Practitioner | $90,102 |
| | Psychiatric Nurse Practitioner | $107,309 |
| | Pediatric Nurse Practitioner | $121,659 |
| | Acute Care Nurse Practitioner | $110,076 |
| | Women's Health Nurse Practitioner | $91,454 |
| | Orthopedic Nurse Practitioner | $100,035 |
| | Emergency Nurse Practitioner | $113,840 |
| | Neonatal Nurse Practitioner | $124,756 |
Nurse Practitioner Salary by State
There's a lot of variation in nurse practitioner salaries by state. The highest-paying states are California, New Jersey, and New York, meanwhile, the lowest are Tennessee, Alabama, and South Carolina.
Nurse Practitioner Salary by State
| | |
| --- | --- |
| State | Annual Mean Salary |
| Alabama | $106,610 |
| Alaska | $116,390 |
| Arizona | $121,410 |
| Arkansas | $107,110 |
| California | $158,130 |
| Colorado | $116,440 |
| Connecticut | $131,490 |
| Delaware | $120,570 |
| District of Columbia | $131,270 |
| Florida | $110,310 |
| Georgia | $115,440 |
| Hawaii | $128,310 |
| Idaho | $117,720 |
| Illinois | $122,310 |
| Indiana | $121,730 |
| Iowa | $128,180 |
| Kansas | $111,670 |
| Kentucky | $109,290 |
| Louisiana | $118,210 |
| Maine | $118,300 |
| Maryland | $119,650 |
| Massachusetts | $138,700 |
| Michigan | $113,780 |
| Minnesota | $128,160 |
| Mississippi | $117,260 |
| Missouri | $113,180 |
| Montana | $119,960 |
| Nebraska | $118,970 |
| Nevada | $136,230 |
| New Hampshire | $125,780 |
| New Jersey | $143,250 |
| New Mexico | $129,560 |
| New York | - |
| North Carolina | $114,450 |
| North Dakota | $113,940 |
| Ohio | $117,440 |
| Oklahoma | $121,740 |
| Oregon | $136,250 |
| Pennsylvania | $120,550 |
| Rhode Island | $125,250 |
| South Carolina | $109,130 |
| South Dakota | $115,610 |
| Tennessee | $99,330 |
| Texas | $124,660 |
| Utah | $115,610 |
| Vermont | $116,610 |
| Virginia | $116,980 |
| Washington | $135,590 |
| West Virginia | $106,790 |
| Wisconsin | $121,210 |
| Wyoming | $115,230 |
Source: BLS, Data extracted September 19, 2023
Show Me Nurse Practitioner Programs
Part Seven Nurse Practitioner Career Outlook
Nursing is already a stable, in-demand career. But becoming a Nurse Practitioner can give you even more job security.
The BLS predicts that nurse practitioner jobs will increase by 38% from 2022 to 2032, which is much faster than most other careers.
The need for primary care is also expected to rise over the next five years because of the aging population. NPs will help meet this increasing demand, especially in underserved areas.
Part Nine Nurse Practitioner FAQs
A doctor has more clinical abilities and responsibilities than an NP.  However, in some states, NPs are independent practitioners.

It takes around 6-7 years to become an NP: 4 years to earn your BSN, then 2-3 to earn your NP. 

Is a nurse practitioner higher than an RN? 

An NP does have more advanced training and clinical abilities than an RN. 

What is the fastest way to become a nurse practitioner? 

The fastest way to become an NP is to enroll directly into a BSN program, then apply immediately to an NP program. Alternatively, an RN-NP may take about the same amount of time. 

Is becoming a nurse practitioner worth it? 

NPs do make more money than RNs, have more career options and flexibility, and report higher job satisfaction.

NPs practice autonomously and collaboratively with other healthcare providers. CNSs often work with other providers, have less autonomy, but usually work closely with staff to educate and support through the use of evidence-based research.

 22 states allow nurse practitioners to prescribe medications without the supervision of a physician.

Both NPs and PAs are mid-level practitioners, but in many states, NPs can operate independently, while PAs can not.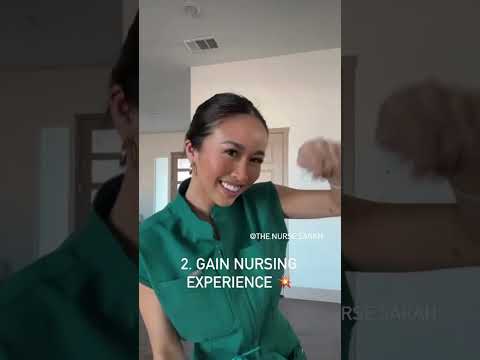 *Indicates an affiliate link. At no additional cost to you, Nurse.org may earn a commission if you click through and use this service.
$100,000+
Masters
Doctorate
Bedside
NP