If you're a registered nurse (RN) looking for more autonomy working with patients in an operating room, intensive care unit, or surgical facility, then becoming a Certified Registered Nurse Anesthetist (CRNA) might be the perfect job for you. CRNAs are highly respected for their work and, according to U.S. News & World Report, Nurses Anesthetists rank #10 in Best Health Care Job in 2023. They are also the highest-paid nurses of 2023 (the average CRNA salary is $195,610!) Read on to find out how to become a CRNA, what they do, and more.
Part One What is a Certified Registered Nurse Anesthetist (CRNA)? 
CRNAs are advanced practice registered nurses (APRNs) who administer anesthesia and other medications. They also monitor patients who are receiving and recovering from anesthesia. CRNAs have acquired a minimum of a doctorate degree focusing on anesthesia, have completed extensive clinical training, and have passed a certification exam approved by the National Boards of Certification and Recertification of Nurse Anesthetists (NBCRNA).
CRNAs care for patients from all walks of life. Some patients are scheduled for surgery, while others come in for emergency surgeries related to trauma or other potentially life-threatening events.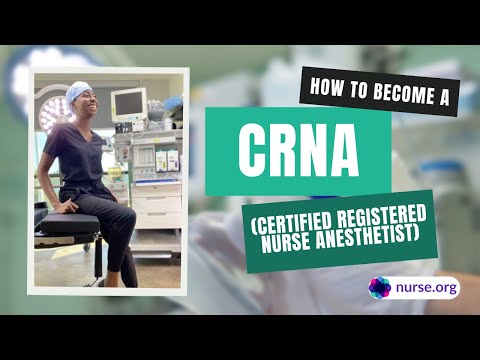 Part Two What Do CRNAs Do?  
In many states, CRNAs work with complete autonomy. In other team models, they work with anesthesiologists, surgeons, dentists, and other physicians in serving patients who are to receive anesthesia. CRNAs usually work in hospital operating rooms (ORs), emergency rooms (ERs), intensive care units (ICUs), cardiac care units (CCUs), or outpatient surgical clinics.
CRNAs work with surgical teams, with most surgical procedures occurring from early morning (6 am) to late afternoons/evenings (6-7 pm), Monday through Friday. However, emergency surgery and unplanned cases can occur at any moment, thus it is not unusual to see CRNAs working evenings, nights, weekends, and holidays. 
CRNAs have specific duties, which include but are not limited to:
Assessing patient response to anesthesia
Identifying possible risks to the anesthetized patient, including allergies and overdose
Administering precise dosages 
Educating patients before and after receiving anesthesia 
Nurse Anesthetists are a vital part of today's medical facilities, and the need for CRNAs is expected to grow.
Part Three How to Become a CRNA  
The rewards of being a nurse anesthetist are remarkable, and like anything worth having it requires a significant amount of dedication and commitment. Here are the steps you'll need to take in order to become a CRNA:
Earn your Bachelor of Science in Nursing – 4 years
Get licensed as a Registered Nurse - Eligible Upon Graduation
Gain experience working as a Registered Nurse in the Intensive Care Unit (ICU) – 1-3 years
Apply to and Get Accepted by an Accredited Nurse Anesthesia Program 
Attend an accredited nurse anesthesia program – 2-3 years
Take and pass the National Certification Examination for Nurse Anesthetists - Eligible Upon Graduation
Find a job as a CRNA! Check out the nurse.org job board for the latest nursing jobs in your area.
Did you know you can become a CRNA, even if you have a low G.P.A.? You can! Read Wali Khan's article, 7 steps to take if your grades are not ideal.
Let's take a closer look at what each step entails.
1. Earn your Bachelor of Science in Nursing
Though there are several paths to becoming a Registered Nurse, the one that will provide you with the greatest opportunity and the educational background that is fast becoming the standard is the Bachelor of Science in Nursing (BSN).
This four-year degree provides you with foundational knowledge in topics ranging from health assessments and pathophysiology to anatomy and pharmacology. BSN programs incorporate clinical rotations through the various care departments in hospitals and clinics, exposing you to a wide range of patients and colleagues to give you a well-rounded nursing education.  
Keep in mind as you are pursuing your undergraduate studies that early academic achievement will be rewarded with greater opportunities and more options in the future. The better your grades and recommendations you receive from undergraduate faculty, the better your chances of being accepted into the accredited nurse anesthetist program of your choice.
Most programs have a minimum GPA requirement of 3.0, and acceptance is becoming increasingly competitive. Don't let the G.P.A requirement scare you away - here are 7 Tips To Getting Into CRNA School, Even With a Low G.P.A. 
2. Get Licensed as a Registered Nurse 
Once you have earned your Bachelor of Science in Nursing you will be eligible to take the examination required to become a Registered Nurse.
This test, called the NCLEX-RN, or National Council Licensure Examination for Registered Nurses, is administered by the National Council of State Boards of Nursing (NCSBN). Every state has its own requirements for licensure and process for exam registration, so make sure that you are familiar with the requirements as they apply to you and your locale. 
3. Gain Invaluable Experience Working as an ICU Registered Nurse 
Though your undergraduate clinical rotations will have exposed you to a wide range of care settings, nurse anesthesia programs generally prefer candidates who have experience appropriate to the field - those who have worked in the intensive critical care unit (ICU) with adult patients. 
You will put yourself in the most optimal position for being accepted to a program if you have a minimum of one year (greater than 1 year is preferred) of experience working in an adult intensive critical care unit (ICU). 
Pursuing certifications that demonstrate this experience (such as a Critical Care Registered Nurse Certification) will further enhance your resume and make you more attractive to those who will review your nurse anesthesia program application.
Another way to boost your chances is to shadow a working nurse anesthetist. This will not only demonstrate your commitment to the field but will also provide you with valuable insights into what your future as a nurse anesthetist holds.
4. Apply to and Get Accepted by an Accredited Nurse Anesthesia Program 
As the need for nurse anesthetists has grown, so too have the number of accredited nurse anesthesia programs. CRNAs historically have been able to earn either an MSN or DNP; however, by 2025 CRNAs will need a doctorate degree.
As of February of 2020, the AANA website indicates 123 accredited nurse anesthesia programs available. Getting accepted into these programs requires that applicants demonstrate a commitment to the field of nursing and to the study of nursing practice. Though every program has its own unique focus and requirements, most have certain elements in common, including: 
Minimum of two years' experience working as a Registered Nurse
Minimum of one year working in an acute care setting
Valid RN licensure
BSN degree or Bachelors' degree in a related field of study, including completion of prerequisite courses in human anatomy, microbiology, chemistry, physiology and statistics
Minimum GPA demonstrated in college transcripts: may require 3.0 in related science studies
Excellent communication skills
References
Nurse anesthesia programs value candidates who demonstrate attention to detail. Make certain that you read each school's application requirements carefully to ensure that you are providing the exact information that they are looking for.
5. Attend an Accredited Nurse Anesthesia Program 
In recent years, a growing number of accredited nurse anesthesia programs have moved beyond the standard of educating towards a Master's Degree upon graduation, and instead are providing a didactic level geared towards a doctoral degree.
Depending upon which accredited nurse anesthesia program you are accepted by and choose to attend, earning your degree will take between two and three years and will provide both high-level classroom work and clinical practice.
>> Related: Accredited CRNA Schools by State
6. Take and Pass the National Certification Examination for Nurse Anesthetists
The final step required before applying for an entry-level position as a nurse anesthetist is passing the National Certification Examination (NCE).
This three-hour test is conducted on a computer and evaluates the knowledge, skills and abilities that every accredited nurse anesthesia program provides. 
Once you pass the exam and have become a CRNA, you must maintain certification, which involves recertifying every four years and taking a new test every eight years. Recertification requires the completion of 100 units of continuing education in a variety of areas including pathophysiology and anesthesia technologies.
>> Explore CRNA Certification Review Materials*
Part Four Nurse Anesthetist Salary
Nurse Anesthetist salaries are some of the highest in the field. Depending on the work setting and state where they are employed, the U.S. Bureau of Labor Statistics (BLS) reports that the median average nurse anesthetist salary is $195,610 as of their most recent survey in 2021.
In comparison, the median average annual salary for an RN in 2022 is $77,600, less than half the earning potential of a CRNA. Note that conditions in your area may vary.
Highest Paying States for CRNAs
The top 5 states with the highest mean annual average salaries for nurse anesthetists are:
| | |
| --- | --- |
| Connecticut | $276,540 |
| New Jersey | $263,850 |
| Illinois | $250,280 |
| West Virginia | $247,650 |
Source: BLS
Highest Paying Cities for CRNAs
The top 5 cities with the highest mean annual average salaries for nurse anesthetists are:
| | |
| --- | --- |
| Springfield, IL | $298,890 |
| Riverside-San Bernardino-Ontario, CA | $283,550 |
| Ann Arbor, MI | $276,810 |
| Hartford-West Hartford-East Hartford, CT | $273,060 |
Source: BLS
Nurse Anesthetist Salaries by State
Here's a map of all the United States and the average CRNA salary for each per the BLS. 
High salaries may often be accompanied by high costs of living. Below is a comprehensive listing of median average Certified Registered Nurse Anesthetist salaries by state along with the cost of living percentage for each one:
CRNA Salaries by State And Cost Of Living

| State | Avg Annual | Avg Hourly | Cost of Living |
| --- | --- | --- | --- |
| Alabama | $188,840 | $90.79 | -8.80% |
| Alaska | no data | no data | +31.60% |
| Arizona | $142,250 | $68.39 | -1.95% |
| Arkansas | $151,940 | $73.05 | -11.50% |
| California | $232,540 | $111.80 | +34.80% |
| Colorado | $173,820 | $83.57 | +2.10% |
| Connecticut | $276,540 | $132.95 | +30.70% |
| Delaware | no data | no data | +10.80% |
| District of Columbia | no data | no data | +49.20% |
| Florida | $170,950 | $82.19 | -1.00% |
| Georgia | $177,960 | $85.56 | -8.60% |
| Hawaii | $218,750 | $105.17 | +67.40% |
| Idaho | $171,790 | $82.59 | -10.40% |
| Illinois | $250,280 | $120.33 | -4.50% |
| Indiana | $190,200 | $91.44 | -12.10% |
| Iowa | $207,240 | $99.64 | -8.30% |
| Kansas | $159,560 | $76.71 | -9.60% |
| Kentucky | $180,330 | $86.70 | -9.60% |
| Louisiana | $166,810 | $80.20 | -5.60% |
| Maine | $209,050 | $100.50 | +12.00% |
| Maryland | $180,560 | $86.81 | +25.00% |
| Massachusetts | $219,680 | $105.62 | +34.7% |
| Michigan | $218,240 | $104.92 | -11.80% |
| Minnesota | $214,460 | $103.11 | +34.70% |
| Mississippi | $182,940 | $87.95 | -14.00% |
| Missouri | $192,320 | $92.46 | -9.20% |
| Montana | no data | no data | +0.80% |
| Nebraska | $232,230 | $111.65 | -8.70% |
| Nevada | $223,680 | $107.54 | +4.50% |
| New Hampshire | $227,130 | $109.20 | +0.80% |
| New Jersey | $263,850 | $126.85 | +21.00% |
| New Mexico | $164,900 | $79.28 | -4.30% |
| New York | $225,180 | $108.26 | +35.20% |
| North Carolina | $206,450 | $99.26 | -5.80% |
| North Dakota | $208,170 | $100.08 | -98.90% |
| Ohio | $187,410 | $90.10 | -7.00% |
| Oklahoma | $181,660 | $87.34 | -11.40% |
| Oregon | $225,560 | $108.44 | +15.40% |
| Pennsylvania | $203,150 | $97.67 | +2.80% |
| Puerto Rico | $59,890 | $28.79 | +22.10% |
| Rhode Island | no data | no data | no data |
| South Carolina | $213,830 | $102.81 | +0.50% |
| South Dakota | $197,710 | $95.05 | +2.80% |
| Tennessee | $176,020 | $84.62 | -10.20% |
| Texas | $197,540 | $94.97 | -9.30% |
| Utah | no data | no data | -7.20% |
| Vermont | $196,240 | $94.35 | +12.00% |
| Virginia | $203,600 | $97.88 | +0.20% |
| Washington | $244,730 | $117.66 | +7.10% |
| West Virginia | $247,650 | $119.06 | +4.30% |
| Wisconsin | $235,550 | $113.25 | -3.10% |
| Wyoming | $223,680 | $107.54 | -8.30% |
Source BLS, Date extracted: May 26, 2022. Cost of Living reflects percentage above or below the national average cost of living.
Part Five Where Can CRNAs Work?
CRNAs typically work in healthcare settings that have operating rooms, emergency rooms, and intensive care units.
CRNA Work Environments
Medical and surgical hospitals
Critical access hospitals
Mobile surgery centers
Outpatient care centers
Nursing research facilities
Offices of plastic surgeons, dentists, ophthalmologists, pain management specialists, and other medical professionals
U.S. military medical facilities
While most CRNAs choose to practice at the bedside, there are also numerous administrative jobs available for Nurse Anesthetists. Individuals can work in a managerial role that includes personnel and resource management, financial management, quality assurance, risk management, department meetings, continuing education, and staff development.
Furthermore, CRNAs may hold positions within state and federal government agencies including the state boards of nursing, U.S. Food and Drug Administration, and for professional testing organizations such as the American Society for Testing and Materials.
Part Six How Long Does it Take to Become a CRNA?
| | |
| --- | --- |
| 1. Earn your Bachelor of Science in Nursing | 4 years |
| 2. Get licensed as a Registered Nurse | Eligible Upon Graduation |
| 3. Gain experience working as a Registered Nurse | 1-3 years |
| 4. Attend an accredited nurse anesthesia program | 2-3 years |
| 5. Take and pass the National Certification Examination for Nurse Anesthetists | Eligible Upon Graduation |
| 6. Become Licensed by Your State | Eligible After Passing Certification Exam |
| Total Time to Become a CRNA | 7-10 years |
Part Seven Which Schools Have the Best CRNA Programs?
There are numerous CRNA programs throughout the country, our panel of nurses ranked them based on reputation, certification pass rate, cost, accreditation, and acceptance rates and determined these are some of the best options out there. Because nursing careers take different forms, the top 10 CRNA programs are ranked in no particular order.
Top 10 Nurse Anesthetist Programs
Total Program Cost: $69,736 (based on per-credit tuition rate)
Online: No
Program Length: 36 months
Among the most competitive and well-respected nursing programs in the nation, Duke University's School of Nursing routinely graduates some of the top nurses. Duke's DNP in nurse anesthesia (NA-DNP) sees graduates find careers across the United States, though most stay in North Carolina. Graduates also enjoy a 100% pass rate for the CRNA certification exam, and every nursing student finds employment after graduating. 
Total Program Cost: $62,610
Online: No
Program Length: 42 months
The Mayo Clinic in Rochester, Minnesota, offers a 42-month doctor of nurse anesthesia practice (DNAP) program to current RNs. Students complete clinical experiences on Mayo Clinic's campus, though rotations might be completed off-campus. Those who completed the Mayo Clinic master of nurse anesthesia or those currently employed as nurse anesthetists by Mayo Clinic may enroll in a post-graduate doctoral program. 
Total Program Cost: $94,000
Online: No
Program Length: 36 months
Villanova University offers its DNP in nurse anesthesia through the M. Louise Fitzpatrick College of Nursing, in conjunction with Prospect Medical Holdings - Crozer-Chester Medical Center. Applicants don't need a master's degree but must have a BSN with a 3.4 GPA or higher and be currently-practicing RNs with five years of experience. Villanova selects 24 new students each year out of nearly 100 applications, making this a highly competitive program. 
Total In-State Program Cost: $52,272 Total Out-of-State Program Cost: $94,446 
Online: Hybrid
Program Length: 36 months
Intended for current RNs with a BSN, the DNAP entry-to-practice program utilizes a hybrid on- and off-campus format for the first two semesters of study. The final seven semesters are completed on-site, including five semesters gaining clinical experience. Students gain clinical experience across Richmond, interacting with various types of patients in different settings. VCU also offers a postmaster's DNAP for current CRNAs. 
Total Program Cost: $103,774 (based on per-credit tuition rate)
Online: Hybrid
Program Length: 36 months
Rush University's 89-credit DNP in nurse anesthesia may seem expensive, but the university does not charge any fees on top of its per-credit tuition rate. Over the course of the 36-month program, students begin in a simulation lab and gradually move into clinical rotations. Most of the coursework is available entirely online, except for 756 hours of specialty curriculum and 2,300 hours of clinical immersion. DNP students complete their rotations at major Illinois hospitals, or at the University of Washington Medical Center in Seattle, Washington. 
Total Program Cost: $146,512
Online: No
Program Length: 36 months
Considered as the home to one of the best nursing schools in the nation, Georgetown University also boasts one of the top DNAP programs. The program begins with 12 months of coursework, followed by two years of clinical immersion at hospitals in the Washington, D.C. area. To apply, nurses must hold a bachelor's degree and be licensed RNs. All graduates eventually passed the CRNA certification exam, and graduates enjoy a 100% employment rate within three months of graduating. 
Total Program Cost: $98,686
Online: Hybrid
Program Length: 36 months
Baylor University has two DNP in nurse anesthesia programs: a BSN-DNP and an MSN-DNP, though the second option is reserved for current CRNAs. The BSN-DNP is a 36-month program, and some of the courses in the program require online study. Those planning on applying must have a BSN, an active RN license to work in Texas, and several years of professional experience. Baylor's College of Medicine does an excellent job preparing CRNAs as 97% of graduates in the past five years passed the National Certification Exam on their first attempt. 
Total In-State Program Cost: $46,242 Total Out-of-State Program Cost: $81,468
Online: Hybrid
Program Length: 36 months
The University of Cincinnati offers one of the oldest -- and best -- DNP in nurse anesthesia programs in the nation. After completing didactic courses and simulations (some of which can be completed online), students complete clinicals at a variety of hospitals within 45 miles of the university, some of which are within walking distance. At the end of the 36-month program, nurses complete UC's mandatory DNP Project, a project which students work on throughout their studies and defend upon graduation. Graduates also enjoy a 100% licensure exam pass rate. 
Total Program Cost: $124,000
Online: No
Program Length: 36 months
While Northeastern University offers both a master's and doctoral nurse anesthesia degree, the BSN-DNP in nurse anesthesia meets future accrediting standards and best prepares nurses for a successful career. This program places students in clinical practices in different healthcare settings, exposing nurses to different patients and practices. The class of 2018 saw a 100% job placement rate, though only 74% of students passed the licensure exam on their first try. 
Total In-State Program Cost: $82,770 Total Out-of-State Program Cost: $98,844
Online: No
Program Length: 36 months
Pitt's DNP in nurse anesthesia program has been considered among the best for decades. The three-year program places RNs in clinicals around the area (including University of Pittsburgh Medical Center hospitals, considered some of the top hospitals in the nation. Students begin the program with coursework, then gradually begin clinical practice. Once accepted, students are paired with faculty advisors to figure out how to quickly finish coursework so students can progress to clinical practices without worrying about courses. 
Methodology
This list is based on a number of factors including:
Reputation
NCLEX pass rate
Tuition
Acceptance rate, when available
Only ACEN or CCNE accredited schools are eligible 
Nurse Panel
Our selection panel is made up of 3 Registered Nurses with years of experience and multiple degrees:
Tracy Everhart, MSN, RN, CNS
Tyler Faust, MSN, RN
Kathleen Gaines, MSN, BSN, RN, BA, CBC
Part Eight Is There an Exam That CRNAs Must Pass?
All nurse anesthetists must pass the CRNA exam prior to beginning to practice. The National Board of Certification and Recertification for Nursing Anesthetists (NBCRNA) outlines eligibility, registration processes, exam details, and renewal procedures in its Examination Candidate Handbook.
Part Nine Advice For Future CRNAs
We asked leaders in the nurse anesthesia field for their best advice for nurses who have the goal of becoming a nurse anesthetist.
Joseph A. Rodriguez, MSN, CRNA, President of Arizona Association of Nurse Anesthetists
For those looking to join the ranks of CRNAs, a few pieces of advice. First, get used to thinking independently. Protocols, order sets, guidelines – all are useful and important – but you have to have the critical thinking ability, the knowledge, and judgment to make the right choice for the patient – in the crucial moments.
Second, get used to constant advocacy. CRNAs only exist because we've battled, for over 100 years, just for the right to do our job and take care of our patients.
Third, you must properly – and frequently - articulate your practice to others who likely know nothing about your practice. Few people (even surgeons, physicians, and nurses) understand the knowledge, background, and capabilities of CRNAs, and fewer will know that you have a deep understanding of perioperative anesthetic management.
Last, surgery and anesthesia are all about teamwork, not egos - the only measurement that ever matters - is the safety of our patients.
Anesthesia is the only field in all of health care to be "jointly owned" by 3 professions – CRNAs, physicians, and dentists. If you want to join us, you'll have to make great personal sacrifices, and continue to advocate for your profession your entire career. But it's well worth it – you'll almost never find a CRNA that doesn't love their profession and their practice.
Kris Rohde CRNA, MSN, BSN, President-Elect of the Nebraska Association of Nurse Anesthetists
For nurses who would like to become Certified Registered Nurse Anesthetists, I recommend that one does a bit of research into the profession. I believe that it would benefit the nurse to shadow a couple different CRNAs in a couple different types of practice. See what it is like in a busy, metropolitan trauma center compared to a solo provider in a rural area serving many small communities. Understanding the different types of practice is key to understanding our profession completely.
I also think that a nurse working in critical care will develop skills that are crucial to our profession. Understanding laboratory results, ventilator settings, & EKG interpretation are just the tip of the iceberg for us. A successful CRNA understands all of those things, plus the pathophysiology behind it. Working in an ICU or other critical care areas will also help an RN develop critical thinking skills that are absolutely essential to a CRNA. This is something that is learned over time, not just in a year. I truly believe that applying for school when one is ready, not just after the minimum requirement, is important.
Shawn Seifert, MS, CRNA, President-Elect of the Maryland Association of Nurse Anesthetists
The best advice I can give critical care nurses interested in a career in Nurse Anesthesia is to focus on leadership.
That is, seek opportunities outside of the purely clinical and be involved politically, socially, or even artistically.
These experiences will allow you to evolve into the advanced role of nursing leadership that Nurse Anesthesia demands as well as makes your application for school more impactful and likely to lead to an interview.
Marcia Kluck, MNA, APRN, CRNA, President-Elect of the Minnesota Association of Nurse Anesthetists
After you've made the decision and have gotten a minimum of two years of solid ICU, minimize your lifestyle and expenses for the short term while in school. This is to minimize debt. You will have time to decompress during school. But international vacations at this time are an unnecessary luxury (in my humble opinion and experience). You will have time and money after boards!
Cheryl L. Nimmo, DNP, MSHSA, CRNA, President of the American Association of Nurse Anesthetists
For me, becoming a Certified Registered Nurse Anesthetist (CRNA) took my career to another level entirely. I'm still amazed that the vast array of surgical, obstetric, emergency, and pain management procedures performed tens of thousands of times every day across the country is only possible thanks to the discovery and advancement of anesthetic drugs and procedures. There is nothing more personally rewarding than ensuring patients' safety and comfort when they are at their most vulnerable. My advice for nurses who wish to become a CRNA is this: As you pursue your bachelor's degree, attain the highest grades possible. It is difficult to get accepted into a nurse anesthesia program, so increase your odds with excellent academic work. After becoming an RN, you will need to obtain at least one year of experience working in an intensive care setting. My recommendation: Work for 2-3 years at a minimum before applying for nurse anesthesia school. Absorb advice and information like a sponge and become the best intensive care nurse you can be. Find a CRNA and ask if you can shadow him/her in the OR for a day. This will give you a total picture of what the career entails. Also, get your CCRN certification. Obtaining the certification shows that you are able to learn and retain new concepts and shows that you have the motivation to learn while working. Also, if you had a science course and your grades were not outstanding, take another science course before applying to show you are capable of the science courses in anesthesia school. This will position you well for the next stage of your career…as a CRNA! Good luck in your future career.
Gus Powell, CRNA, President-Elect of the Idaho Association of Nurse Anesthetists
My best advice for nurses who want to become a nurse anesthetist (CRNA) is to have a plan and be willing to challenge yourself. That plan begins with focusing on academic success and picking the anesthesia program that is right for you, such as a program with an independent practice or regional anesthesia emphasis. In addition, it is very important to gain as much clinical exposure as possible while working as an RN and applying to anesthesia programs. I also feel it is helpful to find a CRNA mentor and shadow that person for enough time to really establish if this profession is for you. Becoming a CRNA is very rewarding and challenging. I have never regretted my decision to become a CRNA. Good luck to you!
Maricel Isidro-Reighard, CRNA, MSNA, DNAP, President of the California Association of Nurse Anesthetists
My best advice would be that in order to be successful in the CRNA job market is that you have to check your pride at the door. There are many humbling moments that you will encounter, that you will need to rely on your current fellow nurses. You will learn how important it is to respect them in order for them to respect you. Our peers will have high expectations of us, and we have to know how to deliver. Don't think that just because you have "CRNA" behind your name, that immediate 'carte blanche' is granted to you. It is, in fact just the opposite! We have to prove ourselves every single day! There is no doubt that in your CRNA career, you will need their helping hands and their moral support, and they will give it you almost 100% if they see that you did not shoot way too far into the stratosphere when you became a CRNA.
Christopher Bartels, CRNA, President of the Connecticut Association of Nurse Anesthetists
Take a job in a high acuity ICU and gain as much experience as possible by seeking out challenging assignments. Get your CCRN and never stop learning. Take a leadership position in or out of the workplace (e.g. a professional association). Come in early and be willing to stay late. Prepare your family and support system for the commitment required in nurse anesthesia school. Utilize AANA.com as a resource. Shadow a CRNA, save your money, avoid advertising your professional goals and stay humble.
Part Ten What is the Career Outlook for CRNAs?  
The job prospects for CRNAs are excellent. Healthcare legislation, increased emphasis on preventative care, an increasing number of insured patients, and an aging patient population have led to more patients seeking medical care. 
The BLS estimates that the projected job growth for CRNAs between 2020 and 2030 will be 45%, much faster than the 12% expected job growth for RNs. As noted above, many rural areas are already using high numbers of CRNAs when they are available, and this is expected to increase significantly. Many organizations are utilizing them in place of anesthesiologists due to availability and costs.
Part Eleven Where Can I Find More Information On CRNA Careers? 
The American Association of Nurse Anesthetists (AANA) is an excellent resource for those interested in more information about this career path. AANA offers information about continuing education, advocacy, and upcoming annual meetings.
Additionally, Nurse.org is an invaluable resource for everything you need to know about a career as a CRNA and about CRNA programs. You'll find the answers to all of your questions in these articles:
Becoming a Nurse Anesthetist is a lot of work, but with that title comes a rewarding and lucrative career. If your goal is to take your RN career to the next level, look into becoming a CRNA.
Part Twelve CRNA FAQs
What is a CRNA?

A certified registered nurse anesthetist is an advanced practice nurse who administers anesthesia for surgery and/or other medical procedures.

What is the average salary for CRNAs?

The Bureau of Labor Statistics (BLS) reports the average income of a nurse anesthetist to be $169,450 per year, with some CRNAs earning over $252,000. Top earning states include Montana, Wyoming, and California.

What degrees can I earn after graduation from CRNA school?

Graduates can earn a Master of Science in Nursing, Doctor of Nursing Practice, or Doctor of Nurse Anesthesia Practice. By 2022, all CRNA programs will be switching to terminal degrees of either DNAP or DNP.

Is there a waitlist for CRNA school?

Most schools have a minimum one-year waitlist after acceptance. This is important to consider when determining your current job situation.  
Looking to explore some other well-paying medical careers? Check out these other options in the healthcare field:
*Indicates an affiliate link. At no additional cost to you, Nurse.org may earn a commission if you click through and use this service.
$100,000+
CRNA
Doctorate
Bedside