Part One How Much Does a Neonatal Nurse Make?
Average Neonatal Nurse Salary
The average neonatal nurse salary is $100,944 annually or $48.53 per hour according to Ziprecruiter.  
Neonatal Nurse Salary Range
ZipRecruiter found that the majority of neonatal nurses earned between $74,000 and $127,000. However, salaries ranged from as low as $24,500 to as high as $156,500.
There is a large range in average salary for neonatal nurses across the county. The large range suggests that many different skill levels and other factors such as experience level and workplace location can determine the overall pay structure.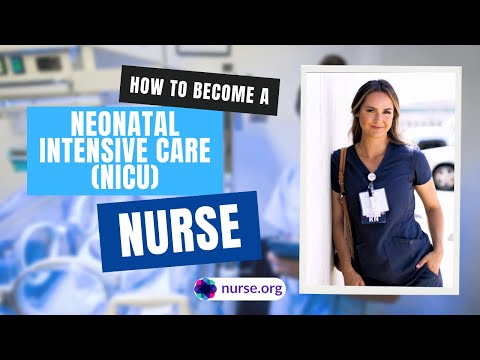 Neonatal Nurse Salary vs Average RN Salary 
Neonatal nurses appear to earn a higher income than the average registered nurse salary in the US. The BLS states that the average nurse salary in 2021 was $77,600 or $37.31 per hour. While neonatal nurses earn an average income of $100,944 per year or $48.53 per hour per ZipRecruiter.
When talking about salary, the title "neonatal" nurse and "neonatal intensive care unit" (NICU) nurse are often used interchangeably. However, they are not always the exact same thing. "Neonatal nurse" refers to nurses who work with babies who are dangerously ill. 
Neonatal nurses most commonly work in a NICU in a hospital or clinic setting. However, neonatal nurses can also work on neonatal transplant teams or for in-home health services.
Part Two Neonatal (NICU) Nurse Salary by State
| | | |
| --- | --- | --- |
| State | Annual Salary | Hourly Wage |
| New York | $119,052 | $57.24 |
| New Hampshire | $115,545 | $55.55 |
| Vermont | $109,375 | $52.58 |
| Wyoming | $106,169 | $51.04 |
| West Virginia | $103,437 | $49.73 |
| Massachusetts | $103,341 | $49.68 |
| Pennsylvania | $101,686 | $48.89 |
| Hawaii | $100,873 | $48.50 |
| Montana | $100,211 | $48.18 |
| Washington | $99,921 | $48.04 |
| Arizona | $99,181 | $47.68 |
| Connecticut | $98,901 | $47.55 |
| New Jersey | $98,853 | $47.53 |
| Indiana | $98,545 | $47.38 |
| Rhode Island | $96,866 | $46.57 |
| Alaska | $95,833 | $46.07 |
| Georgia | $95,676 | $46.00 |
| North Dakota | $95,393 | $45.86 |
| Wisconsin | $95,206 | $45.77 |
| Tennessee | $95,132 | $45.74 |
| Nevada | $95,080 | $45.71 |
| Minnesota | $95,006 | $45.68 |
| Maryland | $94,548 | $45.46 |
| Ohio | $94,438 | $45.40 |
| Alabama | $93,439 | $44.92 |
| Nebraska | $92,985 | $44.70 |
| Utah | $92,876 | $44.65 |
| South Dakota | $92,607 | $44.52 |
| Louisiana | $92,137 | $44.30 |
| Virginia | $91,766 | $44.12 |
| Oregon | $91,283 | $43.89 |
| California | $90,662 | $43.59 |
| New Mexico | $90,506 | $43.51 |
| Iowa | $90,255 | $43.39 |
| Florida | $90,173 | $43.35 |
| Kansas | $90,076 | $43.31 |
| South Carolina | $88,931 | $42.76 |
| Colorado | $88,688 | $42.64 |
| Delaware | $88,379 | $42.49 |
| Missouri | $87,980 | $42.30 |
| Oklahoma | $86,421 | $41.55 |
| Kentucky | $84,978 | $40.85 |
| Idaho | $84,870 | $40.80 |
| Maine | $84,556 | $40.65 |
| Mississippi | $84,402 | $40.58 |
| Arkansas | $83,350 | $40.07 |
| Michigan | $83,209 | $40.00 |
| Illinois | $82,899 | $39.86 |
| Texas | $81,912 | $39.38 |
| North Carolina | $75,783 | $36.43 |
Source ZipRecruiter
Part Three Neonatal Nurse Salary by Years of Experience  
Neonatal nurses generally start with a lower salary and earn more as they gain more experience in the profession. 
Payscale.com reports that the pay by experience levels for neonatal nurses in the US are:
Entry-level neonatal nurse with less than one year of experience: $25.94 per hour
Neonatal nurse with 1-4 years experience: $31.14 per hour
Neonatal nurse with 5-9 years experience: $33.79 per hour
Neonatal nurse with 10-19 years experience: $35.60 per hour
Neonatal nurse with more than 20 years experience: $40.87 per hour
Neonatal nurses with the least years of experience can expect to start closer to $24,000 annually, while those with the most experience will earn closer to $156,000.
Part Four Neonatal Nurse Salary by Work Setting
Neonatal nurses typically work in:
Hospitals
Clinics
Medical centers
Neonatal nurses in hospitals often work on a postpartum, labor and delivery, or neonatal intensive care unit (NICU).
Neonatal nurses usually earn the most by working in hospitals. Additional pay that neonatal nurses often receive includes:
Benefits
Overtime pay
Health care and dental insurance
Shift differential pay for working nights or weekends
Tuition reimbursement
Reimbursement for certification exams
Neonatal nurse salary is primarily determined by the state, the cost of living in the area, and the number of years of experience you have in the field. Nurses who work in larger metropolitan areas usually earn higher wages than those who work in rural areas.
Part Five How to Increase Your Salary as a Neonatal Nurse
Consider one of the following tips to boost your salary as a neonatal nurse:
Advance Your Education
Your level of education plays a massive role in your earning potential as a neonatal RN. Many nurses start their careers with an associate's or bachelor's degree and then continue their education while working as a registered nurse in a hospital or other facility.
Certifications
Many employers offer an increase in hourly wage if a neonatal nurse becomes board certified by obtaining the following certifications:
These certifications test specialty knowledge in neonatal intensive nursing care. Nurses must have at least two years of specialty experience providing care to acutely or critically sick neonatal patients and their families within a critical care environment. 
Becoming certified can equate to more money in several ways:
Increased per hour salary
Creer enhancement opportunities
Employers are more likely to hire neonatal nurses who are certified, which may allow you to choose between higher-paying jobs
Negotiate
Another way to earn more money as a neonatal RN is to negotiate a higher salary. Some employers have a pay structure for new employees. But there may be some room for negotiation, especially if the place you want to work is struggling to find neonatal nurses.
Travel
Neonatal travel nurses are RNs who take anywhere from 4 to 16-week assignments at hospitals or other health care facilities that have a shortage of nurses. 
Travel nurses usually earn a "total pay package" instead of a base hourly rate which usually includes:
An hourly base pay
A sign-on bonus
Travel reimbursements
Housing, food, and mileage stipend
Other job-related expenses
How You Work
Career Nurse
Career nurses are full-time or part-time nursing staff employed by a hospital or medical facility. In most cases, career nurses earn an hourly wage plus a benefits package that includes a retirement plan, paid time off, health and dental insurance, education reimbursement, and other benefits.
Career nurses start their careers earning entry-level pay but then make a higher per hour rate for each year they work in the profession. 
Per Diem
As opposed to career nurses who receive an hourly rate and a benefits package, per diem nurses are only paid an hourly rate for the shifts they work. However, per diem nurses make a higher hourly rate.
Per diem nurses also do not receive sick days or other paid time off. But because they don't have a set schedule, as many career nurses do, they make a higher per-hour rate for their work flexibility. 
One of the main benefits of working per diem as a neonatal nurse includes picking your schedule. This often works well for working parents who only work when they have child-care or for nurses who also work at another hospital. 
Contract
A contract nurse is a full-time nurse who works at a hospital on a contract basis for as little as four weeks to as long as six months. Once their contract expires, nurses can sign another contract at the same hospital or sign a contract at another hospital.
One of the cost benefits of working as a neonatal contract nurse is guaranteed full-time hours during the contract. This means that even if your shift is canceled for some reason, you still earn your regular hourly wage for the shift.
Travel nurses are a type of contract nurse. But some hospitals offer opportunities to work as a contract nurse without moving to another location.
Additional Compensation
Overtime
Nurses who work overtime are entitled to increased pay for their additional work hours. In most cases, this means:
Working over 40 hours in a week, or
Working longer than a scheduled 12-hour shift (within 24 hours)
Overtime wages differ per facility, but they are usually one and a half to three times the normal hourly wage. Working a lot of overtime hours can add up quickly. However, too much overtime can lead to burnout for some nurses, so it is important to make sure you don't work too much.
Shift Differential
A shift differential is extra pay for working weekends, holidays, evenings, or night shifts. Shift differentials usually increase a normal hourly wage by a few additional dollars. 
That might not sound like much, but that can add up over time. Many neonatal nurses enjoy working on nights or weekends because the administration is off, and it can seem much quieter on the unit.
Bonuses
Bonuses are commonly offered as an incentive for nurses to take a new position at a facility, especially when they need to hire a large number of nurses. Bonuses can range from several hundred dollars to several thousand.
However, it is important to read the fine print and understand the bonus terms before accepting. Many hospitals will require that you stay working full-time at their facility for two to five years to keep the bonus. Leaving earlier may require that you pay it back.
Hazard Pay
Hazard pay is additional compensation above the normal compensation for healthcare professionals who work in potentially hazardous conditions. We frequently saw this happen during the COVID-19 pandemic when hospitals were severely understaffed and taking in large numbers of  COVID-19 patients.
Part Six Has Covid-19 Affected the Expected Salary for Neonatal Nurses?
Although neonatal nurses don't take care of the same adult patient population that was most dramatically affected by COVID-19, nurses of other specialties who also had experience in adult care became travelers. But many neonatal nurse travelers also found that travel pay was much higher within their specialty as well.
In addition, many hospitals experienced neonatal nursing shortages during COVID-19 and offered hiring bonuses as an enticement for them to work there.
Part Seven Neonatal Nurse Salary vs. Education Costs
Nursing school to become a neonatal nurse is expensive. It is important to research your options to make the best choice that works for you.
ADN programs can range anywhere from $6000 to $20,000. This type of program takes a minimum of two years to complete at a community college or technician school.
A BSN can cost anywhere from $35,000 to $100,000. This type of program takes four years to complete at a public or private four-year university. 
Nursing school tuition can also depend on several other factors:
The school's reputation and status
The program length (some schools offer expedited programs)
The state and city where you live
There are also additional costs associated with nursing school including;
Part Eight Related Nursing Careers
Pediatric Nurse
ZipRecruiter found that the majority of pediatric nurses earned between $60,500 and $87,500. However, salaries ranged from as low as $46,000 to as high as $117,500.
NICU Nurse
Ziprecruiter reports that the mean annual wage for NICU nurses is $101,727 or $49 per hour. However, they add that NICU nurses' annual salaries range from $83,000 to as high as $125,000.
Neonatal Nurse Practitioner
ZipRecruiter also states that neonatal nurse practitioners in the US earn a mean annual salary of $110,249 or $53 per hour. They add that annual salaries can range from $85,500 to as high as $122,500 depending on the type of facility, the level of experience, and the cost of living in the area.
Part Nine Neonatal Nurse FAQs
How long does it take to become a neonatal nurse?

The two most common paths to becoming a neonatal nurse are to earn an Associate's Degree in Nursing (ADN) or a Bachelor's Degree in Nursing (BSN). ADN programs take a minimum of two years to complete at a community college or technician school. A BSN program takes four years to complete at a public or private four-year university. 

Do neonatal nurses deliver babies?

Neonatal nurses work with newborn babies in the first few months of life. Neonatal nurses may be in the delivery room to help take care of babies right after they are born. However, labor and delivery nurses are the nurses who generally assist an OB-GYN or midwife to deliver babies. 

How hard is it to be a neonatal nurse?

Neonatal nurses have very stressful, but rewarding careers. It can be a less physically stressful career as compared to nurses who work with an adult population.