Labor and delivery (L&D) nurses are unique among the different types of nurses because they have a very specific job: to help deliver healthy babies and get moms through the process safely. In essence, they are doing what some might consider the most important nursing job of all — bringing new lives into this world. Read on to find out how to become a labor and delivery nurse, the education requirements, the average labor and delivery nurse salary, and more. 
Part One What is a Labor and Delivery Nurse?
L&D nurses begin as Registered Nurses (RN) and may become Advanced Practice Registered Nurses (APRN) such as OB/GYN Nurse Practitioners, but ultimately, they pursue some level of specialty training to help women deliver babies.
Unlike many general staff RN jobs, where the kind of patient care you administer runs the gamut, labor and delivery nurses have a very specific function – to work with women who are about to give birth.
While most labor and delivery nurses work in hospitals, there are more and more birthing centers opening throughout the country.
For anyone who's interested in becoming a labor and delivery nurse, the good news is that position will always be in demand, whether it's in a hospital, birthing center, or clinic. By gaining experience as a Registered Nurse and then specializing in L&D, you can choose this fulfilling and gratifying career track.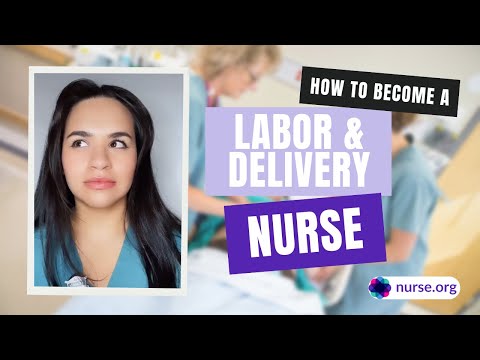 Part Two What Does a Labor and Delivery Nurse Do?
L&D nurses work with just a few patients per day, monitoring their progress, and handling whatever new development comes their way.
After birth, they continue to care for the mothers until they are released from the hospital. This care is more complex for mothers who give birth via C-section, or who have some other medical complication.
Some of the primary responsibilities of an L&D nurse include:
Monitoring both the baby's and mother's vital signs, including heart rate and blood pressure
Timing contractions
Identifying and assisting with handling complications
Helping to administer medications and epidurals
Aiding in inducing labor
Coaching new mothers throughout the duration of the labor and delivery
And, of course, there's also a lot of hand-holding, encouragement, and comforting going on in birthing rooms as well.
Part Three Labor and Delivery Nurse Salary
The median annual salary for all RNs is $77,600 per year, or $37.31 per hour according to the Bureau of Labor Statistics, as of May 2021, though conditions vary by area. Labor and Delivery nurses will typically earn around that salary, with some earning more, depending on the location and type of institution. Those with advanced skills and experience can earn more as well.
Highest Paying States for Labor and Delivery Nurses
| | |
| --- | --- |
| New Jersey | $121,423/yr or $58.38/hr |
| Tennessee | $116,890/yr or $56.20/hr |
| Massachusetts | $116,594/yr or $56.05/hr |
| Hawaii | $115,911/yr or $55.73/hr |
| Nevada | $115,257/yr or $55.41/hr |
Source: Ziprecruiter
Part Four How to Become a Labor and Delivery Nurse
1. Become a Registered Nurse
Before you can specialize or choose to remain in a particular hospital unit like L&D, you must first become a Registered Nurse. To do so, you have to graduate from a program of study that is approved by your State Nursing Board, either a bachelor's degree or associate degree program.
2. Pass the NCLEX
Upon completion, you have to pass the NCLEX-RN. From there, you can begin practicing and look for opportunities to gain experience in L&D units.
3. Advance Your Education
To advance in this career, additional education is required beyond the RN degree program. Some choose to become Nurse Practitioners in Obstetrics and Gynecology. These highly specialized nurses are needed to handle very high-risk patients and special circumstances and complications.
Another route L&D nurses can take is to become Certified Nurse-Midwives. That requires earning the Certified Nurse-Midwife and Certified Midwife designations through the American Midwifery Certification Board.
4. Earn Certifications
Another way to bolster your credentials as an RN is to earn a certification in your field of interest. For L&D nurses, that would usually be the Inpatient Obstetric Nursing (RNC-OB) certification through the National Certification Corporation. Becoming a Certified Labor and Delivery Nurse can give you an edge and make you more marketable.
>> Explore L&D Certification Review Materials* 
Part Five What is the Career Outlook for Labor and Delivery Nurses?
With so many nurses coming into retirement age in the next decade, the nursing shortage is here to stay for a long time. And because L&D nursing is physically demanding, requiring long shifts, it's particularly suited for new nurses who have to, in a sense, labor right alongside their patients.
In other words, as far as job prospects go, specializing in L&D will help power up your job security even more. To get an idea of just how many nurses will be needed, consider that the Bureau of Labor Statistics predicts the field to grow at a rate of 7 percent from 2019 to 2029, which is faster than the average for all occupations.
Part Six What are the Best Labor and Delivery Nurse Programs?
Top 10 Labor and Delivery Nurse Programs
Methodology
This list is based on a number of factors including:
Reputation
NCLEX pass rate
Tuition
Acceptance rate, when available
Only ACEN or CCNE accredited schools are eligible
Labor and delivery nurses complete various levels of education, so this list takes into account all degree levels. 
Nurse Panel
Our selection panel is made up of 3 Registered Nurses with years of experience and multiple degrees:
Tracy Everhart, MSN, RN, CNS
Tyler Faust, MSN, RN
Kathleen Gaines, MSN, BSN, RN, BA, CBC
There are numerous labor and delivery nursing programs and our panel of nurses ranked them based on factors mentioned in the methodology. Because individual nursing pathways and careers take various forms, the top 10 labor and delivery nurse programs are ranked in no particular order. 
Annual Tuition: $56,212
Online: No
Program Length: 4 years
Founded in 1740, the University of Pennsylvania is among the oldest and most well-respected universities in the nation. With a low student-to-faculty ratio of 6:1, Penn students get a high level of one-on-one time with professors. Future labor and delivery nurses should consider the undergraduate BSN, a four-year degree with good NCLEX outcomes. Those looking to further their education should consider Penn's top-notch nurse-midwifery or women's health MSN programs. 
Annual In-State Tuition: $7,925 Annual Out-of-State Tuition: $26,452
Online: No
Program Length: 4 years
While probably best known for its sports, the University of Michigan at Ann Arbor is also one of the best public universities. U-M boasts one of the best undergraduate nursing programs, a four-year BSN that's particularly affordable for Michigan residents. The university also offers several nurse-midwifery MSN options, so labor and delivery nurses can specialize in their education and career even further. U-M graduates also join an extensive alumni network which could make it easier to gain labor and delivery experience early on in your career.
Annual Tuition: $89,858
Online: Yes
Program Length: 15 months
Located in New York City, Columbia University is known for regularly producing high-caliber graduates who become experts in their field. Those interested in becoming labor and delivery nurses through Columbia take a non-traditional route. The university offers a pre-licensure MSN for those with non-nursing undergraduate degrees. Earning an MSN could make it easier to land in labor and delivery early on. Columbia also offers a DNP in nurse-midwifery for those who want to earn the highest level of education possible. 
Annual In-State Tuition: $12,040 Annual Out-of-State Tuition: $43,460
Online: No
Program Length: 4 years
With over 51,000 students, the University of Texas at Austin is one of the larger schools that future labor and delivery nurses might attend. As with other schools on this list, the University of Texas at Austin boasts a solid BSN program, and the school's connection with the extensive University of Texas system means students could gain clinical experience at some of the top hospitals in the region. Similarly, local Texas hospitals might prefer to hire a recent Texas graduate, making this an excellent choice for anyone interested in labor and delivery nursing in Texas. 
In-State Tuition: $32,255 Out-of-State Tuition: $91,120
Online: No
Program Length: 4 years
The University of North Carolina is among the top public schools. Great for research and healthcare, nearly every type of nurse can succeed with a degree from UNC. The BSN, available in a traditional four-year or an accelerated four-semester option, prepares students for success in any field. Those who can take advantage of UNC's low in-state tuition should definitely consider this top-ranked program.
Annual Tuition: $53,070
Online: No
Program Length: 4 years
Emory University is a private school best known for its incredible healthcare system. Like other great programs, a nursing degree from Emory essentially prepares you for any nursing career. Aside from the BSN, Emory also offers graduate degrees in nurse-midwifery and women's health, two great options for labor and delivery nurses. While the costs are steep, Emory notes that students do not pay the cost of attendance. Instead, this high cost is used as a bar before determining financial aid, and most students pay a lower rate than what's listed. 
Annual Tuition: $67,119
Online: No 
Program Length: 4 years
An Ivy School located in New Haven, Connecticut, Yale University regularly offers financial aid to students who struggle with tuition, making this a surprisingly affordable option for many students -- assuming they get through the highly competitive admissions process. While Yale doesn't have an undergraduate program for nurses, its nurse-midwifery and women's health NP program rank among the best graduate degrees in the labor and delivery field. 
Quarterly In-State Tuition: $4,026 Quarterly Out-of-State Tuition: $13,302 
Online: No
Program Length: 4 years
The only West Coast school to make this list, the University of Washington is a regional leader in healthcare, and nursing students gain valuable clinical experience at the school's healthcare facilities. Aspiring labor and delivery nurses without a nursing license should enroll in the BSN, one of the best undergraduate programs in the region. Those looking to continue their education should pursue a DNP in nurse-midwifery or women's health clinical nurse specialist. As a public school, Washington residents get a low in-state tuition rate, too.
Annual Tuition: $37,918
Online: No
Program Length: 4 years
Created in 1831, New York University is among the best research universities worldwide, great for any labor and delivery nurses looking to advance their careers and earn graduate degrees. Of course, labor and delivery nurses must first earn an undergraduate degree and gain experience. Through NYU's BSN, students complete an excellent nursing program, gain clinical experience at some of the best hospitals in New York, and graduate with connections to local healthcare facilities. 
Annual Tuition: $9,750
Online: Yes
Program Length: 1 year
Aspen University is a primarily online school, so only licensed nurses with an associate degree should consider this option. However, Aspen's online RN-BSN is among the best out there, perfect for RNs with an associate degree looking to increase their earning potential. This flexible program also makes it easy to keep working while earning the degree, and the program cost is incredibly low. Completing an RN-BSN program could prove to be an excellent long-term move for labor and delivery nurses. 
Part Seven Where Can I Learn More About Labor and Delivery Nursing Careers?
To learn more about L&D nursing careers, take advantage of the resources available through the professional associations related to this field. The leading group for L&D nurses is:
The Association of Women's Health, Obstetric and Neonatal Nurses (AWHONN) - This organization aims to improve and promote the health of women and newborns and to strengthen the nursing profession through advocacy, research, and education.
You can also check out our article on How to Become an OB Nurse, which is a related nursing specialty!
Part Eight Labor & Delivery Nurse FAQs
What does a labor and delivery nurse usually do? 

A labor and delivery nurse cares for pregnant people during labor, delivery, and postpartum. They can also assess pregnant people for signs of premature labor or other pregnancy complications. Labor and delivery nurses also provide newborn care and parental and caregiver education that can include bathing, grooming, health, and feeding.

How do I become a labor and delivery nurse? 

In order to become a L&D nurse, earn your RN, then apply to work on a labor and delivery ward. Some hospitals allow L&D nurses to apply directly out of school, while others may prefer nurses to have some experience on the general med/surg floor. 

Is labor and delivery nursing hard? 

Labor and delivery nursing can have challenging situations, such as when pregnancy complications occur, but it's a highly rewarding field. 

Is a labor and delivery nurse the same as a midwife? 

No. A Certified Nurse Midwife (CNM) is a Registered Nurse who has gone through a Master's program to become an Advanced Practice RN. 

How long does it take to become a labor and delivery nurse? 

It can take 2-4 years to become an RN and it is possible to apply directly to the L&D ward right out of school; some healthcare facilities may require a year or two of med/surg experience, however. 

What personality traits are needed to be a labor and delivery nurse? 

Labor and delivery nurses need to have the ability to pivot quickly, manage time effectively, communicate, handle high-stress situations, express empathy, and work well with doctors, patients, and families. A passion for pregnancy is also helpful for L&D nurses. 
*Indicates an affiliate link. At no additional cost to you, Nurse.org may earn a commission if you click through and use this service.
$70,000 - $90,000
Associate
Bachelors
Bedside
RN
Labor and delivery