20 Best Gifts For Nursing Students 2023
There will never be a shortage of things a nursing student will need. From new scrubs, to a new stethoscope, to handy information cards - your hunt for the perfect gift for a nursing student should start right here. 
Nurse.org may receive a portion of sales via affiliate links on this page. We strive to write recommendations that genuinely reflect our true opinion of the product or service.
Badge Clip Holders
These badge-reels are fun, cute, and affordable on Amazon!
Buy these cute badge clips on Amazon
Shoes
Comfortable, durable shoes are a MUST for every nursing student - especially when they start clinicals.
Buy Gales For $89.95 "The FIRST PPE shoes for nurses!"
Figs partnered with New Balance to make an amazing shoe for nurses! 
Buy FIGS | New Balance 996 Women's For $98.00
Hoka OneOne is made for runners and is extremely comfortable!
Buy these highly recommended HOKA ONE ONE sneakers on Amazon for $165.00
Compression Socks
While still in nursing school, students pull long hours, work 12-hour clinical days, and oftentimes have a job working in a healthcare setting. It's important to protect the legs from cramps, varicose veins, and further damage even at a young age.
Buy these top-rated nurse compression socks on Amazon
New Laptop 
Your college student will be forever grateful for a new laptop - especially a Mac Book Pro 2020!
Noise Cancelling Headphones
Headphones. College students are noisey! Help your students focus by giving them a good pair or headphones to limit the possibility of distractions. Better yet, they'll hear everything clearly if they're taking online classes!
Buy Apple AirPods on Amazon for $114.99
Buy these noise-canceling headphones on Amazon for $59.99
*Amazon Best-Seller (38,000 ratings, 4.5-star review)
Planner
This highly rated smart planner on Amazon has everything you need to stay super organized but, it also helps you to plan (and stay on track) with short and long-term goals! It has over 6,000 Amazon reviews and a 4.5-star rating.
Buy this Smart Planner on Amazon for $19.99
Deep Tissue Massager
Nursing school is stressful and busy, help your nursing student to relax and de-stress with this amazing deep tissue massager. Relieving tension in the neck and shoulders, muscle tension, knots, spasms, aches, and pains.
Buy this heated neck and shoulder massager on Amazon for $42.48
uNight Light by Lumifycare
A wearable LED light designed by nurses Anthony Scarpone-Lambert and Jennifferre Mancillas, for nurses - this light is perfect for students learning the art of a clinical assessment. uNight Light is light-weight, hands-free, liquid-repellent, and cleanable by any hospital-grade disinfectant. With three distinct settings (white, red, and blue lights) studies have found this light decreases sleep disturbances by 70% while still allowing nurses and nursing students to examine a patient closely. 
Buy Lumifycare uNight Light for $24.00
Study Help Courses and NCLEX Prep
Buying study guides might not seem like the best gift for nursing students but, it's actually the ideal gift because most nursing students struggle through nursing school. All nursing students must pass the NCLEX before becoming a Registered Nurse.
To help you achieve your goal, nursing.com is nurse.org readers a 25% discount on a 2-Year membership from December 13th to December 22nd at midnight. Click here to get started and use Coupon Code: 2YEARNCLEXPREP25
Here are a few more specific details on this amazing deal: 
25% off 2-Year Plan
$61.50 a month for 6 months (then 18 months FREE)
Includes NCLEX prep (including 5 computer-adaptive NCLEX simulation exams)
Includes 2,000+ Lessons, 2,100+ Study Tools, 6,000+ NCLEX style practice questions
Steps to start a membership:
Click 2 Year + NCLEX Plan
Click "Have a Coupon"
Enter coupon code: 2YEARNCLEXPREP25"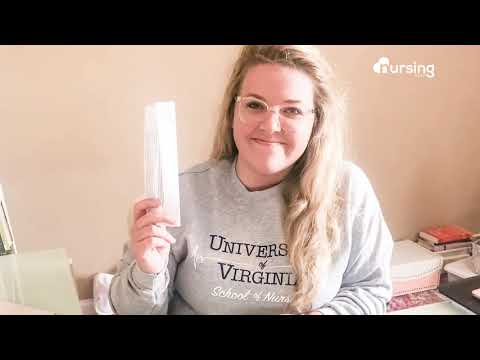 Slow Cooker
Hamilton Beach's 6-Quart Set and Forget Slow Cooker is a great gift for nursing students that are too busy to cook a nutritious meal. For instance, when it comes to eating meals, it's easier to pick up burgers at a drive-thru, order in, or heat up a frozen pizza. While nursing students often juggle classes, clinical, and maybe a job - this slow cooker allows an individual to come home to a delicious tasting and smelling meal!
Buy Hamilton Beach Portable 6-Quart Set & Forget Digital Programmable Slow Cooker For $64.99
Portable Blender
Designed for the on-the-go person, nursing students can take this portable blender with them to class, clinical, or to a study session. Perfect for smoothies and shakes, Hamilton Beach's 14-ounce personal blender is dishwasher safe, boosts a one-touch blend setting, and comes in a variety of fun colors. 
Buy Hamilton Beach Personal Blender Starting at $21.85
Stethoscopes 
Littman has been the trusted brand by healthcare professionals including nurses, doctors, and students since the 1960s. With its wide range of acoustics and options, Littman offers something for every nurse. 
Buy 3M Littman's Stethoscope, Cardiology, on Amazon starting at $184.99
Expensive - yes! Perfect for the nursing student interested in working in a  cardiac intensive care unit, is hard of hearing, or interested in pursuing an advanced nursing degree - yes! The 3M Littmann Core Digital Stethoscope enhances auscultation through amplification, active noise cancellation, and AI-powered software. It features 40X sound amplification and 7 volume settings, on/off toggle, audio filters, notification light, ANC microphone port, and record button. The stethoscope has Bluetooth wireless connection, Micro USB charging, IOS, and Android compatibility. It truly is the perfect stethoscope and we found it at its lowest selling price!
Sleep Mask
Let's be honest - most new nurses get put on the night shift. Nursing students are going to be begging for a great sleep mask to help catch some quality ZZZZs during their first few months on the job. Also an excellent option for the sleep-deprived student cramming for finals between nursing clinical. 
These contoured eye sleep masks are 100% effective for blocking those pesky daytime sun rays.  They also have deep eye pockets so that your eyelashes don't touch the top of the fabric when sleeping or blinking and won't affect their eye makeup. 
Buy LKY DIGITAL Sleep Mask 3 Pack for $13.99
Water Bottle
S'ip by S'well Stainless Steel Water Bottles is a great gift for your favorite nursing student! These water bottles are double-walled insulated and keep beverages cold for 24 hours and hot for 10. Ideal for students busy during clinical but also getting ready to accept their first nursing position. 
Buy S'ip by S'well Stainless Steel Water Bottle Starting at $24.99
We also LOVE these customizable tumblers - so cute! 
Buy this tumbler on Amazon for $24.95
Snack boxes 
 College students always need a good-health snack! We found this awesome snack box on amazon that comes equipped with a cute note and a badge clip!  
Buy this snack gift box on Amazon for $26.99
Badge Clip Notes (nurse brain sheets)
These 13 badge clips are great for busy situations or as a quick reminder of different medications, diseases, or other information. Easy to attach to any badge clip, these waterproof badge clips are sure to be a hit for your favorite nursing student!
Buy Complete Nurse RN CNA NA Horizontal Badge Card Set starting at $19.99
Amazon Gift Card
College is expensive, and, nursing school is even MORE expensive. Any nursing student would LOVE an amazon gift card to spend on the things they really need (or maybe even to spoil themselves for getting good grades)
Buy an Amazon Gift Card in the amount of your choice!