A school nurse works with school-aged children in a school setting. School nurses have a variety of responsibilities both to the students but also faculty and are a vital part of the educational system. 
The practice of school nursing began in the U.S. in 1902, when Lina Rogers, the first school nurse, was hired to reduce absenteeism by intervening with needs related to communicable diseases. After one month of successful nursing interventions in the New York City schools, she became a pioneer for school nursing throughout the city. 
Since then, there is an estimate of 132,300 practicing public and private school nurses in the U.S. Beyond caring for the health of a student, school nurses address the social determinants of health, such as income, housing, transportation, employment, access to health insurance, and environmental health.
This career guide will take a closer look at all aspects of school nurses and help guide individuals interested in following this path of nursing. 
Part One What is a School Nurse?
Students experiencing illness or injury during the school day or at after-school activities will report to the school nurse for further care. School nurses are responsible for assessing these students and determining if a higher level of care is needed.
School nurses are governed at a state level so requirements within a state should be identical for all school nurses. Other responsibilities of a school nurse may include the following:
Administer wound care to injured students
Annual sports screenings
Assess and treat students with mental health issues
Assess students and contact parents or emergency services 
Assist families with obtaining outside healthcare and obtaining health insurance
Assist with free and reduced lunch programs
Communicate with students' families regarding continuous illnesses (e. lice, chickenpox) 
Educate staff on CPR and other life-saving measures
Educate staff, students, parents, and community partners on COVID-19 prevention strategies
Evaluate students for COVID-19 symptoms and exposure
Glucose monitoring
Health education classes (ex. sex education) to students and staff in a private and group setting
Maintain student health records
Medication administration
Overseeing school infection control standards
Oversee vision, hearing, health, and mental health yearly screenings
Provide school health services for students both in-person and remotely
Respond to health emergencies and perform CPR or lifesaving measures if warranted
Scoliosis screenings
Submit all required documentation to the state regarding students' vaccination records
Part Two Where Can a School Nurse Work?
While a school nurse is a Registered Nurse and can be employed in a variety of settings – School Nurses work primarily in the educational setting, they generally are found in a public or private preschool, elementary school, middle school, or high school. Some colleges and universities employ school nurses for their campus health programs. Nurses employed at the collegiate level will have slightly different responsibilities as they are caring for an older student population with different needs. School nurses can also be found at vocational schools or juvenile correction facilities. 
A complete list of locations school nurses should consider is as follows: 
Alternative schools
College/University
Department of Health
Hospitals
Overseas military bases
Pre-schools
Private and parochial schools
Public School Systems (elementary schools, middle/jr. high school, high school)
Summer camps
Vocational schools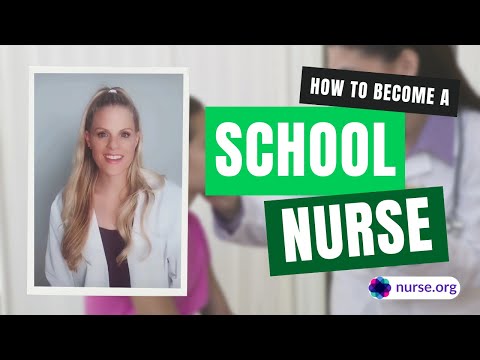 Part Three
School Nurse Salary
Salary.com reports that the average school nurse salary in 2022 is $53,360 annually. ZipRecruiter estimates that as of September 2022 school nurses in the U.S. earn an average salary of $61,869 per year or $29.74 per hour. 
Depending on the work location this will impact pay. Some school districts pay according to the same scale as a teacher's salary – these nurses are generally Certified School Nurses (see below). Others (with only an RN) earn an hourly rate. It's important to note that this hourly rate is typically lower than most nurses working at the bedside. Even though school nurses report at a state level, the pay scale is not the same across a state.
Overall, pay generally correlates with the cost of living for a specific geographical area as is evident in the pay in different parts of the country. Areas where cost of living is higher will see a higher hourly rate than areas with lower costs. 
Unlike other jobs in the nursing field, there is little to no chance for overtime in school nursing. Most positions are a yearly salary and do not have overtime built into the contract. There is some increase in earning potential according to experience and additional education. 
>> Click to See the 2022 School Nurse Salary Guide
School Nurse Benefits
Regardless of the workplace setting, school nurses enjoy similar benefits. While actual benefits may vary depending on the institution must include the following:
Health, Vision, and Dental Insurance
Retirement Options
Family Leave of Absence (FMLA)
Maternity Leave
Discounts
Certification Reimbursement
Professional Organization Reimbursement
Tuition Reimbursement
Attendance at nursing conferences
CEU Reimbursement
Part Four How to Become a School Nurse
1.) Earn a BSN
To. become a school nurse, students must first complete and receive Bachelor of Science in Nursing from an accredited university. Associate degrees in Nursing will not qualify an individual to become employed as a School Nurse. This schooling may take 2-4 years depending on the length of the program.
2.) Pass the NCLEX
The NCLEX is a nationwide examination for the licensing of nurses in the United States. 
3.) Become Licensed in Your State
After passing the NCLEX (National Council Licensure Examination) exam, individuals must become licensed in their state of practice. The NCLEX is a nationwide examination for the licensing of nurses in the United States. 
4.) Gain Experience
Most schools prefer for nurses to have several years of clinical experience prior to working in the school districts. This allows individuals to work on critical thinking skills and become more independent in their nursing abilities. 
5.) Meet Additional Requirements Such as Advancing Your Education
Educational requirements are subject to the state of employment. Due to this, it is common for state requirements to vary greatly. Furthermore, it is very common for school nurses to possess a Master's in Science of Nursing or a Master's in Education. 
A few examples of school nurse pre-employment requirements include:
Arizona: School nurses must obtain a school nurse certificate issued by the Arizona Department of Education 
California: Must possess a current credential in school nursing, which requires 26 credits beyond the bachelor's degree in nursing
New Mexico: School nurses must possess an RN license and a bachelor's degree, whereas a school nurse supervisor must also possess a master's degree.
States that require a credential in school nursing  (ex. California, Pennsylvania, West Virginia) often take the certification examination during an MSN program. 
Individuals interested in school nursing in the aforementioned states should fully investigate the requirements to become a professional school nurse. Those interested in a supervisory role are generally required to have an MSN and Certification in School Nursing. 
Part Five Certifications for School Nurses
Nurses can pursue a certification in School Nursing. Some jobs will require this prior to applying for a position while others will want the nurse to earn this certification once hired. It is important to look at all of the job requirements prior to applying. 
The National Certified School Nurse (NCSN) is credentialed through the National Board for Certification of School Nurses (NBCSN). The certification is valid for five years. Recertification is more specific for this certification. It is strictly based on clinical practice hours. Individuals are required to maintain a current RN license and at least 2,000 hours of clinical practice in school nursing in the past 5 years, of which 750 hours must be in the past 3 years. 
Part Six School Nurse Resources
To learn more about school nursing and certifications – check out these websites.
$70,000 - $90,000
School Nurse
Bachelors
Non-Bedside
RN