10 Top Pediatric Nurse Practitioner Programs 2024
10 Min Read
Published February 1, 2022
For nurses who want to continue their education and specialize, finding the right school for their advanced practice degree is important - and becoming a pediatric nurse practitioner is no different. Pediatric nurse practitioner programs prepare nurses to care for a wide array of patients - from infants to young adults. 
How to Become a Pediatric Nurse Practitioner
Here are the steps to take in order to become a pediatric nurse practitioner:
Earn accreditation and experience as a registered nurse. Most schools require 2-5 years of bedside pediatric experience.
Complete a pediatric NP track during graduate school to specifically care for pediatric patients.
Obtaining a Doctorate of Nurse Practitioner (DNP) can take another two to four years and is considered a terminal degree for advanced practice nurses
>> Find Nurse Practitioner Programs Accepting Applications Now
Types of Pediatric Nurse Practitioner Programs
These are the main types of pediatric nurse practitioner programs:
1. RN to NP
For nurses that don't hold a Bachelor of Science Nursing, there are specific RN to NP programs available that allow you to essentially bypass getting your bachelor's degree and go directly from an associate's to a master's. You will take an additional "bridge" year to get caught up, then began the regular NP program classes. Because there is an additional bridge year, this option will take longer than a strict NP-only program. 
2. MSN NP
One of the most common options for NP programs, the MSN-NP is for students who already have their BSN and enroll directly into the program at the graduate level. 
3. DNP
Doctorate Nurse Practitioner programs allow students to receive their doctorate degrees while meeting the requirements to become an NP. The DNP is generally suited for nurses who plan on working more in an academic or research-based setting, 
4. Post-graduate certificate
If you have a graduate degree that is different from the area that you wish to specialize in now with your NP, you can search for a school that offers a post-graduate certification option to allow you to enroll directly into the program. 
Post-grad certificate programs require you to either possess your Master's Degree of Science in Nursing (MSN) or have a Nurse Practitioner qualification in another specialty.
Top 10 Best Pediatric Nurse Practitioner Programs
The demand for pediatric nurse practitioners is growing. Nurses who attend the best schools have access to better opportunities upon graduation. 
Pediatric Nurse Practitioner - Primary Care (PNP-PC) is the most popular pediatric nurse practitioner option available at these schools. However, some schools also offer Pediatric Nurse Practitioner - Acute Care programs as well.
Here are the 10 best pediatric nurse practitioner programs:
Tuition: $16,463 per semester
A top-ranked program, Duke University's PNP-PC program has part-time and full-time study options available. However, students are required to study on-campus as there is no online option available for this program. They also have a program specifically for pediatric nurse practitioner - acute care.
Tuition: $45,484 per year
The University of Pennsylvania offers MSN programs in both primary and acute care pediatric nursing. In fact, there are multiple options available for acute care, giving students the chance to hone their skills. Tuition is high but may be reduced with the help of financial aid.
Tuition: $45,568 per year
The only PNP program offered at Johns Hopkins is a doctor of nursing practice (DNP). However, the quality of education at this institute is among the best in the nation. By the end of their studies, students will be exceptionally prepared for their career as a pediatric nurse practitioner.
Tuition: $1,066 per credit hour 
One of the best grad programs for pediatric primary care, Rush University's DNP program is completely online and accredited. With a class size of only 24, it is a difficult program to get accepted into.
Tuition: $8,842 per quarter
Part of a track within the DNP program, UW's PNP program puts students on a designated track to prepare them to work in primary care. The program is a combination of on and off-campus studies, something for students to keep in mind. Students should also note that UW is on quarters, not semesters.
Tuition: $1,454 per credit hour
Vanderbilt's PNP-PC program is a hybrid of online and offline learning and most students who participate in this program study full-time. By the end of this program, students will have earned a master's degree. With a class size of 40-50, this is one of the larger programs on this list.
Tuition: $1,575 per credit hour 
Yale's Post-Master's PNP program is an extension available to students who are already studying for an MSN at Yale University or have earned a degree, something to keep in mind while applying. However, this allows students to have a specialty focus with a broader understanding of nursing in conjunction with their MSN.
Tuition: $3,834 per quarter 
The University of California, San Francisco is only available to students studying toward a graduate degree or higher in the field of health. This is a general PNP program, not requiring any specific specialization in primary or acute care.
Tuition: $1,930 per credit hour 
A doctoral program, Columbia University's PNP program more than prepares nurses for a successful career as a pediatric nurse practitioner. As a specialty program, students will need to study toward a DNP and then take the required courses to specialize in pediatrics.
Tuition: $1,064 per credit hour 
University of Pittsburgh's BSN to DNP program takes three years, but it's well worth it. Students interested in the PNP-PC program can also study by doing a post master's to DNP, and are able to study part-time or full-time.
Picking the Right Pediatric Nurse Practitioner Program
Because of different factors, students may find that one school is a better fit for them than another. Before applying to a PNP program, be sure to consider the following:
Cost: How affordable is the school? Do they offer financial aid to students? Are there scholarships available?
Location: Many programs require students attend on-campus lectures or simulations. Can you commute to the program? Are you willing to move to a new area to attend this school? If the school is online, can you learn best this way?
Where are the clinical locations? What hospitals is the school associated with? Do they give you clinical placements or are you responsible for finding them?
Will I be able to work during the program? Will I be able to quit my job and support myself during school? Do they offer medical insurance? Is it possible to work part-time or per diem during school?
How long it takes to earn a degree? Most programs can be completed in as little as two years but all programs require completion within five years. Will you be able to attend school full time or part-time?
Is it a master's or doctoral program? Not all schools offer the same terminal degree type for pediatric nurse practitioners. Make sure to research which option is best for you, both personally and professionally. 
Becoming a pediatric nurse practitioner is a fulfilling and rewarding career. There is autonomy from other medical professionals and you get to be the primary care provider for your patients. PNPs must possess advanced critical thinking skills, compassion towards their patients and families, resourcefulness, self-confidence in your abilities, strong communication skills, and a desire to help children and their families. 
Pediatric Nurse Practitioner Program Requirements
In order to gain admission to a PNP program, applicants will need to apply to a program that is accredited and offers a reputable program. To apply, nurses should expect to submit the following:
Transcripts
Letters of recommendations
Resume
References
GRE scores
Personal statement
Application for admission
Application fees
Personal interview
All pediatric nurse practitioners must become certified in the specialty in order to practice. There are currently two certification exams for students. 
>> Show Me Online Nurse Practitioner Programs
Pediatric Nurse Practitioner Career Overview
What is a Pediatric Nurse Practitioner?
A PNP is an advanced practice nurse that holds special training and manages the overall care of the pediatric patient. A registered nurse is responsible for performing physical assessments, distributing medication, and carrying out the orders set forth by the medical team. 
Nurse Practitioners conduct physical exams, take a patient's history, order labs and imaging, diagnose illnesses, and prescribe medications. They can also act as a patient's primary care provider. Nurses can not diagnose, prescribe medication, order tests, or act as a primary care provider. RNs typically work alongside physicians, whereas PNPs can work independently. 
>> Related: How to Become a Pediatric Nurse Practitioner
Pediatric Nurse Practitioner Career Outlook
According to the American Association of Nurse Practitioners, 
There are roughly 270,000 nurse practitioners licensed in the United States
Currently, only 4% are licensed as pediatric nurse practitioners
31.1% practice in a hospital setting, while 51.6% work in outpatient clinics
While most PNP students focus on primary care, there are also acute care programs that focus on the critical care aspect of caring for children. 
>> Get Started! Find Nurse Practitioner Programs
Pediatric Nurse Practitioner Salary
Pediatric Nurse Practitioners earn generous salaries. According to Indeed.com, the average salary for a pediatric nurse practitioner in the United States is $121,659 per year. 
>> Show Me Online Nurse Practitioner Programs
What is the Difference Between a Physician and a Pediatric Nurse Practitioner? 
PNPs typically earn a bachelor's degree in nursing (BSN) and at least a master's degree in nursing (MSN) or doctor in nursing practice (DNP) degrees. Physicians, on the other hand, earn a bachelor's degree and then complete medical school and medical residency. Depending on their specialty they may also complete a fellowship. Physicians train for a minimum of eleven years and upwards of sixteen years for specialties such as pediatric neurosurgery and pediatric cardiothoracic surgery.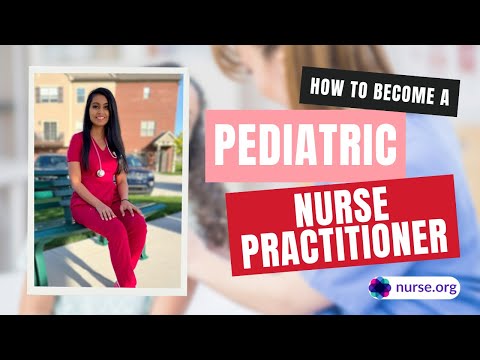 Helpful Organizations, Societies, & Agencies
Check out these organizations for additional information and resources,
Association of Faculties of Pediatric Nurse Practitioners
National Association of Pediatric Nurse Practitioners (NAPNAP)
American Academy of Nurse Practitioners
American Nurses Credentialing Center