Everything You Need to Know About the Master of Science in Nursing (MSN) Degree
Whether you are considering pursuing your Master of Science in Nursing Degree after years of nursing experience or as an individual holding a degree in another field, having your MSN will open the door to nearly limitless possibilities in the medical field and beyond. 
As an MSN, you will find yourself eligible for many more positions and offered much higher compensation, while at the same time finding yourself highly respected by colleagues and sought after for counsel and consensus.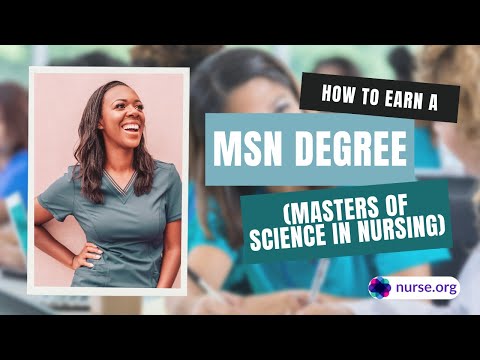 Perhaps most important of all, the Tri-Council for Nursing issued a statement on registered nurse supply and demand projections in which they encouraged the pursuit of graduate education in nursing, stating,
"Practicing nurses and those new to the profession are strongly encouraged to see the current trend in RN entry-level employment as an opportunity to move their career to the next level. Nurses with advanced education are needed now to serve in a variety of roles as faculty, scientists, primary care providers, specialists, and top administrators."
In this comprehensive guide, we have collected the information you need to know what pursuing your MSN entails, from why an MSN degree is a smart choice to helping you find the best programs and discover how to pay for your education.
>>Related: The Ultimate List of Masters Degrees in Nursing
Advantages of an MSN Degree
Nursing is one of the most rewarding career choices available and having a Master of Science degree in Nursing only enhances the level of job satisfaction. According to the Medscape Nurse Career Satisfaction Report 2016, Advanced Practice Nurses (those holding MSN degrees) ranked liking their work and relationships with patients and being good at what they do as the top sources of job satisfaction, though having a wide variety of options for work settings and higher earnings were also frequently mentioned.
Higher earnings potential. Having an MSN degree adds significantly to earning potential. According to a 2015 report issued by Georgetown University's Center on Education and the Workforce, nurses with graduate degrees earned 33 percent more than nurses with undergraduate degrees: that amounted to an average increase of $22,000, citing an average annual salary of $66,000 for college-educated nurses and of $88,000 for nurses who had earned their Master of Science degree. 
More choices in both position and specialization. Nurses who have earned their Master of Science in Nursing degree have a wide range of options available to them: they are able to work in both clinical and non-clinical settings, and in areas of specialty based upon their particular area of interest. Opportunities range from becoming clinical nurse leaders or advanced practice registered nurses such as Nurse Practitioners or Certified Registered Nurse Anesthetists, to nurse administrators, educators, or informaticists.
More opportunity for advancement. By pursuing an MSN degree, you are establishing yourself as a dedicated professional and giving yourself a far greater opportunity to advance your career. More and more hospitals are actively seeking MSN-degreed nurses to fill positions as nurse managers and nurse leaders in order to qualify for Magnet Hospital status.
Pride in delivery of care. Surveys by a number of esteemed institutions have all arrived at the same conclusion: nurses who have earned their Master of Science degree make a big difference in patient outcomes and the facilities in which they practice have lower mortality rates and lower failure-to-rescue rates.
About the Master of Science in Nursing (MSN) Degree
Earning your Master of Science in Nursing degree opens the door to an elevated level of opportunity within the nursing field and beyond. The graduate-level degree endows you with both the ability and the credentials to work in clinical and non-clinical settings either independently or as part of a team and to make critical healthcare decisions. The duties fulfilled by MSN-degreed nurses are as varied as their titles, which can include:
Clinical nurse leaders
Nurse practitioners
Certified nurse midwives
Clinical nurse specialists
Certified Registered Nurse Anesthetists
Nurse administrators
Nurse educators
Nurse informaticists
>> Related: Ultimate List of Masters Degrees in Nursing
MSN-degreed nurses can work in any medical environment in which hands-on healthcare is needed, as well as in healthcare leadership, technology, and policy roles.
According to the Bureau of Labor Statistics, there is a projected 31 percent change in employment for advanced-degreed nurses in a clinical setting, while in careers outside of a patient care setting, growth is expected to be even greater.
The American Medical Informatics Association estimates a need for as many as 70,000 nurse informaticists in the next several years, while the American Association of Colleges of Nursing is calling for aggressive action "to expand capacity in their programs" in order to meet the nation's expanding nursing workforce need.
There are four different routes to earning a Master of Science in Nursing degree, and choosing the one that is most appropriate to you will largely depend upon your current educational and professional background. They are:
Direct Entry or Entry Level MSN Program – This program is for those who have earned a bachelor's degree outside of nursing. This type of program generally takes three years to complete and provides an accelerated path to learning clinical skills in the first year followed by two years of Master's level education.
RN-to-MSN Program – This type of program provides nurses who have an Associate's degree (ADN) with a path to a graduate degree. This type of program acknowledges the clinical experience that the ADN brings with them, and generally takes two-to-three years to complete, incorporating baccalaureate-level education in the first year followed by two years of Master's level education.
BSN-to-MSN Program – This type of program is for nurses who have earned their Bachelor of Science in Nursing.  It acknowledges their clinical experience and allows them to pursue a specific area of interest or practice. BSN-to-MSN programs take between 18 and 24 months to complete if pursued full time.
Dual MSN Program – This type of program is for those who want to enhance their graduate nursing education with another graduate field of studies such as Business Administration or Public Health. The amount of time needed to complete these programs varies.
Coursework and Curriculum
Though every MSN curriculum is different, accredited nursing programs follow the framework provided by the American Association of Colleges of Nursing in The Essentials of Master's Education in Nursing, which not only outlines the essential curriculum contents and core competencies needed to prepare an MSN for their role and responsibilities, but also the need for Masters-degreed nurses to be prepared to lead change promote health, and elevate care in every setting in which they serve. The core of a Master of Science in Nursing program stresses nine key elements:
Background for Practice from Sciences and Humanities 
Organizational and Systems Leadership 
Quality Improvement and Safety 
Translating and Integrating Scholarship into Practice 
Informatics and Healthcare Technologies 
Health Policy and Advocacy 
Interprofessional Collaboration for Improving Patient 
and Population Health Outcomes  
Clinical Prevention and Population Health for
Improving Health 
Master's-Level Nursing Practice 
A Master of Science in Nursing program will include content on subjects ranging from epidemiology and statistics to policy and advocacy, as well as strengthening student understanding of research design and methodology and analysis of clinical or systems errors. 
While pursuing your Master of Science in Nursing, you will have the opportunity to focus on the specific area of practice or role in which you are interested, while also taking required core classes likely to include:
Research
Nursing theory
Ethics
Health promotion
Disease prevention
Healthcare economics
Policy
Social issues
The Master of Science in Nursing degree can prepare its graduates for either clinical roles or non-clinical roles. For those seeking an MSN degree for a role as an Advanced Practice Registered Nurse, there are four recognized roles, as well as population-focused areas from which to choose. The recognized roles are:
Certified Nurse Practitioner (CNP)
Clinical Nurse Specialist (CNS)
Certified Nurse-Midwife (CNM)
Certified Registered Nurse Anesthetist (CRNA)
The recognized populations are:
Family/Individual Across the Lifespan
Adult-Gerontology (Acute care/primary care)
Women's health/gender-related
Neonatal
Pediatrics (Acute care/primary care)
Psychiatric/mental health
Further specialization is also possible based on particular medical interests such as oncology or palliative care, and APRN nurses must also complete separate coursework focusing on advanced physiology, advanced health assessments, and advanced pharmacology.
For those seeking a Master of Science in Nursing in a non-clinical nursing role, the AACN curriculum requires the same nine core areas of study, in addition to topics that have been identified by the separate organizations that govern the three non-clinical roles. Those roles and governing organizations are:
Nurse Administrators – Executives, directors, managers and clinical leaders. Nurse Executive Competencies are established under a curriculum designed by the American Organization of Nurse Executives. The curriculum includes communication and relationship management; knowledge of the healthcare environment; leadership and professionalism; and business skills.
Nurse Informaticists – Information management and communications in nursing professionals. Competencies are established under a curriculum designed by the Healthcare Leadership Alliance, and include communication and relationship management; leadership and professionalism; business knowledge and skills; and knowledge of the healthcare environment.
Nurse Educators – Nursing faculty members. Nurse educator competencies are established by the National League for Nursing, which has identified core competencies including facilitating learning; learner development; assessment and evaluation; and engagement in scholarship.
Salary and Pay
Where registered nurses earned a median salary of $73,300 in 2019 according to the U.S. Bureau of Labor and Statistics, Advanced Practice Registered Nurses and MSN-degreed nurses in non-clinical settings earned substantially more: the median pay for Nurse Practitioners, Nurse Midwives, and Nurse Anesthetists was $115,800 during the same period.
Masters degree nurse educators earned an average salary of $78,575 in 2017, while according to the HIMSS 2017 Nursing Informatics Workforce Survey, over half of nursing informatics professionals surveyed earn over $100,000 in annual salary. 
Registered nurses who have their MSN have demonstrated a personal commitment to their profession and to leadership, and as a result, they are in high demand. Employers offer them a wide range of benefits and perks to entice them to work for their organizations, including vacation pay, tuition reimbursement, onsite childcare, sick leave, and more. 
Career Outlook
While the career outlook for all nurses is extremely high, the need for Registered Nurses with MSN degrees is expected to continue to grow to an even greater degree.
There are more than half a million new RN positions anticipated through the year 2028 and another half million RNs that will be needed to replace those who leave the field.
It is notable that in its publication "The Future of Nursing: Focus on Education," the Institute of Medicine set a goal of having 80% of the nation's Registered Nurses holding a BSN or higher by the year 2020. Currently, the U.S. Department of Health and Human Services says that number is only 55%.
Importantly, the Association of American Medical Colleges has warned of a growing shortage of physicians across the United States, and both that organization and the National Council of State Boards of Nursing have indicated that MSN-degreed Advanced Practice Nurses degree can provide services where care is most needed.  This will lead to even more demand for the skills that MSN-degreed nurses bring.
MSNs have a wide range of environments in which they can work, including:
Hospitals
Physicians' offices
Nursing care facilities
Home healthcare services
Government agencies
Educational services
Support services
Schools
Community centers
Urgent care centers
Offices
Patients' homes
Pharmacies
Registered Nurses who have earned their MSN have the opportunity to work in every healthcare specialty, including:
Family medicine
Pediatrics
Oncology
Home Health
Substance abuse
Geriatric care
Emergency
Hospice
Rehabilitation 
Surgery
Labor and Delivery
Anesthesia
Psychiatry
Public health
Radiology
Key Differences Between RN and MSN Degrees
MSN-degreed nurses not only provide an advanced level of patient care, but they can also do research, teach, impact public policy, consult with corporations and leading health systems. They will play an integral role in the future of health care in the United States.
Both RNs and those who pursue the more rigorous MSN degree have some similarities within their scope of practice including,
Both work closely with patients,
Both treat illness and monitor health,
However, pursuing an advanced degree will make a significant and immediate difference in,
Compensation,
Responsibilities,
Ability to work in a specialized area,
Opportunity to assume a leadership position
The differences between an RN and an MSN include:
A substantial difference in salary, with Advanced Practice Registered Nurses such as Nurse Practitioners and Clinical Nurse Specialists earning a median of $115,800 in 2019 compared to $57,000 to $73,300 per year earned by Registered Nurses depending upon whether they have their Associates Degree in Nursing or a Bachelor of Science in Nursing. 
Potential for leadership and executive positions
MSN-degreed nurses often take on the responsibilities traditionally assigned to physicians. They are able to diagnose and treat acute and chronic illnesses, prescribe medications and create patient treatment plans.
Types of MSN Programs
Once you've decided that an MSN degree is for you, there are a few different options on how to achieve your goal. Much of your decision on which is best for you will depend upon your current situation, whether or not you already have a nursing degree, and what type of degree you have, but will also depend upon your end goal, and whether you wish to be in a clinical or non-clinical setting. The four approaches available are:
Direct Entry or Entry Level MSN Program – This program is for those who have earned a bachelor's degree outside of nursing. This type of program generally takes three years to complete and provides an accelerated path to learning clinical skills in the first year followed by two years of Master's level education.
RN-to-MSN Program – This type of program provides nurses who have an Associate's degree (ADN) with a path to a graduate degree. This type of program acknowledges the clinical experience that the ADN brings with them, and generally takes two-to-three years to complete, incorporating baccalaureate-level education in the first year followed by two years of Master's level education.
BSN-to-MSN Program – This type of program is for nurses who have earned their Bachelor of Science in Nursing.  It acknowledges their clinical experience and allows them to pursue a specific area of interest or practice. BSN-to-MSN programs take between 18 and 24 months to complete if pursued full time.
Dual MSN Program – This type of program is for those who want to enhance their graduate nursing education with another graduate field of studies such as Business Administration or Public Health. The amount of time needed to complete these programs varies.
Online MSN Programs
Many individuals who are interested in earning their Master of Science in Nursing degree are already in the workforce and would prefer to continue working while pursuing their studies, and there are numerous high-quality programs available to facilitate this goal.
If you are a working professional, an online program will allow you to achieve your goals in less time than a traditional educational environment, while still supporting your career and/or your family.
As long as an online program is accredited by The Accreditation Commission For Education in Nursing and the Commission on Collegiate Nursing Education (CCNE), it meets all of the required curriculum criteria.
Online programs are available for each of the various types of MSN degrees and offer distinct advantages, including:
Flexibility. They offer the ability to learn while accommodating existing work schedules and busy lifestyles
They are eligible for federal financial aid
Efficiency. They offer you the ability to earn your MSN degree in less time
No waiting for online MSN programs, as admissions are "rolling" throughout the year
No commute
Full and part-time programs are available
Accessible no matter where you live
Less expensive than degrees earned in traditional educational settings
There are a number of factors for you to consider when choosing the program that is right for you. In addition to the program's reputation and cost, you need to determine whether a program will work for your individual needs and convenience. An online MSN program that requires you to attend a percentage of classes in person may not make sense: likewise, a program that is not in your immediate area and that requires you to participate in clinical hours at a specific facility may also pose a challenge. 
It is also very important when searching for either an online MSN program that the program you select has been accredited. Accreditation assures both you and future employers that the program from which you have graduated meets current, evidence-based standards.
There are two accrediting bodies for nursing programs:
Classes and Clinicals
For those who have a Bachelor's degree that is not in nursing, a Direct-Entry MSN program will begin by teaching the courses and providing the clinical hours required to prepare you for a career as a BSN-degree nurse: it will also give you the knowledge needed to sit for the NCLEX examination and earn your RN license. 
Students in these programs can expect to study topics including:
Nursing science
Foundations of nursing practice
Nursing practice and public health
Pharmacology/nutrition
Pathophysiology
For those who already have their nursing degree, the MSN will move beyond basic nursing and clinical education, providing a comprehensive, higher-level education specific to their chosen course of study. Each program is different, and is a reflection of national standards, the specific role that the student wants to fill and the individual program's priorities and philosophies, but all have the goal of preparing their graduates for positions of leadership and providing a robust understanding of the special role that nurses play in our healthcare system and in the world at large. No matter its focus, every program works to ensure that its students are trained in:
Critical thinking and clinical judgment
Technical skills ranging from providing treatment to patient assessment
Observation skills
Communication skills to facilitate collaboration, counseling, and education between patients, their family members, and other members of the healthcare team
MSN programs also offer a focus on specialized areas of clinical practice, including geriatric nursing, women's health care, pediatrics and more.
MSN Program Requirements 
MSN programs vary based on the individual school and the focus of the program, but prospective students should be aware that acceptance into an MSN program has become extremely competitive. Those considering pursuing a degree should do everything they can to ensure that they meet the basic general requirements for admission of the schools to which they are applying. 
For direct-entry MSN programs, students who have not previously studied nursing should expect to meet the following requirements:
A bachelor's degree in an area other than nursing from an accredited college or university
A minimum undergraduate GPA (usually a 3.0 or higher)
Letters of recommendation (academic and professional)
Application essay
Current resume or CV
GRE scores
Applicants will also need to have taken specific required courses, which may include:
Microbiology
Anatomy
Nutrition
Physiology
Statistics
For those who already have their RN or BSN degree program requirements will likely include some or all of the following:
Current U.S Registered Nurse (RN) license in good standing
An Associate Degree in Nursing or Bachelor of Science in Nursing (depending upon which program you are applying to)
Current resume
One- to two-page personal statement
Transcript of your academic record
Letters of recommendation
Test of English as a Foreign Language (TOEFL) score if your native language is not English. 
Any awards, publications, presentations, and memberships
Evidence of leadership and career progression
Interviews with faculty of the nursing program
What to Consider Before Enrolling in an MSN Program
Choosing to pursue a Master of Science in Nursing is a big decision and one that should only be pursued after careful consideration. Here are some things for you to keep in mind:
An MSN program represents a significant time commitment. Though pursuing your MSN is generally a two-to-three year commitment, it is also an investment in your future. The additional years of education will make a substantial difference in your knowledge and skill. It will not only show up in the level of care with which you treat your patients, but also in your earnings potential, your upward mobility within the field, and the respect accord to you as an advanced degree nurse.
MSN programs can be hard to get into. Like all nursing programs, MSN programs are growing increasingly competitive. Doing the work that is needed to qualify for acceptance requires dedication, but the rewards for doing so are very real and will continue to expand as the need for advanced placement nursing and nurse executives become greater. Nursing is a profession that is highly respected, and those who have worked to ensure that they have the highest level of training and education are viewed as extremely favorably.
MSN programs are more expensive. Though MSN programs do cost more to attend, there are many organizations and resources to help students with financial aid. Additionally, those who pursue an MSN program will find that upon graduation they will quickly be able to earn back the difference in tuition: the more advanced degree brings both more job offers from attractive positions and significantly higher salaries.
How Much does an MSN Degree Cost
There are many factors that contribute to the cost of an MSN degree. These include whether you choose an online program on an in-person program, where the school is located, whether you choose to enroll at a private college or a state school, and if the latter, whether you are attending as an in-state student or an out-of-state student. Costs per credit hour or for full-time tuition also depend upon the reputation of the program.
According to U.S. News and World Report, the average cost of an online MSN program is between $35,000 and $60,000.
Though cost is always an important consideration, it is also important that you remember the significant benefits and increased earnings that follow earning your MSN degree, as well as that you can lower your costs significantly by attending public institutions, seeking financial aid, and applying for governmental grants. 
Paying for the MSN Degree – Financial Aid, Scholarships, Grants, Loans
The cost of education is high, and an MSN degree represents a substantial investment.  Fortunately, there are many options available to help, including grants, scholarships, and loans. Here are just a few:
Scholarships. A number of organizations offer scholarships that are specifically dedicated to encouraging students to pursue advanced degrees in nursing. Searching online reveals numerous options. A few notable examples include: 

A.T. Anderson Memorial Scholarship – $2,000 for the academic year for graduate students pursuing a STEM-related degree, is of Native American background, has at least a 3.0 GPA and is a member of AISES (American Indian Science and Engineering Society).
AfterCollege/AACN $10,000 Scholarship Fund - $10,000 in support of students seeking a baccalaureate, master's or doctoral degree in nursing. Special consideration is given to students in a graduate program with the goal of becoming a nurse educator; students completing an RN-to-BSN or RN-to-MSN program, and those enrolled in an accelerated program.
ANNA Career Mobility Scholarships – The American Nephrology Nurses Association offers multiple scholarships for students pursuing either a BSN or MSN in nephrology nursing.
AORN Foundation Scholarships – The Association of Perioperative Registered Nurses foundation offers scholarships to registered nurses who are continuing their education in perioperative nursing by pursuing a bachelor's, masters or doctoral degree.
CVS Together We Care Scholarships – CVS offers 20 Masters of Science in Nursing scholarships of $2,500 each to those pursuing an MSN to become a Nurse Practitioner.
ENA Academic Scholarship – The Emergency Nurses Association offers multiple scholarships ranging from $1,000 to $5,000 for emergency nurses pursuing any of the following master's degrees: Nursing Administration, Nurse Practitioner, Nursing Education or Public Health. Applicants must be members of the ENA.

Grants. A variety of grants are given out to students who demonstrate financial need. These are offered by the federal government, as well as by states and individual colleges. Like scholarships, grants do not require that you repay them. The selection of students who qualify is based on information submitted on the FAFSA form (Free Application for Federal Student Aid). Once you've filled out the form, you will receive notification of a financial aid award, either with your acceptance letter or at some point thereafter. The amount of these awards varies based on the availability of funds and on the perceived ability of the student's family to pay, but the average amount distributed is $5,000 per student. Pell Grants are also available but generally are limited to students with needs that are considered most urgent based on annual family income.
Student loans. Though student loans will eventually need to be repaid, students who enroll in BSN programs do so with the knowledge that once they've earned their degree, they are likely to earn a significant salary. The best source of a student loan is the federal government, which provides both more protection and lower interest rates. Applying for these loans requires filling out the same form that you use to apply for a grant — the FAFSA. Students who have significant need may qualify for loans that do not accrue interest until after they have earned their degree. Private loans are also available through banks, credit unions, and other sources. Make sure that you read all terms carefully, as there are unethical organizations that can include misleading terms, hidden fees, and high-interest rates.
Payment plans. If you are going to pay cash for your tuition, the MSN program that you enroll in may allow you to set up a payment plan. Many schools also offer financial aid, so contact the school directly to ask what options are available.
Next Steps to Enroll in an MSN Degree Program
Once you've made the decision to pursue a Master of Science in Nursing, there are a number of important steps that are either required or recommended to help you achieve your goal. 
Investigate the programs that are available to you. Just as in choosing any educational program, you want to determine the type of campus and program that you want to apply to. Considerations include your specific educational and career background, the role you want to fill, the program location, the program reputation, how competitive the program is, and cost. Once you've identified those that are of interest, make a checklist for each one's application requirements and deadlines. 
Collect all appropriate documentation. Collect all pertinent transcripts, proof of graduation, resume, letters of recommendation and other requirements. 
Apply to the accredited MSN programs that you have identified.
Apply for financial aid if needed.
Is an MSN Degree worth it?
We asked nurses who have earned their MSN degrees whether or not they thought it was worthwhile, here is what they had to say:
Sarah Gaines, MSN, Western Governor's University
"Having a Master's of Science in Nursing gives me the opportunity to leave the bedside (and the long 12 hours shifts) without having to take a cut in pay. It also gives me a better chance of working in a role that allows me to do what I'm most passionate about -- educating, empowering, and mentoring nurses who are new to the industry. Overall, I'm looking forward to having the flexibility and autonomy to excel in my career after I decide to leave the bedside. The hard work I put in to earn my MSN gives me endless opportunities that will continue to benefit my nursing career for years to come." 
Amy Heiss, MSN, University of Phoenix
"Deciding to obtain an advanced degree in nursing was one of the best career decisions I have made in over 27 years of nursing. It not only broadened my understanding of the profession and placed trends I witnessed in the working environment into context, but it opened new doors of opportunity for me. I was unsure where my master's degree would take me, but when the new map of paths forward emerged, I was thankful I had decided to take the adventure!"
Amber Kendra, MSN, Grand Canyon University
"I feel that obtaining my MBA and MSN has expanded my knowledge of healthcare, allowing me to make better healthcare decisions. This helps me to achieve better patient outcomes, reduce costs and optimize operational efficiency through evidence-based practice. These skills have helped me advance my career as well as provide optimal care for my patients."
Brian Burger, MSN, University of Cincinnati
"Obtaining my MSN reinvigorated my passion for providing my patients with the best possible care that I could give them. I attended the University of Cincinnati and I would recommend it. It's a great program for both adult-gero and pediatric acute care."
Is an MSN Degree Right for Me?
Choosing to pursue a Master of Science in Nursing degree is a big decision that should be based on your own personal goals, dreams, and needs. If your long-term goals including earning significantly more income, earning the respect of your colleagues and community, and playing a key role in the quality of the healthcare that people receive, then pursuing a Master of Science in Nursing degree is the right choice for you. 
References
Medscape Nurse Career Satisfaction Report 2016
Georgetown University's Center on Education and the Workforce
American Nurses Credentialing Center
Association of Colleges of Nursing
American Organization of Nurse Executives
Healthcare Leadership Alliance
Association of American Medical Colleges
National Council of State Boards of Nursing
American Association of Colleges of Nursing
American Indian Science and Engineering Society