In addition to the aesthetic benefits of good skin, the field of dermatology is incredibly important to a patient's overall health because the skin is the largest organ in the body. Find out more about how to become a dermatology nurse, including education, career path, certifications, the average dermatology nurse salary, and the job outlook.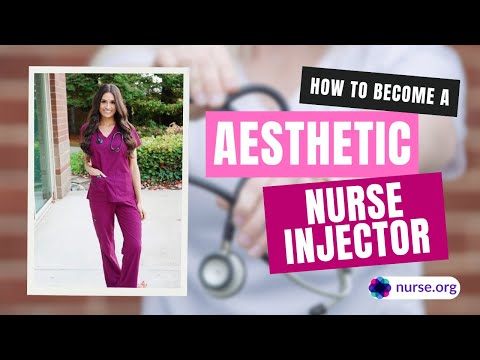 Part One What is a Dermatology Nurse?
Dermatology nurses are a type of registered nurse that works specifically in the treatment and care of patients with diseases, wounds, injuries, and other skin conditions. 
Dermatology nurses have the ability to work in a wide range of settings, including private practice offices, hospitals, infusion centers, clinics, plastic surgeons' offices, and burn centers. 
Dermatology nurses can also find work in day spas or cosmetic dermatology offices, which are increasing in popularity. These nurses will assist with performing procedures such as laser treatments, tattoo removal, chemical peels, and other various treatments. 
Part Two What Does a Dermatology Nurse Do?
Dermatology nurses work with the medical team to assist in the diagnosis and treatment of different skin injuries and conditions.
Applying skin peels and microdermabrasion 
Assessing, monitoring, and treating skin wounds, including burns
Assisting in caring for patients post-operation
Assisting in the performance of skin exams
Assisting the dermatologist with outpatient and surgical dermatology procedures
Assisting with procedures using specialized medical equipment, including cosmetic dermatology
Cleaning and dressing wounds or burns
Collecting skin tissue for biopsies
Educating each patient on how to protect their skin and care for skin diseases and conditions at home.
Educating patients on how to protect their skin and how to care for skin diseases and conditions at home
Educating patients on proper skincare
Educating patients on skincare and preventing postsurgical infection
Explaining test results to patients and their families
Informing patients of post-operative procedures
Monitoring and recording a patient's medical history and test results
Monitoring patients' medical history
Performing a physical assessment on each patient
Performing chemical peels
Providing pre-operative care
Recording and report test results
Screening patients for skin cancer
Treating acne
Treating various skin wounds such as burns, ulcers and skin tears
Dermatology nurses are responsible for educating patients and their caregivers on how to care for skin conditions and recover from treatments once the patient has returned home.
Some of the most common skin conditions they help diagnose and treat are:
Burns
Skin Cancer
Warts
Acne
Impetigo
Rosacea
Psoriasis
Moles
Cosmetic Dermatology
Cosmetic Dermatology, while not entirely a new field, has become one of the fastest-growing medical fields in the last decade. According to Plastic Surgery Statistics Report 2020, 15.6 million cosmetic procedures. 2.3 million cosmetic surgical procedures were performed and 13.2 million minimally invasive cosmetic procedures were performed in 2020. The top five cosmetic surgical procedures in 2020 were:
Nose Shaping
Eyelid Surgery
Facelift
Liposuction
Breast Augmentation
The top five cosmetic minimally invasive procedures in 2020 were:
Botox
Soft Tissue Filler
Chemical Peel
Laser Skin Resurfacing
Intense Pulsed Light (IPL) Treatment
>> Related: How to Become a Cosmetic/Aesthetic Nurse
The goal of cosmetic dermatology is to attain and maintain healthy, natural skin. Treatments can range from deep cleansing, refreshing, rejuvenating, and restoring skin texture and tone, to reducing skin imperfections. These imperfections can be caused by:
Acne
Age Spots
Birthmarks
Lines and wrinkles
Melasma
Moles
Skin discoloration (sun spots)
Skin tags
Stretch marks
Cosmetic dermatology nurses will also assist with the following procedures:
Laser Hair Removal
Tattoo removal
Chemical peels
Scar removal
IPL photofacials
Laser skin resurfacing
Dermal fillers and injectables
Hair loss restoration
Laser skin tightening
An increasing number of general dermatology practices and branching into cosmetic dermatology due to the demand and endless financial possibilities.
For this reason, the growth in this aspect of the field is exponentially greater than conventional dermatology practices. A general rule of thumb is the increase in the number of services an office can provide to patients - the greater the opportunities for the nursing staff.  
Show Me Dermatology Nursing Programs
Part Three Dermatology Nurse Salary
Due to the diversity of work settings, salaries for dermatology nurses can also vary greatly. With any career in nursing, it is important to research geographic areas of interest and the requirements to understand the salary for specific job opportunities.
According to the Bureau of Labor Statistics (BLS), as of May 2021, the median hourly wage for registered nurses is $37.31 while the average annual salary is $77,600. Unfortunately, the BLS does not differentiate between different types of nurses. ZipRecruiter reports that the average annual pay for a cosmetic nurse is $88,474, though some cosmetic nurses are earning as much as $132,000, with the middle 25th percentile of the country ranging from $72,000 to $103,000.
According to payscale.com, dermatology nurses can earn $23.96 per hour. This is significantly below the average pay for RNs; however, there are MANY factors that affect salary. 
Highest Paying States for Dermatology Nurses
The BLS identifies the following as the highest paying states for nursing: 
| State | Hourly mean wage | Annual mean wage |
| --- | --- | --- |
| California | $59.62 | $124,000 |
| Hawaii | $51.22 | $106,530 |
| Oregon | $47.42 | $98,630 |
| District of Columbia | $47.38 | $98,540 |
| Alaska | $46.74 | $97,230 |
Highest Paying Cities for Dermatology Nurses
In the same year, the BLS ranked the highest mean annual salaries for nurses, and the five from the list are as follows: 
| Metropolitan Area | Hourly Avg | Annual Avg |
| --- | --- | --- |
| San Jose-Sunnyvale-Santa Clara, CA | $74.63 | $155,230 |
| San Francisco-Oakland-Hayward, CA | $72.90 | $151,640 |
| Vallejo-Fairfield, CA | $70.37 | $146,360 |
| Santa Rosa, CA | $68.00 | $141,440 |
| Napa, CA | $67.15 | $139,680 |
Most healthcare systems pay nurses on an hourly scale while others have a fixed annual salary, such as nurses in an office setting. Those paid on an hourly scale are able to earn overtime pay whereas salary employees would need to discuss that with the hiring committee.  
How to Earn More As a Dermatology Nurse
As with all nursing jobs, earning potential increases with additional education and experience. Nurses typically are awarded a raise during annual employee performance reviews. Certifications can give nurses an additional bump in their paycheck. Furthermore, nurses who agree to precept new nurse employees can also receive additional compensation.  
Benefits 
Regardless of workplace setting, full-time and part-time dermatology nurses enjoy similar benefits. While actual benefits may vary depending on the institution, most offer the following: 
Health insurance 
Retirement Options
Family Leave of Absence
Maternity Leave
Dental Insurance
Vision Insurance
Discounts
Attendance at nursing conferences
Show Me Dermatology Nursing Programs
Part Four How to Become a Dermatology Nurse
Step 1: Earn Your Degree
As with any nursing career, students must first complete and receive either an Associate's Degree in Nursing or Bachelor of Science in Nursing from an accredited university. This schooling may take 2-4 years depending on the length of the program.
Step 2: Become Licensed
After passing the NCLEX (National Council Licensure Examination) exam, individuals must become licensed in their state of practice. The NCLEX is a nationwide examination for the licensing of nurses in the United States and Canada. 
Step 3: Earn Experience
Once licensed, registered nurses will want to earn experience, preferably in the field of dermatology. Most physician's offices will also want nurses with prior work experience which may be obtained on a general medical-surgical hospital inpatient floor.
Step 4: Get Certified
Earning your certification can lead to increased job opportunities and increased earning potential. 
Show Me Dermatology Nursing Programs
Part Five Certifications for Dermatology Nurses
The Dermatology Nurses' Association (DNA) offers a Dermatology Nursing Certification Examination(DNC) for nurses specializing in dermatology. This certification can lead to increased job opportunities and increased earning potential. 
According to the DNA's website, to be eligible to sit for the DNC examination, candidates must meet the following requirements:
Have a minimum of 2 years of dermatology nursing experience as an RN
Hold a current unrestricted license as an RN in the U.S. or Canada
Have a minimum of 2,000 hours of work experience in dermatology nursing within the past 2 years in a general staff, administrative, teaching or research capacity
Upon application for the exam, all of the aforementioned will be verified. The certification is valid for three years and recertification is obtained via continuing nursing education hours of recertification.
Currently, the cost for the exam is $260 for DNA members and $335 for non-members. Most places of employment will reimburse the cost of the exam as it is directly related to job roles. The exam currently consists of 175 questions, lasting approximately 4 hours and includes dermatology topics such as:
Infections – 15%
Tumors/Malignancies – 15%
Dermatitis – 13%
Papulosquamous Disorders – 13%
Photosensitivity/Photodamage – 9%
Hypersensitivities, Vasculitis, Infestations – 7%
Pigmentation/Vascular Disorders – 6%
Hair and Nails – 5%
Acne and Rosacea – 5%
Wounds and Ulcers – 5%
Bullous and Immune Disorders – 4%
Miscellaneous – 3%
The main certification for dermatology nurses is the DNC, but there are additional training opportunities, especially in cosmetic dermatology. These nurses will need to receive training specifically related to procedures such as tattoo removal, chemical peels, and/or laser procedures. These skills can be learned at conferences or via in-service workshops. 
Show Me Dermatology Nursing Programs
Part Six What are the CEU Requirements for Dermatology Nurses?
Dermatology nurses do not necessarily have specific requirements beyond state-mandated continuing education. However, DNC recertification does.
Certified nurses must obtain 45 contact hours with a minimum of 30 contact hours specifically related to dermatology nursing. These hours can be used for state licensure recertification and vice versa. 
All dermatology nurses are required to maintain an RN license.
Continuing education requirements for the license differ for each state. Monetary fees and other state-specific criteria are also associated with all license and certification renewals.  
Examples of continuing education requirements for RNs are as follows: 
Arkansas - 15 contact hours every 2 years
Illinois - 20 contact hours every 2 years
Florida - 24 contact hours every 2 years
Iowa - 36 hours every 2 years
Pennsylvania - 30 contact hours every 2 years 
Some states do not require CEU's to maintain an RN license. Examples include Arizona, Colorado, Connecticut, Hawaii, Maine, Maryland, and Indiana. Several states also require HIV/AIDS education such as New York, Minnesota, and Kentucky. It is important for nurses to check their state's RN credentialing body for exact CEU requirements.  
Part Seven How Do I Get a Dermatology Nursing Job?
Dermatology nurses can work in a variety of settings including, but not limited, to: 
Hospitals
Infusion clinics
Cosmetic Dermatology practice
Plastic surgeon office
Spas
Dermatology private practice 
Burn Centers
Job postings for dermatology nurses are typical of other specialized nursing fields. According to employment websites, a posting would likely include the following qualifications, among others specific to the type of institution and patient population:
ADN or BSN-level education, active and unrestricted RN license, Dermatology Nursing Certification preferred
Maintains Basic Life Support (BLS) competency
Prior professional nursing experience in the dermatology and/or cosmetic/aesthetic dermatology fields
Strong interpersonal and communication skills 
Ability to work flexible hours, which may include days, evenings, nights, holidays, and weekends and on-call
Computer skills required, prior experience with electronic medical record systems preferred
Attention to detail 
Part Eight What is the Career Outlook for Dermatology Nurses?
The BLS predicts that employment for registered nurses will grow 9 percent from 2020 to 2030, much faster than the average for all occupations. Overall growth will occur for a number of reasons, but primarily due to the increased emphasis on preventive care, including regular dermatology check-ups, and the increase in skin cancer in the United States.
Furthermore, the demand for healthcare services from the baby-boom population will cause a dramatic need for nurses in specific nursing fields, such as dermatology. 
Additionally, advancements in cosmetic dermatology have resulted in a very positive career outlook for nurses interested in specializing in dermatology.
Part Ten Dermatology Nurse Resources
The best resource for individuals interested in pursuing a career as a dermatology nurse can find helpful information on the Dermatology Nurses' Association webpage. There is information regarding continuing education, conferences, certifications, and interesting medical advances. 
Other helpful websites are:
$70,000 - $90,000
Dermatology
Associate
Bachelors
Non-Bedside
RN