Surgical nurses, also known as perioperative nurses, operating room nurses (OR), or scrub nurses, are a nursing specialty that works directly in an operating room with surgeons and other surgical team members. Surgical nurses take care of patients prior to, during, and after surgery or other medical procedures. 
Read on to find out the average surgical nurse salary and what factors will impact how much you can earn as a surgical nurse.
Part One How Much Do Surgical Nurses Make?
Average Surgical Nurse Salary
Salary.com reports that the median annual surgical nurse salary is $104,559 annually. While ZipRecruiter estimates that surgical nurses in the U.S. earn an average annual salary of  $120,699 or $58 per hour.
Surgical Nurse Salary Ranges
Surgical nurse income salary ranges can vary widely. ZipRecruiter found that surgical nurse salaries range from $52,500 to $169,000.
Surgical Nurse Salary vs Average Registered Nurse Salary 
Depending on the source, surgical nurses may earn a much higher annual salary than the average registered nurse in the US.
The BLS states that the average nurse salary in 2022 was $81,220. In contrast, salary.com reports that the average surgical nurse salary in 2022 is $84,528 annually. 
ZipRecruiter, however, states that the average surgical nurse salary is about $120,699, with the top earners making $169,000 annually or $58 per hour.
>> Related: OR Nurse Salary
Part Two Surgical Nurse Salary by State
| | | |
| --- | --- | --- |
| State | Annual Salary | Hourly Wage |
| New York | $137,692 | $66.20 |
| California | $135,862 | $65.32 |
| Vermont | $124,169 | $59.70 |
| Maine | $123,359 | $59.31 |
| Massachusetts | $122,381 | $58.84 |
| Nevada | $122,145 | $58.72 |
| New Jersey | $120,823 | $58.09 |
| Wisconsin | $120,565 | $57.96 |
| Washington | $120,273 | $57.82 |
| Oregon | $119,121 | $57.27 |
| Hawaii | $117,684 | $56.58 |
| Idaho | $117,655 | $56.57 |
| Wyoming | $117,442 | $56.46 |
| Minnesota | $116,820 | $56.16 |
| Indiana | $116,246 | $55.89 |
| Arizona | $116,209 | $55.87 |
| Alaska | $115,527 | $55.54 |
| New Hampshire | $115,257 | $55.41 |
| Pennsylvania | $115,180 | $55.38 |
| Georgia | $114,236 | $54.92 |
| Iowa | $112,652 | $54.16 |
| Rhode Island | $112,516 | $54.09 |
| South Dakota | $112,356 | $54.02 |
| North Dakota | $112,271 | $53.98 |
| Connecticut | $111,650 | $53.68 |
| Montana | $111,489 | $53.60 |
| New Mexico | $109,174 | $52.49 |
| Illinois | $108,669 | $52.25 |
| Ohio | $108,656 | $52.24 |
| Virginia | $106,836 | $51.36 |
| Maryland | $106,693 | $51.30 |
| Tennessee | $106,352 | $51.13 |
| Utah | $106,291 | $51.10 |
| Delaware | $105,129 | $50.54 |
| Colorado | $104,680 | $50.33 |
| Mississippi | $103,814 | $49.91 |
| Oklahoma | $101,503 | $48.80 |
| South Carolina | $101,044 | $48.58 |
| Michigan | $100,153 | $48.15 |
| Kansas | $99,802 | $47.98 |
| Texas | $99,656 | $47.91 |
| Missouri | $99,555 | $47.86 |
| West Virginia | $99,245 | $47.71 |
| Alabama | $98,206 | $47.21 |
| Florida | $98,102 | $47.16 |
| Louisiana | $97,403 | $46.83 |
| Nebraska | $96,809 | $46.54 |
| Kentucky | $92,876 | $44.65 |
| North Carolina | $92,257 | $44.35 |
| Arkansas | $91,364 | $43.93 |
Source ZipRecruiter
Part Three Surgical Nurse Salary by Years of Experience
According to Payscale.com, surgical nurses earn about $65,299 per year and can expect to earn a higher per-hour salary with more experience:
Less than one year of experience: $30.21 per hour

1-4 years of experience: $32.47 per hour

5-9 years of experience: $30.80 per hour

10-19 years of experience: $35.84 per hour

More than 20 years of experience: $43 per hour
Part Four Surgical Nurse Salary by Work Setting
Surgical nurses work with surgeons in a variety of settings that perform surgeries, including:
Hospitals

Recovery rooms

Outpatient surgery centers

Clinics

Doctor's office

Urgent care centers

Specialty clinic

Academia

Government facility 

Private doctor office
Surgical nurses usually earn higher wages working in the hospital or outpatient surgical center setting than in a doctor's office. Hospitals generally offer a higher salary, a wider range of benefits, overtime hour opportunities, and shift differential pay for working nights or weekends. 
Surgical nurse salaries can also vary depending on the city and cost of living where you work. Nurses who work in larger cities also usually earn higher wages than those who work in smaller towns due to an increased cost of living.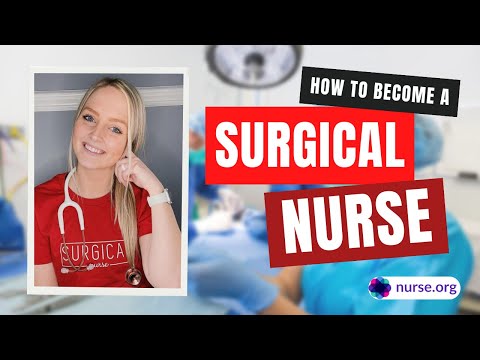 >> Find RN-to-BSN Programs Accepting Applications Now
Part Five How to Increase Your Salary as a Surgical Nurse
To maximize your earning potential as a surgical nurse, you may want to consider one of the following:
Advancing Your Education
Your level of education plays a huge role in your earning potential as a surgical nurse. Many surgical nurses become licensed and start their careers with an associate or bachelor's degree. 
Fortunately, there are also many attainable options to continue nursing education while working part-time or full-time as a surgical nurse. 
There are several nursing degree levels to choose from:
Certifications
Many employers offer an increase in hourly wage if a surgical nurse becomes a certified perioperative nurse (CNOR). 
Masters-prepared surgical nurses can become certified by preparing for and passing the Clinical Nurse Specialist Perioperative Certification Exam (CNS-CP). 
Earning a specialty certification validates a nurse's competency as a perioperative nurse. In addition, it lets employers and patients know that you have specialty nursing expertise in perioperative care. Some healthcare institutions may pay for the certification exam once you pass. Others may offer certification review courses or discounts.
Another benefit is that certification can equate to more money in your pocket in several ways:
Higher per-hour salary

More career enhancement and upward mobility

Employers are more likely to hire surgical nurses who are certified
Negotiate
Experienced surgical nurses may have an opportunity to negotiate a higher salary during the hiring process. 
Some healthcare facilities may have a set pay structure for new employees. But if the employer is experiencing a nursing shortage and struggling to hire experienced nurses there may be some room to negotiate.
>> Find RN-to-BSN Programs Accepting Applications Now
Travel
Travel nurses can often get the best of both worlds: the opportunity to travel to new cities and, in many cases, higher pay.
Surgical or perioperative travel nurses take short-term assignments at hospitals, surgery centers, or other healthcare facilities to help with nursing shortage gaps. 
As opposed to earning a per-hour rate with benefits, travel nurses earn a "total pay package," which usually includes:
Hourly base pay

Sign-on bonuses

Travel reimbursements

Housing, food, mileage stipends

Retirement benefits

Licensing and certification reimbursement

Other job-related expenses
How You Work
Career Nurse
Career nurses are full-time or part-time nursing staff. Career nurses most commonly earn an hourly wage plus a benefits package including retirement benefits, paid time off, and other benefits.
Some career nurses spend their entire careers working at the same medical facility. Others may work at several different hospitals. 
Either way, career nurses generally earn a higher per-hour rate for each year they work in the profession. Hourly pay and benefits can vary depending on the employer.
Per Diem
Per diem nurses work "by the day," which means they get paid for the days they work, but not for the days they don't.
For this reason, per diem nurses usually make a higher per-hour rate for their flexibility with scheduling. However, they also don't have a benefits package like career nurses do. Per diem nurses usually don't get retirement benefits, vacation time, or paid time off. 
Contract
A contract nurse is a full-time nurse who signs a contract to work at a hospital for a specified period of time. This time can be for as little as four weeks to as long as six months. Once the contract is up, nurses have the option to sign another contract (if they are still needed) or work at another hospital.
One of the cost benefits of working as a surgical contract nurse is you will usually have guaranteed full-time hours during the contract. This means that even if you are called off for some reason, you still get paid for your shift. 
One example of a contract nurse is a travel nurse. But there are also opportunities to work as a contract nurse in the city where you live without traveling. 
Additional Compensation
Overtime
Nurses who work overtime are entitled to increased pay. In most cases, this means working over 40 hours a week. 
For example, full-time for an RN is usually about three 12-hour shifts a week, or 36 hours. Picking up another 12-hour shift would put you at 48 hours for the week - 8 of those hours would be considered "overtime."
Also, in some healthcare facilities, if a nurse stays longer than their scheduled 12-hour shift, facilities will increase the hourly rate for each hour the nurse stays.
Overtime wages differ per facility, but they are usually one and a half to three times the normal hourly wage. 
Shift Differential
A shift differential is extra pay for working weekends, holidays, evenings, or night shifts. Shift differentials usually increase a normal hourly wage by a few additional dollars. 
Most surgeries are scheduled first thing in the morning. Therefore working evening or weekend shifts might also be less stressful, which may appeal to some surgical nurses. 
Bonuses
Most nurses do not receive bonuses unless it is offered a sign-on bonus as an incentive to take a new position at a facility. Bonuses can range from several hundred dollars to several thousand.
Read the terms clearly when you accept a sign-on bonus. Many hospitals will require that you stay working full-time at their facility for two to five years to keep the bonus. If you want to leave beforehand, you will often have to pay the bonus back. 
Part Six Surgical Nurse Education Costs
Nursing school to become a surgical nurse is a major financial investment. The average cost to go to nursing school varies depending on where you live and whether you want to pursue an ADN or a BSN. 
ADN Programs 

These programs take two years to complete at a community college or technician school. ADN programs can range from $6,000 to $20,000.

BSN Programs

These programs take four years to complete at a public or private four-year university. A BSN can cost anywhere from $35,000 to $100,000.
Tuition cost also depends on several factors such as your program lengths, your city and state, and your school's reputation. Nursing programs can be very expensive but there are a variety of ways to pay for nursing school. It's important to factor in additional expenses such as textbooks and transportation to classes and clinicals when determining overall costs.  
>> Find RN-to-BSN Programs Accepting Applications Now
Part Seven Salaries of Related Nursing Careers
Surgical technologist programs only take 1-2 years on average. Additionally, the median surgical tech salary is $56,350 or $27.09 per hour, according to the BLS. This profession also has a positive job outlook, with an expected need for an additional 6,500 surgical techs in the next decade. 
According to ZipRecruiter, medical-surgical nurses in the U.S. earn a median average salary of $120,699 per year or $58 per hour.
Salary.com reports that medical-surgical nurses make an average annual income of $104,280. However, the range is between $85,292 and $126,999.
ZipRecruiter reports the national average salary is $121,623 or $58 per hour.
Part Eight Surgical Nurse Salary FAQs
How long does it take to be a surgical nurse?

Surgical nurses must graduate from an accredited ADN or BSN nursing program. An ADN program takes two years to complete and traditional BSN programs take four years to complete.

Do surgical nurses make more money?

Depending on the source, surgical nurses may earn a much higher annual salary than the average registered nurse in the US.

What does a surgical nurse do?

Surgical nurses, also known as operating room nurses, are a type of nursing specialty that works directly in an operating room. Surgical nurses take care of patients before, during, and after surgery or other medical procedures. 

What does it take to be a scrub nurse?

Scrub nursing requires that nurses pay great attention to detail. Surgery can also be stressful, especially if the surgeon is performing a life-saving procedure. Becoming a scrub nurse also takes extra training in operation specifics as well as surgeon preference.