Part One What is Med Surg Nursing?
Med surg nursing stands for medical surgical nursing, and it's the largest nursing specialty in the US. A med surg nurse is a specific type of surgical nurse who cares for patients preparing for or recovering from surgery. But med surg nurses' duties expand beyond surgical patients, as they provide care for a wide range of non-surgery patients in the hospital as well.
Medical surgical nurses provide 24-hour care to patients during their hospital stay. Admitted patients will spend more one-on-one time with their med-surg nurse than any other medical professional while admitted to the hospital.
Med-surg nursing provides a range of specialties for nurses to enter, such as:
General surgery
Plastic surgery
Neurosurgery
Orthopedic
Vascular surgery
Bariatrics
Urology
Oncology
Cardiac care
Gastrointestinal
Med-surg nurses often work at a hospital or medical center in an acute care or med surg unit at the bedside. However, this nursing specialty may also be found in other areas, such as outpatient clinics or home healthcare facilities.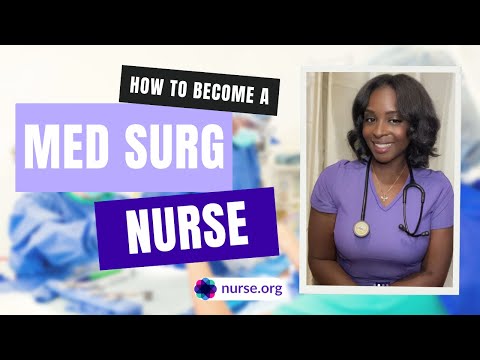 Part Two What Does a Med Surg Nurse Do?
Med surg nurses provide direct bedside nursing care on a med surg unit, which is a hospital ward specifically for patients who are preparing for or recovering from surgical procedures. On shift, a medical surgical nurse usually manages the care of 4 to seven patients at a time. They also discharge patients while simultaneously admitting new patients into their care throughout their shift. 
Some critical med surg nursing duties and responsibilities include the following:
Admitting patients to the med surg unit
Administering medication and providing pain control
Ambulating patients
Providing wound care
Monitoring and recording vital signs and events in electronic medical records (EMRs)
Working with ancillary specialties - such as physical therapy, diabetes specialists, or speech therapy - to coordinate care
Performing or ensuring diagnostic testing is completed
Providing patient education and discharge instructions
Discharging patients to outpatient facilities or home
Part Three Med Surg Nurse Salary
The median pay for nurses is $77,600 annually or $37.31/hr, according to the US Bureau of Labor Statistics (BLS). But that's an average across nurses with different degrees, working in many specialties and living in various locations. RN salary varies depending on several factors and can range widely throughout the country. 
One such factor is your nursing specialty, with med surg nurses achieving higher salaries than general RNs. For example, ZipRecruiter reports med surg nursing salaries at $120,699 a year, while general RN salaries average $90,901 annually.
Other factors that may impact your med surg nursing salary include:
The city and state where you live
The type of healthcare facility you work in 
Whether you work 8, 10, or 12 hours shifts
Whether you work full-time or part-time
How many shifts you work in a week
Med-surg nurses living in some areas of the country may earn a much higher income than others. However, the salary usually aligns with the cost of living in the area. For example, South Dakota nurses typically earn less than San Francisco nurses. However, it's also much more expensive to live in San Fransisco than in many other states, such as South Dakota.
Part Four How to Become a Med Surg Nurse 
To become a med-surg nurse, you must meet the following requirements: 
1. Attend an Accredited Nursing Program
There are two pathways to becoming an RN:
2. Pass the National Licensure Examination
Becoming an RN requires you to pass the National Council Licensure Examination for Registered Nurses (NCLEX-RN). Per diem nurses must also maintain a current and active license. Once licensed, you must renew your RN credential every two years by completing and submitting continuing education units (CEUs) per your state's nursing board requirements.
3. Apply for Med-Surg Nursing Jobs
You can begin working in med-surg nursing right away through new nurse graduate programs in your area. Most new graduate med surg nursing programs last 2-6 months and offer the in-depth training you need to be a successful med surg nurse. Often, facilities pair recent nursing grads with a tenured nurse to help teach them core med surg nursing skills and competencies.
>> See Med-Surg Nursing Jobs Hiring Now
4. Become a Certified Med-Surg RN
After earning a minimum of one year of experience, you can sit for the Medical-Surgical Nursing Certification (MEDSURG-BC™) exam. Certification will let your employer, coworkers, and patients know that you are an expert in your field and can provide the highest level of patient care.
Part Five Med Surg Nursing Skills & Competencies
The Ability to Stay Calm
Caring for surgical patients is not easy because their conditions can rapidly become serious or critical. You also have many responsibilities that you must juggle, making the med-surg nursing environment hectic and stressful. Therefore, Med surg nurses must be able to maintain a calm demeanor and work well under pressure.
Organization & Multitasking
Med-surg nurses often care for 4-7 patients at once, all of whom need specific care. On top of that, they must admit and discharge patients throughout the day and tend to any emergencies. To balance all those duties, med surg nursing requires tons of multitasking and organizational skills. 
Critical Thinking
There are many moments throughout the shift when a med surg nurse must prioritize their duties. Sometimes, they do so under urgent conditions, making critical thinking skills a must. Being able to prioritize tasks and think on your feet can make a huge difference in a med surg unit.
Competencies
To work in med-surg nursing, you must be proficient in hundreds of nursing competencies, a few of which include:
Assessing neurological status
Managing different types of catheters, such as urinary or epidural
Providing care for drains, such as a chest tube or hemovac wound drain
Providing CPR when needed
Understanding and educating on medication administration, contraindications, side effects, and dosing calculations
Providing pulmonary care such as tracheal suctioning, chest drainage symptoms, and assessing breath sounds
Starting and maintaining IVs and providing IV medication
Performing complex dressing changes
Providing care for braces, casts, and traction devices
Zip Recruiter reports that employers are looking for several specific keyword skills when reviewing potential med-surg travel nursing candidate's resumes, some of which include:
Inpatient care
Treatment planning
Behavioral  analysis
Medical records
Acute care
Psychology
Part Six What Is It Like to Work in Med Surg Nursing?
Med-surg nurses provide essential and often life-saving care for their patients and families during some of the most challenging times of their lives. Although working in med-surg nursing can be very stressful and exhausting, many say the career gives them a sense of pride in their work. 
A career as a med-surg nurse may not be suitable for everyone. This nursing specialty requires a sense of determination, the ability to manage the complex patient care of multiple patients simultaneously, and a strong stomach. 
But if learning about various surgical procedures while utilizing a wide range of complex nursing skills appeals to you, med surg nursing might be the perfect career for you!
$70,000 - $90,000
Associate
Bachelors
Bedside
RN
Med-Surg