2 Nurses, Doctor, Stabbed at Encino Hospital
Now, Encino Hospital Medical Center. 
On Friday, a doctor and two nurses were left in critical condition after a stabbing at Encino Hospital Medical Center in San Fernando Valley (Los Angeles), California. At this time the names of the victims have not been released.
Ashkan Amirsoleymani, 35, was taken into custody by police after a lengthy standoff with police that closed the hospital and surrounding areas for most of the day. According to the police, Amirsoleymani entered the hospital to seek treatment for anxiety.
"There was blood all over the floor, blood in the rooms, blood on the gurney the doctor was laying on," Parham Saadat added. "It was a bloodbath." Saadat of Encino Dental Smile was walking outside and saw a man wearing bloody scrubs. He quickly realized that the male nurse was bleeding very badly. "His guts were out," he said. "He had a pretty bad slash."
Along with another colleague, he helped the nurse onto a stretcher and called 911. According to the nurse, a patient walked into the hospital, said he had a gun, and then pulled out a knife. 
Saadat rushed into the medical center to help provide attention to the doctor who was soaked in blood. According to reports, they pressed towels to her chest and saw another victim was sitting in a wheelchair with a stab wound to the legs.
Once police arrived, Saadat showed them where the attacker was hiding while he and others carried the female doctor out of the hospital. 
Amirsoleymani was arrested on suspicion of three counts of attempted murder, and bail was set at $3 million. According to police, he had had multiple prior contacts with the LAPD, including two that involved officers using force against him. He was arrested in both instances on suspicion of battery on an officer and resisting arrest.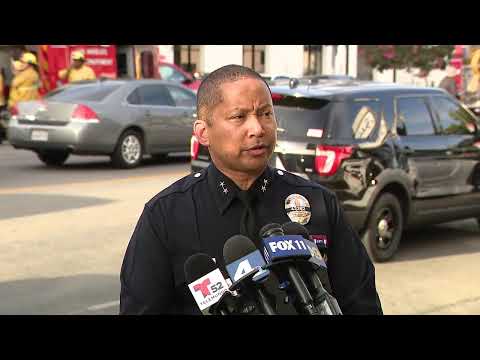 Several hospital employees saw Amirsoleymani prior to the attack."He looked high. He just looked very anxious. He was sweating a lot. Half his shirt was drenched with sweat. He had a dog with him," Benjamin Roman, an ultrasound technician said. 
"The whole family, we love her, she's part of our family. And I really hope that she's doing good and that she will be OK," said Pat Koren, a friend of one of the victims. "She came to work today to save lives, not to get stabbed."
After the attack, the three victims were transported to another hospital to seek medical treatment. The attacker was also transported for self-inflicted wounds. At this time, there still is no motive for the attack. 
The weapon used was a 3-to-4-inch knife that was recovered by police at the scene.
"Our thoughts and prayers are with all involved, and we are very thankful to the LAPD for their swift response and collaboration," said Elizabeth Nikels, a spokesperson for Prime Healthcare, which owns the hospital.