Two Hospital Shootings in Tulsa and Dayton Happened on Wednesday
As the country is still recovering and trying to process the unspeakable shooting in Uvalde, there were two more shootings. This time they were in hospitals.  On Wednesday, June 1, there were TWO hospital shootings - one in Tulsa, Oklahoma, and the other in Dayton, Ohio. 
Tulsa, Oklahoma
Shortly after 4:50 p.m. Wednesday, Tulsa police received a report of an active shooter carrying a rifle and a handgun. The location was the Natalie Building at St. Francis Hospital.  Police officers were able to secure the scene a little after 5 pm to find four hospital workers had been shot and the gunman had died of a self-inflicted gunshot wound. 
Authorities named Michael Lewis, as the gunman. Lewis was a patient of Dr. Preston Phillips. On May 19, 2022, Lewis had undergone back surgery performed by Dr. Phillips. 
A note found on the scene indicated that Lewis intended to kill Dr. Phillips and that he blamed him for his ongoing pain following surgery.  
Dr. Stephanie Husen, Amanda Green, and William Love were also named as victims, according to authorities.
Upon arrival at the scene, the Tulsa police began evacuating victims from a medical building according to Sgt. Richard Meulenberg. 
"We have multiple floors… with hundreds of rooms and hundreds of people within the building," he said.
"We're treating this as a catastrophic scene right now," said Meulenberg. Employees were bussed to the local high school for questioning, headcounts, and grief counseling. 
According to police and Saint Francis Health System, the second floor is occupied by an orthopedic clinic. Saint Francis Hospital's online directory says Warren Clinic Orthopedic Surgery and Sports Medicine and orthopedic urgent care is located on the second floor, with nine physicians listed.
Saint Francis Health System posted to its Facebook page a statement on Wednesday evening that said, "Saint Francis Health System is grieving the loss of four members of our family. As a faith-based organization, the only recourse we have at this moment is to pray while we navigate this tragedy. Out of respect for the families, we are not commenting on or releasing names of those lost or injured at this time. We are sincerely thankful for the quick response by the Tulsa Police Department, first responders and EMS agencies. And, our deepest gratitude extends to the members of our own Saint Francis family who cared for their own during this incident. To allow our staff and caregivers the opportunity to process today's tragedy, all Warren Clinic appointments in Tulsa and Broken Arrow scheduled before noon tomorrow have been cancelled. Additionally, the Warren Clinic Orthopedic offices in the Natalie Building will be closed until further notice. We ask that you please pray for the employees and physicians of the Saint Francis Health System."
Dr. Cliff Robertson, Saint Francis Health System CEO, said that "There are 10,000 members of our Saint Francis family. And this senseless, horrible, incomprehensible act is not going to change that."
Dayton, Ohio
Earlier in the day, a private security guard was shot at Miami Valley Hospital in Dayton, Ohio. According to the Montgomery County Sheriff's Office, a Montgomery County Jail inmate was being treated in the hospital's emergency department when he took an armed security guard's gun.  He shot the guard before fatally shooting himself in the parking lot behind the emergency room.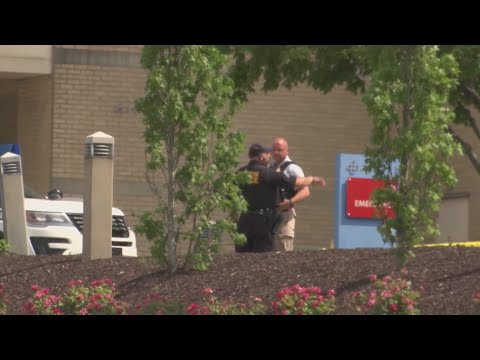 The Montgomery County Coroner identified the inmate as 30-year-old Brian Booth and the security guard as 78-year-old Darrell Holderman.
"This is a horrific event. Hearing about events like this morning is just unreal," Montgomery County Sheriff Rob Streck said. The security guard was a private guard for Merchants Security but has not been named.
According to the Sheriff's department, the inmate fell sick overnight from either alcohol or drug withdrawal, including seizures,  and was admitted to Miami Valley Hospital early Wednesday morning. The inmate was booked on a probation violation. He had been booked into the jail six times for minor drug-related or traffic offenses, the sheriff said.
"There is nothing in this individual's past that led anyone to believe that such a horrific incident would occur," Streck said. Usually, inmates are handcuffed at the hospital but this may change depending on the medical procedure. Police are still viewing security footage to determine exactly what occurred. According to reports, the inmate overpowered the security guard and took the gun. 
Miami Valley Hospital is safe and secure, said Mike Uhl, Miami Valley Hospital president. No hospital staff members were injured. The ER was temporarily closed for several hours but was reopened by mid-day.