Part One What Is a Trauma Nurse?
Trauma nurses care for people with critical, often life-threatening injuries. They are some of the first responders of the emergency department (ED) team to care for victims of self-inflicted injuries and violent crimes. 
Trauma nurses are usually assigned to the critical area of the ED where they're prepared to care for anyone received via emergency transport. They work in tandem with emergency services crews, ED physicians, trauma surgeons, and many others. Their goal is to stabilize the patient and help them survive with the best possible outcome.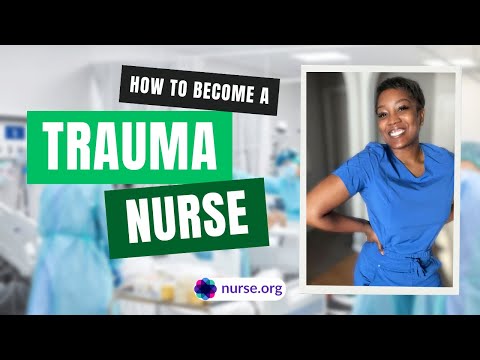 Part Two What Does a Trauma Nurse Do?
Trauma nurses must be able to act quickly to save a life hanging in the balance. They must remain calm under extreme pressure, be strong in the face of catastrophic injuries, manage multiple priorities and tasks, and quickly provide and follow instructions in chaotic situations.  
Trauma nurses must have a high level of technical skill in providing advanced life support. This includes giving CPR (cardiopulmonary resuscitation) and ensuring the patient receives any needed monitoring or even defibrillation. They must be adept at starting IVs and administering medications, fluids, and possibly blood products.  
Teamwork is essential when working with colleagues to provide the very best possible patient care. Once the patient is stabilized, the trauma nurse may resume general ER duties. Trauma centers are designated as Level IV, depending on the level of care they're equipped to provide (with I being most critical and V the least critical). Nurses working in trauma centers with lower designations strive to stabilize the patient for transfer to a higher level of care as needed.
Clear and compassionate communication is essential in trauma nursing, as distressed family members often ask nurses for updates about their loved one's status. All in all, trauma nursing requires a full range of skills with the ability to respond to serious challenges every day. 
The Society for Trauma Nurses emphasizes the profession's role in promoting public health. Trauma nurses provide education programs to help prevent injuries, for example, wearing bicycle helmets. They reach out to groups most prone to injuries, such as children, the elderly, teen drivers, and those employed in certain occupations. They also work at the health system and community levels to teach providers new skills, collect and analyze data, and improve health outcomes. 
Trauma Nurses vs Emergency Nurses: What's the Difference?
Emergency nurses provide general nursing care and manage less critically ill and injured patients. They triage patients so that those with the most urgent problems are seen first. They assess and care for patients with possible fractures, cuts, cardiac symptoms, dizziness, abdominal pain, and many other concerns. These patients may drive themselves into the ED or be brought in by a friend or family member, are usually conscious, and are often able to provide information about their condition. 
Part Two Trauma Nurse Salary
Trauma nurse salaries depend on several factors: education, years of experience, employer size, where you work, and certification. 
According to ZipRecruiter, the national average salary for trauma nurses is $93,283, with salaries as high as $159,500, as of March 2023. 
The U.S. Bureau of Labor Statistics provides salary figures for all registered nurses combined rather than for particular specializations. As of the May 2021 BLS report, the mean hourly wage for registered nurses was $37.31 while the average annual salary was $77,600, though conditions vary by area.
Highest Paying States for Trauma Nurses
The BLS identifies the following as the highest paying states for nursing:
| | | |
| --- | --- | --- |
| State | Hourly mean wage | Annual mean wage |
| California | $59.62 | $124,000 |
| Hawaii | $51.22 | $106,530 |
| Oregon | $47.42 | $98,630 |
| District of Columbia | $47.38 | $98,540 |
| Alaska | $46.74 | $97,230 |
Highest Paying Cities for Trauma Nurses
In the same year, the BLS ranked the highest mean annual salaries for nurses, and the top ten were in California. The top five from the list are as follows:
| | | |
| --- | --- | --- |
| Metropolitan area | Hourly mean wage | Annual mean wage |
| San Jose-Sunnyvale-Santa Clara, CA | $74.63 | $155,230 |
| San Francisco-Oakland-Hayward, CA | $72.90 | $151,640 |
| Vallejo - Fairfield, CA | $70.37 | $146,360 |
| Santa Rosa, CA | $68.00 | $141,440 |
| Napa, CA | $67.15 | $139,680 |
Nurses wishing to pursue an advanced practice role in trauma may decide to become an acute care nurse practitioner (ACNP). These nurses obtain a master's degree in nursing and certification in their area of specialization. For more information on the acute practitioner role, see our article on the acute care practitioner role. 
ACNPs may work in EDs, burn centers, critical care units–anywhere trauma patients receive care. Advanced practice salaries are affected by the same factors that shape RN salaries nationwide. The Bureau of Labor Statistics, reports that in 2021, the mean annual wage for nurse practitioners was $123,780.
Part Three What is the Career Outlook for Trauma Nurses?
The Bureau of Labor Statistics predicts that nursing employment will grow at a rate of 6 percent through 2031 – much faster than the average for all jobs. There is a shortage of all nurses, with baby boomer nurses nearing retirement, and the growing health demands of our aging population.
With trauma injuries expected to increase and those 65+ years increasing, trauma nurses will be in even higher demand.  
Part Four How Do I Become a Trauma Nurse?
There is a clear path to becoming a trauma nurse. 
1. Complete an entry-level nursing program
Graduate from a two-year program for an associate's degree in nursing, a three-year program for a diploma in nursing (usually hospital-based), or a four-year college or university program leading to a bachelor's degree in nursing.
2. Pass the NCLEX
Take the RN licensing exam after graduation, also known as the NCLEX (National Council Licensure Examination). The NCLEX is a nationwide examination for the licensing of nurses in the United States and Canada. Once you pass this exam, you may apply for your first nursing job.
3. Begin nursing
More career doors are likely to open to nurses with a bachelor's degree. The senior year of a bachelor's program typically offers the chance to choose a specialty rotation of personal interest, and this is a good opportunity to get a taste for ED, trauma, or critical care nursing, to see if a trauma focus is a fit.
4. Become certified in trauma nursing
The Board of Certification for Emergency Nursing (BCEN) offers the Trauma Certified Registered nurse (TCRN®) certification. Currently, more than 4,300 TCRN certifications are held by nurses throughout the U.S.
In order to sit for the trauma certification exam, you must have:
A current, unrestricted RN license in the U.S. or its territories (or equivalent certificate)
Two years of trauma nursing experience with an average of 1,000 practice hours per year in trauma nursing
20 to 30 hours of trauma-specific coursework across the trauma continuum. 
Part Five What is it Like to Be a Trauma Nurse? 
Trauma nurses may work in a variety of clinical settings:
Trauma centers (Levels I, II, and III)
ED critical care areas 
Medical flights
Emergency medical services (EMS)
Critical care units
Burn units
Medical-surgical and rehabilitation units
Anywhere trauma patients receive care
Trauma nurses may also:
Educate the public about injury prevention 
Manage trauma services and trauma registries (collect and analyze  for improving care)
Educate trauma professionals
Strive for performance improvement in trauma services
Trauma nurses carry out the following responsibilities:
Assess patient status and triage patients for care
Perform blood draws, insert IVs, provide IV medications and fluids
Administer advanced life support (CPR, cardiac monitoring, defibrillation, advanced medication administration, delivery of oxygen, and other therapies)
Prepare patients for diagnostic tests and surgery
Work closely with other members of the EMS and trauma teams
Manage complex and chaotic situations
Part Six What are the CEU Requirements for Trauma Nurses?
Trauma nurses do not necessarily have specific requirements beyond state-mandated continuing education. However, advance certification does require specific CEUs. 
All NICU nurses are required to maintain an RN license regardless of advanced certification.
Continuing education requirements for the license differ for each state. Monetary fees and other state-specific criteria are also associated with all license and certification renewals.  
Examples of continuing education requirements for RNs are as follows: 
California - 30 CEUs every two years
Florida - 24 CEUs every two years
Hawaii - 30 CEUs every two years
Oklahoma - 24 CEUs every two years
Pennsylvania - 30 CEUs every two years
 A comprehensive list can be found here.  
Part Seven Where Can I Learn More About Trauma Nursing?
To learn more about trauma nursing, take advantage of the resources provided and consider joining the following professional associations:
Also check with your local library to see if you can peruse a copy of Trauma Nursing Core Course: Provider Manual to find out if the content feeds your nursing passion. Once you've met any required prerequisites, you can sign up for trauma nursing courses through either ENA or STN. 
Also, reach out to your local hospital or school of nursing to find out about any upcoming career fairs. Set up an appointment with a student advisor or career counselor at your local college or university.
Part Eight Where Can I Find the Best Trauma Nurse Jobs?
Many sources can get you started on your search for trauma nursing positions. First, check the "Careers" pages of websites for hospitals interest you, especially those with trauma centers. You can also put questions out on nursing social media sites, and search career sites, and dedicated nursing sites like our own nurse.org job board.
Injuries happen suddenly and often without warning. The more fortunate trauma patients, often unconscious, vulnerable, and at risk of death, find themselves in the capable hands of trauma nurses and their colleagues. Trauma nurses can turn the tide from disabling injuries and even death to life with the most positive health outcomes possible.
Working together and with others, trauma nurses improve the public's health by promoting recovery and preventing traumatic injuries in the first place. 
Part Nine Trauma Nurse FAQs
How long does it take to become a trauma nurse?

It takes a minimum of six years to become a trauma nurse. First, it takes four years to earn a BSN and RN. Then there is a minimum of two years required as a bedside critical care or emergency room nurse. It's important to have the proper background training prior to transitioning into a trauma nurse position. 

What skills do you need to be a trauma nurse?

Trauma nurses must have mastered advanced assessment skills, monitoring heart rhythms, starting IVs, noticing changes in patient's acuity, assisting surgeons during bedside procedures, the ability to triage patients independently, educate patients and their families, and collaborate with other health care professionals during emergency situations. Trauma nurses must also be able to remain calm under pressure, assertive in their nursing abilities, good time management skills, and the ability to cope with tragedies. 

What is it like to be a trauma nurse?

Trauma nursing is one of the hardest specialties in nursing because it is fast-paced and constantly dealing with life and death situations. Trauma nurses will typically work in large hospitals and respond to traumas that come to the Emergency Room from gunshots, car accidents, stabbings, overdosing, etc. Trauma nurses are responsible for providing life-saving nursing care including administering medications, carrying out physician orders, assisting the medical team during care, and updating the family. 

How much schooling does a trauma nurse need?

Trauma nurses do not need any additional schooling after their initial nursing education. The training needed to become a trauma nurse is done on the job and at the bedside. Certifications, such as the CCRN, are important for trauma nurses in order to solidify their skills and abilities. 
RN
$70,000 - $90,000
Associate
Bachelors
Trauma
Bedside