Thinking about working in Michigan? Here's everything you need to know about being a nurse in the Wolverine State.
The U.S. Health Department of Health and Human Services (HRSA) conducted a workforce analysis of projected nursing needs through 2030. The study looked at each individual state and identified shortages and surpluses. While Michigan is currently experiencing a nursing shortage, it is projected to have a nursing surplus of 6,100 nurses by 2030.
Despite the surplus reported by the HRSA analysis, the reports provided by the Bureau of Labor Statistics revealed that there is a high demand for specialized nurses, including nurse practitioners, certified nurse midwives, clinical nurse specialists, and nurse anesthetists in Michigan.
Overall, the need for nurses will be affected by a variety of reasons, including changes in health care coverage and reimbursement, health insurance changes at a government level, and hospital accreditation changes.
Part One Michigan State Board Of Nursing
The Michigan Board of Nursing regulates and issues all nursing licenses in the state. Its mission is to do the following:
Establish qualifications for nurse licensure
Establish standards for education and approve nurse education programs
Develop and implement criteria for assurance of continued competency
Take disciplinary action against licensees when the health, safety, and welfare of the public has been adversely affected
Contacting The Board
Office Address
611 W Ottawa St
Lansing, MI 48933
Phone: (517) 373-8068 
Fax: (517) 373-9196
Mailing Address
Department of Licensing and Regulatory Affairs
Bureau of Professional Licensing
P.O. Box 30670
Lansing, MI 48909
Office Hours
8:00 am - 4:50 pm, Monday - Friday (Except Government Holidays)
Customer Support: (517) 373-8068
Email: BPLhelp@michigan.gov
Part Two Michigan Nursing Licenses
Michigan is not part of the Nurse Licensure Compact, so every nurse must apply for a separate license to practice there.
The Michigan Board of Nursing no longer accepts paper applications. All applications must be made through the online system, MiPLUS.  Using this system, you can:
Submit and update information
Pay fees
Track the status of your application
Print your final license from your home or office
HOW DO I GET LICENSED IN MICHIGAN?
There are two ways to obtain nursing licensure in Michigan:
Licensure by Exam (first-time nurses)
Licensure by Endorsement (out-of-state nurses)
All nursing license and certificate applications, including permission to take the NCLEX must be submitted online using Michigan's MiPLUS system.  For assistance, contact the Licensing Support Team at BPLHelp@michigan.gov.
LICENSURE BY EXAMINATION
Licensure by examination can be obtained through the following steps:
Graduate from an approved registered nurse education program in the U.S. or be certified by the Commission on Graduates of Foreign Nursing Schools (CGFNS).
If the applicant is a graduate of a Canadian registered nurse education program that is approved by a province in Canada, the applicant shall be exempt from completing the requirements for a certificate from the CGFNS if all of the following are met: (a) The registered nurse education program was taught in English. (b) The applicant has a current active license to practice nursing in Canada. (c) The applicant has not been sanctioned by the applicable Canadian nursing authority.
Submit the RN by Examination license online application at www.michigan.gov/miplus.
A fingerprint report and criminal background check are required. Fingerprints must be taken using the instructions and ID numbers that are sent to the applicant after the license application and fee are received.
Pass the NCLEX-RN examination administered by Pearson Vue.
LICENSURE BY ENDORSEMENT 
Nurses with licenses in other states also apply via the MiPLUS Portal to gain licensure in Michigan. The process is expedited for these individuals due to preexisting background checks and fingerprinting.
The eligibility for licensure by endorsement is as follows:
If education was obtained outside of the U.S. and Canada and have not held a license in another state for at least five years, must be certified by CGFNS.
Submit the RN by Endorsement license online application at www.michigan.gov/miplus.
A fingerprint report and criminal background check are required. Fingerprints must be taken using the instructions and ID numbers that are sent to the applicant after the license application and fee are received.
Part Four Nursing Salaries in Michigan
According to the U.S. Bureau of Labor Statistics (BLS) the average annual salary for nurses in Michigan are as follows:
Michigan Nursing Salaries By Practice Level

| Practice Level | Hourly Avg | Annual Mean Wage |
| --- | --- | --- |
| Nursing Assistants | $14.04 | $29,200 |
| LPNs and LVNs | $24.18 | $50,300 |
| Registered Nurses | $35.19 | $73,200 |
| Nurse Anesthetists | $93.58 | $194,640 |
| Nurse Midwives | $44.61 | $92,790 |
| Nurse Practitioners | $52.24 | $108,660 |
Some metro areas have higher pay rates than others. Here are the highest:
Highest Paying Cities For Michigan RNs

| Metro Area | Hourly Wage | Annual Mean Wage |
| --- | --- | --- |
| Ann Arbor | $38.14 | $79,340 |
| Battle Creek | $33.81 | $70,320 |
| Detroit-Warren-Dearborn | $36.45 | $75,810 |
| Flint | $36.20 | $75,300 |
| Grand Rapids-Wyoming | $32.80 | $68,220 |
| Lansing-East Lansing | $36.36 | $75,630 |
| Monroe | $32.71 | $68,040 |
| Muskegon | $33.06 | $68,770 |
| Niles-Benton Harbor | $34.35 | $71,440 |
| Saginaw | $32.33 | $67,250 |
Related: Highest Paying Cities For RNs
While these numbers are the reported averages, nurses have the ability to earn even more depending on responsibilities, certifications, and shift differentials.
How To Increase Your Nursing Salary
Certifications such as CCRN, CPN, and RNC will all earn individuals additional pay depending on the hospital system. This can vary depending on a variety of factors but nurses can either receive a one-time bonus or an increase in their hourly wage. It is important to check with employers regarding this. 
Shift differentials range from 5%-20% depending on the shift work. Weekend night shifts pay more than weekday day shifts. Before accepting any position it is important to speak to Human Resources to understand the shift differential at each hospital. Furthermore, some hospitals will only provide a shift differential if a nurse is paid on an hourly basis. Rarely are salaried employees eligible for this benefit.
Participating in hospital- and unit-based committees may also contribute to higher earnings. Hospitals, particularly Magnet-designated, commonly have numerous opportunities in which to participate.
While participation alone does not increase pay, it can help a nurse climb the clinical ladder. With each step in the clinical ladder, there is also a pay increase.
Precepting new nurses can also be a way to earn bonuses. Most hospitals offer bonuses for precepting new nurses. This is paid in two lump sums. The first payment is after the new nurse is off of orientation while the final payment is after the new staff member has been in the hospital system for a full year. This is a great incentive for senior nurses to pass on their knowledge to the next generation of nurses.
Typical Benefits For Nurses
Nurses enjoy strong benefits throughout Michigan. Actual benefits including healthcare will vary depending on the healthcare institution. Most institutions will only offer benefits to part-time and full-time employees. Rarely are they offered to per diem or contracted employees.
Standard benefits include:
Disability insurance
Vision insurance
Retirement options
Discounts on a variety of products
Dental coverage
Maternity leave
Health insurance
Childcare support
Various memberships related to the organization
Leave benefits
See a full ranking of all 50 states salaries adjusted for the cost-of-living.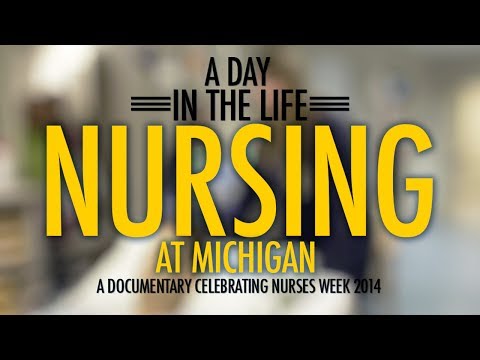 Part Five Best Nursing Programs in Michigan
Considering furthering your nursing education in Michigan? Our panel of registered nurses reviewed nursing programs across the state based on their reputation, NCLEX pass rate, tuition, and accreditation status. See the top 10 listed below, and get additional details in our Top 10 Best Nursing Schools in Michigan guide.  
Grand Valley State University
Madonna University
Western Michigan University
University of Michigan - Ann Arbor
Northern Michigan University
Calvin University
Hope College
Michigan State University
University of Detroit Mercy
Wayne State University
Part Six Best Hospitals In Michigan
With more than 1.7 million nurses employed at inpatient hospitals, understanding the key differences between these facilities is important. You'll want to know which hospitals nurses like best and other important features like Magnet status and location.
Magnet Hospitals
The American Nurses Credentialing Center (ANCC), in its aim to promote nursing excellence, evaluates healthcare organizations through its credentialing programs. The Magnet designation is the highest credential awarded to healthcare institutions based on their work environment, nursing excellence, innovations in nursing practice, and quality patient outcomes.
For RNs seeking work with best-in-class medical institutions, choosing one with Magnet status is a smart move.
Hospitals Recommended By Nurses
Nurse.org analyzed 1,411 surveys of nurses from 125 hospitals in Michigan to rank the best hospitals to work for in the state of Michigan.
1. University of Michigan Health System
Ann Arbor, MI
4.5 Average Rating
97% Recommended
Magnet Hospital
"U of M is a wonderful hospital with [a] highly educated faculty who care deeply about patient outcomes. Nursing advancement is encouraged."
"Nurses are highly respected and work in a collaborative environment."
"Patient safety is [a] top priority and the nurse-patient ratio allows for safe nursing practice."
2. Bronson Battle Creek Hospital
Battle Creek, MI
4.4 Average Rating
100% Recommended
"What I love about working there is the teamwork among co-workers and ancillary workers."
"The staff is extremely friendly and willing to help."
"The company is very employee oriented and a great place to work."
3. Beaumont Hospital, Troy
Troy, MI
4.4 Average Rating
97% Recommended
Magnet Hospital
"Top pay grade compared to surrounding hospitals, nursing recognition, and excellent benefits. Continued opportunity for [the] education process and tuition reimbursement offered!"
"Self scheduling, nice coworkers, great computer system, [and] a lot of autonomy."
"Management not only praises a good performance but is on the floor helping. The administration is great."
4. MidMichigan Medical Center-Midland
Midland, MI
4.3 Average Rating
100% Recommended
"The facility offers a lot of benefits including new grad classes, free certifications, excellent pay, and a state of the art facility."
"Excellent pay, patient and family centered care, [and] focused on employee and physician engagement."
5. Spectrum Health Butterworth Hospital
Grand Rapids, MI
4.3 Average Rating
95% Recommended
Magnet Hospital
"The company provides a multitude of learning opportunities and room for advancement."
"Staffing ratios on my unit are good. Manager and supervisors are personable and approachable."
"Very friendly staff and management. Lots of opportunities to advance and a lot of well trained support staff."
6. Bronson Methodist Hospital
Kalamazoo, MI
4.3 Average Rating
91% Recommended
Magnet Hospital
"Great unified staff that is always willing to help when needed."
"I work for one of the best Trauma and Emergency Departments in the area. The hospital is well known for its great care of patients, especially children."
"Bronson is a great hospital to work for. They support their staff and have very competitive wages."
See the full list of Best Michigan Hospital For Nurses.
Part Seven Continuing Education Requirements 
Like most other states, Michigan requires continuing education for nurses to maintain an active license. The Michigan Public Health Code and board administrative rules require every nurse to complete at least 25 hours of continuing education (CE) every 2 years.
For more information on continuing education, see our Continuing Education Guide.
Pain Management Education Requirement
The Board requires that 2 of your CE hours be spent on pain assessment and symptom management courses. These may include behavior management, the psychology of pain, pharmacology, behavior modification, stress management, clinical applications, and drug interventions.
Retaining Documents
Every nurse who is renewing his/her license should retain records documenting the completion of continuing education. Those documents should be retained for a period of 4 years after the renewal of the license.  
Part Eight Labor Unions
Michigan is a right to work state which means that you have a choice of whether or not to join a labor union. Union members often enjoy higher pay, better working conditions, and more job security. However, they must also pay union dues, participate in strikes, and may have limited access to advancement opportunities (due to seniority).
Related: Pros and Cons of Nurses Unions 
The Michigan Nurses Association (MNA) is the largest nursing union in Michigan. The MNA works as a collective voice to ensure that nurses throughout the state are receiving fair wages and benefits, have proper collective bargaining tools, and representation in times of need. 
National Nurses United, NNU, is a nationwide nurses union that organizes and represents nurses throughout the country. Founded in 2009, NNU claims it is the most active and progressive nursing union in the U.S. With more than 150,000 members in every state it represents, it is the largest union and professional association of registered nurses. 
Part Nine Nursing Jobs In Michigan
As a skilled nurse, you are in control of your career. Check out the featured listings below or search thousands of job listings on our job board and get the pay and career path you deserve.
OR RN
Ann Arbor, MI | Up to $2800/wk Take Home
13-Week travel contract. 1+ year of operating room experience required. Multiple Shifts Available. Guaranteed Hours.
Apply Now
ACUTE DIALYSIS MANAGER
Detroit, MI | Foundational Medical Staffing
Work directly for the hospital system as a manager with excellent compensation and benefits. 5/8s Monday - Friday. Permanent Position.
Apply Now
Search thousands of more listings on the nation's #1 job board for nurses.