Is UCLA School of Nursing Worth It? Nurses Review
Image via Newsroom
The University of California, Los Angeles -- more commonly referred to as UCLA -- has one of the top-ranked nursing programs in the country. UCLA School of Nursing offers a wide variety of nursing programs at the undergraduate and graduate levels. There are BSN programs and multiple MSN offerings as well as doctoral programs. UCLA is a traditional university that offers countless programs for students as well as a true college experience.
Nurse.org may be compensated by some of the nursing schools we review. However, this does not affect our review process or the ratings these schools receive. All reviews are created independently by our editorial team. We review partner schools as well as schools we do not work with.
Stats 
Private or Public: Public
General Tuition: $13,225 per year
Acceptance Rate: 1% (Nursing Program), 11% (Entire University)
NCLEX Pass Rate: 90.91%
Application Deadlines: October 1st-November 30th
Accreditation: Commission on Collegiate Nursing Education (CCNE) and Western Association of Schools and Colleges (WASC)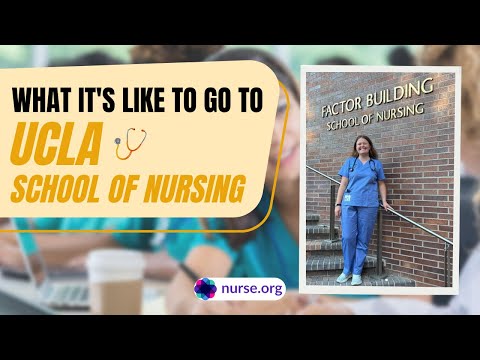 Contact Information
Address:  405 Hilgard Avenue, Los Angeles, CA 90095

Email: ugadm@saonet.ucla.edu

Phone Number:  310-825-3101

Social platforms:
Additional Info
Rankings: 

#1 Public University - U.S. News & World Report, 2023

#16 Best Graduate Schools for 2022  - U.S. News & World Report, 2022

#7 Best Colleges for Veterans Among National Universities  - U.S. News & World Report, 2023

#6 Best Value University - Forbes University 2022

#9 World Reputation Ranking - Times Higher Education 2020

#13 Global Ranking - U.S. News & World Report, 2022

#13 Academic Ranking of World Universities - Shanghai Jiao Tong University, 2022

#9 Top American Research Universities - Center for Measuring University Performance, 2019

#15 World University Rankings, Times Higher Education - 2021

Total number of students: 31,600

Graduation rate: 90%

Student/faculty ratios: 21.4/1
Degrees Offered
Tuition: $13,804 (not including housing and fees)

Program Length:  48 Months

Online Options Available? No
MSN - Masters Entry Clinical Nurse (MECN)
Tuition: $26,116  (not including housing and fees)

Program Length:  24 Months

Online Options Available? No
MSN - Advanced Practice Registered Nurse (APRN)
Tuition: $26,116  (not including housing and fees)

Program Length:  24 Months

Online Options Available? No
Post-Master's Certificate - Psychiatric Mental Health Nurse Practitioner (PMHNP)
Tuition: $26,116  (not including housing and fees)

Program Length:  12 Months

Online Options Available? Yes
Doctor of Nursing Practice (DNP)
Tuition: $13,321  (not including housing and fees)

Program Length:  24 Months

Online Options Available? Hybrid
Tuition: $13,321  (not including housing and fees)

Program Length:  48 Months

Online Options Available? Hybrid
Specialties Offered
BSN

MSN

Clinical Nurse Leader certification

Public Health Nursing certification

MSN/APRN

DNP

PhD
Is UCLA School of Nursing a Good Nursing Program?
UCLA is undeniably one of the top nursing schools in California, and in the country. It consistently ranks among the top MSN programs on the U.S. News & World Report list. In fact, in 2022, UCLA's Master's Entry Clinical Nurse and Advanced Practice Registered Nurse program ranked #16 in the country. 
"Nurses play a vital role in the health of communities and countries," said Linda Sarna, dean of the UCLA School of Nursing. "We're pleased to be acknowledged as a leader in graduate nursing education. This recognition is a testament to the hard work and dedication of our brilliant students, faculty, and staff. It's especially poignant given the year we've all endured." 
UCLA also offers clinical placements at some of the top hospitals in the LA area including:
Ronald Reagan UCLA Medical Center

Mattel Children's Hospital at UCLA

Resnick Neuropsychiatric Hospital at UCLA

Santa Monica UCLA Medical Center and Orthopaedic Hospital

Harbor-UCLA Medical Center

St. John's Health Center

Cedars-Sinai Medical Center

VA-West Los Angeles Healthcare Center

Children's Hospital Los Angeles

Northridge Hospital Medical Center

Torrance Memorial Medical Center

Good Samaritan Hospital Los Angeles
Nursing students can expect to get a strong didactic education but also a very diverse clinical experience. 
What Do You Need to Get Into UCLA School of Nursing?
Admission criteria for UCLA's School of Nursing will depend on the program. Here are the requirements for the BSN program:
BSN Admission
UCLA Application

Supplemental School of Nursing Application 

Personal Insight Questions: Respond to 4 out of 8 questions with a minimum of 350 words.

SAT or ACT scores

15 A-G courses with at least 11 courses finished prior to the beginning of your last year of high school.

2 years of history/social science

4 years of college-preparatory English

3 years of mathematics (4 years recommended)

2 years of laboratory science (3 years recommended)

2 years of a language other than English (3 years recommended)

1 year of visual and performing arts (if available)

1 year of college-preparatory elective
How Hard is the Nursing Program at UCLA School of Nursing?
UCLA School of Nursing is extremely competitive. In fact, UCLA in general is highly competitive. For Fall 2021, there were 139,490 freshman applicants. Of them, only 15,028 were admitted and 6,586 enrolled in the university. 
More specifically, the UCLA School of Nursing had 5,429 applicants in Fall 2021. 50 students were admitted and 46 enrolled. There is a 1% admit rate for the nursing program. 
The number of transfer students accepted was also incredibly low. In Fall 2021, there were 404 applicants and only 10 were accepted. This led to a 2% admission rate.
What Kind of Support Does UCLA School of Nursing Offer?
UCLA offers an immense amount of support to undergraduate and graduate students. The Louise Darling Biomedical Library houses over 530,000 volumes and 6,000 periodicals with over 6.5 million books available to students. The UCLA Student Services website breaks down services into four categories,
Academics & Advising

Community

Health & Wellness

Basic Needs & Safety
Services include, 
How Much Is the Nursing Program at UCLA School of Nursing?
Despite being a state school, UCLA is quite expensive. The tuition  for 2022 is as follows: 
| | | | |
| --- | --- | --- | --- |
|   | UCLA Residence Halls | Off-Campus Apartments | Living with Relatives |
| Tuition and Fees | $13,804 | $13,804 | $13,804 |
| Room and Meals | $17,231 | $16,224 | $7,101 |
| Books and Supplies | $1,434 | $1,434 | $1,434 |
| Transportation | $635  | $1,080 | $2,055 |
| Personal | $1,494 | $1,737 | $1,848 |
| Health Insurance* | $2,850 | $2,850 | $2,850 |
| Total – California Residents | $37,448 | $37,129 | $29,092 |
| Nonresident Supplemental Tuition | $31,026 | $31,026 | $31,026 |
| Total – Nonresidents | $68,474 | $68,155 | $60,118 |
Even though UCLA is expensive, there are many financial aid options available to students including a plethora of scholarships. UCLA offers financial support that may be awarded based on need, academic merit, background, specific talents or professional interests:
There are also a variety of grants available to incoming and current students. Available to California residents only:
Cal Grants (FAFSA or DREAM Act and GPA verification due March 2)
Available to all U.S. residents:
Pell Grants (federal)
University Grants: These need-based grants demonstrate UCLA's commitment to affordability. Recipients must complete and submit the FAFSA or DREAM Act Application annually by March 2.
 Is UCLA School of Nursing Worth It?
Many students want to know if the cost of the UCLA School of Nursing is worth the expected salary. UCLA is a top-ranked nursing program and one of the more affordable public schools in the country. Not only is the cost of tuition worth it, but also graduating from UCLA will connect you with a vast network of alumni throughout the country. Some of the factors that students must consider before choosing a nursing program include:
The type of healthcare institution where you will be employed

The city and state will you live

Whether you work part-time or full-time

Whether you pick up overtime shifts or weekends (for a higher hourly wage)?
According to the U.S Bureau of Labor Statistics (BLS), nurses earn a median annual salary of $77,600 per hour or $37.31 per hour. However, the range varies widely depending on many of the factors mentioned above. 
According to ZipRecruiter, nurse salaries range from $35,500 to $123,500, with an annual mean salary of $76,289.  Keep in mind that nurses who live in cities and states with a higher cost of living typically earn much higher salaries than nurses who work in more rural areas.
What is UCLA School of Nursing's Transfer Policy?
UCLA accepts roughly ten transfer students every year into the traditional four-year undergraduate program. Unfortunately, UCLA does not accept current students to transfer into the nursing program. Students have to apply to be in the nursing program. 
According to the transfer website, UCLA considers the following criteria,
Junior-level standing (60 semester or 90 quarter transferable units completed) by the end of the spring term before you transfer.

GPA of 3.2 or higher earned in transferable courses.

Completion of the following course requirements by spring prior to transfer:

Two transferable courses in English composition or critical thinking and writing.

One transferable math course that has a prerequisite of intermediate algebra or higher.

Four transferable college courses in at least two of the following subject areas: arts and humanities, social and behavioral sciences, and physical and biological sciences.

Progress toward completion of major preparation requirements by spring prior to transfer.

There may be additional lower-division requirements that students can complete at their current institutions or at UCLA. Should a major not have specific prerequisites, we expect students to demonstrate an interest in the academic study by completing coursework related to the major.
UCLA School of Nursing Reviews
"The school is ranked #12 for the APN program and they also have a great program for BSN's." - Hannah S. via Yelp
"Good simulation labs and clinical sites. If you are a transfer you do 3 years, however, if you go straight from high school it is 4 years. Other UC'S are only 2 years for transfers." - via Indeed
"UCLA has supportive instructors and they find your clinical sites for you, unlike some other schools. I had a great experience and although you had to physically present for class, it was worth it." - via Indeed