How to Answer Next Gen NCLEX Drop Down Questions
If you're a nursing student or an aspiring RN, the NCLEX exam might seem daunting, especially with the new question types on the Next Gen NCLEX. We've partnered with NURSING.com* to break down how to understand and strategize answering these NextGen NCLEX questions to help you pass the NCLEX and get started on your nursing career! 
In this article, Professor Beth RN from NURSING.com will explain everything you need to know to answer drop-down questions on the Next Gen NCLEX. 
>> Related: How to Answer Next Gen NCLEX Highlight Questions
What Are Drop-Down Questions on the Next-Gen NCLEX?
In drop-down questions, you'll be presented with a client scenario that will have blanks in it with missing information. Your job is to choose from the drop-down lists to select the missing information that best fits the scenario.
You'll need to carefully read the question and all the options to identify all the correct responses, as there may be multiple correct answers.
Next Gen NCLEX Example Drop-Down Question
This question comes from NURSING.com SIMCLEX exam. Check out NURSING.com for NCLEX prep; their SIMCLEX is the only adaptive NCLEX simulation exam - AKA it looks and feels like you are taking the NCLEX.  
Types of Drop-Down Questions
These questions can be presented in three ways: 
Drop-Down Cloze: In the drop-down cloze, there will be a paragraph of client health record information with one more drop downs you'll need to answer.

Drop-Down Table: A drop-down table that can have up to five columns and three rows. 

Drop-Down Rationale: The drop-down rationale is just one sentence with two to three dropdowns. 
Enter to Win Nurse.org's $1,500 "No Essay" Nursing Scholarship!
How to Answer Drop-Down Questions on the NCLEX
The drop-down question format is designed to allow for more complex scenarios to be presented to you. Instead of simply selecting a single answer from a list of options, you must consider multiple factors and choose the best response based on the specific details of the scenario presented.
This question comes from NURSING.com NPQ. Check out NURSING.com* for NCLEX prep
For example, a drop-down question might present a scenario in which a patient is experiencing chest pain. 
You would be asked to select the best course of action from a drop-down menu that includes options such as "Administer nitroglycerin," "Obtain an ECG," etc.  

You would need to consider your patient's medical history, vital signs, and current medications in order to choose the best response.
Drop-down questions can hit any of the clinical judgment models, so it's best to take your time to read, whether it's an EHR, a scenario, or those table column headers.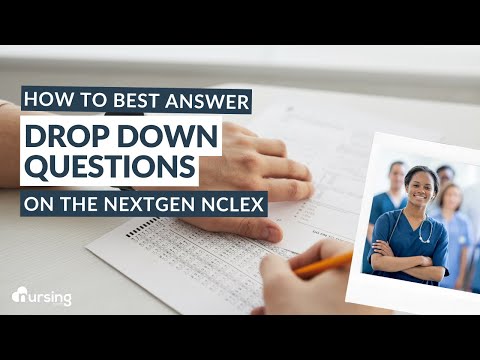 Don't let unfamiliar question types stress you out. Take your time and practice your skills. For even more help, NURSING.com offers a free test-taking webinar that you can join by visiting NURSING.com/testtaking.
More NCLEX Resources
*Indicates an affiliate link. At no additional cost to you, Nurse.org may earn a commission if you click through and use this service.