Master's in Forensic Nursing Guide
Interested in joining the growing field of forensic nursing? A forensic nurse can be either a Registered or Advanced Practice Nurse and provides specialized care for patients who have been the victims of violence. They also provide consultation and testimony for civil and criminal proceedings.
Forensic nurses who want to have more career and salary opportunities can do so by earning a master's degree. This guide will explain how to earn one and what you can do with it.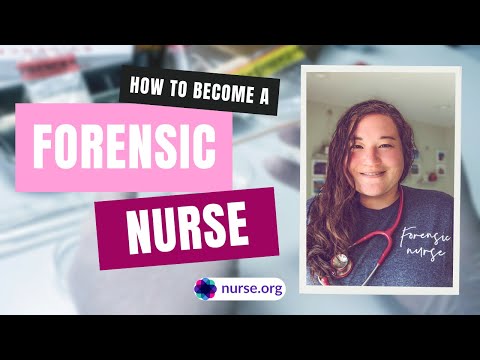 What Can You Do With a Master's in Forensic Nursing?
Master's prepared forensic nurses have more opportunities and are able to practice more independently. They are also considered experts in their field.
Some of the work responsibilities of forensic nurses are:
Providing comfort and psychosocial support to victims of violent crimes and their families/significant others
Document findings to assist the medical examiner or coroner
Treating physical injuries
Photograph the crime scene and/or victim
Conducting examinations of the body
Confirming or pronouncing time of death 
Identify victims of assaults and/or murders
Acting as liaisons between attorneys, clients and physicians
Educate lawyers on medical facts related to the case
Act as an expert witness related to medical knowledge
Referring patients to ongoing care programs
Providing patients with crisis intervention
Recover evidence
Providing therapy to adults and pediatric individuals
Collecting and preserving evidence that's admissible in court (e.g., victim's clothing, bullet(s), and other physical samples)
Assessment of alleged perpetrators and collecting evidence as indicated
Apply forensic nursing principles to the promotion of health care and safety in the community
Promote early identification and prevent potential abuse of children, adults, and the elderly
Discuss trauma and death and the collection, preservation and documentation of related evidence
Forensic Nursing Specialties
In forensic nursing programs, you'll have the opportunity to specialize in a specific area of practice including:
Sexual Assault Nurse Examiners (SANE)

Have a role in cases such as interpersonal violence, abuse, and negligence.
Provide nursing care and observation for victims and perpetrators of crimes throughout their hospital stay and collect evidence for possible legal procedures.

Legal Nurse Consultants 

Support their clients (lawyers) in the development of cases involving healthcare issues both in the civil and criminal areas. 
Function as a testifying expert or as a consulting expert. 
Analyze potential legal cases, such as negligence, injuries, illnesses, and product liability.

Forensic Psychiatric Nurses 

Function in legal cases involving mental health issues, as consultants or expert witnesses. 
Have a role in cases such as competence for healthcare decisions and guardianship. 
Provide care for inmates with mental health issues, care of patients in civil commitment, and their families.

Forensic Gerontology Specialist

Investigate cases involving neglect, abuse and/or exploitation of elders.
Raise awareness regarding legal and human rights issues of the elderly population.
Generally work in hospitals or nursing homes.

Forensic Correctional Nurses 

Work in correctional facilities.
Provide healthcare to inmates.
Their work includes assessments of inmates, treatment of acute and chronic illnesses and substance abuse, emergencies, case management, and health promotion.

Forensic Nurse Death Investigators 

Representatives of the medical examiner or coroner's office. 
Work collaboratively with the police and other authorities on the case.
Collect evidence from the body and the surrounding area.
They testify in civil or criminal court cases.
Forensic Nurse Salary - BSN vs MSN in Forensic Nursing
Forensic nursing is a new and ever-changing profession. Because there are so many different paths within forensic nursing, salaries can vary greatly. According to PayScale, the average salary for Forensic Nurses is $30.61 per hour or $73,985. While this number is slightly lower than the average salary of a hospital nurse, forensic nurses usually work in the private sector and pay can be lower. The median annual wage for a registered nurse working in a hospital setting is $77,730 or $37.37 per hour. 
There currently is no additional information differentiating the salary between a BSN and MSN prepared forensic nurse. However, generally MSN prepared nurses earn a higher hourly wage than BSN prepared nurses. 
MSN in Forensic Nursing Programs
Forensic Nursing Master's programs are between 34 and 40 credits. The curriculum is a mixture of didactic coursework and clinical hours. Courses may include:
Evidence-Based Practice
Theoretical Foundations for Population Health
Introduction to Forensic Nursing
Crime/Victimology/Social Justice
Sociology of Crime and Delinquency
Interpersonal Violence
Forensic Methodologies 
Population Assessment & Intervention
Advanced Assessment, Pathophysiology & Pharmacology 
Introduction to Demography & Epidemiology
Ethics for Nurses
The Legal System
Forensic Nursing: Caring for Victims
Forensic Nursing: Caring for Perpetrators
Criminal Law: Substantive and Procedural
Forensic Science and Technology
Scientific Foundations for Forensic Nursing Interventions
Psych Bases of Criminal Behavior
Advanced Criminological Theory
How Much Does it Cost to Get Your MSN in Forensic Nursing?
U.S. News lists the average cost of an MSN program anywhere from $35,000 to $60,000, depending on the type of school (online vs on-campus) and school location.
This cost will vary greatly depending on the cost per credit hour of the program. Credit hours for an MSN Forensic nursing degree are between $700 and $1500 per credit hour. 
How Long Does it Take to Complete an MSN in Forensic Nursing Program?
The program can be completed in two years if the student is full time. Full time is considered six credit hours per semester. Most programs only offer specific courses in the fall or spring, so missing a course in the curriculum could cause a delay in completion. Schools allow students to complete the program in up to five years. The length of time to complete this master's degree is generally two to three years. 
Can a Forensic Nursing MSN be Completed Online?
Yes! These programs are designed to be completed online or in-person. Students will have to complete an in-person practicum but the other courses are offered entirely online at some universities. Some programs are a hybrid of both or allow students to choose if they rather complete the program online or in the classroom. 
Examples include,
Texas A & M - On campus
Oakland University - Hybrid
University of Alabama - On campus
Fitchburg State University - Online
Duquesne University - Online
Penn State World Campus - Online
Monmouth University - Online
Cleveland State University - Online and/or On-campus 
Program Accreditation: Why it Matters
Regardless of the type of path to becoming an MSN prepared forensic nurse, you need to ensure that the program is accredited. Non-accredited universities should be a HUGE red flag for all nurses and students. 
Look out for these 2 red-flags while you are researching nursing programs — they usually indicate that a program is not-accredited. 
The program is extremely cheap or extremely expensive. 
The program promises completion in less than a year - non-accredited programs will boast about obtaining a degree in less than a year. Due to the number of classes a nurse must take, this is virtually impossible. Masters level programs will not allow an individual to take that many courses in a short period of time. 
Be skeptical of these programs. 
There are two main accrediting bodies for nursing programs: 
The purpose of accreditation is to focus on the same standards and criteria across all nursing programs. This ensures that there is a level of consistency within the programs. The accreditation process ultimately improves the quality of nursing education and keeps the curriculum up to date on current trends in advances in nursing and healthcare. 
Read more here for nursing school accreditation information
Forensic Nursing MSN Admission Requirements
Though every Master's of Science of Forensic Nursing degree program is different, most have similar entry requirements, which generally include:
A minimum of one year of nursing experience completed within the past five years.
Satisfactory completion of an accredited baccalaureate program with at least 3.0 GPA on a 4.0 scale
Submission of official transcripts from all postsecondary schools attended
Unencumbered, active RN license in state of practice (Some programs will require an RN license in the state of the program)
Two or three professional references
Completion of undergraduate statistics with a grade of C or better
Submit a 2-3 page essay identifying your population of interest; how to you plan to use your MSN degree to enhance your professional growth and development, and skills you hope to acquire during the program
Professional resume or curriculum vitae
Successful completion of a personal interview with the Nursing Admissions Committee
GRE if applicable
TOEFL test if applicable
Top Forensic Nursing Masters Programs
The International Association of Forensic Nurses  (IAFN) does not endorse a specific program for forensic nursing; there are numerous top school throughout the country including, 
The aforementioned programs are all similar in length and course curriculum. Determining the program that is the best fit must include other factors, such as 
Tuition
Location
Online/in-classroom
Financial aid packages
Clinical placements