Will These Nurse Robots Take Your Job? Don't Freak Out Just Yet.
Brittany Hamstra, BSN, RN
For those of you who have watched Disney's film Big Hero 6, you might have been humored and touched by the personality of "Baymax," the lead character's personal robotic healthcare companion.
This pudgy, lovable, medical machine was programmed to care for those in need by scanning a human body for illnesses or injury, assessing the environment, triaging the conditions, providing treatment, and tending to the emotional needs of the patient. This fictional robot was built with impressive strength and programmed to store a massive amount of data, including 10,000 different medical procedures. His multifunctional hands had palms that could be used as defibrillators and fingertips that dispensed antibacterial spray. 
Baymax may seem like a complete fantasy creation by imaginative children's storytellers, but robotics engineers across the globe make healthcare AI seem like a more practical and undeniable possibility with each breakthrough invention. 
Meet Japan's Nurse Robots
Right now in Japan, human-like robots are already being utilized as supplemental healthcare workers in elderly homes across the country. Larger robotic machines can be used to carry-out laborious physical tasks like moving patients, and smaller interactive robots are being used to combat loneliness and inactivity in the elderly population. 
Meet the robot nurse bear – Japanese robotics engineers at Riken and Sumitomo Riko Labs have created a robotic bear capable of helping care for elderly patients. This bear can lift a patient from standing position or from the floor, transfer a patient to a wheelchair, carry a patient from point A to B, and turn patients in bed.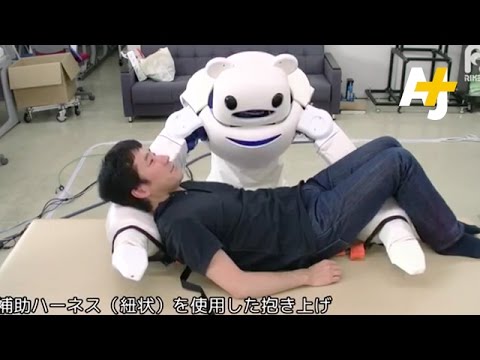 An increasing elderly population paired with an insufficient amount of healthcare workers able to care for it makes revolutionary inventions like nurse robots incredibly helpful.
Now, meet friendly robots Paro, Pepper, and Dinsow. Each robot serves a vital role in the Japanese healthcare system. Japan has the highest percentage of 75+ individuals out of any OCED country, so looking to their systems of managing elderly is like looking into our futures.
Without sufficient staffing for elderly care, more Japanese citizens are forced to leave their jobs to take care of aging family members. And those who do work in nursing and healthcare, suffer from high stress and fatigue. So Japan is looking towards robotics for help. 
Robot Dinsow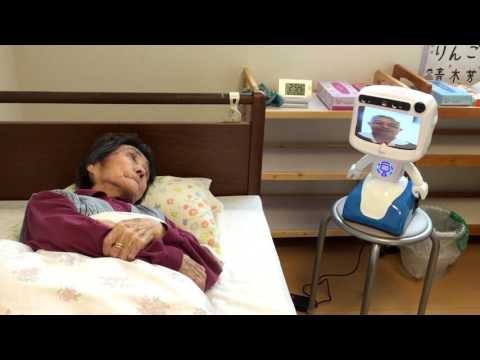 Robot Paro
Robot Paro is able to engage in simple conversations, direct group entertainment programs, and comfort shy patients with affection.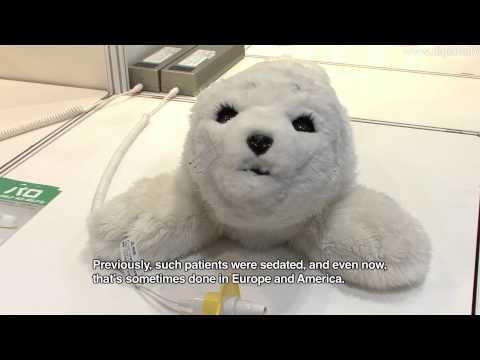 Robot Pepper
Robot Pepper can function in a more clinical way, helping to triage needs, schedule appointments, provide patient education, and interpret patterns in vitals/labs in proper medical context. Robot Dinsow is helping lonely and inactive elderly patients with mood, ambulation, ROM exercises, reminders to take medicine, and involvement in self-care.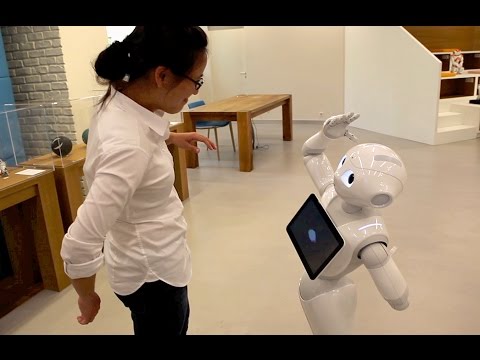 Even technologies like the bed from Panasonic can provide revolutionary solutions for nurses. Their high-tech bed is capable of splitting into two parts, one which turns into a wheelchair, reducing the physical burden of nurses to transfer patients. Different robotic machines are also distributing food trays, medicines, and laboratory specimens throughout hospitals with accuracy and safe-handling. 
Robots Relieve Some Burden From Nurses
It is highly likely that artificial intelligence (AI) will be implemented in clinical settings rapidly and on global scale. Prototypes resembling "robot nurses" could have both negative and positive impact. A potential con of robotic nursing is the ability for intelligent online hackers to infiltrate the healthcare databases and gain access to sensitive private information.
Another possible drawback of robotic nursing aid is the lack of "human touch." And of course, more robots as nurses might mean less demand for nurses, although probably unlikely. It is more likely that the aid of robotic nursing will just allow nurses to fulfill more meaningful duties and work stressors would decrease. 
Moreover, the potential benefits of robotic nursing far outweigh the drawbacks. 
Robotic nurses will have the ability to triage patients in clinics, emergency departments, and via telehealth services in order to streamline care and provide standardized approaches to symptom management with far fewer resources. 
With AI as a tool to help treat and prevent illness, the number of hospital admissions and complications that result from lack of education or access to health services could decrease. AI will be linked to personal smartphones to help patients at home adhere to medication regimes, comply with disease management, check vitals and blood glucose when indicated, etc. 
Improved Patient Care?
Robotic nursing will be used as a platform for patient education as well. In hospitals, outpatient settings, and at home, patients will be able to access hundreds of videos outlining medication uses, side effects, disease management, support group, emotional support hotlines, and all at the blink of an eye in any language. 
The robotics that helps with patient transfers, ambulation, and lifting will significantly reduce physical stress on nurses and allow nurses to more efficiently use their hours at work. Robots are programmed with algorithms that reduce calculation errors to virtually zero, so it will eventually be safer to double check medications with a robot – even chemotherapy and blood products. 
With less burden on nurses and improved quality of care for patients, collaboration with nurse robots will improve current trends of nursing shortages and unsafe patient ratios.
Robots will be able to help with discharge planning and procedures. They will be integrated into all hospital technologies and monitors so that we can earlier and more accurately detect signs of patient decompensation. Thus, patients will see improved health outcomes. 
Big data clouds of information stored by AI will allow healthcare providers to have continuity of care and rely less on the medical history given by patients. Robots are already helping elderly combat loneliness, and with increased use, they can help stabilize mood and give support to a variety of patients with mental illnesses. 
Robot nurses will help us to schedule tasks during our nursing shift and prioritize our care with the click of a button. Charting will become less of a burden and less time-consuming for nurses because most will be automatically delegated to AI. 
With all there is to be excited about, there are aspects of nursing that can't be replaced by robots (or so we may think). Our ability as nurses to understand context, interpret hidden emotions, recognize implications, reflect empathy, and act on intuition, are all very innate and humanly skills that drive our success as nurses. It is to be seen whether robotics can parallel these characteristics, but until the time comes, there is still remarkable value in those personal attributes. 
Nurse Robots In The U.S.
In the US, robots are already being implemented in hospitals to improve current practices. For example, Tugs, made by Pittsburgh-based Aethon, is used in hospitals nationwide for transportation of medications, linens, and lab specimens.
Aethon claims these machines replace the need of "runners" who would previously execute such deliveries, the equivalent of 2.8 full-time employees. Another similar prototype, called the North American RoboCourier, comes out of Denver.
West Coast hospitals are using a product called VGo, which acts as a personal avatar for purposes of communication between people. Washington D.C.'s V.A. Medical Center and Alzheimer's Association are early users of the aforementioned Paro robotic baby harp seal.
Robotic IV Automation, or RIVA, comes out of Winnipeg and is used in the US to help pharmacies prepare IV syringes and bags. And a revolutionary robotic product called LUCAS CPR may forever change emergency response methods. LUCAS is a chest compression system which is automated, safe, and efficient to use. It is easy to carry and can be applied to the patient within 20 seconds. It's also been shown to deliver automated compressions that sustain higher blood flow to the brain and heart compared to manual compressions. 
You might want to ask yourself: Can I embrace the coming changes? How will this affect my career? Hopefully, you are excited about the possibilities for nurses and robots to work side by side!
Next Up: Amazon and Telenursing – a Match Made in Healthcare Heaven?