Best Hospitals in Florida for Nurses in 2017
Nurse.org ranked the best hospitals in Florida state for nurses to work for based on nurse's ratings and reviews.
1. Morton Plant Hospital
Clearwater, FL
Average Rating 4.5
97% Recommended
"Great nursing support, multiple education opportunities, competitive pay, great coworkers, and management is very involved and supportive."
"The hospital recognizes nurses for all their hard work. The organization has many educational opportunities for continuing education."
2. St. Joseph's Hospital
Tampa, FL
Average Rating 4.5
96% Recommended
"A great place to work and learn. I have had a wonderful experience here. It is wonderful and very diverse!"
"Core values are taken very seriously. Patients are the priority."
"Baycare is one of the best companies to work for in the Tampa Bay area. They take care of their employees."
---
---
3. Morton Plant North Bay Hospital
New Port Richey, FL
Average Rating 4.4
95% Recommended
"New facility with newer supplies. Leaders are excellent when issues arise, as are coworkers; they help without question."
"This is an awesome company to work for. They have great management and teamwork."
4. Mease Countryside Hospital
Safety Harbor, FL
Average Rating 4.4
94% Recommended
"Fast-paced environment with plenty of opportunities to learn."
"I would tell a prospective nurse that the hospital is wonderful. I really enjoy working at this hospital because everyone works as a team."
5. Tampa General Hospital
Tampa, FL
Average Rating 4.3
98% Recommended
*Magnet Hospital
"Great place to work. Great experience. New opportunities every day."
"Great facility that backs its staff. Tons of resources like a lift team and rapid response."
6. Jackson Memorial Hospital
Miami, FL
Average Rating 4.3
98% Recommended
"Great team members, elite quality of work, superb care of patients, and outstanding relationships with patients and their families."
"Can learn anything and everything. Benefits are amazing. You can move around to different departments."
7. Orlando Regional Medical Center
Orlando, FL
Average Rating 4.3
96% Recommended
"Good teamwork, positive work environment, and many perks available for team members. It's a beautiful campus to work on."
"Endless opportunity to grow. The organization promotes education and elevation for all employees. Management is eager to aid in professional and educational needs of all staff."
8. Sarasota Memorial Hospital
Sarasota, FL
Average Rating 4.3
95% Recommended
*Magnet Hospital
"Excellent culture and very supportive and positive environment for nurses."
"There are plenty of opportunities to expand your education through grants for school and through certifications and it is actually encouraged and paid for by management. Ratios are much better than my last hospital, and equipment needed to make my job flow smoothly is always available."
9. Boca Raton Regional Hospital
Boca Raton, FL
Average Rating 4.3
92% Recommended
"It is a culture of teamwork. Focus on patient satisfaction and customer service."
"Very enjoyable place to work. Friendly open door policy with the manager."
10. UF Health Shands Hospital
Gainesville, FL
Average Rating 4.2
93% Recommended
*Magnet Hospital
"The staff is very supportive and they work well together, as well as the doctors. I feel supported and I feel that I have learned a great deal."
"It's a wonderful place to work with so many opportunities to learn! You are surrounded by people who are eager for you to learn and don't get upset when you make mistakes or ask questions."
Nurse.org surveyed 3,070 nurses in the state of Florida from 2015-2017 for this report. Hospitals with less than 15 nursing reviews were excluded from our list.
Nurse.org on ABC Action News WFTS Tampa Bay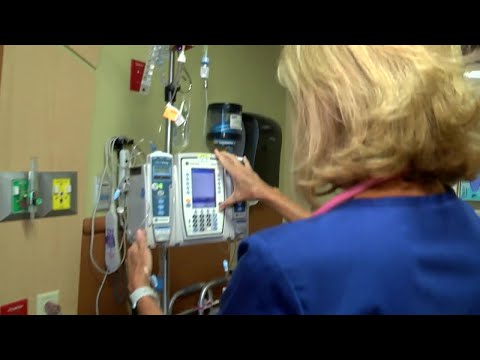 ---
---