From Intern to Hospital CEO - This is How I Made My Way Up The Corporate Healthcare Ladder
As more nurses decided to step away from the bedside and into managerial and administrative roles, the healthcare administrator (HCA) is a popular career path. HCAs plan, direct, and coordinate healthcare services in healthcare facilities such as: 
Hospitals
Community clinics
Nursing homes
Private medical practices
Insurance companies
We had the chance to chat with Michael H. Goldberg, FACHE, MBA, MHCDS, healthcare administrator for Northwell Health's Long Island Jewish Medical Center.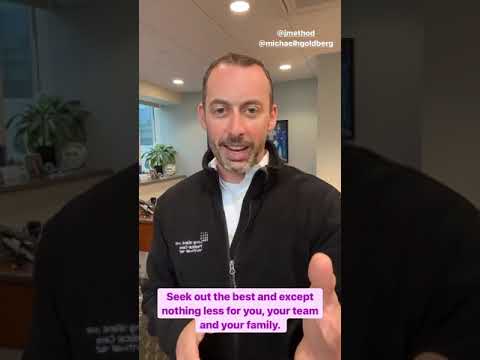 When did you know you wanted to become a Healthcare Administrator?
 I joined Northwell Health as an intern in the corporate finance department in 2000, after which I received a full-time job opportunity. The part of finance in which I had worked provided me with direct access to sit in on meetings with the executive leadership of Northwell Health and the Board of Trustees. At that early point in my career, the executive team inspired me by their caring nature and passion for providing the best, compassionate health care to the New York area. This was when I decided, a career in healthcare was right for me.
What is your role, and what are your duties? 
I'm the Executive Director of Northwell Health's Long Island Jewish Medical Center. The simplest way to think of it is that I function as the hospital's CEO or President responsible for the quality, safety, experience, care, community relations, financial performance, and more.
Learn more about my complete duties in nurse.org's Healthcare Administration Career Guide!
What was your journey to this role? How did you get started in healthcare, and how did you get to where you are today?
From the time that I could remember, my plan in life was to take over a family business in a completely different industry. I was to be the 4th generation to do so. However, due to changing market dynamics and the development of big-box stores, our family business closed while I was in college, leaving me to find another career. During my time in school, I found an interest in numbers and finance. After graduating with my undergrad in 3 years, I immediately enrolled for an MBA in finance as a full-time student.
After the first year, I searched for an internship in finance. There were two opportunities offered to me simultaneously:
Wall Street
Northwell Health (formerly North Shore - LIJ Health System)
I worked on Wall Street as an intern for three days before deciding that the culture at Northwell was a better fit for me.
At the end of the summer of my internship, I got the opportunity to work full time at Northwell in the Budget & Financial Planning Department, where I advanced through several roles over nine years. 
In this department, we were responsible for evaluating all business plans from the 13 hospitals that made up the organization, at the time. 
We now have 23 hospitals and over 800 ambulatory sites. 
We also developed multi-year forecasts to project the impact of our changing business structure-- utilized to set goals for margins, philanthropy, and borrowing capacity.
In 2009 the Chief Financial Officer of Northwell asked me if I would be interested in becoming the Hospital Chief Financial Officer (Associate Executive Director, Finance) for LIJ Medical Center. I welcomed this opportunity and moved into a new role. During that time, I attended a new degree program at Dartmouth College called a Master of Health Care Delivery Science program. This program afforded me a chance to expand my knowledge beyond finance into
Healthcare operations
Clinical care
Leadership
Clinical data analysis
Once graduating in 2013, the Executive Director of LIJMC, at the time, asked me to consider changing fields from finance to operations as the Chief Operating Officer (Associate Executive Director, Operations) of LIJ Medical Center.
The following year, I was promoted to Deputy Executive Director, a role reserved in our organization for those preparing to move into the Executive Director roles. In this capacity, I partnered with the hospital Chief Medical and Chief Nursing Officers to deliver exceptional patient care and operating performance.
In 2015, Northwell Health's President & CEO Michael J. Dowling, our EVP & COO Mark Solazzo, and my predecessor named me as the LIJ Medical Center Executive Director, where I have gratefully served to this day.
What degrees do you hold? What degrees do you suggest for your role? 
My degrees include:
Bachelor of Science in Business Administration
Master of Healthcare Delivery Science
For most management roles in health care —from a director or above—my recommendation is to have a Master's degree and meaningful years of experience.
I had my first master's in my first year, but that didn't give me the knowledge and skill to manage. Time on the job and real situations, coupled with the knowledge taught in degree programs, can prepare you for management.
What type of person does well in this role?
The people I believe do the best in my role are the 22 peers I work with at Northwell Health. Together, we are a group focused on doing the right thing for our patients and our team members. We are dedicated to improving all that we can, and we're great supporters of each other and Northwell Health.
Many of us find our way into a healthcare organization through a specialty. For me, it was finance. For others, it's by being a nurse, physician, or an advanced care provider. At some point, we find that we would like to advance into healthcare administration, but have lived in a relatively siloed discipline. A Healthcare Administration degree is a great way to gain exposure to various industries that can help round out experiences not received through work experience.
Show Me Healthcare Administration Programs
Many roles can be defined as an HCA, and across the United States, dynamics such as the cost of living can vary. If you're interested in a specific role, I suggest looking up the position in your market or talking with someone in your company's human resources department.
What do you like most about your career?
The people. I love the difference we get to make and the engagement and excitement our team has.
What do you like least about your career?
Healthcare is constantly a target for funding cuts. You can think of it this way, what if someone told you that every year your salary would go down by some amount, but every year the price of your groceries, utilities, and housing goes up, making it harder and harder to provide for your family. This dynamic happens every year in health care, and while we've avoided impacting patient care, it gets very challenging to continually do.
Advice for people interested in healthcare administration - if you could go back and give your younger self advice about this career path, what would it be?
I believe that a limited number of careers have such a reward in life as being able to help another human being like a healthcare administrator. We get the opportunity to do this and be surrounded by those who many refer to as heroes every day.
If I could tell my younger self anything about my career path, it would be to:
Embrace change
Find a mentor and trust them
Take chances
Always learn
Put in the hard work and extra hours because that's when you learn the most
Unlike many other healthcare administrators and executives, you're very active on social media. Tell us about your Instagram and your mission behind that.
 I created a social media presence after an employee survey revealed that we weren't communicating enough with our team. Despite the vast number of emails, town halls, and rounding efforts, our messages weren't getting to our team. Staff only opened 17% of our emails. After some review, it made sense to me; most of our hospital team didn't use a computer and had little reason to log into work email.
So after a poll, I created an Instagram account — @michaelhgoldberg—to achieve several goals:
To recognize and highlight our team members
To share timely and relevant information
To inspire, motivate, and provide direct access to me for our team members, prospective employees, the community, and at times patients and their families.
I'm incredibly proud of the positivity that surrounds my account and how the world can see our team #insidelij.
In addition to being popular on social media, Michael showcases the type of leadership all nurses seek. Pre-COVID, he asked his staff, which he calls "team members" to invite him to "walk in their shoes." He shadowed multiple team members in multiple areas for their entire shifts— including nurses.
Michael and the staff at Long Island Jewish Hospital also organized a silent protest on the hospital lawn in solidarity with protesters. 
Want to contact Michael?
Instagram: @michaelhgoldberg 
Twitter: @m_h_goldberg