FNP Guide - Family Nurse Practitioner: Salary, Benefits & Programs
Deciding to pursue an advanced nursing degree is just the beginning: now you need to determine which type of advanced practice nurse you want to be. If you choose to become a Family Nurse Practitioner (FNP) you're setting yourself on a path to a career that promises you'll play a pivotal role in health care for a broad range of patients.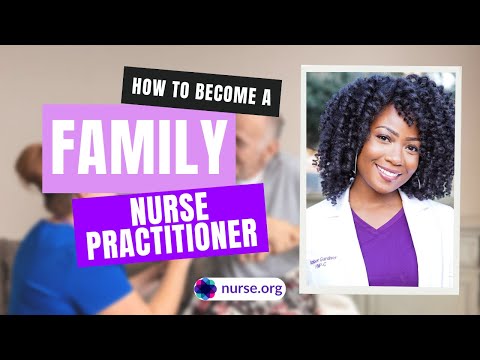 Family Nurse Practitioner is one of several Advanced Practice Registered Nurse certifications outlined by the APRN Consensus Model, which strives to establish uniform certifications and understandings of the various roles that Advanced Practice Registered Nurses play. One of the ways that the APRN Consensus Model distinguishes between nursing roles is by the scope of practice and the population that is served, and the Family Nurse Practitioner specifically provides primary care across the lifespan — from infants to the elderly — and addresses wellness and prevention as well as the treatment of acute or chronic conditions that are not life-threatening. 
Family Nurse Practitioners have the opportunity to take patient care to a more personal level: they can have their own patients who they see regularly throughout the course of their lives and can work in clinics or private practices upon which their communities rely for primary care. They are recognized for their ability to work independently and autonomously, without physician oversight, and valued for their ability to collaborate and strategize with healthcare and social service leaders to provide much-needed solutions.
Though pursuing an FNP degree requires more clinical hours than other Nurse Practitioner degrees do, the position also commands a higher salary: according to a survey conducted by the American Academy of Nurse Practitioners, the average full-time base salary for a Nurse Practitioner was about five percent lower than that of an FNP. At the same time, Family Nurse Practitioners have much greater flexibility and variability in the patients and cases that they treat.
We have assembled this guide to provide you with all the information you need to fully understand the benefits of becoming a Family Nurse Practitioner, the different paths you can follow to become an FNP, and the requirements and financial ramifications of pursuing an FNP degree.
>> Related: Family Nurse Practitioner Salary 
Advantages of an FNP Degree
Those choosing to become a Family Nurse Practitioner put themselves in a position of significant value in numerous healthcare settings. Because they are educated and trained to provide care for patients of all ages and who are manifesting a wide range of conditions, they are trusted as the primary point of care for many families and are viewed as essential resources and guides within their communities. FNPs are recognized for their expertise, and their input is both sought by physicians in community care settings and highly compensated. Perhaps most importantly, FNPs are able to work independently and without supervision by physicians. It's no wonder that 
According to U.S. News & World Report, Nurse Practitioner positions are ranked the 5th best healthcare job and the 7th best job overall in the United States. Within the general category, the need for professionals who have earned their Family Nurse Practitioner degree is experiencing tremendous growth, with an anticipated 22% uptick in demand by 2020.  The reasons for this include:
The ability to provide care to a widely variable group of patients, ranging from infants to the elderly. Family Nurse Practitioners are viewed as the most flexible category of Nurse Practitioner. In going from one examination room to another they can span decades of age, gender, and overall health. Nurses who do not want to limit their exposure to a single classification of the patient will find greater satisfaction in a family care practice. 
Direct control over patient relationships, outcomes, and practice operations. As a rapidly expanding majority of states have granted Family Nurse Practitioners the ability to run their own clinics and practices without supervision, FNPs who want to work independently and provide direct care are able to do so, especially in areas where there is a shortage of physicians.
A significant boost in income. Family Nurse Practitioners' earnings are 25-30% higher than that of nurses who are not Advanced Practice Registered Nurses, with the national median salary for FNPs hovering at just under $105,000 per year. These professionals also command generous signing and annual bonuses, raising their total income to an average of $115,000.
About the Family Nurse Practitioner Degree (FNP) 
Among the various Advanced Practice Registered Nurse careers, the responsibilities and abilities conferred by the Family Nurse Practitioner degree provide one of the broadest scopes of practice. Their training and delivery of care focus on the varying needs of the population from birth to death, with a strong emphasis on continuing relationships that promote education, health promotion and disease prevention throughout the patients' lifespan.  The FNP degree provides the ability to diagnose and treat the full array of health conditions: it also qualifies them to serve as educators and administrators and to set healthcare policy for their communities.
Being certified as a Family Nurse Practitioner prepares you for a broad area of practice, and 43% of FNPs focus on primary care, but degree candidates are still able to pursue concentrations in an area of interest, with the advantage of being able to treat patients of all ages within that specialty. 
These sub-specialties include:
Cardiac
Critical Care
Endocrine/Diabetes
ER/Trauma
Gerontology
Long-Term Care
Medical-Surgical
Orthopedics
Pediatrics
Perinatal
Post-Partum
Psychiatric
Pulmonary
Rehabilitation
Renal/Urology
Whether you choose to specialize in a particular area of practice or to provide more general primary care, as a Family Nurse Practitioner you will find your services are increasingly in demand. If you want to remain in a care delivery setting, you can opt for pursuing an MSN-FNP degree, while those who are looking to move into leadership in advanced practice may choose to pursue a DNP-FNP degree.
The MSN-FNP degree provides in-depth education on evidence-based practice, health care policy, legal and ethical issues in health care and principles for primary care for all patient populations. The DNP-FNP degree goes further, providing advanced courses in planning and decision making, data management systems, health care policy and performance measurement. Though there is currently no requirement for Family Nurse Practitioners to pursue a Doctor of Nursing Practice, the National Organization of Nurse Practitioner Faculties recently committed to transitioning all Nurse Practitioner programs to DNP programs by the year 2025.
Coursework and Curriculum 
Though there are similarities between being a Nurse Practitioner and a Family Nurse Practitioner, the coursework and curriculum for Family Nurse Practitioners is likely to include many more requirements. This is because FNPs focus on lifelong preventative care, health screenings, routine checkups and diagnosis for individuals and their families. 
FNP programs will adhere to the Nurse Practitioner framework and core competencies established by the American Association of Colleges of Nursing for Nurse Practitioners. Those nine competencies are:
Scientific Foundation
Leadership
Quality
Practice Inquiry
Technology and Information Literacy
Policy
Health Delivery System
Ethics
Independent Practice
Beyond that, FNP degree programs are likely to include additional coursework that is not required of general NP programs. These courses may include such areas of practice as: Family Theory; Family Planning; Nursing for the Aging; Primary Health Care for the Family; and Crisis Health Care for the Family.
Family Nurse Practitioner Salary
According to an Indeed.com survey that included nearly 3,400 participants, the average salary for a Family Nurse Practitioner in the United States is $104,632 per year, with the highest-reported FNP salary reaching over $200,000. Beyond salary, many healthcare facilities offer Family Nurse Practitioners generous signing bonuses and annual bonuses, as well as employee benefits that include everything from vacation and sick pay to health insurance, tuition reimbursement, relocation assistance, and childcare. One of the most notable benefits offered to Family Nurse Practitioners is education loan forgiveness: the national average offered to Nurse Practitioners as part of a job incentive was $61,250 in 2018/2019.
FNP Career Outlook
Primary care practitioners are in increasing demand everywhere in the United States, and according to a recent report published by Merritt Hawkins, Nurse Practitioners are among the top twenty most-requested healthcare recruitment searches by specialty. Family Nurse Practitioners are in such high demand by underserved communities that in 2019 they were offered an average relocation allowance of over $7,000 and an average signing bonus of $9,000, with some healthcare facilities offering as much as $25,000 to those accepting job offers.
Family Nurse Practitioners have a wide range of environments in which they can work. They are in particular demand in communities that are underserved by primary care physicians but can work in many other settings, including:
Private practice
Outpatient settings
Hospitals, acute care or ambulatory care settings
Long-term care facilities and nursing homes
Hospice and palliative care services
Government and community health agencies
Healthcare or health industry businesses
Universities and research agencies
Family Nurse Practitioners can serve as the main source of primary care for individuals throughout their lifespan, but they can also pursue a career in a variety of healthcare specialties, including:
Pediatrics
Nurse Midwife
Neonatal
Oncology
Gerontology
Psychiatry
Chronic Pain
Advocacy
Research
Nephrology
Anesthesia
Case Management
Endocrinology
Public Health
Key Differences Between RN and FNP Degrees
Though the clinical training and knowledge required to become a Registered Nurse is comprehensive, Family Nurse Practitioners receive education and training that carries them far beyond the level of a BSN. This is true whether the FNP pursues an MSN-FNP degree or a DNP-FNP degree. An FNP is an advanced practice nursing degree that allows those who have achieved it to specialize in particular areas of interest, to order tests and write prescriptions, to diagnose conditions and create care plans for patients in much the same way that physicians do: in fact, in many areas of the country, FNPs have taken over the role of primary care practitioner, running their own practice and serving as the regular healthcare provider for entire families, from birth through old age.
Here are some of the most important differences between an RN and an FNP:
To become an RN, you can choose to earn either an Associate's degree or a Bachelor's degree; to become an FNP you must already have earned an RN degree and then pursue either a Master of Science degree in Nursing or a Doctor of Nursing Practice degree.
Where the majority of RNs are employed by hospitals, almost half of Family Nurse Practitioners take advantage of the autonomy granted by their degree and work in either private practices or community health clinics, where they often serve as the lead medical authority.
Family Nurse Practitioners earn a reported average of $104,632, while the national average salary for Registered Nurses is between $57,000 and $71,000 per year 
Family Nurse Practitioners have the ability to operate their own practice, write prescriptions and order laboratory and diagnostic tests
Family Nurse Practitioners are able to establish lifelong relationships with patients, who view them as their primary care provider.
Registered Nurses take a licensing exam to be able to practice, while Family Nurse Practitioners must pass a certification exam and be recertified every five years.
Types of Family Nurse Practitioner Programs 
If you are considering becoming a Family Nurse Practitioner, you have numerous options for how to achieve your goals. Choosing the right one depends upon a variety of variables, including your current degree status, whether your goal is an MSN-FNP degree of a DNP-FNP degree, and whether you prefer a traditional in-class educational environment or an online program that allows you to continue working in our present job. Here are the choices available to you:
RN-to-MSN Program – Designed for RNs who have earned their Associate's Degree in Nursing, these programs allow you to earn your Bachelor's in Nursing (BSN) and your MSN at the same time in a single program.
BSN-to-MSN Program – Designed for RNs who have earned their Bachelor's of Nursing degree from an accredited program, these programs provide masters-level courses that lead to an MSN-FNP degree
BSN-to-DNP Program – Designed for RNs who have earned their Bachelor's of Nursing degree from an accredited program, the curriculum in a BSN-to-DNP program allows students to complete their masters-level requirements and continue on to doctorate-level courses without stopping.
MSN-to-DNP Program – For those who have already earned their Master of Science in Nursing and wish to pursue a DNP-FNP degree, these programs offer leadership-oriented classes that facilitate greater understanding of policy, administration, and advocacy, as well as research.
Online Family Nurse Practitioner Programs
Innovations in communication and technology have changed our lives forever, and one of the most significant changes in education has been the ability to pursue an advanced degree online. Programs that are offered online must meet the same rigorous accreditation standards set forth by the Commission on Collegiate Nursing Education (CCNE) and The Accreditation Commission for Education in Nursing as do traditional campus-based programs, yet they can do so while requiring very few visits to an actual campus. This offers the distinct advantage of being able to choose from among the most highly-regarded FNP programs in the country without having to relocate or live nearby. The ability to get a high-quality FNP education from anywhere that has WiFi access has proven to be a complete game-changer for those who don't have the resources or freedom to attend a brick-and-mortar program, and has made an enormous contribution to the ability to provide clinicians with advanced practice nursing skills to areas where dire shortages exist.
Here are just a few of the benefits of choosing an online FNP program:
You can enroll in whatever type of program you want – whether an MSN-FNP degree or DNP-FNP degree, no matter where you are located.
You can pursue your degree in the comfort of your own home, in a workplace break room, or wherever you are most comfortable, all at your own pace.
Online FNP programs provide the same high-quality education as do in-person degree programs.
The costs of online FNP programs are generally lower, especially because you do not have to pay additional costs for room and board.
You can continue working in your current job while pursuing your degree.
You can complete your degree faster than is true of traditional educational environments.
Online learning is environmentally friendly: there is no need to commute back and forth, and there is less reliance on paper.
Though choosing an online FNP program may sound exotic, the application and enrollment process is almost exactly the same as that of a traditional educational setting, with the notable exception that many online programs offer rolling admission: you can apply any time and begin your studies based upon your own schedule. When reviewing the various options that are available, you will want to take the same things into account that you would of any other educational institution, including:
The program's admission requirements
The program's reputation
The program's costs
The specific number of in-person visits you will need to make and their duration
The clinical hour specifications and whether a local setting such as your current workplace will meet their requirements
make sure that every program you consider has the appropriate accreditations to ensure that your degree will be recognized and appropriately rewarded by future employers.
FNP Classes and Clinicals 
Every FNP degree program has a starting point of the required core competencies established by the American Association of Colleges of Nursing for Nurse Practitioners, but each then moves on to create its own unique curriculum to meets its particular priorities and philosophy. Each is different and all will be academically rigorous, but if you are pursuing your FNP degree you are likely to be required to complete a core curriculum followed by FNP-specific courses. Expect to complete a minimum of 48-course credits and a minimum of 672 clinical hours. Full-time students can generally complete the program in under two years, while part-time studies will take longer.
Once you begin your FNP degree program, you are likely to encounter the following classes, or something very close to these:
Pharmacology
Advanced Physiology
Pathophysiology
Physical Assessment
Biostatistics and Epidemiology
Evidence-Based Practice
Health Care Ethics
Care of the Family in Crisis
Primary Health Care
Those who are pursuing a DNP-FNP degree can also expect to take courses focusing on writing, more advanced issues in evidence-based practice, health care outcomes, health policy and advocacy, and health care finance. DNP-FNP degree candidates will also be required to complete a specific project determined by the program.
Family Nurse Practitioner Program Requirements 
There are many different types of programs available for pursuing a Family Nurse Practitioner degree, and each will have its own unique requirements. Those who are RNS who have their Associates Degree and who are entering RN-to-BSN programs will have different requirements and should expect a longer educational journey than those who are choosing to move from a BSN degree into a DNP program. Still, the various programs share certain expectations of their candidates. These may include:
An Associates or Bachelor's degree in nursing from an accredited college or university
An active RN license and work experience, including a specified number of clinical hours
A minimum undergraduate GPA (usually a 3.0 or higher)
Letters of recommendation (academic and professional)
Application essay
Current resume or CV
GRE scores
Applicants will also need to have taken specific prerequisites in order to be admitted. These may include:
Human Anatomy
Microbiology
General Chemistry
Nutrition
Psychology
Physiology
What to Consider Before Enrolling in a Family Nurse Practitioner Program
Family Nurse Practitioners are playing an increasingly important role in the American healthcare system, and have earned the respect of patients and colleagues alike. Still, the many benefits of pursuing an FNP degree must be weighed against the disadvantages. Here are some of the factors you need to consider before enrolling in a Family Nurse Practitioner Program
It's a big investment of time – Depending upon whether you decide to pursue your FNP degree on a part-time or full-time basis, whether you're going for an MSN-FNP degree or a DNP-FNP degree, and what your current educational level is, it's going to take a few years to get where you want to be. Still, once you've earned your FNP degree you will have nearly limitless career opportunities and be able to provide primary care with nearly complete autonomy.
It's a big financial investment – No matter how economical the program that you choose, pursuing an FNP degree costs a substantial amount of money, so you should start investigating the various loans, grants, and scholarships that are available early, and make sure you take advantage of as many of them as you can. The other thing to consider is the difference that having your FNP degree will make in your income: FNPs earn much higher salaries, are eligible for signing bonuses and annual bonuses, and are offered much more attractive employment benefits. Many employers even offer educational loan forgiveness programs that are worth tens of thousands of dollars. 
Liability – As you take on greater levels of responsibility and autonomy, you also put yourself at greater legal risk of medical malpractice lawsuits. However, as a highly-skilled, in-demand professional, you will find that most employers are happy to provide you with liability insurance. 
How Much Does a Family Nurse Practitioner Degree Cost?
A career as a Family Nurse Practitioner promises a significantly higher income, but that doesn't change the fact that you have to pay for the degree in order to earn that higher salary. Most students need to consider the costs involved before applying to a program, and it's important for you to educate yourself about the various fees involved. 
In most cases, an MSN-FNP degree will involve completing approximately 48 credit hours, and credit hours at in-state programs cost on average $400 per credit.  That adds up to approximately $18,000, not counting additional expenses and fees. Out-of-state and private programs are considerably more expensive and can cost as much as $1,700 per credit, while online programs average approximately $400 to $800 per credit. Fortunately, there are numerous resources available to help you pay for your degree, and students who are working while completing their studies are able to continue supporting themselves while they make this important investment in their careers. 
Paying for Your Family Nurse Practitioner Degree – Financial Aid, Scholarships, Grants, Loans
Though it can be highly stressful to consider the costs of pursuing your FNP degree, there are plenty of good options available for financial aid that go beyond using personal savings. If you are currently working your employer may offer a tuition reimbursement program. Other options include:
Scholarships. As America's healthcare needs shift with the changes in population and shortages in primary care providers, many organizations are stepping up to provide financial support for students pursuing their FNP degree. Here are just a few of the many that are available:
Grants. Like scholarships, grants do not need to be paid back to the organization that funds them, and like scholarships, they can make a big difference in your ability to pay for your FNP education. Most grants are need-based rather than academically based, and they are often specific to the subject matter being studied or the type of degree being pursued. They can be funded privately or through the federal government, which offers grants, including those for students who have lost parents as a result of military service, grants in the advancement of science, and others. Many states also fund educational grants.
Student loans. Loans are made available through the federal government as well as through private funding organizations. If you are considering taking out a loan, those backed by the government tend to offer lower interest rates and flexible repayment terms. Students pursuing their FNP degree are urged to look closely at the terms of private loans, which can often have hidden terms and higher interest rates.
All students who are in need of financial aid to fund studying for their FNP degree are encouraged to get in touch with the Office of Financial Aid at their chosen school. The professionals who work in these offices are well-versed in the various programs available. They may also be able to point you to programs offered by the schools themselves, or flexible payment programs.
Next Steps to Enroll in a Family Nurse Practitioner Degree Program
Deciding to become a Family Nurse Practitioner is the start of a long and rewarding journey, and the next step is to get into an MSN-FNP or DNP-FNP program. Though FNPs are very much in demand, the number of openings in these programs is limited, so you need to make sure that you are following all of the appropriate steps to optimize your chances of acceptance. These include:
Investigate the various programs - to determine which is best for you. Considerations should include whether a program offers an MSN-FNP degree or a DNP-FNP degree, and which you want to pursue; the cost of the program; the program's requirements and reputation; and whether the program offers the particular area of study that you are most interested in.
Collect required documentation - once you have decided on the programs to which you want to apply, review each of their application requirements and begin assembling all of the documentation that they request. Make sure that you've taken all required tests and met all prerequisite requirements and that you submit all of your materials prior to their deadlines.
Prepare for the interview - make sure that you are prepared for your interview with the administrators who you will be speaking with. Pay particular attention to being ready to answer questions about what you hope to accomplish as a Family Nurse Practitioner, and why you have chosen this particular career.
Demonstrate your commitment to the field of nursing in general and to working autonomously in particular by taking on leadership roles in your current job as well as in philanthropic or professional organizations.
Is a Family Nurse Practitioner Degree Right for Me?
Family Nurse Practitioners make a real impact on individuals and their communities. They provide essential primary care throughout the lifespan, from infancy to geriatric adulthood, and have the unique opportunity among nurse professionals to work autonomously. If you have chosen to become a Family Nurse Practitioner, the career will yield tremendous rewards.
References
American Association of Nurse Practitioners
American Association of Nurse Practitioners
Association of American Medical Colleges
National Organization of Nurse Practitioner Faculties
Commission on Collegiate Nursing Education
Accreditation Commission for Education in Nursing
Health Resources and Services Administration
National Black Nurses Association