Nurse Alex Wubbels Awarded $500K Settlement Following Controversial Arrest
By Angelina Gibson
Update: 11/1/17 1:50pm
Nurse Alex Wubbels has agreed to a $500,000 settlement amount - there will be no lawsuit. Her controversial arrest earlier this year, for blocking a Police Officer from unlawfully drawing blood, sparked national outrage. 
Wubbels shared at the press conference that, "the truth comes when you see the actual raw footage." She will be donating a portion of her settlement to help others, who've been involved in similar incidents, to obtain body-cam footage. 
Wubbels said she will donate a portion of her settlement amount to the following causes: 
Providing body-cam footage, at no cost, to those who need it. 
Donating to the Utah Nurses Association.
Leading the #EndNurseAbuse campaign by the American Nurses Association (ANA)
Update: 10/10/17
The Police Officer who unlawfully arrested Utah Nurse Alex Wubbles has been fired. Officer Jeff Payne forcibly arrested Nurse Wubbles after she refused to allow him to obtain an unlawful blood draw from her unconscious patient. 
Salt Lake City Mayor, Jackie Biskupski released the following statement: 
"The decision ... is in keeping with the high level of accountability we owe the people of Salt Lake City. In making his decision, I am confident Chief Brown balanced the unique stresses each of our police officers deal with daily, and the responsibility they have as leaders in our community."
According to Biskupski the internal investigation found that the officer violated several ethics and officer conduct policies regarding arrests.  
The Salt Lake Police Department has not commented on the firing. 
Updated: 9/26/17 - 2:30pm
Bill Gray, the patient Nurse Alex Wubbles was protecting, passed away on Monday. The Rigby Police Department, where Gray was employed as a Reserve Officer, shared the following post. 
Gray suffered burns to 46% of his body during the vehicle accident and he had been admitted to University Medical Center since. 
His family has set up a fundraiser in his memory. 
Updated: 9/9/17 - 10:00pm
He was told by his superiors not to pursue the blood sample and to let Nurse Alex Wubbles go. Still, Detective Jeff Payne insisted on collecting the blood - even without a warrant or consent.
"He simply said, don't worry about it. We'll go another way." stated, Salt Lake City Police Chief, Gary Jenson - Payne was told they'd pursue another strategy.
In addition to the criminal investigation, the District Attorney is questioning civil rights violations and the FBI has been asked to get involved with the case. A review of the exact directions Payne received are being internally investigation stated, Christina Judd - a Police spokesperson.
Updated: 9/5/17 - 8:31pm
The protocol for police entering University Hospital, where Nurse Alex Wubbles was unlawfully arrested in July, has been changed. Police will no longer interact with nurses and are not allowed in patient care areas. They must enter through the front, check-in and be escorted through the hospital by supervisors "who are highly trained on rules and laws." Previously, they were permitted to enter through the emergency room. 
The change in policy was fully instated 2 weeks after the arrest but, "was written the day after this incident" said Margaret Pearce, Chief Nursing Officer. However, due to the uproar and overwhelming support of Nurse Wubbles, Pearce, officially announced the protocol on Monday. She was joined by hospital leadership and the city's police chief during a news conference. The goals of the policy change include:
Allow front-line patient care staff to focus on their work.
Prevent disputes from taking place inside patient care units.
Ensure only "highly trained people" work through such issues.
Pearce was "appalled" at the encounter and stated: 
"We are a Level 1 Trauma Center with the only dedicated burn unit in the Mountain West region and we have some of the sickest patients anywhere. Because of this, we work with law enforcement on a regular basis for a variety of reasons and will continue to do so. However, I consider the way in which Alex was treated to be totally unacceptable. No individual in a role of patient care should ever be treated in this fashion."
She added, "I need to make sure this never, ever, ever happens to another one of our care providers again."
Hospital officials have supported Nurse Wubbles since the day of the incident and both the Salt Lake City Mayor and Police have apologized for the unlawful arrest. 
Gordon Crabtree, CEO of University of Utah Hospitals and Clinics stated, "Our team was advocating for the immediate release of Alex and was ultimately successful in getting her released from the handcuffs and the car." He continued, "Alex was never charged and will not have a record."
He vowed to not let Alex down and stated, "This type of situation won't happen again. Other hospitals will likely want to adopt similar policies to prevent police overreach." 
Updated: 9/2/17 - 1:24pm PST
Video of the press conference from the Mayor and Chief of Police apologizing for the incident:
See Alex Wubbel's response to the apologies made by the Chief of Police and Mayor of SLC.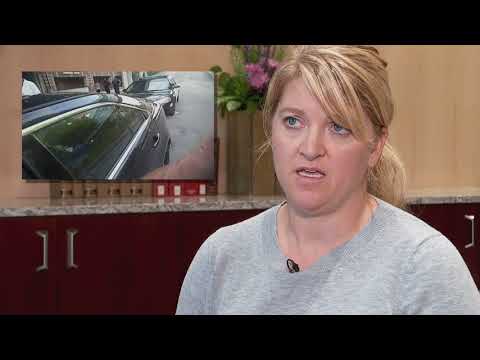 Updated: 9/1/17 - 2:02pm PST
Utah's Governor Gary Herbert posted a tweet earlier this morning expressing his hope that the incident at University Hospital would be investigated swiftly.
Since then, official apologies have been issued by the Police Chief Mike Brown saying, "What I saw is completely unacceptable to the values of my Administration and of the values of the Salt Lake City Police Department. I extend a personal apology to Ms. Wubbels for what she has been through for simply doing her job."
He then urged citizens to, "trust the process" as well as in the Salt Lake City Police Department. Additional measures have been taken including suspending the officer from the blood draw program, replacing the current policy, and having all remaining officers on the blood draw program review and operate under the new protocol.
Hubbels has also released a statement:
This morning, I received a call from the Mayor of Salt Lake City and the Chief of Police. They both offered me personal apologies, which I felt were sincere. I have accepted those apologies, and I look forward to working with both of them to help promote further civil dialogue and education. The common goal of all public service professionals should be to provide the best care to our fellow citizens.
The outpouring of support has been beyond what I could have imagined. Since the incident, the City has taken this matter seriously, and I believe that positive change will occur. 
Updated: 9/1/17, 11:21am PST
Body-cam footage from another officer on the scene at Nurse Alex Wubbel's assault and arrest has been released which show the full context of this unbelievable incident. Some of the more infuriating moments come at 12:37 when another officer on the scene tries to explain the reasons for the arrest.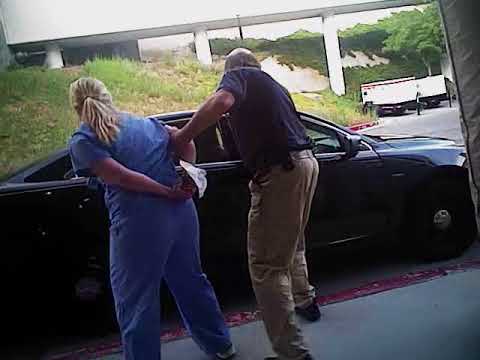 Original post on 8/31/17 - 11:29pm PST:
Trigger warning...the July 26th police body-camera footage of an alleged police assault and arrest of a nurse in Salt Lake city is difficult to watch. The nurse in the video, Alex Wubbels, is seen being chased, assaulted and dragged off in handcuffs by an overly aggressive police officer. She is heard screaming, "Somebody help me!" and is clearly terrified.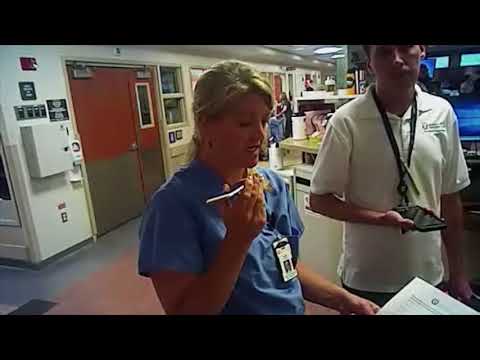 Detective Jeff Payne was attempting to unlawfully obtain a blood sample from a patient and ended up arresting the nurse who refused to allow it. And all because Wubbels was simply doing her job. 
After re-watching the video, Wubbels - a Registered Nurse at University Hospital where the incident took place states, "it's hard to relive it."
Her nursing license was on the line and she was being threatened with arrest. However, Wubbels rightfully followed hospital policy and advocated on behalf of her unconscious patient. The patient could not consent, was not under arrest, and the officer had no warrant. 
She refused to violate the patient's rights and HIPAA policy. Per hospital policy, blood cannot be drawn from unconscious patients. 
Despite following hospital policy, the officer not only arrested Wubbels but, as seen in the video, assaulted and violently dragged her out of the hospital. He insisted that he was permitted to obtain the blood sample. However, he actually admitted to not meeting any of the policy requirements. 
Wubbels is witnessed in the video repeating the hospital policy several times, consulting with healthcare administration, and following the appropriate protocol.
Payne is heard insisting on collecting the sample and stating, "she's going to jail" if a sample was not obtained. He continues, "I either go away with blood vials or body in tow." 
Wubbels' patient - William Gray, a 43-year-old reserve officer and truck driver, remained unconscious in the burn unit after his semi truck was hit by another motorist during a high-speed chase - fleeing police. According to Payne's report - the deceased assailant, Marco Torres, crashed into Gray, and died on the scene. Gray remains in serious condition at University Hospital.
It can be argued that Payne deprived Wubbels of her rights as a law-abiding citizen and was seeking to deprive another citizen of his rights by attempting to collect his blood - without consent or warrant while he remained unconscious. Furthermore, assault on a healthcare worker is a felony.  
Per Police Sgt. Brandon Shearer, an internal investigation by the Salt Lake City police department is ongoing and Payne remains on duty. He has, however, been suspended from his position as a Phlebotomist within the department's blood-draw program. 
According to officer Payne's written report, by refusing to allow him to obtain a blood sample Wubbels was interfering with a police investigation. He was advised by Lt. James Tracy, the on duty watch commander,  to put Wubbels in custody if she continued to refuse the blood sample. Tracy had informed Wubbels that he believed they had "implied consent" however, she stood by hospital policy and refused to allow the blood draw without a warrant. 
Wubbels' Attorney, Karra Porter, states that Utah has not had an "implied consent" law since 2007 and the U.S Constitution does not permit warrantless blood tests. 
Though she was not charged and does not plan to file a lawsuit - Wubbels is using her experience to speak out against police harassment of healthcare workers and to advocate for better education of police officers. 
Wubbels stated, "I can't sit on this video and not attempt to speak out both to re-educate and inform. They need to be having conversations about what is an appropriate intervention."
According to her attorney, she feels that the department will take the appropriate steps to better educate its officers. 
In a recent interview, Wubbels is seen in tears, advocating for her patient and rightfully defending her actions, "The only job I have as a nurse is to keep my patients safe. Blood just gets thrown around like a simple thing but, blood is your blood. That is your property."
On behalf of Nurse.org - we stand strong with Alex Wubbels and all nurses who put their patients first even when faced with the most difficult circumstances. 
Full-Length Video of Utah Nurse Alex Wubble's Harrowing Arrest