COVID Unit Throws MLB's First Pitch - Beth Israel Staff Gets Red Sox Tickets For Life
Since the COVID-19 shutdown, John Krasinski has been channeling his trademark talking-directly-to-the-camera commentary from "The Office" into a new avenue with the launch of his own YouTube Channel, SomeGoodNews. 
And in his most recent episode, Baseball is Back, Krasinski thanked the healthcare heroes from his home state of Massachusetts and surprised them with some pretty exciting news--four free tickets for life, courtesy of the Red Sox.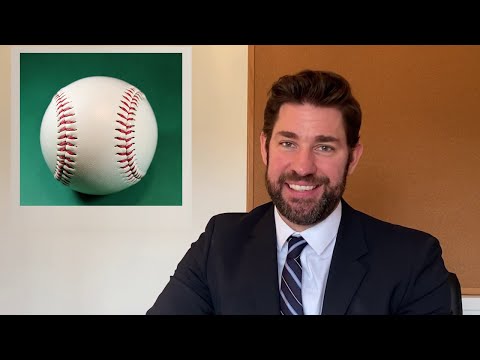 Some Good News For Healthcare Workers
First off, let's talk a little about Krasinski's show. If you haven't watched, as I admit I had not, it's definitely worth a watch. The sports commentary alone on this episode, from a woman firing shots of laundry into her washer from across the room while her unhelpful spouse throws down some dirty defense to a man attempting the extreme sport of unloading a dishwasher in under one minute, makes it live up to its name. Even as a sleep-deprived quarantined mom of 5 writing this up after being up with my baby all night, I chuckled my way through it and that's saying a lot for these times. 
But in the heart of his episode, Krasinski talked about his deep love for baseball and noted how the year just doesn't feel the same "until that opening day pitch is thrown out." And with last week marking what should have been the opening day for almost every Major League Baseball team, Krasinski added that the loss of the excitement was felt by everyone, healthcare heroes included. 
To illustrate, he chatted (well, from his computer, that is) with the real-life healthcare heroes at Boston's Beth Israel Deaconess Medical Center, who all sat inside the hospital wearing face masks, about their love of the Red Sox. Krasinski explained how even though baseball has been taken away from all of them, he had found a way to bring baseball directly to them--thanks to Boson hero and World Series champion, David Ortiz. 
Ortiz thanked the healthcare heroes from the bottom of his heart and then dropped the surprise bombshell that the Red Sox would be donating four tickets for life to every single healthcare worker at Beth Israel Deaconess Medical Center. To a chorus of shocked excitement, Ortiz teasingly asked Krasinski how long he had been waiting to get Red Sox tickets, with Krasinski admitting that he had been on the waitlist for 16 years. 
Throwing Out the First Pitch on Opening Day
As it would turn out, thanks to Ortiz and Krasinski, that opening day pitch was able to happen after all--it just looked a little different than in the past, which is par for the course for life today, right? Somehow, the pair arranged for the nurses and therapists to be transported securely and sanitized to Fenway Park. 
The team of healthcare workers had the entire park to themselves and with a chorus of cheers from the Red Sox team, along with the mayor and governor, on the big screen, threw the first pitch of the season. And of course, they had to finish by walking the bases, proving themselves to be heroes off and on the field. 
AT&T Announced Free Service For First Responders 
In addition to the cheering news that when this pandemic is over, healthcare workers can get back to participating in America's favorite pastime, John Krasinski also shared another helpful free resource from AT&T. 
The company announced that they are offering 3 free months on FirstNet, a nationwide network built exclusively for first responders, to all nurses and physicians across the nation. If you're a nurse or physician already on the FirstNet Mobile plan, you will automatically receive a 3-month service credit on a smartphone or tablet line of service. But if you're not already on the plan, new subscribers are also eligible. In addition to three months of free service, nurses and physicians signing-on to FirstNet can get a $200 activation credit when activating a new FirstNet Ready smartphone on a new FirstNet Mobile-Responder plan. 
"Frontline public safety professionals across the country are playing a part in the COVID-19 pandemic response and we recognize and thank them for the tremendous sacrifices being made to help keep all of us safe," says Jason Porter, senior vice president, FirstNet Program at AT&T.
According to AT&T, FirstNet was built exclusively for first responders based on the 9/11 Commission recommendations to enhance communications for the public safety community, including first responders. 
FirstNet prioritizes first responder voice and data, no matter how heavy the network use may be, and has added features such as increased safety and a dedicated app, so it's considered a "VIP lane" for public safety communications. Every state-verified nurse and physician in the U.S. is eligible. More information and instructions on how to sign up for the FirstNet Mobile Responder plan can be found here.