Red Sox Nurse Night 2021 Was Epic - Watch the Video Now!
Nurse Night 2021 was back in person! 
For the 4th annual Boston Red Sox Nurse Night, Nurse.org was thrilled to honor 6 nurses, in person, at Fenway Park on May 12, 2021. All 6 nurse honorees were honored on the Fenway Park field, receive a pair of Bala Shoes and Red Sox apparel. Nurse Sheila Troy of Boston Children's Hospital threw out the ceremonial first pitch.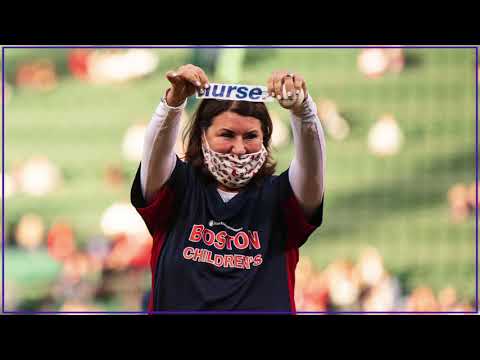 Check out all the photos from the night's festivities! 
During the Red Sox Nurse Pre-Game Ceremony presented by Nurse.org, we honored 6 remarkable nurses in the center of Fenway Park: Silda Melo, Jennifer Wallace, Brian Mohika, Adrianna Caparella, Melissa Abell, Sheila Troy. 
Red Sox Nurses heading onto the field! 
Silda Melo, Jennifer Wallace, and Brian Mohika during the Red Sox Nurse Honors Ceremony. 
Silda Melo of Boston Medical Center.
Jennifer Wallace of Cambridge Health Alliance.
Melissa Abell of Cambridge Health Alliance. 
Sheila Troy of Boston Children's Hospital
Sheila Troy throwing the ceremonial first pitch!


Way to go, Sheila! 
Boston Children's nurses showed up to support Sheila!
Nurse Alice announcing "Play Ball!"
Nurse Alice looked stylish and comfortable in her BALA Shoes! 
About Red Sox Nurse Night 2021
Nurses from all over New England were nominated for this once-in-a-lifetime opportunity to be honored by the Red Sox. Nurse.org's panel selected 6 outstanding nurses for their commitment to the nursing profession. 
CONGRATS to Sheila Troy with Boston Children's Hospital who threw the first pitch. 
Sheila Troy, a Registered Nurse in the main operating rooms at Boston Children's Hospital (BCH), CEO of the Boston Children's Sunshine Fund, and 10-year breast cancer survivor began her nursing career more than thirty years ago. She worked at a community hospital in Med/Surg, in the Emergency Department for about fifteen years, and also spent some time in Community Health.
Sheila was inspired to join the team at BH when she witnessed the birth of her niece, Lauren, who was unexpectedly diagnosed as critically ill at birth. After Lauren was immediately transferred to BCH for treatment, Sheila shares that she witnessed the level of care and compassion both Lauren and her parents received during her hospitalization. Her niece was diagnosed with acute sepsis and urgently placed on ECMO in the ICU for twelve days. "It was a life-changing event for my whole family," Sheila says. 
Fortunately, Lauren survived a grueling few weeks and is a thriving teenager today. But the experience changed Sheila forever—after seeing what she said was the "extraordinary care" provided by BCH, she decided she wanted to be a part of it. 
At the time, her good friend worked in the peri-operative programs at BCH and encouraged her to apply for a job in the OR. She was offered a position as a staff nurse and says she has never looked back. "I was oriented and taught by 'the best of the best and quickly realized that this was truly a wonderful opportunity," Sheila explains. "My colleagues are amazing!"
Sheila has now been at BCH for fifteen years and is passionate about delivering the best possible care to all her patients and families. She's a fervent patient advocate and promises parents that she will care for their children as if they were her own. "Entrusting the care of your child to a team of essentially strangers is one of the most frightening moments in a parent's life," notes Sheila. "As a mother myself, I can empathize with their fears. I am the voice of the patient when they are unable to speak for themselves."  
The praises from the team members nominating Sheila are too numerous to mention, but all speak to this nurse's dedication to her patients, her energy and enthusiasm for her coworkers, and her spirit of leadership in everything from celebrating traditions to picking in to help someone in need. 
"Sheila has been a motivating force in the operating room at Boston Children's Hospital," says one of her nominators.
"She is very caring and a real team player. Sheila decorates our lounge for every season & holiday. She is the go-to person to raise money when one of our staff is in need. Growing up in Dorchester, Sheila is the epitome of a true Boston nurse."
"Sheila has the most special presence on our nursing team," adds another.
"She is known hospital-wide for her buzzing energy and devotion to her patients, field, and institution. You can find her knee-deep helping both experienced and new nurses no matter the situation. She never has to be asked, she always has that 'nursing instinct' and just knows when to be where. I hope she knows her seasonal decorations in the lounge bring a smile to everyone's face and warmth to their hearts at the beginning and end of all of our shifts."
Introducing the 2021 Red Sox Nurse Honorees 
Silda Melo, BS, RN, CCM - Boston Medical Center
One could say that Silda Melo, BS, RN, CCM, is fluent in three languages: Spanish, English, and patient communication. Silda prioritizes building authentic healing relationships with her patients and is known to many as the knowledgeable, humble, and down-to-earth leader of BMC's ACO Transformation and Complex Care Management. She has made it her mission to ensure her patients – many of whom have very complex needs – feel seen and heard by their providers, positively impacting their experience with the health care system. 
As part of BMC's Complex Care Management program, Silda works with patients juggling medical, social, and behavioral complexities. With a passion for addressing social determinants of health and removing barriers to care, Silda is often coming up with creative ideas for program development and thoughtful interventions. In 2021, Silda expanded her role at BMC, becoming the Manager of ACO Transformation and Care Management. This position gives her a platform to coach several teams of nurses, community wellness advocates, social workers, and pharmacists on engaging with patients in the community. She is always looking for ways to help her colleagues grow. Silda always puts her patient first with her approach to nursing care, emphasizing the importance of treating each patient as a unique individual, while always treating her clients with respect and dignity.
Silda's work extends beyond BMC's campus as she serves as a Director for the American Nurses Association of Massachusetts. She has been on the ANAMASS Board of Directors since 2019 and served on the Membership Engagement Committee from 2019 until 2021, demonstrating her commitment to advancing the profession of nursing and quality patient care across the Commonwealth. You may recognize her from the ANAMASS Panel "Sit Down" with Governor Charlie Baker, one of many instances in which Silda has spoken up to make health care a better place for patients and providers alike.
In her time as a nurse, Silda has made an incredible impact on both BMC's patients and health care practitioners throughout Massachusetts. With an innovative leadership style and empathetic heart, her colleagues say it best:
"She is an incredible leader and asset and is so well-deserving of this honor!"
When Silda is not improving health care delivery, she enjoys going on walks with her lively 11-year-old son and spending time around the dinner table with her extended family.
Jennifer Wallace - Cambridge Health Alliance
Jennifer Wallace has been a nurse at Cambridge Health Alliance for more than 25 years, with the past 14 in the Emergency Department. Named EMS Nurse of the Year by the Metropolitan Boston Emergency Medical Services Council in 2012, Jenn also actively engages and educates EMS providers and serves as an exceptional resource for paramedic students performing clinical rotations at the CHA Cambridge Hospital campus. She serves on the EMS Region 5 Board of Directors, on the academic advisory committee of the Pro EMS Center for MEDICS Paramedic Program, and as medical team captain of the volunteers at the Boston Marathon. She has also been to Haiti several times to volunteer with the  Meti Project.  She also could be found volunteering at her children's schools and sports over the years, and still can be found on the field tossing the ball with the kids helping out with the challenger baseball program in her town. 
Her colleagues describe her as,
"A friend to all," 
"The biggest advocate for her patients," 
"Someone who does so much for everyone, not just her patients." 
 Her friends and colleagues say they have never met a bigger Red Sox fan, and it's no coincidence that her nickname is "Wally" at work. They added, "We are all so happy that Jenn has been given this opportunity. No one deserves it more than Jenn. 
 As quoted from her daughter and her niece, who are her nominators:
"No matter how hard the day is, she always continues on with a smile, and words of encouragement."
"This past year has been hard on everyone. It's been a challenge for all. Covid hit, and it was scary for everyone. No one knew what we were facing.  Our mom/aunt suffers from an autoimmune disorder,  but nothing would keep her from doing what she loves, which is caring for her patients. We are sure it was scary being in the front lines, watching lives lost, wondering if she would get ill, but she never missed a day of work. In fact, she worked extra. She has inspired us both to be nurses. " 
On behalf of all of her colleagues, friends, and family, we are so happy to see her honored,  and we would be thrilled to see her throw out the first pitch!  
Brian Mohika, BSN, RN - CathWear 
Brian Mohika is a Registered Nurse from Boston, MA with some impressive accomplishments to his name: he is the proud owner of multiple science degrees and owns several U.S. medical patents, one European patent on different inventions, is a US Air Force veteran, author of "Let it Flow", and the inventor and CEO of a medical device company called CathWear. (Fun fact: Brian first developed the prototype for CathWear while he was still in nursing school!)
Listen to Brian's inspirational story on the Ask Nurse Alice podcast!
Brian has a passion to improve patient experience within the healthcare setting and advancing the nursing profession to new heights with his inventions. His inspiration comes from the failures and successes of becoming a nurse entrepreneur and bringing an idea to market. Although Brian his first invention never come to fruition, he has built a platform to motivate other nurses to never quit on their ideas because the patients need it.
The American Nurses Association Innovation Advisory Board has asked Brian to sit on their Board as a member. Through this role, Brian is able to pursue his lifelong passion of helping other nurses break through tough obstacles and create their visions to advance the nursing profession while positively impacting healthcare. 
"CathWear continues to be inspired by Brian's passion to help patients wearing leg bags and assisting nurses on how to develop medical devices. We support his journey 100%!"—the CathWear Team
Ariana Caparella - Lahey Hospital and Medical Center
Ariana Caparella started off as a new graduate nurse at Lahey Hospital and Medical Center as a medical/surgical and transplant nurse in the spring of 2020—just as the first COVID surge was occurring in the Boston area.
Her new nurse orientation quickly transitioned from in-person classes to virtual learning and patient populations rapidly shifted to support this new pandemic. Despite the ever-changing healthcare environment, Ariana continued to learn, grow, and develop as a nurse. At just 8 months of being a nurse, her leadership ability shined as she took on the chair position of the nursing engagement and professional development council. Through her leadership, this council has planned the 2021 Nurse's Week for Lahey Hospital and Medical across two campuses – Burlington and Peabody – including creating, implementing, and delivering 16 awards for recognition of both nursing and the healthcare team. 
Along with her leadership capabilities, Ariana also displays a true passion for patient care and goes above and beyond to show them she cares. 
"Taking care of patients after a transplant is one of the most rewarding parts of my job," notes Ariana. For instance, on New Year's Eve, when one of her patients was sad about missing the holidays with his wife, she led the celebrations by ringing in the New Year with him at the nurses' stations with party hats, glasses, and ginger ale to toast. 
"Ariana has a bright future in the world of nursing and her thirst for learning and caring about the patient and their family is at the forefront of her practice," says one of her nominators. "I am proud to support and nominate Ariana for this honor as she truly has shined like a new nurse in a global pandemic."
Melissa Abell - Cambridge Health Alliance
A nurse for 24 years, Melissa Abell has worked in pediatrics and Labor and Delivery and now serves as the OB Clinical Educator working as the nursery, labor and delivery, and postpartum nurse educator.  
As the OB Clinical Educator, Melissa works as an advocate for nursing staff. She collaborates with management, nurses, and patients to ensure that babies are delivered as safely as possible and nurses have everything they need to provide the best possible experience for the patients.
Originally from Kansas City, MO, Melissa worked as a travel nurse for four years before settling into New England and working as permanent staff at the Cambridge Hospital.  
She notes that she became a nurse because of her aunt—"My aunt is one of my favorite people because of the selfless way she cares for others," says Melissa. "I wanted to make others feel the way she made me feel, and I went to nursing school."
After graduation, however, nursing jobs were scarce, so Melissa accepted a labor and delivery position with hesitancy—that quickly turned to awe instead. "I was in absolute awe when I helped my first mom give birth," she explains. "I still pinch myself every time I am part of a brand-new life."
Melissa's nominators speak to her attention to detail in providing evidence-based support and updates to guide their work, as well as her willingness to go above and beyond to help. The nominator recalls how Melissa always goes the extra mile, recently even running to the store for a measuring spoon to work with a nurse needing help mixing infant formula.
"Melissa is extremely supportive of our staff, always availing herself to them when new things come along," one nominator explains.
"She is frequently the nurse who nominates others, recognizing their efforts to be better nurses. She has broadened her skill set to include nursery this past year. Always there to lend a hand, happy to show things to staff over and over until it clicks, and she adapts her schedule to their schedules. She comes in early mornings or at midnight if that is what the staff needs."  
*Voting Has CLOSED*
Event Details
The Red Sox Nurse Night game starts at 7 pm on May 12, 2021! Attendance is limited. 
Nurse Alice!
Our special guest, Nurse Alice, will be at the game! Nurse Alice is a Nurse Practitioner and NBC Media Health Expert She's been featured on Dr. Oz, The Doctors, Dr. Drew, CNN, HLN, TVOne, BBC, NBC, and many more! And, hosts the 'Ask Nurse Alice' podcast. 
BALA Shoes
Special thanks to BALA Shoes for gifting all 6 nurse honorees with an exclusive pair of shoes - these shoes are made specifically for nurses! Nurses rate them a 5/5 - Check them out here.