These 10 Nurses Were Honored by the Red Sox at Virtual Nurse Night 2020
This year, nurses were thrown into the trenches of the pandemic and in person events were cancelled as we all banded together to slow the spread. The Red Sox made the decision to cancel Nurse Night 2020. But, we still wanted to do something special for nurses. We teamed up to honor nurses at the Red Sox Virtual Nurse Night 2020 in August. Check out the video of the special event.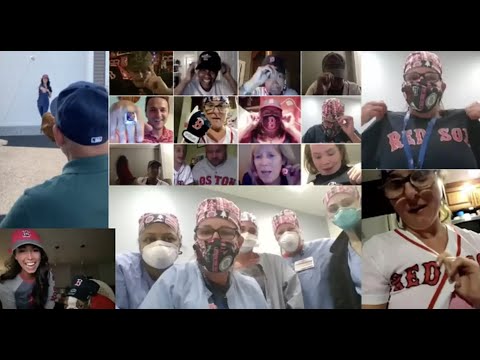 While we certainly missed the magical vibes of Nurse Night at Fenway park and wish we could have celebrated in person with all of you, the Red Sox Virtual Nurse Night 2020 was a truly special experience. 
Big thanks to the Red Sox organization and their representatives for taking time to honor nurses. Shout out to Gordon Edes, Tom Caron, Jim Rice, and Steve Lyons of the Red Sox for joining us!
And, an even bigger thank you to all the resilient, strong and committed nurses across the planet who continue to risk their lives day in and day out. You all are the real MVPs! The World Health Organization named 2020 the Year of The Nurse, and while we're not sure if they had this in mind, we certainly can't think of a more deserving group of people.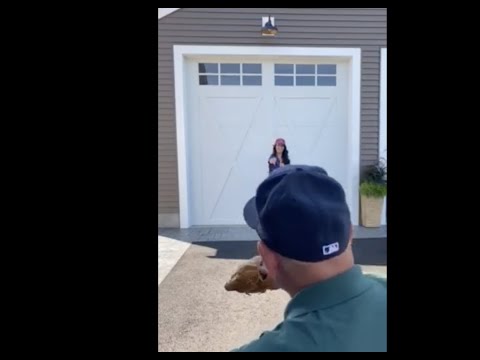 Nurse.org's Nurse Hero Awards
Over 300 nurses from all over the New England area were nominated by their peers, supervisors and loved ones to be recognized by the Boston Red Sox. Nurse.org's panel chose 10 remarkable nurses to be recognized by the Red Sox for their dedication to the nursing profession. 
Image courtesy of Cambridge Health
Christine Murphy 
Christine Murphy recently overcame a battle with COVID-19. Though she is immunocompromised, she decided to return to work to give the best care possible to her dementia patients. Christine, you are a true COVID warrior and dedicated nurse, thank you all you do for your patients!
Courtney Thibeault
Courtney Thibeault is a busy Portuguese mom of two little boys and wife to a Boston Local 4 Operator. On top of that, she's a full-time COVID-fighting Nurse Practitioner and the popular personality behind the nurse-centric Instagram account @nurseofinstagram. Courtney, we don't know how you do it all, you are a true inspiration, thank you! 
Dana Delgardo 
Dana Delgardo is a retired Air Force Major and Family Nurse Practitioner who provides primary care for LGBT patients with a focus on trans-health. As an advocate for the LGBT community Dana serves as Co-Chair for the SPART*A Association that supports the health of nearly 1000 actively serving transgender service memores across the DOD. Dana, you are doing such important work, we are grateful! 
Kristen Wills 
Kristen has been a member of the Beth Israel Deaconess Medical Center family for 18 years and truly embodies the characteristics of an exceptional nurse. Kristen has been an integral part of the COVID nursing team and steps up to the plate to care for the most complex patients. Kristen, you are a true gift to the world of nursing - thank you for everything you do! 
Mary Ellen Jagelski
Mary Ellen Jagelski was nominated by her nursing students who said, "Professor Jagelski is one of the most inspiring nursing teachers and human beings that we have ever met. She dedicates herself completely to her practice as a maternity nurse at St. Elizabeths as well as a maternity professor at UMASS Boston. Professor J has instilled the important nursing values of compassion, empathy and patient advocacy.  We can only hope to become like her as a nurse." Mary Ellen, thank you for leaving such a positive impression on the next generation of nurses!
Megan E. Fox
Megan E. Fox has saved 3 lives while not on duty - an accidental shooting, a car accident and a vehicle fire.  With 3 years experience, Megan has already become a Daisy award nominee since joining Rutland Regional Medical Center (RRMC) right after graduating from the University of Vermont in 2018. 
Megan is an active member of the nursing profession. In addition to direct patient care, Megan is a member of the nursingShared Governance Council, provides leadership as a relief charge nurse and serves as a preceptor for new staff members.  Megan is supportive of her community and has participated in teaching several Stop the Bleed Courses throughout Rutland County and has provided off duty emergent medical care on numerous occasions. Megan, you are a true hero both in and out of the hospital, we appreciate you!
Meg Jenkins
Meg has been the school nurse at Gilford High School, New Hampshire, for 26 years. She is so important to her community that she was nominated on behalf of the entire town of Gilford. Her school community and the New Hampshire School Nurses' Association are thrilled to see her honored by the Red Sox! Meg, your community loves you and you are so deserving, thank you for all you do! 
Paulette Vespa
Paulette Vespa oversees a staff of 125 specialty nurses and has worked her way up the nursing ladder from CNA to LPN to RN to BSN. During the early days of COVID, she helped her staff quickly change their focus and expertise to ensure our community had exceptional care 24/7 during this extraordinary time. Paulette, thank you for your remarkable leadership! 
Ross Cromwell
Ross Cromwell has the "incredible ability to build rapport with patients," says the Bone Marrow Transplant Floor at Beth Israel Deaconess Medical Center. In one case, he sat with a patient, who loved the Red Sox, for several days listening to games on an old radio. He made such an impact on this patient that the patient gifted Ross the radio. Ross listens to that radio everyday. Ross, that story is incredible and we appreciate you!
Patrick Keon 
Patrick Keon goes above and beyond with his efforts to care for our veterans in their critical time of need. He is described as "an unsung hero and Green Beret Special Forces Army Medic who provides invaluable resources for Veterans through first-hand experience, a compassionate heart and listening ear." Patrick, thank you for your service to our country and for dedicating your life to our veterans, we appreciate you! 
Red Sox Nurse Night 2021
We've teamed up with the Red Sox again to honor nurses at Nurse Night 2021, plans are currently underway! Sign up to be the first to know when we release details.
Look Back at Red Sox Nurse Night! 
Red Sox Nurse Night 2019
Our second annual Red Sox Nurse Night took place in May 2019 and was a lot of fun. Check out photos and read all about the event and our nurse heroes in our recap article!
Red Sox Nurse Night 2018
On May 15, 2018, the Boston Red Sox hosted their annual Nurse Appreciation Night. This year was a little different than the years prior. In the midst of thunderstorms and tornado warnings over 4,000 nurses and fans showed out to the game.
To our surprise, Nurse Appreciation Night 2018 turned out to be the largest group night to ever take place at Fenway Park. It even beat out Star Wars Night!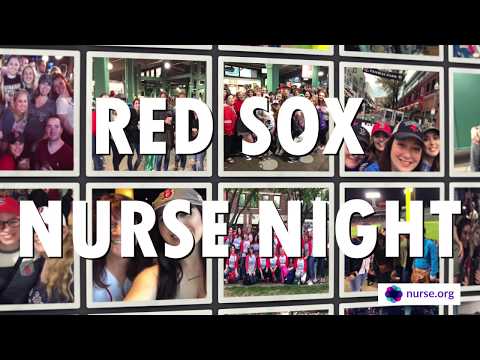 Would the game be canceled?
That was the "million-dollar" question within the hours leading up to the Red Sox Nurse Appreciation night. The day was a sunny, 80-degrees in Boston. We spent the morning with Nurse Blake and Danielle of Nurse Abnormalities delivering pizzas to our Massachusetts General Nurse Heroe's units. 
Rain Can't Stop Nurses!  
As the game drew near, so did the clouds and rain. Soon, there was a tornado warning throughout areas of Massachusetts. 
The scene at Fenway Park was something straight out of the movies. As the nurses arrived in chartered buses and limos, we quickly realized that this night was going to be special. Most of the nurses had created matching shirts and hand-made signs 'repping' their hospital. Entire sections of the stadium were booked out for nurses from specific hospitals and everyone created moments that will last a lifetime.
Image source: Boston Medical Center
It soon became apparent that nurses wouldn't let some storm stop them from celebrating.
As we toured the empty stadium the sky went dark and the storm rolled in. Lightning hit the field and the rain turned into a downpour. The game was delayed. 
We stopped in to visit the Red Sox 10 Nurse Heroes. These individuals are exemplary nurses who were voted by our online community of over 9 million nurses, worldwide, to be recognized on the field during the Red Sox game. They looked stunning in their custom-made Figs scrubs.
We all mingled for a bit and they received their gifts from Nightingale Express, Figs Scrubs, and books from Jones and Barlett Learning.  
The Nurse Heroes Hit The Field! 
Fast forward a few hours as the 10 Nurse Heroes hit the field. The crowd erupted as each hero was recognized. 
Image source: Boston Medical Center (pictured: Tim Clynch, Elise Wilson, Kristen Benoit, Michelle Markey, Prachi Shah, Sahal Khalaj, Chris Greenlee, Shelley Lynch, Gary Sonia, Jeffery Ballard)
Nurse Sahar's young daughter stood on the sidelines whispering, "Hi Mommy," as her mom waved from the baseball diamond. 
Image source: Boston Medical Center (pictured: Nurse Sahar and family) 
The crowd went crazy for Nurse Elise who was near-fatally stabbed by a deranged patient less than a year ago. Elise and her husband have worked tirelessly since the attack for stricter protections for nurses. She is a hero, not only to the Red Sox and to Nurse.org but, to nurses everywhere. 
Image source: Boston Medical Center (pictured: Red Sox Nurse Heroes, Tim Clynch, and Elise Wilson)
Nurse Gary, who dedicated 45 years to helping pediatric burn victims, proudly waved his Vietnam Veteran hat. Standing in the middle of Fenway Park was a lifelong dream of his; he and his father were devoted Sox fans. That night, his dream became a reality. He was nominated by his daughter. 
Image source: Boston Medical Center
Nurse Tim Clynch, who saved a man's life at the gym, waved to his fan section from Boston Medical Center. 
Image source: Boston Medical Center 
Nurse Jeffery Ballard, a former Army Medic who was injured in combat in Afghanistan threw out the first pitch. Ballard now works passionately in a Case Manager type role to help Military Veterans at the New Hampshire VA. He was nominated by his wife, Stephanie. 
Image source: Boston Medical Center
Image source: Boston Red Sox
Boston Red Sox Top 10 Nurse Heroes 
A sense of pride moved throughout the stands as the announcer recognized each of the 10 nurse heroes.
Image source: Boston Red Sox
Image source: Boston Red Sox
Nurse Kathy nearly brought us all to tears as she sang the National Anthem. 
The game commenced, the weather cleared up and the night turned out epic. Nurse Blake and Danielle met hundreds of fans. It was a great night for some baseball! 
Red Sox Nurse Night More Popular Than Star Wars Night?!
Flashback to November 2017 when we had my first call with the Boston Red Sox. They had reached out to us at Nurse.org to help spread awareness about their Nurse Appreciation Night. The year before they had about 700 nurses in attendance and requested us to help out with bringing more nurses to this special celebration.
So, we started promoting the event and it spread like wildfire.
In total, the Facebook event reached over 800,000 people. Nurse night set a record at Fenway Park as the largest group night at Fenway Park - even larger than Star Wars Night. 
More importantly, we were proud to honor those who dedicate their lives, every day, to save ours