RaDonda Vaught Sentenced To 3 Years Supervised Probation
Update: May 13, 2022
Today, a judge issued a sentence in the highly watched RaDonda Vaught trial. Facing up to 8 years in prison for the charges of criminally negligent homicide and abuse of an impaired adult, the judge officially ruled that Vaught will face only 3 years of supervised probation. Following successful completion of the probation, she will not require any prison time and the charges will be completed. 
During the sentencing, the judge referenced the Murphey family's loss and pointed out how this case has shifted to Vaught instead of the victim. She spoke directly to the Murphey's, expressing the court's sympathy for what their family has gone through, and stated that she hoped the changes in the medical system could prevent this type of situation from happening again. 
The judge said that Vaught will never work in nursing again and therefore, this mistake can not be repeated. Additionally, she determined that Vaught did not have an intent to break the law. "This was a terrible, terrible mistake, and there have been consequences to the defendant," she stated. 
Vaught cried and visibly shook during the judge's sentencing and comments poured in during the live streaming.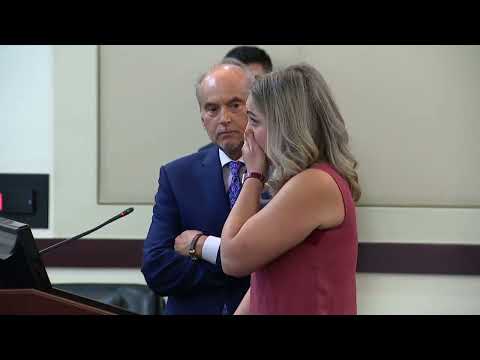 The judge repeatedly referenced that the court considered the ramifications of sentencing Vaught and how this case could open doors beyond what happened to one nurse and one patient. 
When the sentence was issued, Vaught broke down sobbing in relief and put her head down on the table.
Trial Tensions
The trial went on today with some tension, as Assistant District Attorney Brittani Flatt and Assistant District Attorney Chad Jackson questioned Vaught's character and accused her of expressing profanities to the media. Flatt cited Vaught's "attitude," according to The Tennessean, noting it was a reason that the judge should issue a harsher sentence for the former RN. 
Her character was also brought into question as a result of her lying on a background check when she tried to purchase a firearm in August of 2020. As part of the background check to purchase a firearm, you must disclose if you are facing any indictments—Vaught allegedly lied and did not disclose that she was facing an indictment. 
Chandra Murphey, the daughter-in-law of Charlene, the patient of Vaught's who died, also testified that Vaught never officially apologized to the family for her actions. In response to Murphey's words, the Tennessean reported that Vaught broke down in tears. 
Support for Vaught
The courthouse was reportedly packed with supporters for Vaught, who listened as she addressed the court. She spoke directly to Murphey's family and apologized to them. Allegedly addressing reports that she has appeared callous and without remorse, she instead noted that it took effort on her part to leave her true emotions out of the trial. 
"If my statements, my lack of showing emotion on the outside came across as lack of remorse, that was terribly inaccurate," Vaught said. She claimed that it's a technique that many nurses use, to separate what needs to be done with the emotions you are feeling. "You put your emotions and your shame and your remorse inside and you deal with it later," she added. 
Along with the supporters who watched Vaught, 5 witnesses also testified in support of the former nurse on Friday. They included her friends, as well as co-workers. 
"If one of us was sick, she would be our choice," Elizabeth Kessinger, a nurse who worked with Vaught for two years at Vanderbilt. Kessinger is also Vaught's personal friend. 
Nurses who are not personally connected with Vaught were also present. The Tennessean reported that even nursing students came out to show their support and hear the sentencing live. Jana Wright attended the trial and returned Friday, despite just completing one year of nursing school. 
"This should never have happened to begin with. We should never be here. And so that's why I'm here," Wright told the Tennessean. "These are matters that belong in a civil courtroom, not a criminal one."
The Reactions
Social media has erupted with reactions from supporters following the sentencing. 
https://www.instagram.com/p/Cdgo-DRF3OH/ 
"And as an imperfect nurse, nurse practitioner, I stand with RaDonda today," wrote Charlsie Gillcoat. 
And if you're looking for continued ways to support Vaught as she begins life anew post-trial, you can follow her and her husband on Instagram, where they run an account of the farm, @hiddenhollerfarms.
Update: Monday, March 28, 2022
After a brief deliberation, the jury for the case of ex-Vanderbilt nurse RaDonda Vaught delivered their verdict: guilty of criminally negligent homicide and gross neglect of an impaired adult. 
Vaught's case is one that has been watched closely by nurses and nursing organizations around the country, with some fearing that the verdict could set the precedent for future criminal charges against nurses involved in medication errors. 
Historically, while medication errors are taken very seriously and could lead to consequences such as fines and professional discipline, no nurse has ever been charged criminally for being part of a medication error. Vaught's case has now changed that forever. 
The Trial
According to local news reports, a 12-member jury began deliberating Friday morning. The jury was made up of six men and six women. The jury, along with the court, heard from both the prosecution and the defense, who each brought in one expert witness.
The prosecution used Donna Jones, a legal nursing consultant with 47 years of experience as a nurse, to testify that Vaught had several chances to recognize the error of the medication but did not. The defense, on the other hand, presented Vanderbilt's nurse educator Leanna Craft, who seemed to imply that a medication error could happen because of the hospital's culture in training new nurses. Furthermore, she personally knew Vaught. 
"We have a lot of newer nurses there that do a lot of, you know, they follow physicians' orders and what other people tell them. They don't have a lot of experience, as far as being able to make a lot of independent decisions. They do make independent decisions, but they tend to look at orders and what other people tend to do in the unit," Craft told the court.
And @the.nurse.erica, who attended the trial, posted several public stories and videos that pointed out that Jones has never actually worked patient care with the medication dispensing system that any nurse working the floor nowadays is familiar with. 
"The reason the prosecution chose this woman to testify is obvious, no practicing nurse would ever expert testify against RaDonda," wrote one Instagram follower. "We all know how easily this can happen. This woman can't fathom the pace of work that modern nurses are forced to work at or how overextended we are."
Nurse Erica also shared that Vanderbilt filed a pretrial motion to ensure that the jury would not know that Vanderbilt reached a financial settlement with the family of the deceased prior to the anonymous tip to CMS that led to this entire investigation. 
Additionally, the jury allegedly was not permitted to know of any similar situations that had previously occurred at Vanderbilt. Nurse Erica also reported that the prosecuting DA, in this case, is a professor at Vanderbilt University, so a potential conflict of interest could have existed in the case. 
In response to the verdict being announced—which Nurse Erica reported live–she posted a story expressing her own thoughts about how it could potentially affect the future of the nursing profession. 
Nurses and healthcare professionals around the country were shocked, dismayed, angry, and confused when the jury delivered a guilty verdict. Immediately, nurses jumped to action to support RaDonda and hopefully prevent this from happening to another nurse. 
The District Attorney's office sent News4 Nashville the following statement and picture.
Here are 7 ways to support RaDonda
1. Write a letter to Tennessee Governor Bill Lee.
Bill Lee, Tennessee Governor, State Capitol, 1st Floor,
600 Dr. Martin Luther King Jr. Blvd. Nashville, TN 37243
2. Sign the Change.Org petition for clemency (over 86K signatures) 
3. Attend the sentencing hearing on May 13, 2022, at 9 am
Location:

The Justice A.A. Birch Building
408 2nd Avenue North
Nashville, TN 37122
Doors open at 8 am (must go through security)
The sentencing hearing in Courtroom 6D (6th Floor)
No signs or protesting inside the courtroom
Parking:

101 James Robertson Parkway,

Nashville, TN 37122
4. Write a letter to Judge Jennifer L. Smith of the Davidson County Criminal Court Division IV
Include RaDonda Vaught's Case Number: 2019-A-76 and explain what your job is and how this impacts you. 
Be honest in your feelings but respectful
Handwritten if possible
Mail to the following Address:

RaDonda Vaught

P.O. Box 128

Bethpage, TN 37033
5. Write a character letter (if you personally knew RaDonda Vaught)
Be honest and explain how you know RaDonda
Handwritten if possible
Mail to the following Address:

RaDonda Vaught

P.O. Box 128

Bethpage, TN 37033
6. Support Sara Beth Myers as the new District Attorney 
Early voting:  April 13th to 28th, 2022
Democratic Primary Election: May 3rd, 2022
Donate to her campaign
7. Vanderbilt Nurses ONLY - Closed Meeting for Employees ONLY
Magnet Redesignation meeting THIS Tuesday, March 29th
Time: 3 to 3:50 pm
Location: Preston Research Building (PRB), Room 569
Gives current Vanderbilt nurses and ancillary staff a chance to speak directly to the Magnet appraisers in a closed-door meeting
Verdict and Support
Regardless of the issues that some saw in the trial, the verdict was reached. Vaught had initially been faced with a charge of reckless homicide, so her final verdict did see lesser charges. The criminally negligent homicide comes with potential sentencing of one to six years. Vaught's sentencing will be in May. Until then she is out on bail. 
Many comments flooded Nurse Erica's page after the verdict was released, expressing fear for being in the nursing profession and for what the future might look like. 
The American Nurses Association (ANA) also released a statement on March 23 (before the verdict was decided) warning that criminalizing medication errors could set a dangerous precedent for the future. Their press release reads: 
"Former Vanderbilt University Medical Center nurse RaDonda Vaught is being charged with reckless homicide and abuse of an impaired adult after mistakenly administering the wrong medication that killed an elderly patient in 2017. 
ANA believes that the criminalization of medical errors could have a chilling effect on reporting and process improvement. The Code of Ethics for Nurses states that while ensuring that nurses are held accountable for individual practice, errors should be corrected or remediated, and disciplinary action taken only if warranted. 
COVID-19 has already exhausted and overwhelmed the nursing workforce to a breaking point. Nurses are watching this case and are rightfully concerned that it will set a dangerous precedent. ANA cautions against accidental medical errors being tried in a court of law. 
Health care is highly complex and ever-changing, resulting in a high risk and error-prone system.  Organizational processes and structures must support a "just culture", which recognizes that health care professionals can make mistakes and systems may fail. All nurses and other health care professionals must be treated fairly when errors occur. ANA supports a full and confidential peer review process in which errors can be examined and system improvements and corrective action plans can be established. Swift and appropriate action should and must always be taken as the situation warrants. 
Transparent, just, and timely reporting mechanisms of medical errors without the fear of criminalization preserve safe patient care environments. ANA maintains that this tragic incident must serve as reminder that vigilance and open collaboration among regulators, administrators, and health care teams is critical at the patient and system level to continue to provide high-quality care."
Before her verdict, Vaught spoke with reporters and warned that while she could accept any decisions for her personally, she feared for the future of healthcare. 
"What the jury decides is going to have more of an impact on the nursing community than it's going to have on me personally. Because I know what I've done and I know what I've taken away from her family and I know that ultimately, I know what I'm responsible for," she said. "It doesn't matter if, you know, I'm found guilty of these charges and Judge Smith decides that I have to go serve time for this, my life will move forward but the impact it's going to have on people in health care is going to be tragic."
"I have not shied away from my responsibility but health care is a system," she added. "I don't go to work in a vacuum. I work in a health care system. We have to work together, we all have an obligation to do better. I messed up, and I owned my mistakes and I will pay the price for that. But it's not about paying a price, it's about doing the right thing. I think that's where the focus needs to be."
ANA Response
The following statement is attributable to both the American Nurses Association (ANA) and the Tennessee Nurses Association (TNA):
"We are deeply distressed by this verdict and the harmful ramifications of criminalizing the honest reporting of mistakes.
Health care delivery is highly complex. It is inevitable that mistakes will happen, and systems will fail. It is completely unrealistic to think otherwise. The criminalization of medical errors is unnerving, and this verdict sets into motion a dangerous precedent. There are more effective and just mechanisms to examine errors, establish system improvements and take corrective action. The non-intentional acts of Individual nurses like RaDonda Vaught should not be criminalized to ensure patient safety. 
The nursing profession is already extremely short-staffed, strained, and facing immense pressure – an unfortunate multi-year trend that was further exacerbated by the effects of the pandemic. This ruling will have a long-lasting negative impact on the profession.
Like many nurses who have been monitoring this case closely, we were hopeful for a different outcome. It is a sad day for all of those who are involved, and the families impacted by this tragedy."
Head over to our Instagram page and tell us what you think and how this will affect the nursing profession
Update: Friday, March 25, 2022
After a four-hour deliberation, the jury found RaDonda Vaught guilty on the charges of criminally negligent homicide and abuse of an impaired adult. 
Original Article: March 24, 2022
Every nurse lives in fear of a medication error at work. As a new grad, I would often wake up in a panic in the middle of the night (well, really, it was like noon because #nightshiftlife), drenched in sweat because I was worried I gave the wrong medication. I'd shake with fear every time I drew up insulin, somehow convinced the 3 units would accidentally kill my patient. 
We know medication errors happen, we know that at some point in our career, we will probably make one, and we know that they are more prone to happen when nurses are overworked, overtired, and understaffed. But for RaDonda Vaught, a nurse in Tennessee, a medication error that she immediately recognized and tried to fix, but still turned out to be fatal, has landed her on trial for murder. She is now currently on trial for reckless homicide and adult abuse. 
The case of RaDonda Vaught, now 36, has spurred major conversations about nurses, how they are supported or not by the hospitals they work, and if a nurse who made a mistake should be considered guilty of homicide. 
A Fateful Error
The story of RaDonda Vaught goes back four years ago, in December 2017 when Vaught was working as a nurse at Vanderbilt University Center in Tennessee. Vaught's patient, 75-year-old Charlene Murphey, was prescribed Versed, a sedative meant to calm her down before she underwent a procedure. Instead of giving her the Versed, Vaught injected vecuronium, a medicine that induces paralysis, which stopped her breathing and left her brain dead. By the time Vaught realized her error, it was too late. 
Image: Charlene Murphey
Vaught has admitted that she overrode the computer's system to take out vecuronium, but also cited emails and training from Vanderbilt staff that encouraged nurses to override safety warnings for medications in order to efficiently administer medications. Overriding the medication machine is routine for many nurses, she has argued, and because Vanderbilt was in the midst of an electronic system overhaul, the nurses had been instructed to override the warnings because of the frequent technical errors that were occurring. 
"Overriding was something we did as part of our practice every day," Vaught testifed. "You couldn't get a bag of fluids for a patient without using an override function."
Court documents note that Vaught explained that she tried to get Versed from the medication dispenser by typing "VE" into the search, not realizing she should have used its generic name, midazolam. When "VE" did not return any matching meds, she did an override to unlock more meds, then searched "VE" again—this time, the machine offered her vecuronium, which she took. 
Vaught also failed to recognize that Versed is a liquid and vecuronium needed to be mixed with a liquid before being administered. She also stated that she had been training another nurse that day, which made her distracted. After Vaught administered the medication, Murphey was found unresponsive 30 minutes later. Vaught allegedly recognized and admitted her error to the hospital and was subsequently fired. 
Image: RaDonda Vaught 
The Hospital's Part
Vanderbilt, the hospital Vaught worked for, and its role in all of this gets a little tricky. According to the investigation, despite the fact that Vaught immediately came clean about her error, the hospital never disclosed that a medication error had been made to the patient's family or that it could have played a role in her death, and never ordered an independent autopsy to check what her cause of death had been. Interestingly, Davidson County Medical Examiner Feng Li first signed off on the death as "a natural death." Later, without an autopsy, Li reversed the original cause of death and found Murphey died of accidental acute vecuronium intoxication.
Image: Vanderbilt University Medical Center 
In fact, the patient had been close to being discharged before she died, but Vanderbilt still told the family she had passed from "natural causes." They also settled for an unknown amount with the patient's family in exchange for not speaking about the death or error. Vanderbilt never reported the error to state or federal authorities, which requires med error reporting by law. 
Although the hospital actively tried to prevent the state and federal officials from finding out, an anonymous tipster informed them and an investigation was opened in October 2018 by The Tennessee Department of Health. The Tennessee Department of Health decided the case did not violate any rules and sent Vaught a letter that no further action would be taken. 
Despite that, another anonymous tip to the Centers of Medicare and Medicaid Services led them to get involved and their investigation found that 1) Vaught's error led to the patient's death and 2) Vanderbilt actively tried to cover it up. The Centers of Medicare and Medicaid Services threatened to take away Medicare reimbursement for Vanderbilt, which led them to finally report the error and take some additional steps to overhaul their medication dispensing system. 
Ensuring legal proceedings resulted in no punishment for Vanderbilt and Vaught pleading not guilty, although she openly admitted again to her error. Her defense repeatedly claims that Vanderbilt shared responsibility for her error because of their medication dispensing system. 
Lo and behold, after federal agencies got involved, the Tennessee Department of Health decided to reverse their previous decision, stripped Vaught of her nursing license, threatened her with fines, and charged her on three counts: 
Unprofessional conduct
Abandoning or neglecting a patient that required care 
Failing to maintain an accurate patient record
Nurses React To The Trial
That leads us to today, where, after several delays due to the COVID pandemic, Vaught's criminal trial is underway. The family of Murphey has also spoken out publicly, stating that they do not wish to press charges against Vaught and believe the error was an honest one, adding that they "forgive" her and are upset that her family has been "torn apart" just like theirs has.  
Jury selections were made yesterday and Nurse Erica has been attending the trial and documenting recaps from each day on her Instagram account, @the.nurse.erica. She is a supporter of Vaught in that she believes the hospital shares responsibility for the error and has claimed on her Instagram stories that Vanderbilt nurses are reaching out to her privately wishing that they could speak out against the wrongdoings of the hospital. 
Nurse Erica pointed out that this trial is "monumental" for nurses because it's the first time in history that a nurse has been charged criminally without intent to harm a patient and could set future precedence for nurses. A guilty verdict could set medication errors from nurses to be criminally punishable by law from here on out. "This is a nurse who made an honest error," said Nurse Erica. "And a system that set her up for failure…and now she's being charged criminally."
Image: RaDonda Vaught
Like Nurse Erica, nurses across the country are following the case closely and wondering what the outcome might be. For instance, Nurse Tori, @nurse.tori_ has also been sharing about the trial in her stories and reposted a video pointing out that the end result of this case could be nurses who will be too afraid to admit any errors they may make—which could ultimately only put patients at more risk. 
Vaught has received support from many nurses who believe that any nurse is capable of making a medication error and that the focus should be on protecting nurses and ensuring systems to prevent errors, not in punishing a nurse who has openly admitted to her error. For instance, a GoFundMe by Vaught has raised over $110K for her legal fees and comments of support have flooded in. 
"In a just culture, nurses should not be prosecuted for errors," wrote Ava Larkins. "In addition, several system errors by Vanderbilt University Hospital were contributing factors to this tragedy. I feel for RaDonda and the patient's family and pray for their peace with this tragic event."
In the end, it may be Vaught's own words that sum up what this trial is all about: protecting both nurses and patients in the future. 
"Many feel very strongly that setting the precedent that nurses should be indicted and incarcerated for inadvertent medical errors is dangerous," she wrote. "The many details of this incident deserve to be properly reviewed and addressed so that we all have an opportunity to learn from my mistake and create changes that will ensure the safety of all future patients as well as maintaining the future honesty, integrity & safe practices of all nurses."
Nurse.org will be following the trial's unfolding, so follow for more updates on this case.