There's a New Online Marketplace To Shop Nurse-Owned Brands
Just in time for Nurses' Week, we're excited to announce that the Nurse.org Marketplace, powered by Adni, is here! Now, you can shop for all of your nursing gear and resources in one holistic marketplace.
>>Start shopping and earning reward points today!
>>Listen to this episode on the Ask Nurse Alice podcast
Nursing is a demanding and rewarding profession that requires dedication, skill, and the right tools to succeed. From nursing school to the workplace, nurses need access to gear and resources that are not only high-quality but also cater to their unique needs. That's why we're thrilled to announce the launch of the Nurse.org Marketplace, powered by Adni, a nurse-centric marketplace that offers everything nurses need in one convenient location.
As a nurse, you know that finding the right gear and resources can be a challenge. From stethoscopes and scrubs to nursing shoes and medical equipment, there are so many options to choose from. The Nurse.org Marketplace is designed to make it easy for you to find everything you need in one place. We've curated a selection of over 500 products from trusted brands and nurse-founded businesses, so you can feel confident in your purchases.
Nurse.org Marketplace, Powered By Adni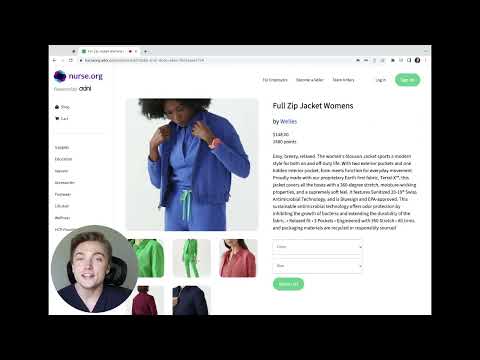 At Nurse.org, we're passionate about supporting our community of nurses. That's why we're proud to partner with Adni, a holistic marketplace for healthcare workers, by healthcare workers, to bring you the Nurse.org Marketplace. Our goal is to provide nurses with access to the best gear and resources while also supporting the businesses founded by healthcare workers.
One of the best parts of the Nurse.org Marketplace is that you'll earn reward points every time you shop on the Adni Marketplace. These points can be used towards future purchases, giving you even more value for your money. Plus, with over 70% of the businesses housed within the marketplace being nurse-founded, you can rest assured that you're investing in products that have been tested and approved by those who have been in the trenches just like you.
Shop The Best Products For Nurses, By Nurses 
Whether you're a nursing student, a new grad, or a seasoned nurse, the Nurse.org Marketplace has everything you need to excel at the bedside and beyond. 
We offer a wide range of nursing products like, 
Scrubs

Compression socks

Nursing shoes

Medical equipment

CE courses 

Textbooks

Study materials
We especially love the Nurse.org stickers (wink, wink) 
Supporting Nurse Founded Businesses 
In addition to the ease of finding what you need, shopping on the Nurse.org Marketplace supports nurses and their communities. By supporting nurse-founded businesses, you're investing in the future of the nursing profession, and we couldn't be prouder to help make that happen.
With Nurses' Week just around the corner, there's no better time to check out the Nurse.org Marketplace. Whether you're looking for a special gift for a fellow nurse or just need to restock your nursing gear, we've got you covered. 
>>Start shopping and earning reward points today!
If you're a brand or healthcare worker interested in selling a product (physical or digital) on the Adni Marketplace, click here.