Who Is Nurse Blake? Get To Know The Comedian and Founder of NurseCon at Sea
Popular content creator, top nurse influencer, and comedian Nurse Blake recently announced his new "Shock Advised" comedy tour for 2023. Blake is currently wrapping up the European leg of his "PTO" tour, which is set to end on May 16th in Glasgow, UK. We caught up with Nurse Blake to hear more about his new comedy tour (hitting 100 cities), NurseCon at Sea, and his inspiration to curate fun-filled, educational events for nurses. 
About NurseCon at Sea
Nurse Blake started NurseCon at Sea in 2022 as a way to provide nurses from around the world with a fun and comprehensive nursing conference experience.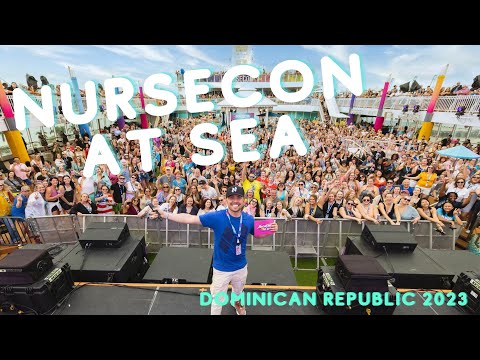 NurseCon Reviews and Testimonials
NurseCon at Sea has grown to be one of the most popular nursing conferences worldwide in only a couple of years! The positive reviews and fanfare from prior attendees are proof that it is an experience of a lifetime.  
(photos via Nurse Blake)


What Inspired Nurse Blake To Start NurseCon at Sea
Nurse Blake told nurse.org all about his inspiration to start NurseCon at Sea!
"I've been a nurse for 8 years now and I remember back when I was in nursing school I thought that the nursing community was being underserved by hospitals, large companies, and some nursing associations. This led me to create NurseCon at Sea which is an annual nursing conference that takes place on a cruise ship. This started as a small idea and is now a conference that provides not only fun and a community, but high quality accredited nursing courses to attendees. We have 3 full-time DNP educators that lead over 20 instructors to provide CNEs during the conference. My favorite part of NurseCon at Sea is the amazing community. Unlike other conferences that focus on a specific specialty, we bring nurses together from all over the world of different ages, backgrounds, and specialties," Nurse Blake
(photos via Nurse Blake)
NurseCon at Sea is set to take place twice in 2023, with different cruise ships and destinations. For the first conference, NurseCon at Sea traveled to the Dominican Republic from February 6-10.
The next NurseCon at Sea conference is scheduled for April 24-28, 2023. It departs from Miami, Florida and visits Coco Cay (Royal Caribbean's private island) and Nassau, Bahamas. The ship is reserved exclusively for NurseCon at Sea attendees during the specified cruise dates. 
>>For more information and to purchase tickets, visit the NurseCon at Sea website.
(photo via Nurse Blake)
About Nurse Blake's New "Shock Advised" Comedy Tour
The "Shock Advised" tour will be Blake's biggest undertaking yet, visiting over 100 U.S. cities in 2023. The tour kicks off this July in Anchorage, Alaska, and wraps up in December in Honolulu, Hawaii. 
Tickets are now on sale! Links to purchase and a complete list of tour dates and cities can be found here.
About PTO Comedy Tour
Nurse Blake has been performing live comedy shows since 2018 and the tour size continues to grow each year. His last tour, the PTO Comedy Tour, sold over 120,000 tickets. His shows are often attended by nurses from the same unit for "bonding" experiences, nursing students, and nurse moms looking for a fun night out. 

(photo via Nurse Blake)
Why Did Nurse Blake Start Doing Comedy Shows?
"I first started doing live events in 2018 with nurse.org for nurse nights at MLB games and thousands of nurses would come out," Nurse Blake told nurse.org. He continued, "this made me realize that nurses love coming out together and I thought that maybe if I combined my humor with live meets, maybe nurses would come out together for a show. I started with 5 shows back in 2018 and am now doing over 100 shows this year," Nurse Blake said.
>> Click to See the Top Cheapest, Fastest, Online MSN Programs  
FAQ About Nurse Blake
A quick Google search of "Nurse Blake" reveals that people have a lot of questions about the nurse influencer turned comedian. Here are some answers to the most popular questions: 
"Who is Nurse Blake comedian?" - Blake Lynch, AKA "Nurse Blake", is a Registered Nurse of 8 years, content creator, advocate, and comedian.
"How long has Nurse Blake been a nurse?" - Blake is a registered nurse of 8 years
"What is Nurse Blake's real name?" - Blake Lynch
"Is Nurse Blake married?" - Blake is a married man! His husband's name is Brett Donnelly 
"Why is Nurse Blake famous?" - He rose to viral stardom thanks to his social media posts depicting funny, relatable situations many nurses experience in their daily practice. He quickly grew a large community of nurses and nursing students, united through his comedy.  
Interesting Facts About Nurse Blake
Most of us know Nurse Blake as a funny nurse influencer and comedian. However, Blake is also a strong advocate who is passionate about issues he holds dear to his heart. 
Blake graduated from the University of Central Florida (UCF) in 2014 with a Bachelor of Science in Nursing (BSN). During his time in college, he serves as the President of the Florida Nursing Student Association.
Blake worked as a Registered Nurse in a level 1 trauma center. 
Blake also has a passion for advocacy. In 2013, he started Banned4Life to end the permanent FDA gay blood ban, helping the lifetime ban to be lifted in 2015. Blake shared his story and journey to end the ban in a previous nurse.org article. 
Blake founded NurseCon at Sea. It is now one of the largest nursing conferences in the country with over 4,000 participants.
He is also the author of a best-selling children's book, "I Want To Be a Nurse When I Grow Up."
(photo via Nurse Blake)
You can keep up with Nurse Blake on Facebook, Instagram, TikTok, and YouTube.