From RN to Nurse Anesthetist (CRNA): This is Why I Chose a Doctorate Over MSN
Do you have good communication and critical thinking skills? Do all of your coworkers call you to "stick" patients? Are you a multitasker? Do you want to advance your nursing career but still want the one-on-one, patient-provider relationship, but yearn for autonomy and a job that's challenging and complex? Then Nurse Anesthetist might be the career for you.  Dr. Charnelle Lewis DNP, CRNA takes us on her journey from registered nurse to Certified Registered Nurse Anesthetist. 
PW: Tell us about your journey to becoming a nurse. Why did you choose nursing? 
I began my journey by pursuing a dream I had since I was a sophomore in high school. After two years of Pharmacy school, I considered switching my major to Nursing. The problem was, I didn't want to "just" be a nurse. While nurses are the most trusted health care providers and the foundation of this healthcare system, I initially thought others would look down on me and believe all I did was place patients on bedpans and pass out pills. 
I wanted to be in a career that would automatically give me elite occupational prestige — something I believed I needed, to be accepted in the medical community because I was black. "Just" being a black nurse--at first thought seemed so inferior. I told myself I was settling--as if I wasn't smart enough to be a medical doctor. 
During my second year in Pharmacy school, I worked at a group home and enjoyed what I did much more than what I did during my Pharmacy internship. The care, compassion, and empathy came so naturally to me; I knew what decision I needed to make.  
It was tough, but once I stopped thinking about what others thought and stopped allowing their expectations to dictate how I should live my life, I was determined to be the best nurse I could be. There was no need to rank high on the occupational status ladder-- instead, I wanted to rank high in my own self-worth.
PW: How long did you work as an RN before deciding to advance your education? 
I worked in the cardiovascular ICU for a year and a half before applying to graduate school to become a doctorate prepared nurse anesthetist. By the time I started school, I had 2.5 years of experience, and I continued to work in critical care for my first year of CRNA school. 
PW: Why did you choose CRNA? 
I still had an intense love for pharmacology and hard sciences. I wanted to advance my education and build upon my critical care background. I wanted to be in a position where I could dedicate myself to care for and administer anesthesia for one patient at a time. Therefore, nurse anesthesiology was the best of both worlds. It is an art and science that challenges me every day. I had to ask myself whether I wanted to diagnose and treat or administer anesthesia. I soon realized that the latter was more representative of my passion and aspirations. 
Also, being a nurse already, it was a natural progression of my existing background that would achieve my goals without causing financial strain or increased time frame. 
>> See CRNA Programs in Every State
PW: Why did you choose the DNP route? 
I wanted to "future - proof" myself. I knew that the profession was headed in that direction. My program only offered the advanced specialties on a Doctorate level. By 2025, all CRNAs will need to earn a Doctorate to enter the field of Nurse Anesthesia. I don't have to worry about having to go back to school again--at least for this!
In addition to this, the DNP, or Doctorate of Nursing Practice prepares CRNAs to adequately apply research knowledge behind best practices and become change agents in policy.  At the end of my program, I conducted research exploring the impact social media has on the self-efficacy of minority nurse anesthetist students.  Obtaining the DNP can also further future opportunities in obtaining leadership and faculty positions.  Clinical experience may also be expanded as DNP programs are typically 3 years instead of approximately 2 years for the MSN.  These additional features are what led me to pursue a doctorate degree and I'm looking forward to disseminating my research further and becoming a faculty member in the future.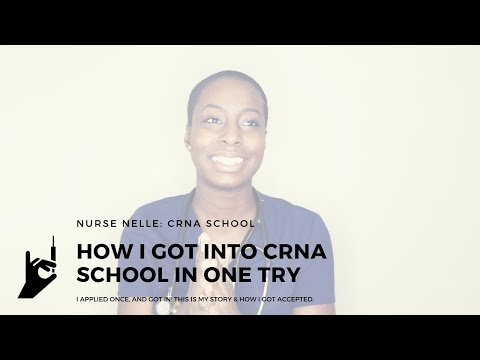 PW: Talk about your CRNA education? Online or in-person? Length? Schedule? How long was the program? 
My CRNA program was three years long. It was a doctorate program, so upon completion, I received my Doctorate in Nursing Practice Degree (DNP). Many of the DNP core courses, such as research, health care policy, and informatics, were online. Courses like Pharmacology and anesthesia-related sciences were in-person. Clinical rotations in, all aspects of anesthesia, where required:
General
OB
Pediatrics
Geriatrics
Trauma
Call shifts
Cardiac with open hearts and regional anesthesia  
The Council of Accreditation (COA) has specific requirements for competency in every aspect of anesthesia delivery. The absolute minimum requirement overall was 2000 hours of clinical and 600 anesthetics--but many have well over this minimum requirement at the time of graduation. 
PW: What barriers did you face in school and your career? 
The biggest difficulty for me was not to feel as if I had to prove myself. Being the only African American on my unit in the CVICU as well as in my CRNA program, I felt as if I didn't belong. I constantly had to back up my credentials as patients would mistake me for housekeeping or a nurse's assistant. There was a constant worry that I would be denied, mistaken again, or discriminated against. It took me a while to just let it go. To do the best that I could for ME and not anyone else. To walk into my patients' pre-op room and own it. To truly know who I was, be proud of my background, and allow God to direct my steps.  
Now that I am a CRNA, the look on my patients' faces when they see a woman of color in the position that I'm in confirms that I'm in the right profession. I'm truly able to provide culturally competent care, break down barriers, provide excellent anesthesia services while also inspiring others. 
My degree and awards are far from gifted or a feeble attempt to diversify the profession by giving the "poor black woman," an "affirmative action" chance. I earned it through hard work and dedication despite the challenges that I was born into. I'm glad that I developed the resiliency not to allow the voices outside and in my head stop me from becoming the phenomenal woman I am, and still becoming.
PW: How do you react to people who suggest that nurses should not use the title "Dr." even if they hold a Doctorate? 
I believe it is a legitimate concern. It's incredibly important for my patients to know who I am and my role in their care. It's in our best interest to not misrepresent ourselves. While it's a major accomplishment to have earned a Doctorate, using "Dr." as a non-physician in the hospital setting should always precede one's name and job position. This allows the patient to understand the level of care they're receiving. Additionally, it ensures the correct professional is appropriately recognized and not mistaken for another.  
I'm not ashamed of my nursing background. Simply because the "doctor" is before the "nurse" in my name, it doesn't mean that I'm a medical doctor or attempting to be one -- that is indeed the degree that I earned. Secondly, it also doesn't mean that I'm "just" a nurse. I am a doctorate prepared advanced practice registered nurse who's expertly trained in the administration and management of anesthesia. 
PW: How has your life and career changed since becoming a CRNA?
My life and career have changed drastically since I became a CRNA. I recently moved to sunny Florida, and I currently work in independent private practice providing anesthesia for plastic surgeons. Growing up in Buffalo, it was a major change in terms of the weather and culture, but I enjoy it. My salary has also increased significantly, which I'm not upset about at all!  
PW: What advice do you have for other nurses who are thinking about obtaining their CRNA? 
Be sure this is something you want to do. It's becoming a very popular and competitive field, but I encourage anyone interested in the profession to:
Shadow a CRNA
During nursing school, try to get as much experience in critical care as you can
Try getting a rotation or shadow day in the ICU
I took it a step further, and I got an internship in the CVICU my senior year-- that just happened to be the same unit I worked on immediately after graduation! I recommend the CVICU, but remember, it's not just the name of the unit or trauma level of the hospital that looks good, it's the experience you obtain on that unit. 
Start early and look up the requirements for potential schools that you're interested in. Many schools will require a hard science (organic chemistry, physics, patho, pharm, etc.)-- it's better to know ahead of time so that you can have it completed. While many schools still state that the Critical Care Registered Nurse (CCRN) certification is "preferred," it's becoming a standard. As programs are becoming even more competitive, the lack of having your CCRN could be the deciding factor between your acceptance or not.   
All in all, nurse anesthesia programs are rigorous. It's hard, but I can attest to the fact that it's well worth it. 
Want to contact Charnelle?
Instagram: @iamnursenelle
Youtube: www.youtube.com/iamnursenelle
Website: www.nursenelle.com
Email: hello@nursenelle.com
Portia Wofford is a nurse, copywriter, content strategist, and nurse consultant. Chosen as a brand ambassador or collaborative partner for various organizations, Wofford strives to empower nurses by offering nurses resources for development--while helping healthcare organizations and entrepreneurs create engaging content that connects and converts. Follow her on Instagram and Twitter for her latest.