New York Mets Nurse Night 2019
Photos courtesy of @RyanBourquePhoto
For our last game of the 2019 season, we teamed up with the New York Mets to host their first-ever Nurse Night! The event was nothing short of amazing! 
Nurse Hero Awards!
We proudly honored 10 nurse heroes during the pregame ceremony: 
Anne Capozzi
Brittany Richards
Justin Perez
Joan Godbold
Berthilde Dufrene
Anna Larkin
Lady Chanel Mendez
Nick Nance
Deanna Rivera
Nicole Rivera
Special thanks to Jaanuu scrubs for dressing our Nurse Heroes in custom scrubs!
Nurse hero, Anne Capozzi, threw the ceremonial first pitch! "Annie" was voted as the nurse to throw the first pitch through an online voting poll. What an amazing memory!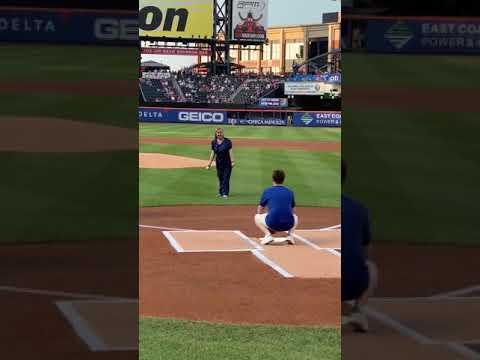 Nurse Blake was our special guest! 
It was a wonderful Nurse Night with nurses traveling from all over the area to join in on the festivities! They arrived in groups, decked out in their Reds gear and home-made nurse t-shirts. 
10 Nurse Heroes received the following awards: 
Recognition by the team on the field!
2 free game tickets!
Personalized Jaanuu Scrubs 
Nurse Anne Capozzi threw out the FIRST pitch! 
Congrats to the New York Mets 2019 Nurse Heroes!

Brittany Richards, DNP, FNP, RN
Dr. Brittany Richards completed her BSN, MSN, and her DNP all while working full-time. "Her drive moves mountains," says her nominator. 
After graduating in 2014, Brittany has continued to make her mark in nursing, even being named the recipient of the 2014 nursing excellence award at the University at Buffalo. She is also a member of the Greater NYC Black Nurses Association, Sigma Theta Tau, and the American Nurses Association. She believes in investing in the community and is a newly appointed Board member of Friends of NYC Nurse-Family Partnership. She is also a member of Alpha Kappa Alpha Sorority, Incorporated where she advocates for service to all of mankind. 
As the Faculty advisor for Nutrix, the nursing organization at New York City College of Technology whereas an Assistant Professor, Brittany works to get her students involved in the community, such as helping with Operation Prom, a non-profit organization that helps high school seniors who are in need get prom attire. 
"Her passion to teach the next generation of nurses is seen whenever she teaches a clinical class or a classroom lecture," add her nominator. "Her students gravitate to her because of how inspiring she is, and how motivated she gets to give knowledge."
Always a leader, Brittany hopes to continue to break barriers in the nursing field, especially through her role as an assistant professor in the Helene Fuld Health Trust Simulation Center at Columbia University, a former EOP student at CUNY turned Assistant professor at NYC College of Technology. "Her dedication to the profession is evident by ensuring the next generation that comes into the profession does well by the community," her nominator sums up. 
Justin Perez, BSN, RN
Army veteran Justin Perez "is unlike any other nurse I know," says his nurse nominator. Justin, who currently works for Stony Brook University Hospital, is likely to be deployed overseas sometime this year, and when he returns, he is looking to become a flight nurse to help those in critical care on their way to the hospital. "I have never met anyone more dedicated to helping others than Justin," his nominator adds. 
Justin is considered a nurse hero on his own terms for many reasons, like the time he saved a man who wasn't his patient, from choking at the hospital or the time he did the same to a woman at a restaurant, performing the Heimlich in a room full of panicked patrons. 
After Hurricane Maria, he even flew down to Puerto Rico to work for a few weeks at a hurricane relief station. In that time, he selflessly gave food, shelter, and care to those who had absolutely nothing. "I say with absolute certainty that Justin is a hero, to the people around him, in the hospital he works, and to the country, he serves," his nominator states. "He also happens to be the biggest Mets fan I have ever met and more than anything I think he deserves to be recognized for his dedication and selflessness on Nurse Night." 
Joan Godbold, BSN, RN-BC
From the start of her career, Joan Godbold BSN, RN-BC has been a Nurse Hero. Joan has been a staff nurse in the Adult Psychiatry Unit (2 West) at Mather for the past 36 years. Since joining the nursing staff at Mather as an LPN when the psychiatric unit first opened in 1977, Joan has been greatly respected and valued by colleagues, co-workers, patients, and their family members, as an exceptional clinical nurse, role model, mentor and patient advocate.
Over the past four decades, Joan has experienced significant changes in the treatment of behavioral/mental health disorders, but her caring and compassionate spirit have never wavered. "She's an exceptional nurse in every sense of the word," her nominators describe. 
As an advocate for patients and family members suffering from the effects of mental illness, Joan continues to be actively involved in quality improvement activities that improve care and patient outcomes. For example, in 2015/2016 Joan completed an evidence-based practice project, sponsored by The Advisory Board, that helped psychiatric patients overcome self-care deficits related to personal hygiene and grooming.
In 2017, she was also the co-investigator of a quasi-experimental research study, approved by Mather's Institutional Review Board, titled: "The improved Mood States and Feelings Associated with Animal Assisted Activity on an Inpatient Psychiatric Unit." This study was significant for two reasons; it investigated animal-assisted activity in the acute care hospital setting and it included staff, as well as, patients as subjects. The study has been accepted for publication by the Journal of the American Psychiatric Nurses Association.
Joan was one of seven clinical nurses at Mather hospital asked to become a Magnetizer, part of the hospital's Magnet designation from the American Nurses' Credentialing Center (ANCC). Less than 7% of all U.S. hospitals have earned the prestigious honor of being a Magnet organization and Joan was chosen based on the following credentials: 1) Outstanding clinical performance, 2) Collegiality with peers throughout the hospital, and 3) Comprehensive knowledge regarding the high quality of nursing care and patient care outcomes achieved at Mather. Among the clinical nurses appointed as Magnet Magnetizers, Joan became their mentor, coach, and advisor. The dynamic team used a wide range of innovative activities to engage, educate and inspire all 600+ nurses at Mather, of which 80% had direct interaction with Magnet appraisers. As a result, the site visits were extremely successful, resulting in Magnet designation in 2014 and re-designation in April 2018, with the rare honor of receiving an Exemplar in Nursing Research and EBP.
"Joan is the nurse that you would want caring for you and your family in a healthcare crisis," her nominators sum up. 
Berthilde Dufrene, DNP(c), MSN, RN, CARN 
There is one thing and one thing only that Berthilde's nominator wonders about this hard-working nurse--how on earth she is able to do all that she has done. And with Berthilde's resume, you can't help wonder the same thing. She is both a general practitioner and a specialist with a nursing career that encompasses many areas, including pediatric psychiatry, addiction, gerontology, MRDD and nursing education. And a ten years' business background with IBM makes her a well-rounded healthcare leader, renowned and respected for her pragmatic creative approach to patient care and transformation of the U.S. healthcare system. 
Berthilde presently serves as the Chief Nursing Officer for the New York State Office of Mental Health Corrections Based Operations, a position that requires her to travel across New York State working in some of the highest security prisons. She is also the founder and past president of the Haitian American Nurses Association of Hudson Valley New York, Inc. (HANA), which she worked hard to grow after the earthquakes hit Haiti in 2010. Under her leadership, HANA played an essential role in the rescue efforts and has maintained a steady presence in Haiti and as a result, HANA has also served in medical relief missions across the globe, including but not limited to, the Philippines, several areas in Africa, Saint Kitt, the Dominican Republic, and India.  
The current President of the Zeta Omega Chapter of the Sigma Theta Tau International Nursing Honor Society, Berthilde is also the founder and president of the Haitian Cultural Heritage Preservation, Inc. She has been serving on many Executive Board of Directors including but not limited to HANA of Hudson Valley, HANA International, Hudson River HealthCare, Mercy College, OASAS Commissioner's Nursing Advisory Panel. 
As a nurse educator who has served as both lecturer and clinical instructor, Berthilde is a published author, a well-decorated acclaimed leader and sought-after speaker on leadership, correctional nursing, mental health, and addiction issues. 
She has served as both a leader and member of many community organizations, including but not limited to: the NAACP and the Tau Phi Chapter of Chi Eta Phi Sorority, Inc, NYSNA District 17 – Professional Nurses Association of Rockland County, Rockland County Nurses Recognition Committee, and the International Nurses Society on Addictions (IntNSA). 
Her achievements have been recognized and honored by the International Nurses Honor Society, Sigma Theta Tau, Advance for Nurses Magazine's "Best Nursing Team" for patient advocate, Nurses of Excellence by the International Association of Healthcare Professionals (IAHCP), and acknowledged among the nation's government employees in 2017 by NextGen with a Public Service Award. 
And finally, she is an advocate, and even "went viral" when she fought for justice when a national medical staffing agency published an ad stating, "No Haitians Need Apply." Her efforts received international attention, the company was fined by the New York Attorney General's Office and she was able to collaborate with the NAACP to win nursing scholarship awards for underprivileged students. 
Anna Larkin
As a night-shift nurse at Hospital for Special Surgery, Anna noticed that both she and her peers were lacking self-care, most were struggling with insufficient exercise, poor eating habits, sleep deprivation, and limited social life. Anna identified that such habits could lead to obesity, anxiety and put many at risk for cardiovascular, gastrointestinal and metabolic disease. She took action and created the Night Shift Wellness Pamphlet: Tips and Tricks to Beat Your Biological Clock. Her pamphlet included helpful tips and suggestions to improve work/life balance as well as quick, healthy recipes for busy nurses.  Not only did Anna share the pamphlet with her peers but, she also presented it during Nurses Week at the Night Shift Breakfast. It was a big hit! In fact, many of her peers began bringing healthy meals from home both for themselves and to share with others. Anna's nominator recognizes her for, "thinking not only about her own well-being but also, the well-being of her peers." 
Lady Chanel Mendez
Lady Chanel Mendez is an excellent nurse at New York University Langone Medical Center in the Neurosurgery Intensive Care Unit. 
As a Neurosurgical Intensive Care Unit nurse, Lady cares for complex patients with complex neurosurgical and neurology health issues. The type of nurse who not only has a great personality but, the knowledge to match. Additionally, she often serves as a charge nurse, facilitating unit operations and preceptor to new nurses. Described by her nominator as a nurse who, "won't ever end her shift without giving 200% effort and is an exemplary nurse!" 
A graduate of Seton Hall University in 2008 with high honors, she has won many academic awards and citations throughout her career. An active leader of Sigma Theta Tau, and the American Nurses Association. One of her proudest moments was recognition by the governor of New Jersey at the time, Jon S. Corzine, for Academic Achievement Award. 
Her love for nursing and helping others has allowed her to gain experience in different medical fields including orthopedics, surgery, cardiology, neurology, medical-surgical, trauma and detox departments. Within only a few months of being in any department she has always been chosen as a charge nurse; an exemplary leader who cares for patients and coworkers alike. She has gained experience in hospitals both in New Jersey and New York and has always been a great leader at heart.
Her quick critical care thinking, calm demeanor, and passion for emergency situations have led her to join the ALERT team at NYULMC. "When Lady is working, everyone sighs relief. She's got it!" says her nominator. 
Nick Nance
Nick is the type of nurse to run out of a restaurant in an airport when he learned a man had fallen down and stopped breathing to immediately began performing compressions. He did not stop until other medical personnel arrived to take the man to a hospital and was able to get the man's pulse back to a normal rhythm after learning the man had had/been having a stroke. 
Nick may have saved that man's life, but that example was only one of the many times Nick has shown extreme courage and selflessness. "He always goes above and beyond to help complete strangers in any situation," his nominator says. "Being a nurse is not just his job; it is his calling.  He witnesses pain, heartache, and death on a daily basis [and] he is no stranger to sacrifice. He cares for his patients and their families with the utmost compassion. He protects the most precious part of life--life itself. It's nurses like Nick who make the world a better place." 
Deanna Rivera
Described as good-hearted, caring and generous people, Deanna is the kind of nurse to care deeply for her family, friends, and patients. She's also the kind of nurse who most recently decided to serve her country and join the Navy to be a naval nurse. 
"When my grandmother passed away, she was my rock, dropping everything at a moment's notice to be by my side," says her nominator. "She has always been there for me in times of good or bad. Deanna is the type of person who would give you the shirt off her back if she could. She is a true nurturer, taking care of those around her from the beginning of time."
In addition to being a kind spirit, Deanna loves to have fun, travel and is always up for an adventure. "I can always count on her to do something spontaneous," her nominator adds. "I wish I had the guts to do what she does. I respect everything she has accomplished in her life and nothing would make me happier than to honor her."
Anne Capozzi, BSN, RN, OCN
Anne Capozzi is a lifelong Mets' fan who graduated from St. Vincent's School of Nursing in NYC with a diploma degree and started at Memorial Sloan Kettering Cancer Center (MSK) that same year. After 28 years in the field, Ms. Capozzi went back to school to get her Bachelor's in Nursing from Walden University, while working full-time and graduated in 2016.  
"During her 35-year nursing career, Anne has exemplified all of what a nurse and a hero should be," her nominator, a coworker of 17 years, describes. "She is dedicated to her patients, colleagues, family, and friends while overcoming boundaries and limitations when faced." 
Anne has worked in many roles at MSK, and her compassion, dedication and work ethic have been widely recognized. Dr. Michael Morris, Clinical Director, Genitourinary Medical Oncology Service & Prostate Cancer Section Head, Division of Solid Tumor at MSK says that "Anne is one of the most dependable, generous, and experienced nurses any of us have worked with. She's the person that all of us hope to have as our nurse if we're sick. Anne is by far one of the most dedicated and kind people, let alone nurse, I have ever met." 
Recently, she was steadfast in her appeal to insurance companies when fighting to get a young U.S. serviceman with aggressive testicular cancer coverage at our hospital, so he could receive potential life-saving and curative treatments. She did this by spending hours fighting on the phone and writing letters of medical necessity whenever needed. Anne came in early and left late and made sure his treatment was approved. Another example of her dedication and kindness is when she offered her old cell phone (and would work on getting funding to access it) to a patient who did not have the financial means to have a landline or a cell. Not having a phone had hindered his ability to communicate with the office effectively while undergoing aggressive anticancer treatment. Anne believed that if he could just "use her old cell phone" and communicate with the office, it would prevent him from suffering from life-threatening side effects. 
Anne's tenacity and compassion were also evidenced late after clinic one night when it was determined that a Spanish speaking patient with no family or friends present needed to be admitted to our hospital. The Spanish translator left for the day, so Anne personally walked the patient over to the main hospital ensuring he did not get lost. She didn't speak Spanish, but she knew although it was late, and her shift was over, that if she accompanied him to it would help facilitate his admission. Professionally, Anne always leads by her actions. She is active on the board of our Unit Based Council where she organizes professional development activities throughout the year while also mentoring and onboarding new staff to the unit. These, like so many other stories, show her selflessness and determination to guarantee patients receive the best possible care.
Ms. Capozzi, due to her demonstrative, powerhouse, yet never overbearing, quick wit and whip-smart personality are also known as "Sweet Annie." Sweet Annie always gets things done and with a smile. That in and of itself is impressive in our work environment. Those who have been lucky enough to work with her, know of her devotion to her family. She has taken care of her sick and elderly parents and has been the caring sibling and adoring and proud aunt. Furthermore, Sweet Annie has been "anything and everything" to not only her patients and family but to her coworkers as well. Our dear friend and colleague Geri passed away in 2008 from a devastating cancer diagnosis. Annie was always by our side to help manage the grief of her colleagues but most importantly she was there for Geri and her family. Since then, a nursing fund has been named in Geri's honor to advance nursing research, in which Annie fundraises year after year.
Anne has also been active in the Medical Missions for Children (MMC) organization volunteering on missions for the past 12 years. Her work has been predominantly assisting in the preoperative and postoperative recovery of children undergoing cleft palate surgery in underserved areas. She has been volunteering biannually or annually, using her own vacation time traveling to remote locations in both Peru and India. However, even when she is home, she continually acts as a champion for these children throughout the year. Not long ago, Anne heard of a disabled child, who needed a wheelchair located in a country where she had previously volunteered. While still in NYC, she reached out to her many friends and contacts across the country and lobbied for this child to receive the desperately needed wheelchair.
"Annie continues to be a hero to her family and friends, and especially to her many colleagues in multiple disciplines in healthcare," her nominator states. "She always acts as a nurse fighting and caring for those in need and leads by example in every setting." 
Nicole Rivera, BSN, RN
After being diagnosed at the age of only 6 and a half years old, Queens-born-and raised Nicole was given only a 10% chance of living. 
"I kicked cancer's butt and to this day, remains in remission, 18 years and counting," says Nicole. "Cancer took my right leg but not my life."
Despite the odds--and the challenges, which includes Nicole wearing an above-knee prosthetic, she has risen above. Her experience showed her that she wanted to become a nurse and today, Nicole is a surgical oncology /cardiothoracic step-down nurse. "I put my heart into my patients every day and cannot imagine being in any other profession!" she gushes.
Timeline:
June 22, 2019 - nominations close. Nominees must respond within 48 hours or their nomination will be removed. 
July 10, 2019 - voting opens! 
July 20, 2019 - Voting ends
July 27, 2019 - Nurse Night game day!