Nurse Mady Howard Advances To American Ninja Warrior Finals
Featured Image via Instagram
By Jacob Uitti
As a nurse, it can often feel like you're climbing never-ending staircases, running down the halls as if the last few seconds of a clock is ticking out, or that you're climbing walls and swinging from problem to problem. The job can be that tough, draining and demanding. But for ICU nurse, Madyson Howard, those hurdles and gauntlets are a part of her life outside the hospital, too. The nurse is also a finalist on the nationally televised program, American Ninja Warrior. 
Howard, who grew up a gymnast and competed collegiately, found herself in need of a new goal several years ago and so she jumped into the competition, already with some of the skills of a seasoned pro. Ever since, she's been exceeding expectations, in part by using the skills she developed in the high-pressure ICU. We caught up with the nurse-turned-competitor to ask her about why she first became a nurse, what she likes about the competition and much more.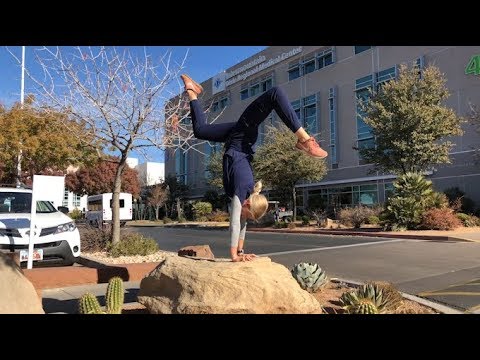 Why did you want to become a nurse?
My mom was a nurse and so growing up I always thought that being a nurse would be an awesome profession. Then I really just wanted a job where I could impact people and make them feel better than they did before. Nursing fit the ticket.
What kind of nurse was your mom?
She was an O.B. nurse and now she works at an infertility clinic. 
Why did you decide to work in the ICU?
Going into nursing school, I actually never thought I would want to work in the ICU. Then during my preceptorship, I got hired to a hospital. We did orientation and one of my rotations was in the ICU and I fell in love with taking care of really sick patients. You only have two patients in the ICU and you really get to know everything about them. You get to know them and their families. That was just something that appealed to me. I really like to get to know my patients better. 
What did you learn about your mental and physical metal by working there?
I think that in the ICU, there are a lot of skills and habits that I've developed to handle stressful situations on a daily basis and I think that's also helped me on the course for American Ninja Warrior. I think one of the most important things, though, is just making sure that I am mentally and physically prepared. You're trained specifically to work with critical care patients as an ICU nurse. So, relying on that training, studying on my own at home and then practicing over and over makes it so that I can perform well when it counts and when the pressure is on. 
How has being a nurse - a profession that focuses on others - taught you how to care for your own health?
Being a nurse and especially in the ICU, I've seen a lot of people that were doing great - I remember having one patient that was about my age who was a professional motorcycle rider and he got paralyzed on his motorbike. I think just seeing firsthand how quickly life can change has really motivated me to take advantage of the opportunity that I've been given and really go for it. I've also seen how your body can deteriorate and change when you don't take care of it. That's really motivated me to want to exercise and eat healthy and take care of my body the best that I can. 
When did the concept of physical health become a top priority?
I think that it's always been a top priority. When I was little, I started gymnastics. I started competing in gymnastics when I was six and I did that all the way up through college. So, I think when I was little that was just something that I loved and I didn't realize that it was exercise and that it was making me healthy. But since I've been done with gymnastics, I felt like I didn't have as much motivation to work out and so I knew that for me I needed to find something else that I love to keep me motivated to stay healthy. 
What was that downtime like for you?
That actually was really hard because gymnastics was something that I'd worked for my entire life. Doing college gymnastics was my life goal, so once I was done with that I had nursing, which was great, but I didn't have anything else to push me physically. My husband just jokingly mentioned that I should try Ninja Warrior because it was a show that he had watched all growing up. So, we found there was a local ninja gym in our area and I went to try it out and I found that many of the skills that I learned in gymnastics really translated well. So, I just fell in love with it.
What were those skills?
Gymnastics teaches you a lot of air and body awareness and that really helps with Ninja Warrior, all of the swinging and flying through the air. A lot of the upper body strength was already there too, which can take a lot of years to build. 
What do you enjoy most about the competition?
I love having something to work for and pushing my body past its limits, past what I thought was possible before and so I really just love getting prepared physically and mentally and then going out there and doing my best. It's just really fulfilling.
Have other nurses reached out to you to express gratitude or inspiration?
Oh yeah, there's been a ton of nurses on Instagram that have reached out to me. All of my coworkers are super excited about it. I've had a few of them come train with me and start to get into it as well, so that's been a lot of fun.
What advice do you give your coworkers or other nurses juggling fitness with their schedules?
I think that it's actually convenient as a nurse. I work at the hospital, so I work three 12-hour shifts. Sometimes I'll get in a short workout on the days that I work but we have four days off that we don't have to work. So, I'd say to just find something each day that you love to do and something that keeps you active and moving. 
Can you share one exercise tip?
I would say spend at least 30-minutes a day doing something that keeps you active and you will have so much more energy. For me, I like high-intensity interval workouts because you can get a killer workout in just 20 minutes and anyone can find 20 minutes in their day. So, it doesn't have to be like four hours of training a day. Just set aside 15-20 minutes and get your heart rate up and if you're consistent with it, it will benefit you a ton. 
What is the benefit of getting your heart rate up 15-20 minutes a day?
Getting your heart rate up obviously makes your body healthy but I think it's good for your mind, as well. When you exercise, it releases endorphins and it makes you happier. When I'm happier, I'm able to better care for my patients and fulfill their needs. 
Any tips for nurses about keeping up with your nutrition?
In every meal, I try to get protein, greens, and healthy fats. I try my best to eat well-balanced meals. If you can meal prep, that's great because anything you make at home with whole foods is going to be so much better for you. I would say to try and eat as many whole foods as possible and try to get your greens in and make sure to drink a lot of water - especially during those busy shifts. 
I've had shifts before where I don't remember to eat, drink or pee and then I come home and I'm exhausted and I never want to go back! So, make sure you set aside time during your shift to do those things. 
Do you have your sights set on a new physical challenge after the American Ninja Warrior finals?
Well, I would love to continue to do American Ninja Warrior and I'm hoping that I get invited back next year to compete on the show again. I think I surprised myself this year with how well I did but I'm still not satisfied and I want to get even further. So, I'll be working this year for next year.
Have the finals happened already?
The first episodes are actually airing tonight [Aug. 26th]. I won't be on tonight's episode but I think I'll be on next week's, though I'm not positive. The finals have already happened, they were filmed in June but they are just starting to air.
And you can't talk about them, right?
Nope, I'm sworn to secrecy!
What's one thing you learned from the competition that you might bring to your job as a nurse? 
One thing that I learned in the competition was how much of a mental game it is. You get on the course and there's all the lights and the cameras and you know that it could be shown to millions of people on TV. So, there's a lot of pressure. 
But before I went up on the start line, there's this little waiting area that they have you in, and I just took a few minutes to breathe deeply and think of, like, five things that I was grateful for instead of thinking about everything that could go wrong. I think that brought me into the moment and so I've found that when I have a stressful situation with my patients, if I just take a deep breath in instead of just running frantically, everything turns out better and I have a better view of the bigger picture.