Joe Biden Thanks Hospice Nurses Who Cared For His Family
By Chaunie Brusie, BSN, RN
Everyone knows that nurses are heroes, but hospice nurses? Well, they hold a very special place in our hearts and in the lives of the families that they work with.
In a speech dedicated to hospice nurses former Vice President, Joe Biden, noted how he and his family had been beneficiaries of the service that hospice nurses provide. He thanked them for the "incredible work" that they do each and every day.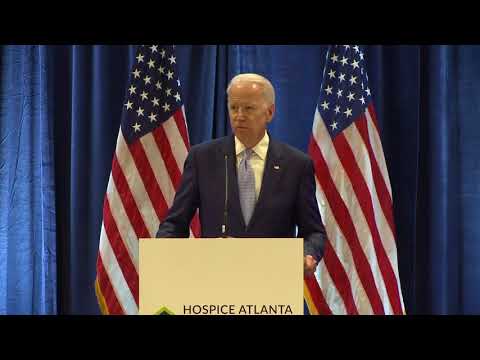 Tragic Family Loss & Personal Trauma
Most recently, Biden referred to his own 7-month hospitalization following two aneurysms and a life-threatening embolism and how nurses had helped save his own life.
Even more striking is Biden's history with personal loss, stemming back to 1972. Shortly after he was first elected to the U.S. Senate his wife, Neilia, and their 13-month-old daughter, Naomi, were killed in a car accident while the family was out Christmas shopping.
Biden's sons, Beau and Hunter, survived with massive injuries, but in 2015, Beau passed away after a two-year battle with a brain tumor. Beau was cared for by a hospice team and the experience had a profound effect on the politician.
"If there are any angels in heaven, they are all nurses," Biden quipped, adding, "that's not a joke," said Joe Biden. 
Preserving His Father's Dignity
In addition to losing his son to brain cancer, Biden shared how hospice had helped his family care for his parents in his own home near the end of their lives. His father spent seven months in Biden's home in 2002, with the last three months spent in daily hospice care.
"[Hospice] allowed me to kiss him goodnight and to kiss him good morning," Biden described. "And it preserved his dignity."
He spoke to the sobering challenges that a terminal diagnosis can have to a family and how the seemingly little things, like being cleaned and washed, make all the difference in preserving the patient's dignity while allowing the family to still spend quality time together. Biden's mother also passed away under hospice care at his Delaware home in 2010.
Speaking From His Heart
Biden felt so strongly about his admiration for hospice nurses that during the 70th-anniversary celebration of the Visiting Nurse Health System he admitted the speech had been written by a staff member. Biden chose not to follow the script and instead spoke from the heart.
As he spoke, he leaned away from the speech that had been prepared for him. Choosing instead to described how having a hospice nurse to guide a family through the overwhelming experience of losing a loved one can bring enormous comfort. Comfort not only for the professional presence they provide but for the practical guidance they give through the journey.
He noted that the care hospice nurses provide to families is invaluable:
Having someone who is able to explain the process of hospice,
Educate them on what to expect,
Being there when they have questions or concerns,
"You not only make the final minutes, hours, days, weeks, months of someone's life bearable, but I don't know unless you've been a recipient of a hospice if you understand how many people's lives you save. Meaning family members," Biden explained.
Hospice Care Helps Patients And Families
"I don't know if you understand how profoundly—how profoundly—you affect the mental health of family members," Biden proclaimed. 
Biden's words are right; studies have shown that family members and caregivers of an individual approaching the end of life report, increased the quality of care, quality of life, communication and having everyone's needs met when working with a hospice care. The simple act of knowing you are not alone at the end of life makes all the difference.
Biden's speech honored the organization that is part of the Visiting Nurse Health System, which provides in-home medical and palliative care throughout metro Atlanta, as well as paid homage to hospice nurses and team members all throughout the country who do the important and increasingly necessary work of caring for individuals at the end of life.
"It's amazing what you do," he said simply. "You all do God's work."