JCAHO Gives an OK For Clinicians To Wear PPE & Masks From Home After Many Were Reprimanded
In a new statement, the Joint Commission (JCAHO) announced that it supports allowing healthcare staff to bring their own "standard" face masks or respirators to work if their healthcare organizations are not able to provide adequate protective equipment. They also added that nothing in their guidelines or standards prohibit staff from using PPE brought from home at work. 
Here's what the statement covers--and what it means for nurses working the frontlines of COVID-19. 
Why Joint Commission Issued the Statement
The JCAHO's statement comes on the heels of reports that healthcare workers are being reprimanded for wearing their own personal PPE at work. For instance, nurses at Kaiser's Oakland Medical Center in California were reportedly told that they could be fired for insubordination if they were caught using their own PPE on the job. 
The hospital told ABC News that they were cracking down on the use of PPE as a protective measure, citing, "We cannot assure the integrity of protective equipment not provided by Kaiser Permanente."
But, of course, as many of us know, the alternatives that nurses and healthcare staff are being forced to work with are not safe either. 
"This week I saw a resident put a sixth staple in an n95 with a broken strap," tweeted Jenny Tsai, MD, an emergency medicine resident at Yale-New Haven. 
"My friend T, a NYC Er nurse, has resorted to wearing scuba goggles," wrote a podcast host.
And another doctor posted a picture of his attempt to self-sterilize his re-used N95 masks by baking them in an oven--a real strategy being studied, although they are not supposed to touch metal. 
Nurses Are Quitting 
The situation is so dire with PPE that some nurses are quitting rather than accept that they should work without adequate PPE. "4 nurses my wife went to college w/, who she keeps in touch w/, over the last 48 hours have quit," wrote one nurse spouse on Twitter. "This will continue to happen until this country gives them the PPE they MUST have to fight this war. And they won't get it until America collectively stands up for them. #GetMEPPE"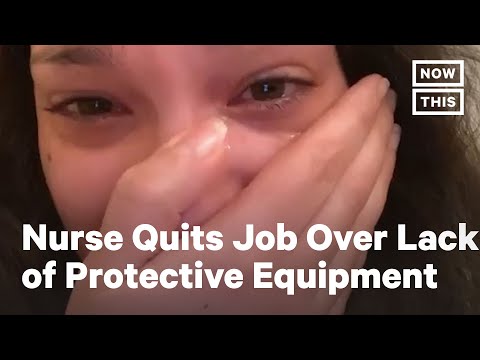 What Exactly Does the Statement Change? 
The JC's statement authorizes healthcare workers who feel they are not getting adequate PPE for the jobs they are being asked to do to bring in their own standard face masks and N95 respirators. Acknowledging that while the actual protective abilities of personal PPE is "uncertain," the JC also adds that "the balance of evidence suggests that it is positive." 
The statement also addressed two of the driving factors for the updated permission: 
 The fact that surgical masks alone may not be adequate for protecting against COVID-19, despite the CDC's current guidelines and 
 New evidence that suggests all staff should wear surgical masks at all times, as asymptomatic patients are spreading the disease in higher numbers than previously thought. Because of those two issues, the JC concluded that it's "reasonable" to understand why staff may want to wear N95 respirators over surgical masks and/or wear surgical masks routinely, even when not directly caring for a confirmed COVID-19 patient.  
In their statement, the JC goes on to add that allowing staff to use their own PPE is important, as hospitals may have to conserve PPE to use for staff performing high-risk procedures, such as intubating patients or dealing directly with their airways. 
Technically speaking, the JC's statement does also permit the use of homemade masks, but it allows them with a wave of caution, stating: "Homemade masks are an extreme measure and should be used only when standard PPE of proven protective value is unavailable." 
What This Means for Nurses
The Joint Commission's statement means that if you're a nurse working with substandard PPE and have been told that you can not bring your own mask to work, you now have the full support of the Joint Commission on your side to do all you can to protect yourself. 
Although the JC acknowledged some of the reasons hospitals have been trying to stop staff from using their own PPE, their statement makes it clear that during this unprecedented time, the best solution is supporting nurses and healthcare workers as much as possible:
"In circumstances of PPE shortages, it is better to allow staff the opportunity to enhance their protection, even if the degree of that increased protection is uncertain. That increased protection may offer peace of mind sufficient for staff to attend fully to caring for the patients that so desperately need their help."
Print The Statement For Your Protection 
We encourage you to print out the Joint Commission's official statement if your facility attempts to limit your use of bringing in your own mask. And if you're in a position to donate masks for healthcare workers, need help finding resources as a nurse, or are looking for ways that you can support the #HealthcareHeroes in your life, you can find resources that can help here.