DNP Student Launches RN to NAP Delegation Study - Free CEU
This is a guest article contributed by American Nurses Association California member, Calah Hardin, BSN, PHN, RN.
Stress is a prevalent issue in the nursing workforce, and despite the many interventions that have been created and implemented to address it, it is still here in a big way and when the stress becomes overwhelming, our profession suffers. To add to this, it is widely known that nursing stress also negatively impacts the quality of patient care and outcomes.
The fact that nursing stress is still one of the most common self-reported reasons as to why nurses leave the profession is a major concern and was the inspiration for this quantitative, cross-sectional pilot study. 
I will go into more details in a little bit, but first, allow me to introduce myself. My name is Calah Hardin, I live in Los Angeles, and I am a DNP ACNP-AG student about to implement my capstone research project! Hello!
If you'd like to participate in this study on RN to NAP delegation (and earn 1 free CEU) click here!
Okay, back to the official stuff. After months of researching what we have done so far to mitigate this issue, I realized that the source of nursing stress is beyond what we have been addressing up until now. Our previous interventions have been aimed at treating the symptoms rather than the root cause, and so it makes sense that nursing stress is still a problem. It is well known that the healthcare system is restrictive, antiquated, and contains many inefficiencies. 
Simply put: Our hands were understandably tied, and we did the best we could given the circumstances. 
Listen to Calah's interview "How To Delegate as a Nurse' on the Ask Nurse Alice podcast - NOW on Apple Podcasts or Spotify 

The Pandemic Heightened Nurse Stress
Unfortunately, nursing stress and its related issues have only been exacerbated in the past year, with everything in flux, and exposed the deep fissures and structural defects within the healthcare system. Policies and procedures have been scrapped and rebuilt to accommodate the new normal caused by the pandemic and related safety guidelines, in addition to a new presidential administration that has stated it will prioritize increased access to healthcare services. These add to the disproportionate demands on the healthcare system's available resources, intensifying the already present concerns of an aging population, patients with higher acuities, and healthcare professional shortages. Fortunately, this gives us a clear picture of what we need to work on.
Nursing Assistant Personnel (NAP) are Underutilized 
Here is the exciting part: We find ourselves confronted with a rare opportunity not only have we openly acknowledged and seen first-hand that major changes to the healthcare system are desperately needed, but we are also in a position where systemic changes can be feasibly implemented at the same time! It is not often when these two phases coincide, and yet here we are! We have the opportunity of a lifetime to make meaningful changes to the healthcare system and the purpose of this study to start the conversation. 
To effectively support the nursing workforce, it is important to first look at the resources that we currently have. A resource that is known to help mitigate the stress-inducing factors and that is most readily available is the nursing assistant personnel (NAP). Nurses work with NAPs through vital interprofessional collaboration, which is why this project is focusing on improving the awareness and knowledge of proper delegation practices. 
The literature says that NAPs are a valuable, yet underutilized resource, and brings to the forefront the fact that most nurses do not share the same definition as to what delegation means, highlighting non-standard, and potentially harmful practices. 
Pilot Study on RN to NAP Delegation Offers 1 CEU
Therefore, a research-driven educational intervention aimed at increasing awareness and improving nursing practice is an invaluable opportunity that all nurses can benefit from, no matter how much experience they may have. By starting at square one, this study will create a foundation for future research and approaches targeting the source of nursing stress as a complement to our current approaches.  
In collaboration with the American Nurses Association\California (ANA\C), this idea is becoming a reality. You may qualify to participate in this project if you, 
Are licensed in the state of California, 
Work in the acute care setting, 
Interact with NAPs regularly
About the project: 
Through an engaging video, we explore the topic of nurse to NAP delegation, 
From the basic definitions to the nuanced details that are not so well known, 
Ironing out tricky situations from legal, ethical, and social perspectives. 
We cover the implications of delegation, both good and bad
Review what the Nurse Practice Act of California dictates as our responsibilities as licensed healthcare professionals. 
Click here to participate in the study
Earn CEUs
Upon completion, participants are eligible for 1 free CEU. Think of this workshop as a comprehensive refresher, complete with colorful images, catchy music, and a readily available handout that can be downloaded to write down notes as you go! 
Join the Study! 
While this study does have strict inclusion criteria, the concept of delegation remains relevant to all nurses, everywhere! To learn more about the project click here.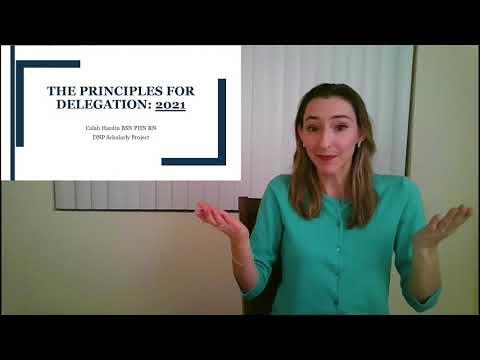 References
American Nurses Association. (2011). ANA's Principles for Delegation: Reissue of the 2005 edition. Nursesbooks.org. (Original work published 2005). https://www.nursingworld.org/nurses-books/ebook---anas-principles-for-delegation-by-rns-to-uaps/ 
American Nurses Association. (2017). Executive Summary: American nurses association health risk appraisal. https://www.nursingworld.org/~4aeeeb/globalassets/practiceandpolicy/work-environment/health--safety/ana-healthriskappraisalsummary_2013-2016.pdf 
Andela, M., Truchot, D., & der Doef, M. V. (2016). Job stressors and burnout in hospitals: The mediating role of emotional dissonance. International Journal of Stress Management, 23(3), 298-317. https://doi.org/10.1037/str0000013  
Brown, S., Whichello, R., & Price, S. (2018). The impact of resiliency on nurse burnout: An integrative literature review. MedSurg Nursing, 27(6), 349-378.
Chan, G. & Orlowski, C. (2020). California Newly Licensed RN Employment Survey Report: Fall 2019. HealthImpact. https://healthimpact.org/wp-content/uploads/2020/06/California-Newly-Licensed-RN-Employment-Survey-Report-Fall-2019.pdf
Corazzini, K. N., Anderson, R. A., Rapp, C. G., Mueller, C., McConnell, E. S., & Lekan, D. (2010). Delegation in long-term care: Scope of practice or job description? Online Journal of Issues in Nursing, 15(2), 1-19. 
Duffy, M. & McCoy, S. F. (2014). When to Delegate and to Whom. American Nurses Association. Nursebooks.org. https://www.nursingworld.org/nurses-books/delegation-and-you/  
Egenes, K. J. (2012). The nursing shortage in the U.S.: A historical perspective. CHART, Journal of Illinois Nursing, 110(4), 18-22.
Gravin, G. & Bittner, N. P. (2010). Nurses' and nursing assistants' reports of missed care and delegation. Journal of Nursing Administration, 40(⅞), 329-335.
Hasson, F., McKenna, H. P., & Keeney, S. (2013). Delegating and supervising unregistered professionals: The student nurse experience. Nurse Education Today, 33, 229-235. https://doi.org/10.1016/j.nedt.2012.02.008 https://doi.org/10.1097/NNA.0b013e3181e9395e  
Kærnested, B. & Bragadóttir, H. (2012). Delegation of registered nurses revisited: Attitudes towards delegation and preparedness to delegate effectively. Vård i Norden, 32(1), 10-15. https://doi.org/10.1177/010740831203200103 
Potter, P., Deshields, T., & Kuhrik, M. (2010). Delegation practices between registered nurses and nursing assistive personnel. Journal of Nursing Management, 18, 157-165. https://doi.org/10.1111/j.1365-2834.2010.01062.x 
Roche, M. A., Duffield, C., Friedman, S., Dimitrelis, S., & Rowbotham, S. (2015). Regulated and unregulated nurses in the acute hospital setting: Tasks performed, delayed or not completed. Journal of Clinical Nursing, 25, 153-162. https://doi.org/10.1111/jocn.13118  
Saccomano, S. J. & Pinto-Zipp, G. (2011). Registered nurse leadership style and confidence in delegation. Journal of Nursing Management, 19, 522-533. https://doi.org/10.1111/j.1365-2834.2010.01189.x
Snavely, T. M. (2016). A brief economic analysis of the looming nursing shortage in the United States. Nursing Economic$, 34(2), 98-100. 
Spetz, J. & Chu, L. (2020). California Board of Registered Nursing: 2018 Survey of Registered Nurses. California Board of Registered Nursing. https://www.rn.ca.gov/pdfs/forms/survey2018.pdf
White, M. J., Gutierrez, A., Davis, K., Olson, R., & McLaughlin, C. (2011). Delegation knowledge and practice among rehabilitation nurses. Rehabilitation Nursing, 36(1), 16-24.
Yoon, J., Kim, M., & Shin, J. (2016). Confidence in delegation and leadership of registered nurses in long-term-care hospitals. Journal of Nursing Management, 24, 676-685. https://doi.org/0.1111/jonm.12372