7600 Fake Nursing Degrees Were Sold In Florida, Feds Arrest 25 Suspects
Update 1/27/2023
The Delaware Board of Nursing announced the annulment of 26 nurse licenses connected to the fake nursing diploma scheme in Florida. 
Original article 1/26/2023
On Wednesday, it was announced that several Florida-based nursing programs issued over 7,600 fake nursing diplomas and certificates. In a coordinated effort between local, state, and federal officials 25 suspects were arrested in the massive multi-state scheme. 
Dubbed "Operation Nightingale" after Florence Nightingale (the founder of modern nursing), individuals who operated and recruited for Sacred Heart Institute in Fort Lauderdale, Sienna College of Health in Lauderhill, and Palm Beach School of Nursing in West Palm Beach were arrested and charged. All of these programs are now shut down. 
"Not only is this a public safety concern, it also tarnishes the reputation of nurses who actually complete the demanding clinical and course work required to obtain their professional licenses and employment," said U.S. Attorney for the Southern District of Florida Markenzy Lapointe, who added that "a fraud scheme like this erodes public trust in our health care system."
"The deeply concerning allegations at the center of this investigation goes against the very tenets of the nursing profession," said U.S. Attorney Markenzy Lapointe.
Centered in South Florida, a network of nursing school operators charged each student roughly $10,000 for a licensed practical nurse degree  (LPN) and $17,000 for a registered nurse (RN) degree. According to federal authorities and court documents - these were given without proper training or any real classroom education. 
"This is probably one of the most brazen schemes that I've seen. And it does shock the mind," said Omar Perez Aybar, Special Agent in Charge, U.S. Department of Health and Human Services - Office of Inspector General (HHS-OIG).
"The alleged selling and purchasing of nursing diplomas and transcripts to willing but unqualified individuals is a crime that potentially endangers the health and safety of patients and insults the honorable profession of nursing," Aybar added. "In coordination with our law enforcement partners, HHS-OIG continues to aggressively investigate bad actors who so brazenly disregard the well-being of others in order to enrich themselves fraudulently." 
Scheme Details
This scheme was ongoing since 2016 and netted the individuals more than $114 million according to the FBI. However, the federal investigation didn't begin until 2019, after a tip from Maryland that initially targeted two individuals. Geralda Adrien and Woosvelt Predestin, business people from Fort Lauderdale, were the first arrested and have both pleaded guilty to a conspiracy to commit mail and wire fraud. They cooperated with authorities and were sentenced to more than two years and three months in prison in 2022.
Adrien owned Docu-Flex & More and PowerfulU Health Care Services, private education companies. Predestin was an employee. They worked with Siena College of Health/Siena Education Center in Lauderhill and Palm Beach School of Nursing in Lake Worth "to sell fraudulent diplomas and college transcripts," according to court records. Johanana Napolean, the president of Palm Beach School of Nursing, pleaded guilty to the same conspiracy charge, cooperated with authorities, and is awaiting sentencing.
Adrien, Predestin, and Napolean reached plea agreements and helped build the case against the other defendants. Others charged include Eunide Sanon, owner of Siena College of Health/Siena Education Center, and Charles Etienne, president of Sacred Heart International in Fort Lauderdale.
The schools advertised a "shortcut" for students to skip the traditional nursing program that requires extensive clinical hours and classroom training. Unfortunately, some of the students that were "recruited" were legitimate LPNs who wanted to become registered nurses. According to officials, other students were recruited from out of state. Unfortunately, most of the students were from South Florida's Haitian-American community. 
Of the 7,600 students that paid for fake nursing degrees, roughly one-third of the students passed the national licensure exam. Most of them were from New York, which allows students to take the exams as many times as they want. The students who passed the nursing exam may lose their certification according to the FBI but will not be criminally prosecuted. Chad Yarbrough, the FBI's acting special agent in charge in Miami, said that nursing boards across the country have been notified of every student who obtained a fake nursing license. 
According to the arrest affidavit, all defendants were charged with conspiring to and committing wire fraud, prosecutors said. If convicted, they face up to 20 years in prison. The following people were charged in the case:
Gail Russ

Cheryl Stanley

Krystal Lopez

Ricky Riley

Norberto Lopez

Francois Legangeur

Reynoso Seide

Cassandre Jean

Yelva Saint Preux

Evangeline Naissant

Rony Michel

Vilaire Duroseau

Yvrose Thermitus, aka "Yvrose Thompson"

Ludnie Jean

Serge Jean

Simon Itaman

Anna Itaman

Rhomy Louis

Nadege Auguste

Stanton Witherspoon

Alfred Sellu

Rene Bernadel

Eunide Sanon
"The demand for nurses is high and continues to grow," said U.S. Attorney for the Southern District of Florida Markenzy Lapointe. "It is a shame that certain people and institutions connected to the nursing profession try to circumvent its educational requirements. This office and its law enforcement partners are committed to prosecuting this and similar fraud schemes that endanger the public."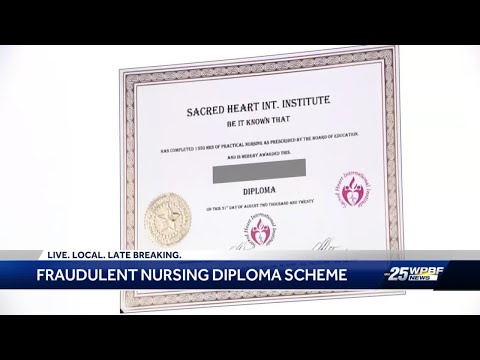 "We understand that this conduct has no reflection on the hard work and dedication that [nurses] put into making this profession honorable, and so thank you for that," Aybar said. "I encourage those of you -- if you're in a setting and you happen to have someone that may not be practicing up to the standards as you understand it, maybe if you see something, say something."
>> Read: Why Nursing School Accreditation Matters
The official Department of Justice indictments can be read here.