800 Ascension TX Nurses Vote To Unionize
4 Min Read
Published September 27, 2022
This week, nurses in Austin, Texas, voted to unionize. This event is notable because the Lone Star state has been considered an "anti-union state," unfriendly to unionizers. The nurses' movement to organize is part of a trend developing nationwide. Many workers join unions with hopes of improving working conditions. Nurses at Ascension Seton Medical Center Austin (ASMCA) have said they hope to bargain collectively with hospital administration for better pay and safer staffing. Here's a look at what is happening in Texas. 
Unionizing in Texas
To date, unions have been slow to gain traction in the south. According to data from the Bureau of Labor Statistics, only five percent of workers in southern states belong to a union. Since 1989, when state data became available, union membership rates in Texas have consistently been below the U.S. average. In 2020, Texas ranked among the ten states with the lowest rates of union membership.The vote to unionize Texan nurses comes at a time when other workers are pushing union membership in Austin and across the state. Healthcare providers at Integral Care, Austin's mental health authority, successfully organized a union this year. Also, other non-healthcare companies in the state's capital city, like Starbucks, have formed workers' unions this year. 
Although Texas isn't known for being union-friendly, workers are organizing to use their collective bargaining power for better working conditions. The Wall Street Journal suggests that rising inflation and a tight job market may spur even more interest in labor unions.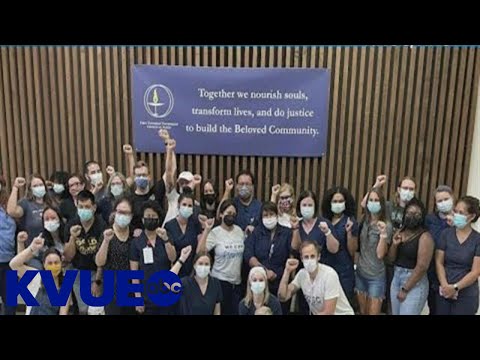 Unionizing at ASMC
On September 22, 2022, nurses at ASMCA voted in favor of joining the National Nurses Organizing Committee/National Nurses United (NNOC/NNU), the largest nurses' union in the United States. The vote showed 72% supporting the measure (385 for, 151 opposed). As a result, Ascension Seton is now the largest private-sector hospital to form a union in Texas. 
The NNOC/NNU has over 175,000 members nationwide, with about 2,500 in Texas from Brownsville, Corpus Christi, and El Paso. Approximately 800 nurses at Ascension Seton will work to negotiate contracts with the hospital administrators. According to the union, NNOC/NNU nurses in other hospitals have been able to secure contracts that included: 
Stricter enforcement of staffing grids

Improved infection control measures (including a provision requiring single-use optimal protection with any suspected or confirmed COVID-19 patient)

Wage increases of up to 19%

Committees to promote diversity, equity, and inclusion
Taylor Critedon, a registered nurse in the intensive care unit and organizer for the union, told an Austin newspaper that she had experienced the negative effects of poor staffing at the hospital. "For a lot of nurses, you go home and feel like 'I didn't do my best work, I wasn't able to provide the best nursing I know I'm capable of because the resources weren't provided," she said. "It hurts."
Matthew Clark, a registered nurse in ASMCA's intensive care unit, said, "during the pandemic, we saw lots of staff leave our hospital because of the worsening conditions; Ascension has more than enough money to retain nurses and provide better conditions. We are excited to use our collective voice to advocate for our patients by fighting for safer staffing and better working conditions."
The hospital provided this statement to a local Austin news outlet.
"Consistent with the ethical and religious directives for Catholic Health Care Services, we respect our nurses' right to organize themselves through union representation. We are united in our commitment to care for our community and those that we are privileged to serve."
What's Next for ASCMA Nurses
Nurses at ASCMA say they are thrilled about the union election win and are hopeful for the future. Critedon said in a press release, "We hope that more nurses in Austin will organize and join us in fighting for the highest standards of care here in the state capital and throughout Texas." 
Following the vote, ASCMA nurses will form a bargaining committee. Then they will start negotiating their first contract with the hospital administration. There's no timeline available yet on when that all will happen.
Geovana Hill, a nurse in ASCMA's renal unit, said, "We are looking forward to bargaining for a fair contract to improve patient safety, as well as competitive wages to keep Austin nurses working here in our community. We are more than ready to win a strong first contract, which will help with nursing staff retention."
The Takeaway
Nurses in Austin, Texas voted to unionize this week and it's significant because the Lone Star State has not been a pro-union state in the past. The nurses' movement to organize is part of a trend developing nationwide. More and more workers are joining unions.
Many are hopeful that a union voice at ASMCA hospital will benefit Austin nurses, and the community, as they start contract negotiations.