American Nurses Association Supports Mandatory Vaccination of All Healthcare Workers
Updated July 29, 2021
A growing list of organizations have announced a mandate of the COVID-19 vaccine for healthcare workers. For instance,
The Department of Veterans–one of the largest health systems in the nation–announced Monday that they would be requiring the vaccine for all employees.
The Mayo Clinic did the same.
The state of California and New York city both issued similar decrees to all state and healthcare workers: get vaccinated or get tested weekly. In addition to weekly testing, any unvaccinated workers in California and New York must also continue to wear masks indoors. 
California's health secretary Mark Ghaly told The Washington Post that the decision came with the virus being at a "tipping point." He cited both an increase in hospitalizations due to the now-dominant Delta strains as well as the upcoming school year as catalysts for a stronger response. "As we stare down schools opening up in just a matter of a couple of weeks, as we look at the projections with delta, we felt now is the right time," he told the Post.
The decisions being made at larger-scale healthcare systems and urban areas reflect the difficult choices that are being made on a smaller scale all throughout the country. From school staff and burned out-parents to wary healthcare workers who have already done their time on the frontlines, it's safe to say no one wants to see a resurgence of this virus. But nurses are wondering: is a vaccine mandate the answer? 
American Nurses Association Speaks Out: Mandate Vaccines Now
In response to the growing mandates, the American Nurses Association (ANA) released a statement on Monday announcing their full support of mandated vaccines for nurses and healthcare workers. 
"As the largest group of healthcare professionals, nurses are critical to all facets of COVID-19 response efforts and must strive to remain physically and psychologically safe to function optimally to care for themselves, their patients and their communities," ANA President Ernest J. Grant, Ph.D., RN, FAAN said in the statement. "Nurses must get vaccinated."
ANA also explained that their decision to support COVID-19 vaccine mandates aligns with their longstanding position to support immunizations. They added that they believe that the safety profile of authorized COVID-19 vaccines is "stable" and that the ANA does not support philosophical or religious exemptions as reasons not to get vaccinated.
The ANA has collected the most current and credible vaccine information in one place at ANA's COVID-19 Resource Center to inform and support nurses during the pandemic.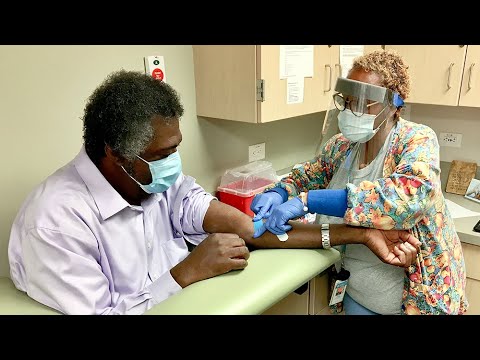 ANA President, Ernest Grant, Responds To Questions: 
What sort of exceptions-if any-does ANA support for nurses for the COVID-19 vaccine specifically?
ANA acknowledges there are nurses who have legitimate reasons for choosing not to receive the COVID-19 vaccine, advised by a medical provider due to severe allergies, compromised immune systems, and other serious health conditions.
Do those differ at all from any other types of vaccines?
ANA has historically and strongly supported immunizations to protect the public from highly communicable and deadly diseases – and COVID-19 is no different. ANA maintains that all nurses should be vaccinated against COVID-19 according to the CDC's current recommendations for immunization of health care professionals unless there are documented medical contraindications.
Why is it ANA's stance not to support philosophical or religious exemptions? 
In as much as we believe in nurses making informed decisions regarding their health, we also counterbalance that right with our duty to protect our patients and the communities that we serve and care for. Nurses have a professional and ethical obligation to model the same health care standards they prescribe to their patients. For that reason, it is paramount for nurses to remain knowledgeable and up to date on the science behind the vaccines, and the ongoing clinical studies that prove its efficacy. ANA has developed key principles to guide nurses and other health care professionals' consideration for COVID-19 vaccines. These principles provide recommendations for access, transparency, equity, efficacy, and safety of COVID-19 vaccines.
Are there specific resources the ANA can point to for nurses to gain more understanding? 
Yes, to name a few, the CDC, ANA, and local public health officials are all trusted sources that offer resources for more understanding of the COVID-19 vaccines. Additionally, ANA's website features a comprehensive COVID-19 vaccine resource page that stays up to date on the latest clinical information and news. ANA has also created a focused video education series on COVID-19 topics, covering different aspects of this crisis and providing information that nurses can apply immediately when caring for COVID-19 patients. ANA's COVID-19 videos are FREE for all nurses.
One of the arguments that has been circulating online is that there are a lot of bigger public health issues to contend with (smoking, obesity, poor nutrition), so why specifically is the COVID19 vaccine a focal point that's being offered for free and potentially mandated? Does the ANA have any sort of comment as to why this particular issue is so important right now? 
To date, the COVID-19 pandemic has claimed over 600,000 American lives. The International Council of Nurses estimates that more than 2,000 nurses across 59 countries have died from COVID-19. Sadly, this number is likely much higher as tracking among health workers is inconsistent. For our nation to recover, heal, and return to a semblance of normalcy, enough individuals, nurses, and health care professionals must get vaccinated against COVID-19. Vaccines will help prevent further community spread and mitigate the risks of highly transmissible and more contagious variants that are causing a surge of infections, hospitalizations, and deaths. ANA believes that vaccination is a significant public health victory and a scientifically proven strategy to slow the spread of COVID-19 and prevent the loss of more American lives. We will continue to strongly advocate for all nurses and health care professionals to have the highest level of protection, which includes access to COVID-19 vaccines.
What Do Nurses Think?   
Nurses have mixed feelings. 
For instance, Sarah Franklin, RN, a Clinical Care Coordinator from Chicago, IL explains that she has "no problem" with mandates for nurses. "As healthcare professionals, we have a duty to protect ourselves and our patients from preventable diseases and lead by example when it comes to trusting and practicing evidence-based medicine," she says. "The science has been pretty clear so far that the Covid vaccines work and are safe and honestly, if you're not willing to accept that then maybe you're in the wrong line of work."
"Half of me says, yeah, I'm all for mandating the vaccine for health care workers. I've been disappointed when I've heard some co-workers' reasoning for not getting it and they are in direct contact with COVID patients, but the other piece of me supports the fact that large institutions don't get to govern what we want to do with our bodies," Matt Jones, an ICU nurse from Lansing, Michigan who has worked directly in COVID wards, tells Nurse.org. Jones represents many of the frontline nurses who have seen firsthand the destruction that COVID can cause. He explains that along with anesthesia, he was often the last face COVID patients facing down intubation would see. "I've never seen so many people die in 24 hours in an ICU, I think 15 was the record," Jones says. 
"It's so sad–they knew, they watched the news. They knew if they bought a breathing tube they had roughly a 76% mortality," he continues. "We would let them sit on high flow or BIPAP max settings for days on end. Not being able to eat or even get up to use the restroom because they didn't have the reserve. I would come in when they tipped (couldn't recover) sitting at 60 to 70% spo2, only to be tubed an hour or so later. What could have prevented all that or at least drastically increased their odds you may ask? A vaccine."