Nursing Student Invents Lumify Wearable LED Light, Tech Startup
If you're a nurse who has ever known the struggle of trying to check in on your patient without waking them up during your night or early shift––or even, worse, trying to treat or chart on patients in a shared room––you'll understand exactly why the Lumify wearable LED light is the genius tool that every healthcare worker needs in their life. 
The brainchild of nurse-turned-CEO Anthony Scarpone-Lambert and Neonatal Intensive Care Unit (NICU) nurse and co-CEO Jennifferre Mancillas, BSN, RN RNC-NIC, Lumify Care has already been lighting up the media circuit, garnering coverage everywhere from The New York Times to ABC News. But just why is Lumify so illuminating as the must-have nurses' tool? 
Let's take a closer look.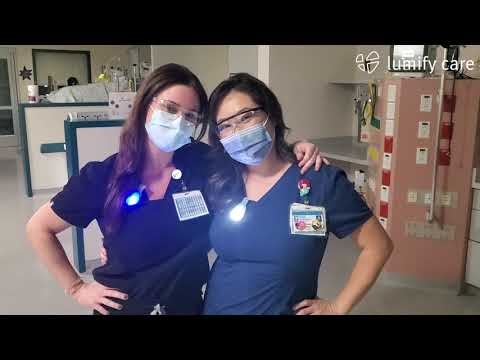 What is Lumify Care? 
Lumify Care is a platform start-up company that offers tools ––from the Lumify Hub, which Scarpone-Lambert describes as "Amazon for frontline healthcare workers" to the Lumify app, currently in development––all with the same goal in mind: supporting frontline healthcare workers and improving patient experience with the right tools and resources.
What makes Lumify Care so unique is that the company was co-founded by Scarpone-Lambert, while still a nursing student at the University of Pennsylvania (he graduated in May 2021) and Mancillas, who had spent most of her nursing career in adult care and pediatrics, including the NICU. 
Scarpone-Lambert, who grew up doing Broadway plays and has a passion for acting, tells Nurse.org he chose nursing for its versatility. "I just loved how nursing presented that versatility, whether I wanted to be a bedside nurse after nursing school or whether I wanted to start a business or go into tech, or go to med school after," he points out. "The options were endless."
Mancillas, on the other hand, had a more clear-cut journey into nursing. She initially dreamed of becoming a doctor until she actually learned what it is that nurses do. 
"Nursing felt like the perfect mix of caring for people and fixing problems, which are two of my biggest passions," she says. "So it was really exciting to find a profession to kind of fit both of those niches and allowed me to go and create impact."
Mancillas also witnessed firsthand the impact that nurses can have, as she watched her sister, who was born with a cardiac defect, spend a lot of time in and out of the hospital before passing away. "Being able to be a nurse in the same environment that cared for her was really, full circle and meant a lot for not only me, but my family," she says. 
Although they have two very different backgrounds and different approaches to the business of healthcare the two work together beautifully as a team. "Jennifer comes from the neonatal ICU, she's very organized, very type three on the Enneagram; me however, I am an Enneagram seven, I love ideas, I love marketing, I love sales, I love getting people empowered behind a mission," says Scarpone-Lambert
The duo initially met at a Nurse Hackathon sponsored by Johnson & Johnson and hit it off.  Although their first project at the Hackathon didn't pan out, they decided to team up once again as the pandemic highlighted a troubling lack of vital resources for nurses. "We just really loved working together and had this really great synergy," Scarpone-Lambert says. 
According to the website, Hackathon brings nurses and other individuals together to tackle human health problems by creating solutions in a supportive setting with colleagues and mentors. While not solely for the nursing profession, most participants have a nursing background.
As COVID raged on, both Mancillas and Scarpone-Lambert were working clinically. Scarpone-Lambert on his final rotations in the Emergency Room as a student and Mancillas in the NICU, so they saw firsthand the need for more support for frontline workers. 
"We both really shared this frustration that frankly, health care workers lack access to the tools and resources we need," Scarpone-Lambert notes. "[Nurses] really are the MacGyvers of healthcare––we're always solving our own problems, simply because there are no products and tools out there to solve a lot of our niche, simple problems that exist but ultimately have a really big impact for patient care."
And one of those niche problems? A way to actually take care of patients and get work done without significantly disrupting them when they're resting. "87% of frontline healthcare workers struggle to see while providing care to their resting or sleeping patient," Scarpone-Lambert explains to Nurse.org. 
Much of nurses' MacGyvered solutions for dealing with the struggle to see and provide care while quite literally left in the dark, has been ineffective and sometimes unsafe strategies, like penlights or cell phone flashlights. Cleaning a cell phone presents it's own problems especially during COVID times. The most common answer was relying on those awful room lights that Lumify's data has found disrupts patients an average of nine times per night.
In fact, the struggle is so real that it's been impacting patient care. For instance, according to Lumify, a patient's ability to rest during a hospital stay has a 40% larger impact on their satisfaction scores than medical quality of the facility. And patients regularly report that poor quality sleep is the #1 complaint of their hospital stays. 
If you're a nurse, you're pretty familiar with the fact that there is a bit of an oxymoron in the nursing world; despite all of the evidence and knowledge we have about how important sleep is for healing, nurses know the last thing patients can actually do is sleep at a hospital. 
This is where Lumify Care comes in. After both nurses noticed a need for a solution that would allow them to check on their patients without disrupting them and after much testing and input from fellow healthcare workers, their first product was born. 
Lighting the Way
That first product was the uNight Light, a wearable LED light for around $20. Shaped much like a stethoscope clip, it can attach directly onto your scrubs or fit over a pocket and once it's illuminated, is completely hands-free so you can do what you need to do without worrying about turning on overhead lights and disturbing your patients. 
The uNight Light has three different light settings that nurses can choose from to optimize patient care: 
Red: this serves as a "night vision" light and is most appropriate for tasks like checking on a sleeping patient.
White: this is your "need to get stuff done but don't want to wake up your patient" light and it's appropriate for things like hanging a new IV bag (that you need to see to verify), assessments, checking a line, or preparing meds. 
Blue: this is an active-type light that, while appropriate for nurses to utilize to work, is still dim enough not to be seen by patients. 
"White light is obviously helpful for that closer assessment," explains Scarpone-Lambert. "The blue light really is to benefit our frontline healthcare workers. A long shift can get tiring and blue light has benefits to keep you energized and alert and awake." 
He adds that there's even been research that shows that blue light can help increase your tactile functioning while working during the night. "Through those three lights settings, inspired from the military, we're really able to add that additional value-add to our frontline healthcare worker users," he points out. 
In addition to the individual light settings, the uNight Light also has several specific features that make it useful in a clinical setting: it's light-weight, hands-free, liquid-repellent, and cleanable by any hospital-grade disinfectant.
Whilethe uNight Light was specifically designed with the needs of night shift workers in mind, Mancillas tells Nurse.org that the light is not just for night shift. For instance, day shift nurses can start rounds as early as 6:30 a.m., which is when many patients are still sleeping (or trying to sleep). 
"We've had hundreds, if not thousands, of people who have purchased the uNight Light working day shift," she explains. "So, it definitely is versatile in how handy a tool it is for both shifts."
Just how handy is it? Well, according to Lumify, over 10,000 nurses at 100+ healthcare organizations have used the product so far, which equals an impact reaching over 1 million patients. 
Lighting up the Future of Healthcare
As Scarpone-Lambert shares with Nurse.org, although Lumify started with one simple product, the company's light is reaching many different aspects of healthcare. 
He notes that despite the fact that the idea of a wearable light is very simple–"it's not rocket science," he quips–it was innovative and impactful for frontline workers. And it's that innate knowledge of even the simplest solutions that nurses and healthcare workers need that makes Lumify shine. 
"We built Lumify very much from the beginning with this goal of building tools and resources to support our frontline healthcare workers, starting with this first product, and since then we've kind of grown into this overall digital ecosystem that helps frontline healthcare workers access all the tools and resources they need, including Lumify Cares products," he says. "We're both a software and product company today, but it started very much with this flagship product." 
From that flagship product, Scarpone-Lambert and Mancillas are building a company that will continue to serve as a beacon of light for healthcare workers. For instance, Lumify Care partners with the Global Nurse Foundation and donates uNight Lights to healthcare facilities lacking sustainable electricity with every bulk purchase of uNight Lights. And Scarpone-Lambert explains that every Lumify product contains a QR code on the back to connect the user to Lumify's broader digital ecosystem, the Lumify Hub, which has over 50 curated brand partners, featuring everything from  scrubs to shoes to continuing education. 
And thanks to a recent backing by YCombinator, a tech startup accelerator in San Francisco, the company will soon be expanding even more into the tech space, including through the launch of their own app. Lumify is the first fully nurse-led team to ever be a part!
Through all of the exciting developments and the major successes their company has already seen, these two nurses are staying focused on what has been their goal since the beginning: shining a light towards more resources and support for frontline healthcare workers. They hope to accomplish this through the launch of international sales and have a second version of the uNight Light launching in early 2022.
Whether that's in the physical light from their uNight Light or through sharing their story as nurse-turned-entrepreneurs, this is a duo that believes in the power of nurses.
"As nurses ourselves we want to support our fellow frontline healthcare workers and just try to solve as many problems that they experience on the frontline as possible," says Scarpone-Lambert. "If you are [a] healthcare worker, if you're a student, if you're just getting into healthcare, if you've been a healthcare worker for 40 years, you are an innovator. You are a natural innovator and we are innovating every day at bedside caring for patients every day."
Have a great idea, want to order uNight Lights for your facility, or just want some more inspiration from Scarpone-Lambert and Mancillas? Feel free to reach out to them at Founders@LumifyCare.com.