How the Minnesota Nurses' Strike Was Averted in a "Historic Win"
Image Source: Minnesota Nurses Association/Instagram / MPR News
With the threat of a strike that would have involved 15,000 nurses, over 12 hospitals in the Twin Cities and Twin Ports areas of Minnesota reached an agreement with just days to spare. The strike had been scheduled to begin on Sunday, December 11, but it has now been called off. 
The Minnesota Nurses Association (MNA) told MPR News that the new deal included significant pay increases and "unprecedented language" that allows nurses to have a say in staffing. A press release by MNA also noted that the pay rate increases were "historic" and the union is recommending that all members vote to ratify the tentative agreements that were reached with Children's Minnesota, North Memorial, Allina Health, M Health Fairview, and HealthPartners in the Twin Cities, and Essentia Health and St. Luke's in Duluth. 
Why the Minnesota Nurses Strike Was Proposed
Mary C. Turner, RN at North Memorial Hospital and President of the Minnesota Nurses Association said that the strike came after years of hospital executives pushing nurses out of the profession by "under-staffing units and under-valuing nurses." 
According to the MNA, nurses in the organization have been fighting for decades to update contract language and legislation to ensure safe staffing. And now, after 9 months of negotiations, the fight appears to be over, prompting Turner to call the tentative agreement a "historic win" for both nurses and patients. 
"This tentative agreement will help to keep nurses at the bedside, where we will keep fighting to oppose the corporate healthcare policies which threaten our hospital systems and the care our patients deserve," she added. 
Both Turner and some of the hospitals involved in the strike expressed gratitude and relief that an agreement was able to be reached before the strike happened—and before the holidays and historically high rates of flu and RSV infections hit. "I think nurses are relieved that we are not going to be walking out in December, before the holidays," she told MPR News. "Nobody really wanted this. But this is what we needed to do to get the action that we needed for our patients and our profession."
Allina Health also said in a statement that the organization "is pleased with the settlement, which reflects the priorities of both parties and is fair and equitable to our employees, patients and communities. We are thankful to be able to return our full attention to caring for the community at this time of increased illness and demand."
If carried through, the strike would have been a serious one. AP News reported that the Children's Hospital was prepared to cut its ICU capacity to half and ship critically ill patients to another state entirely.  
What's in the Agreement
According to the union, the key pieces of the tentative agreements are pay raises that breaks down to:
18% pay raises over 3 years for nurses in the Twin Cities

17% pay raises for Twin Ports nurses

Pay will be retroactive up to the previous contract's expiration

The pay raises are the largest won by MNA nurses in over two decades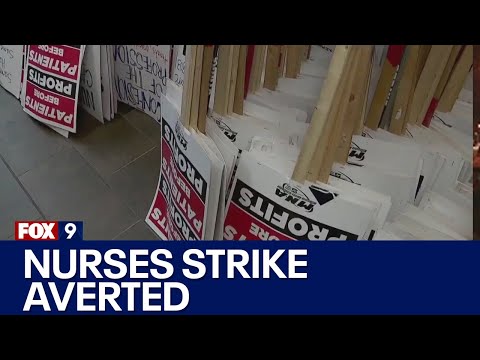 In addition to contract pay raises, the union reported that preceptor pay will also be raised in the new contract. Precepting is an important step towards training and retaining new nurses, but can be an additional burden to already over-stressed and overworked nurses. 
Nurses Will Now Get a Say in Staffing 
And while the pay increases are an important win for nurses, the MNA highlighted the fact that the true win of the agreement was the inclusion of "unprecedented language" in the proposed contracts that will give nurses a say in staffing. The language includes addressing how staffing will:
Prevent reductions in staffing levels without consensus between nurses and management

Help protect nurses from discipline when they raise concerns about unsafe assignments

Trigger reviews of staffing levels by nurses and management in response to key measures of patient and nurse well-being and outcomes
On Facebook, MNA nurse Kim Tueffel also further broke down some of the specifics of what oversight guidelines might be employed for actually carrying out the staffing issues. She explained that each bargaining unit will have its own language and some facilities have proposed using things like core measures increases as a trigger to evaluate staffing levels. But at the very minimum, what the MNA is celebrating is that for the first time, actual nurses will be included in staffing evaluations. 
"We fought for ways to include nurses in staffing evaluation etc.," she explained in response to an inquiry on Facebook. "That's part of the point of having contract language. That's why we were willing to strike. Of course, we can't magically fix every problem in the hospital but improvements help us move in the right direction."
Nurses React
Commenters on MNA's press release expressed their excitement and gratitude for the nurse leaders willing to help make these negotiations happen—and veteran nurses chimed in to let current nurses know they really aren't imagining things: it really is that tough for nurses in the workforce right now. 
Image Source: MNA Press Release
Comments also poured in on MNA's Facebook post announcing that the strike had been called off, with both current and retired nurses pointing out that strikes are generally a situation both sides hope to avoid if possible. "The best strike is the one that doesn't have to happen because they take you seriously and negotiate," commented Melanie Lynn Sedqi. 
Image Source: MNA Facebook
"For nine long months in these negotiations, nurses have insisted that workers and patients deserve better in our hospitals," summed up Chris Rubesch, RN at Essentia in Duluth and First Vice President of the Minnesota Nurses Association. "This tentative agreement is a critical step to address the chronic short-staffing and other corporate healthcare policies hurting patients and nurses at the bedside. With new staffing language and fair wage increases, nurses are empowered to continue the fight to protect care in our communities."
Members of the MNA will be contacted by their union reps this week to vote on finalizing the contract this week. St. Luke's Lake View Hospital in Two Harbors was not part of this tentative agreement and will be continuing negotiations.