A Nurse Case Manager, also known as a care coordinator, specializes in the organization and collaboration of patient care and treatment by all members of the care team.
Often, patients will be managed by multiple specialties and there will be numerous doctors involved. The case manager will ensure all of them are working as a team to provide the best care for the patient. In this guide, we'll cover everything you need to know about what a case manager is, what they do, and how you can become one.
Part One What is a Nurse Case Manager?
A case manager is a specialized Registered Nurse (RN) that works with patients and providers to determine the specific care that is required and the best options for that care. Through a collaboration with multiple specialties, case managers ensure the patient is receiving quality medical care.
Each patient's case is looked at individually because the needs of the patients will vary depending on their underlying chronic health condition. Case Managers act as patient advocates and make sure the needs of the patient are met effectively and efficiently.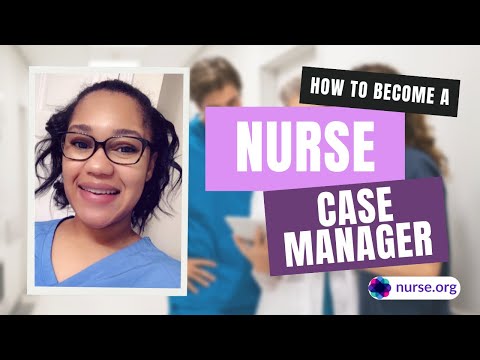 Part Two Nurse Case Manager Salary
According to payscale.com, the annual salary for an RN case manager as of 2023 is $77,104 per year or roughly $36.96 per hour, though salaries vary by area. 
Case Manager Pay by Levels of Experience
Payscale.com indicates the following pay by experience level for care managers:
Entry level: $69,968/ year
Early-career: $76,020/ year
Mid-career: $78,663/ year
Experienced: $81,835/ year
Highest Paying States for Case Managers
Case managers have reported the highest salaries in the following locations as of July 2023 according to ZipRecruiter,
Wyoming - $78,983
Arizona - $78,923
Tennessee - $77,065
New Jersey - $76,649
Hawaii - $76,589
Case Managers are generally salary-based employees. While some healthcare systems will pay an hourly rate, this is rare for this position. Those paid on an hourly scale are able to earn overtime pay, whereas salaried employees would need to discuss that with the hiring committee.
As with all jobs in the nursing field, earning potential increases with additional education and experience. Nurses typically are awarded a raise during annual employee performance reviews. Certifications can give nurses an additional bump in their paychecks. 
Due to the fact this is a salary-based position, the earning potential is not as high as a bedside nurse. There are fewer opportunities outside of annual performance evaluation raises and cost of living increases.
Part Three How to Become a Nurse Case Manager
Step 1: Graduate from an Accredited Nursing Program
The first step to becoming an RN case manager is becoming a registered nurse. To do that, you'll need to start by earning either your ADN or your BSN from an accredited nursing program.
Step 2: Pass the NCLEX-RN
Next, you'll need to take and pass the NCLEX-RN examination in order to become a Registered Nurse.
Step 3: Gain Nursing Experience
In order to get the skills and qualifications you'll need as an RN case manager, you'll need to get at least 5 years of nursing experience under your belt. 
Step 4: Get a Position that Specializes in Case Management
While you're earning your experience, you'll also want to obtain a position that specializes in case management. 
Step 5: Earn Your Certification in Case Management
There a multiple options for certification for Case Managers. 
Part FourWhat Do Nurse Case Managers Do?
Case Managers are often the glue that holds a team of healthcare professionals together. They are involved in the coordination of care of an individual patient to identify resources and services best suited for the patient. 
Case Managers will often have multiple patients they manage at any given time and will continue to follow those patients if they are re-admitted. Often, the patients that are frequently hospitalized or seen in an outpatient clinic will be flagged so the case manager is aware of their presence in the healthcare system.
Case Managers generally work with patients that have chronic health conditions such as diabetes, heart disease, seizure disorders, and COPD. While it is possible for a Case Manager to work with any patient in the hospital, most of their caseload is patients that require additional monitoring and follow-up, as well as considered high risk.
Case Managers more specifically perform the following duties:
Decrease hospitalizations for high-risk individuals
Identifying client needs, current services, and available resources, then connecting the client to services and resources to meet established goals
Screening clients and/or population for healthcare needs
Collaborate with other healthcare professionals
Assist transfer to facilities and other care environments
Oversee systems for identifying high-risk patients through EMR, referrals, registries from health insurance payers
Oversee the discharge process
Book their patients' doctor appointments and follow up to make sure they keep them.
Serve as a resource for their patients, offering education and guidance to patients and their families as they navigate complex medical decisions.
Develop and manage the overall long-term health care plan for patients with chronic or serious conditions such as Alzheimer's disease, diabetes, and heart disease.
Develop a tracking system for patient care coordination and care management across the continuum, including care transitions, Primary and Specialty Care.
Act as clinical liaison for Payer Based Care Management programs
Follow-up with patients within 24 hours on inpatient discharge and within 48 hours of ED visit notification
Monitor medication usage by a patient
Monitor and update treatment plans to reflect the patient's current condition
Assist patients in navigating the health care system.
Coordinate Specialty care, follow-up on test results and other care coordination needs.
Promote self-management goals
Research the latest treatments and procedures in their chosen area of specialization
Partner with external case management programs to coordinate care
Educating the client/family/caregiver about the case management process and evaluating their understanding of the process
Developing a client-focused case management plan
Promote quality, cost-effective care, and patient outcomes
Part Five Where Do Nurse Case Managers Work?
Case Managers can work in a variety of settings. Most commonly they are found in the following areas:
Hospitals
Insurance Companies
Long-term care facilities
Medical supply companies
Hospice
Palliative care
Community health centers
Public health centers
Oncology outpatient centers
Outpatient clinics
Home healthcare companies
Government agencies
Part Six What are the Continuing Education Requirements for an RN Case Manager?
RN Case Managers have the same continuing education requirements as other RNs. This will vary on a state by state basis. While there are no specific CEU requirements for a Case Manager, specific certifications require CEUs. If an advanced certification is held, individuals should refer to the accrediting organization's website for specifics regarding the CEUs.
Generally, in order for an individual to renew their RN license, they will need to fill out an application, complete a specific number of CEU hours, and pay a nominal fee. Each state has specific requirements and it is important to check with the board of nursing prior to applying for license renewal.
A detailed look at Continuing Nurse Education hours can be found here.
Part Seven What is the Career Outlook for an RN Case Manager?
Currently, there is no exact career outlook data for case managers. According to the BLS, in 2021, there were 3,080,100 Registered Nurses in the United States. By 2030, there will be a need for additional 276,800 nurses, which is a projected growth of 9%. With the aging population, this number is expected to be even higher.
Because RN Case Managers generally work with the older population with chronic health conditions, the need for this highly specialized field will continue to rise. Furthermore, there is an increasing need for nurses throughout the United States and this number will only continue to rise.
Part Eight Where Can I Learn More About RN Case Managers?
Part Nine Nurse Case Manager FAQs
What is an RN Case Manager?

A case manager is a specialized RN that works with patients, usually with chronic health conditions, to coordinate their care during hospitalizations, outpatient appointments, and home care. 

What is the Average Salary of a Case Manager?

According to payscale.com, the annual salary for an RN case manager as of July 2022 is $75,744 per year or roughly $36.28 per hour.

What are the Five Components of Case Management?

Care delivery and reimbursement methods, psychosocial concepts and support systems, quality and outcomes evaluation and measurements, rehabilitation concepts and strategies, and ethical, legal, and practice standards

What Qualities Should a Case Manager Possess?

Strong time management skills, organization, effective communication skills, decision-making and problem-solving abilities, autonomy, teamwork, a creative personality, strong clinical skills and confidence
*Indicates an affiliate link. At no additional cost to you, Nurse.org may earn a commission if you click through and use this service.
RN
$70,000 - $90,000
Associate
Bachelors
Non-Bedside
Case Manager