Rehabilitation nurses work with patients suffering from acute and chronic illnesses, injuries, and disabilities. A rehabilitation nurse's main objective is to help patients gain independence and/or help families care for their loved ones. In this guide, we'll explain what a Rehabilitation Nurse does, how to become one, how much they make, and more!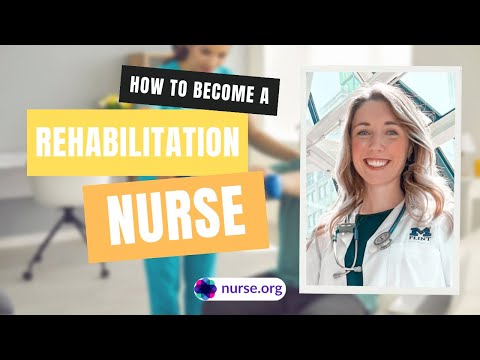 Part One What is a Rehabilitation Nurse?
Generally, a rehab nurse assists patients with chronic illnesses or disabilities. Rehabilitation nurses can also work with individuals after a trauma or acute illness. 
According to the Association of Rehabilitation Nurses, rehab nurses can work with patients suffering from illnesses and injuries such as, 
ALS
Amputation
Brain injury
Burns
Cancer
Cardiovascular
Cerebral palsy
Guillain-Barre syndrome
Parkinson's disease
Major joint replacements
Multiple sclerosis
Organ transplant
Pulmonary disease
Spinal cord injury
Stroke
Part Two What Does a Rehabilitation Nurse Do?
Job responsibilities vary greatly amongst rehab nurses depending on the place of employment. More specifically, rehabilitation nurses perform a variety of nursing interventions, including the following:
Assisting patients to achieve and maintain maximum function and independence
Assisting patients to adapt to a new or changed lifestyle 
Providing a therapeutic environment for patients, their families, and caregivers
Educating patients, families, and caregivers about their disease and treatment plan
Recording patients' medical information and vital signs
Preparing and updating nursing care plans
Changing wound and/or surgical dressings
Continually assessing the patient's level of independence, injury, or disability
Administering medications as ordered
Performing tracheostomy care
Administering blood products and enteral feedings via a gastrostomy tube
Coordinating care with other healthcare professionals
Lifting and transferring patients
Determining if a patient is able to perform ADLs independently or with assistance 
Part Three Rehabilitation Nurse Salary
According to the U.S. Bureau of Labor Statistics (BLS), the median salary for a registered nurse in 2022 is $81,220 per year or $39.05 per hour, but conditions in your area may vary. The BLS does not differentiate between different specialties of nursing, but Glassdoor.com reports an annual average salary of $78,519 for Rehabilitation Nurses.
Payscale.com reports salaries for Certified Rehabilitation Registered Nurses. They found that the annual average salary was $71,347 or $31.49/hr. 
Specifically, Rehabilitation Nurses can earn a higher annual salary with increased years of experience.
Less than 1 year of experience earns an average hourly wage of $29.39
1-4 years of experience earn an average hourly wage of $29.85
5-9 years of experience earns an average hourly wage of $31.26
10-19 years of experience earns an average hourly wage of $34.72
20 years and higher years of experience earns an average hourly wage of $36.00
Currently, the highest average paid states for Rehabilitation Nurses that have reported salaries, according to payscale.com, are as follows:
Dallas, Texas - $36.49/ hr
Seattle, Washington -  $35.61/ hr
Phoenix, Arizona - $32.11/hr
Houston, Texas - $31.99/hr
Part Four How Do You Become a Rehabilitation Nurse?
To become a Rehabilitation Nurse, you'll need to complete the following steps:
Attend Nursing School

You'll need to earn either an ADN or a BSN from an accredited nursing program in order to take the first steps to becoming a registered nurse. ADN-prepared nurses can complete an additional step of completing their BSN degree if they wish. 

Pass the NCLEX-RN

Become a Registered Nurse by passing the NCLEX examination.

Earn Your Certification

The Association of Rehabilitation Nurses offers the Certified Rehabilitation Registered Nurses Certification to eligible nurses. While not required, most nurses find this certification as a way to advance their careers. 
Part Five Where Do Rehabilitation Nurses Work?
The vast majority of rehabilitation nurses work in either outpatient or inpatient rehab centers. Rehab nurses can work in a variety of locations, including:
Outpatient rehabilitation centers
Sub-acute care units
Inpatient rehabilitation centers
Hospitals
Long-term care facilities
Assisted living facilities
Home care agencies
PT/OT offices
Fitness facilities
Medical offices
Insurance companies
Community centers
Academic settings
Government agencies
Regardless of workplace setting, full-time and part-time nurses enjoy similar benefits. While actual benefits may vary depending on the institution, most include the following:
Health insurance
Certification Reimbursement      
Retirement Options
Holiday Pay
Family Leave of Absence
Maternity Leave
Dental Insurance
Dependent health insurance coverage
Life Insurance
Paid time off
Relocation assistance
Childcare
Bereavement leave       
Vision Insurance        
Discounts on extracurricular activities      
Continuing Education Reimbursement
Relocation packages
Attendance at nursing conferences
Part Six What is the Career Outlook for a Rehabilitation Nurse?
According to the BLS, in 2022, there were 3,172,500 Registered Nurses in the United States. By 2032, there will be a need for an additional 177,400 nurses, which is an expected growth of 6%.
Part Seven What are the Continuing Education Requirements for a Rehabilitation Nurse?
Generally, in order for an individual to renew their RN license, they will need to fill out an application, complete a specific number of CEU hours, and pay a nominal fee. Each state has specific requirements, and it is important to check with the board of nursing prior to applying for license renewal.
If the RN license is part of a compact nursing license, the CEU requirement will be for the state of permanent residence. Some states require CEUs related to child abuse, narcotics, and/or pain management. 
A detailed look at Continuing Nurse Education hours can be found here.
Part Eight Resources for Rehabilitation Nurses
Check out these additional resources for more information on rehabilitation nursing!
Part Nine Rehabilitation Nurse FAQs
What is the role of a rehabilitation nurse?

The role of the rehab nurse will vary depending on work location. Inpatient and outpatient rehab nurses will have some similar functions but inpatient nurses will also be responsible for general nursing duties. Rehab nurses work in collaboration with other healthcare professionals to develop comprehensive rehab plans for their patients. 

Is rehabilitation nursing hard?

Nursing, in general, is a difficult profession. Regardless of specialty, nursing is a demanding but rewarding profession. Rehab nursing can be more physically demanding than some nursing specialties because of the patient population and needs of the patients. 

What certification does a rehabilitation nurse need?

The Association of Rehabilitation Nurses offers the Certified Rehabilitation Registered Nurses Certification to eligible individuals. 
RN
$70,000 - $90,000
Associate
Bachelors
Rehabilitation
Bedside