How to Become a Psychiatric Nurse
17 Min Read
Published September 29, 2023
It takes a special form of caring to be a psychiatric nurse. People with mental health issues rely on psych nurses to manage their complex physical and emotional needs. Psychiatric nursing is a fulfilling career that offers variety and new challenges each day.
What is a Psychiatric Nurse?
Psych nurses work with children, teens, and adults of all ages. They are skilled in treating anxiety, depression, bipolar disorder, schizophrenia, and substance abuse, to name a few. 
Also known as psychiatric-mental health nurses (PMHNs) American Psychiatric Nurses Association, psych nurses provide mental health services for individuals and communities. They must have good communication and relationship skills, flexibility, openness towards diverse lifestyles, and a strong foundation in the basic and behavioral sciences.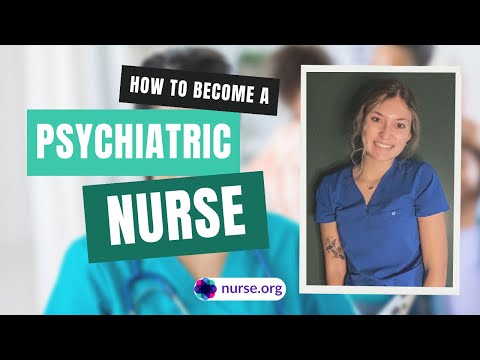 Psychiatric Nurse Salary
Psychiatric nurse salaries vary depending on your level of education, years of experience, size of employer, and where you live and work. In May 2022, the Bureau of Labor Statistics (BLS) reported the median annual wage for registered nurses was $81,220 or $39.05 per hour. Unfortunately, the BLS does not differentiate between different types of nurses. 
The mean annual income for a nurse working in the psychiatric or substance abuse hospital setting according to Payscale.com was $72,538, though conditions vary by area. 
The average Psychiatric Nurse Practitioner salary is $144,761 per year, according to Indeed, making them one of the highest paying nurse careers. 
Pay differentials boost nursing salaries. They are added to your base hourly rate for evening or night shifts, charge duties, or for mentoring new nurses. Sometimes higher salaries are offered for having a BSN or MSN. Sign-on bonuses may be available depending on the demand for nurses. And in some work settings, nurses are eligible for overtime pay. 
Show Me Psychiatric Nursing Programs
Highest Paying States for RN Salaries
| | |
| --- | --- |
| California | $133,340 |
| Hawaii | $113,220 |
| Oregon | $106,610 |
| Massachusetts | $104,150 |
| Alaska | $103,310 |
*BLS 2022
It's important to look at the big picture when you consider total compensation. Also consider continuing education or tuition support, health insurance coverage, and the number of paid days off. Travel nursing can boost salaries for adventurous nurses who want flexibility in location and lifestyle. 
How to Become a Psychiatric Nurse
Step 1. Complete a Nursing Program
First, you must complete an entry-level nursing program. Most programs offer a clinical rotation in psych nursing, which lets you see what it's like to work in the field. Volunteering in an agency that serves people with mental health issues can also provide insight into working with these patients.
You can graduate from a two- year program for an associate's degree in nursing, a three-year program for a diploma in nursing (usually hospital-based), or a four-year college or university program leading to a bachelor's degree in nursing
Step 2. Earn your RN License
Take the RN licensing exam after graduation, also known as the NCLEX (National Council Licensure Examination). The NCLEX is a nationwide examination for the licensing of nurses in the United States and Canada
Once you pass this exam, you may apply for your first nursing job
Step 3. Earn your Certification in Psychiatric Nursing
If you want to hone your skills even further, you can become certified through the American Nurses Credentialing Center (ANCC) which offers this credential. 
Certification requires the following, and is valid for five years: 
Hold a current, active RN license in a state or territory of the United States or hold the professional, legally recognized equivalent in another country.
Practiced the equivalent of 2 years full-time as a registered nurse.
Minimum of 2,000 hours of clinical practice in psychiatric–mental health nursing within the last 3 years.
Completed 30 hours of continuing education in psychiatric–mental health nursing within the last 3 years.
>> Explore Psychiatric Nursing Certification Review Materials* 
Step 4. Advance Your Psychiatric Nursing Career
If you want to expand your scope of practice and earning potential, become an advanced practice psychiatric nurse. The title is a psychiatric mental health nurse practitioner (PMHNP-BC) or psychiatric mental health clinical nurse specialist (PMHCNS-BC), depending on your state. See our article, CNS vs. CNP for more information on these roles. Review your state's guidelines via the National Council of State Boards of Nursing.
Advanced practice psych nurses have a master's or doctoral degree in nursing. The ANCC also issues certification for these nurses.
Choosing a graduate school is a big decision. Verify that your school is accredited by the American Association of Colleges of Nursing (AACN) or the National League for Nursing (NLN). For a listing of programs nationally, check the listing the (APNA) provides on its website, searchable by state. 
PMHNP Specialization Options for Practicing NPs
If you're already an NP but want to specialize in psychiatric mental health, you'll still need to pursue additional education and certification. However, you won't need to attend another MSN program. Instead, you'll attend a PMHNP certification program.
PMHNP post-graduate certificates allow nurse practitioners in other specialties to transition to mental health. The shortest online PMHNP certificate programs are just 12 months long, allowing you to change your career trajectory swiftly.
Top Psychiatric Nurse Programs
There are numerous programs that prepare students to become psychiatric nurses and our panel of nurses ranked them based on factors mentioned in the methodology. Because individual nursing pathways and careers take various forms, the top 10 programs are ranked in no particular order. 
Methodology
This list is based on a number of factors including:
Reputation
Tuition
Acceptance rate, when available
Only ACEN or CCNE accredited schools are eligible
Psychiatric nurses can earn either a master's or doctoral degree, so this list takes into account both degree options. 
Nurse Panel
Our selection panel is made up of 3 Registered Nurses with years of experience and multiple degrees:
Tracy Everhart, MSN, RN, CNS
Tyler Faust, MSN, RN
Kathleen Gaines, MSN, BSN, RN, BA, CBC
What Does a Psychiatric Nurse Do?
Psychiatric nurses are detail-oriented, conscientious, and able to juggle many priorities. The ability to manage your own emotional responses in stressful situations –with escalating patients, for example –  is a must. A love of constant learning about new therapies, including medications and their use, is a plus. 
Developing good self-care practices is crucial in keeping professional and personal balance. Being flexible and open to patients from many cultural backgrounds, income levels, and value systems are "musts" for a successful psych nursing career.
As a psych nurse you may:
Assess patient status
Provide care based on treatment and nursing care plans
Provide counseling and lead therapeutic groups
Give medication and assess for responses and side effects
Teach patients or clients coping skills 
Work closely with other members of the healthcare team
Advanced practice psych nurses work in primary care and other settings.
Your responsibilities require you to work independently and with others: 
Assess and diagnose mental health conditions
Design and carry out treatment plans
Provide primary health care
Prescribe medications 
Order and interpret diagnostic tests
Provide psychotherapy
Make referrals as appropriate
>> Related: What Does a Psychiatric Nurse Practitioner Do?
Where Do Psychiatric Nurses Work?
Psych nurses have many choices when it comes to work setting:
Assisted living facilities
Behavioral care companies
Community mental health centers
Hospitals – medical centers and VA hospitals
Long term care center
Military clinics or hospitals
Primary care offices
Private practices
Rehabilitation center
Specialty psychiatric or substance abuse hospitals
State and federal facilities (prisons and other agencies, including the court system – for forensic and other psych nurses)
Universities and colleges
Show Me Psychiatric Nursing Programs
Psychiatric Nurse Career Outlook
The Bureau of Labor Statistics predicts that nursing employment will grow 6 percent from 2022 to 2032. There is a shortage of psych nurses, with baby boomer nurses nearing retirement and the growing health demands of our aging population.  
Public awareness about mental health is increasing, no doubt prompting more people to seek help. The National Institute of Mental Health states that nearly one out of every five adults or 51.5 million in the U.S. deals with some sort of mental illness, as of 2019.
Clearly, there will be future demand for psychiatric nursing at all levels, especially given the current shortage of qualified nurses.
Sources: Nami.org, CDC.gov
What Are the Continuing Education Requirements for Psychiatric Nurses?
Clinical practice and continuing education requirements for renewing a nursing license, certification, and advanced practice certification vary by state and credentialing agency.
Check with your state board and professional organization for the rules on keeping your RN license and certification up to date. You can also visit our Continuing Nursing Education Guide for details. 
Where Can I Learn More About Psychiatric Nursing?
Learn more about psych nursing by searching the web, and talking with nurses currently working in the field. Contact your state chapter of the APNA and ask to speak with a psych nurse in your area. 
Also, reach out to your local hospital or school of nursing to find out about any upcoming career fairs. Set up an appointment with a student advisor or career counselor at your local college or university. 
>> Related: Top 10 Psychiatric Nurse Practitioner Programs
Where Can I Find the Best Psychiatric Nurse Jobs?
Many sources can get you started on your search for psych nursing positions. First, check the "Careers" pages of websites for hospitals and agencies that interest you. Many online resources are available these days, including nursing social media sites, career sites, and dedicated nursing career sites such as our job board.  
A 2012 research effort found that states in the South and the West will be most affected by the nursing shortage. The 12 states with the most acute shortages predicted are Florida, Georgia, Texas, Virginia, Alaska, Arizona, California, Hawaii, Idaho, Montana, Nevada, and New Mexico. Check out these locations for opportunities – your ideal psych nursing job may await you.
Psych nursing is a versatile career path that offers variety in patients, work settings, and skills. Psych nurses play a vital role in improving the health and lives of patients, families, and communities. As a psych nurse, you'll know that your daily efforts improve the well-being of our society as a whole.
*Indicates an affiliate link. At no additional cost to you, Nurse.org may earn a commission if you click through and use this service.
RN
$70,000 - $90,000
Associate
Bachelors
Psychiatric
Non-Bedside