How to Become a Surgical Nurse
21 Min Read
Published September 29, 2023
A surgical nurse, also known as a perioperative nurse, operating room nurse (OR), or scrub nurse, is a registered nurse who's been trained to assist during surgeries. They care for patients before, during, and after surgical procedures and work on everything from life-saving procedures to elective ones. They work in hospitals, surgery centers, and clinics and must have obtained their registered nurse license and attended an accredited nursing program. 
Surgical nursing is a dynamic and challenging field that offers many opportunities for learning and professional growth.
 In this guide, we'll explain what a surgical nurse does, how much they make, how to become one, and more!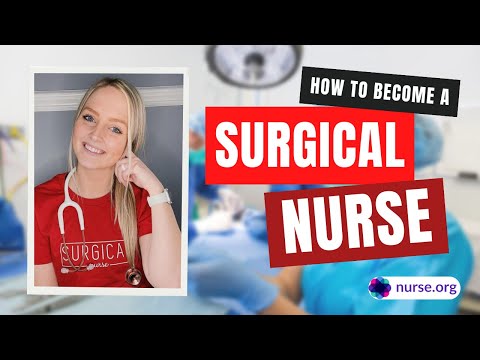 What is a Surgical Nurse?
Surgical nurses -- also known as perioperative nurses or operating room (OR) nurses -- provide pre-and post-op teaching, perform various roles in the operating room, care for patients in the recovery room (post-anesthesia care unit (PACU), and provide post-surgical care in medical-surgical units. 
There are many surgical subspecialties for learning, including:
Neurosurgery
Cardiac Surgery
Trauma
Pediatrics
Oncology
General Surgery
Urology
Ophthalmology
Ear/nose/throat
Dental
Orthopedics
Plastic and reconstructive
Transplant surgery 
Regardless of your chosen area of perioperative nursing, you'll be on a path of career-long learning that offers challenges, financial rewards, and opportunities for professional growth.
Characteristics of a Surgical Nurse
Surgical nurses must be:
Detail-oriented
Flexible
Able to juggle multiple priorities without missing a beat
Adept with technical skills
Team players
Excellent communication skills
Able to think critically in a fast-paced, challenging environment.
Emotional stamina is essential as the role requires dealing with life-threatening situations, and anxious family members.
Types of Surgical Nurses & Responsibilities
Surgical nurses assist with all aspects of surgery, and there are a variety of Perioperative nursing roles, including:
Scrub Nurses
Scrub nursing is a unique subspecialty within surgical nursing. Most nurses will be required to learn the role of a scrub nurse and rotate through this position during surgical procedures.
However, it's important to note that some hospitals will have assigned nurses specific to this role that WILL NOT perform other duties in the OR.
During surgical procedures, the role of a scrub nurse can be very different and very stressful. Essentially, you are the right hand of the surgeon. You are responsible for anticipating the surgical needs and knowing the specific functions and names of the surgical equipment. If you work in a teaching hospital, a resident or fellow might assume some of the responsibilities of the scrub nurse.
The specific responsibilities of a scrub nurse include, but are not limited to, 
Perform surgical scrub on the patient prior to the procedure
Set up the OR
Ensure all surgical tools are sterilized and accounted for
Scrub in during procedures
Hand doctor surgical tools during the procedure
Counting equipment, including sponges pre and post-procedure
Communicating with the surgical team
Scrub nurses are essential to ensure the proper flow of a procedure and make sure that the field and equipment remain sterile.
Circulating Nurses
Circulating nurses work outside the sterile field and manage activities in the operating room. They inspect surgical equipment, ensure that consent forms are signed, review pre-op assessments with the patient, and perform many other tasks.
RNFAs work with the surgeon to help with controlling bleeding, suturing,  watching for signs of complications, applying dressings and bandages, and carrying out many other functions. Additional education and training are required before becoming an RNFA.
PACU nurses care for patients immediately after surgery and anesthesia to monitor them closely as they stabilize, preparing them to be transferred to the medical-surgical or intensive care unit as appropriate.
Operating Room Directors
OR directors assume the business functions of running an OR. This includes managing budgets, staffing, and ordering equipment and supplies. This position can also prepare you for roles in management consulting, clinical nurse education, or work in medical technology and supply companies.
Medical-surgical nurses provide care to patients recovering from surgery. They provide close monitoring immediately post-PACU and –critical care and apply a range of technical and assessment skills to ensure patient safety and recovery (fluid and medication administration, monitoring for signs of bleeding and infection, wound care, and many others). They also provide post-op teaching for patients and caregivers.
Where Do Surgical Nurses Work?
Surgical nurses work in:
Hospitals (inpatient and ambulatory operating rooms, recovery rooms, medical-surgical care units)
Ambulatory surgery centers or day surgery centers
Clinics
Physician offices
Surgical Nurse Salary
According to payscale.com, the average annual surgical nurse salary is $60,831 per year or $32.14 per hour. As with most careers in nursing, salary increases as experience increases. For example, nurses with the following years of experience have this pay:
Less than 1 year of experience earns an average salary of $28.83
1 to 4 years of experience earn an average salary of  $29.92
5 to 9 years of experience earn an average salary of $30.68
10 to 19 years of experience earn an average salary of $35.59
Over 20 years of experience earn an average salary of $40.77
>> Related: OR Nurse Salary
Highest Paying States for Surgical Nurses
| | | |
| --- | --- | --- |
| State | Annual Salary | Hourly Wage |
| New York | $84,248 | $40.50 |
| California | $81,644 | $39.25 |
| Idaho | $81,239 | $39.06 |
| New Hampshire | $79,465 | $38.20 |
| Vermont | $78,208 | $37.60 |
Highest Paying Cities for Surgical Nurses
| | | |
| --- | --- | --- |
| City | Annual Salary | Hourly Wage |
| Santa Clara, CA | $93,788 | $45.09 |
| San Francisco, CA | $90,735 | $43.62 |
| Fremont, CA | $88,612 | $42.60 |
| Marysville, WA | $87,564 | $42.10 |
| San Jose, CA | $85,694 | $41.20 |
| Oakland, CA | $84,806 | $40.77 |
| Jackson, WY | $84,350 | $40.55 |
| Alexandria, VA | $84,332 | $40.54 |
| Southampton, NY | $83,995 | $40.38 |
| Sunnyvale, CA | $83,762 | $40.27 |
Ways to Increase Your Surgical Nurse Salary
1. Advance Your Education
Higher salaries are possible with a BSN or MSN or for obtaining certification in the field. Sign-on bonuses may be available depending on the demand for nurses. In many work settings, such as hospitals, nurses are eligible for overtime pay. 
Advanced practice nurses earn higher salaries, and this is true for surgical nursing. Some surgical nurses decide to pursue a master's degree to become a nurse anesthetist, which is the highest-paid advanced practice nursing specialty.
Graduate programs are not widely available for surgical nurses (with the exception of some perioperative clinical nurse specialist roles in the military). Nurses who wish to become surgical nurse practitioners obtain a master's degree or higher in a nurse practitioner program and then a certification in a perioperative subspecialty. 
2. Consider Total Compensation
Be sure to look at the big picture when you consider total compensation. You should factor in the level of continuing education or tuition support, health insurance coverage, and the number of paid days off. Travel nursing can boost salaries for adventurous nurses with flexibility in location and lifestyle. 
3. Get Certified
Many employers offer additional compensation for achieving certification in your nursing specialty. For surgical nursing, these certifications include:
How to Become a Surgical Nurse
To become a surgical/perioperative nurse you'll need to complete the following steps:
1.) Attend an Accredited Nursing Program
To become a registered nurse you'll need to graduate from a two-year program for an Associate's degree in nursing, a three-year program for a diploma in nursing (usually hospital-based), or a four-year college or university program leading to a Bachelor's degree in nursing.
2.) Pass the NCLEX-RN
You'll then need to take the RN licensing exam after graduation, also known as the NCLEX (National Council Licensure Examination). The NCLEX is a nationwide examination for the licensing of nurses in the United States and Canada.
3.) Get Additional Training and Experience
Once you pass the NCLEX, you may apply for your first nursing job.
An additional year of education and training is generally required to become a perioperative nurse who works in the pre-op, intra-op, and post-op areas. This is available in on-the-job programs in hospitals or surgery centers, or from a post-bachelor's perioperative certificate program. Critical care or emergency nursing experience can prepare you well for this training.
The Association of peri-Operative Registered Nurses (AORN) also offers an online program, "Periop101: A Core Curriculum." This course provides content coupled with lab and clinical experience and includes coursework in anesthesia, surgical draping, patient and equipment safety, and many other topics. 
4.) Get Certified
Once you have experience in perioperative nursing, you can advance your knowledge and salary potential by becoming certified. Three certifications are offered for perioperative nurses: CNOR, CFPN, and CNAMB. They are provided by the Competency and Credentialing Institute (CCI).
CNOR Certification
According to CCI, Certified Perioperative Nurse (CNOR) is a definition, not an acronym. It means meeting identified standards of practice for providing nursing care to patients before, during, and after surgery. 
To qualify for the CNOR exam you must:
Have a current unrestricted RN license
Be currently working full- or part-time as a perioperative nurse in clinical practice, nursing education, administration, or research
Have completed a minimum of two years and 2,400 hours of experience in perioperative nursing, with a minimum of 1,200 hours in the operating room 
Test Breakdown: 
Intraoperative Care - 34%
Infection Prevention and Control - 16%
Perioperative Patient Assessment and Diagnosis - 15%
Communication and Documentation -11%
Emergency Situations -10%
Plan of Care - 8%
Professional Accountability - 6%
The exam has 200 multiple choice questions and you have 3 hours and 45 minutes to complete the exam. CCI recommends a minimum of three months for exam study and preparation.
CNOR certification must be renewed every five years. There are a number of options for renewing your certification. Visit www.cc-institute.org/cnor for details.
CFPN Certification
CCI also offers the Certified Foundational Perioperative Nurse (CFPN) credential for perioperative nurses to provide a firm foundation for career-long professional development success. The CFPN is a two-year credential with no recertification mechanism. To apply to take this exam, you must:
Have a current, unrestricted RN license
Certificate of completion from a perioperative orientation program. The program must have both didactic and clinical components. Course syllabus or content outline will be required if your application is audited.
Up to 23 months of experience from the initial hire date in the OR.
Currently working full- or part-time in perioperative nursing, including nursing education, administration, research or clinical practice.
CNAMB Certification
CCI offers the Certified Ambulatory Surgery Nurse (CNAMB) certification that is designed for perioperative nurses working in the ambulatory surgery setting who are seeking to improve and validate their professional competencies. 
Test Information:
Intraoperative Care -12%
Perioperative Patient Assessment and Diagnosis -11%
Emergency Situations - 10%
Plan of Care - 10%
Communication - 9%
Instrument Processing and Supply Management - 9%
Professional Accountability - 9%
Management of Personnel, Services and Materials -6%
Transfer of Care - 6%
The exam has 200 multiple choice questions and you have 3 hours and 45 minutes to complete the exam. CCI recommends a minimum of three months for exam study and preparation. The fee for the examination is $350.
CMSRN Certification (Medical-surgical Nursing) 
Nurses with a passion for post-op care and teaching may wish to confirm their expertise with certification as a Certified Medical-Surgical Registered Nurse (CMSRN). Available through the Medical-Surgical Nursing Certification Board, requirements for taking the exam include:
Having a current RN license in the U.S.
At least two years of practice as an RN in a medical-surgical setting
Accrual of at least 2,000 hours of practice hours within the past three years
How Many Years Does it Take to Become a Surgical Nurse?
Depending on the route you take, it can take 3-5 years. It can take two to four years to attend an accredited nursing program (two for an ADN, 4 for a BSN), pass the NCLEX, and become a registered nurse. Then you'll need an additional year of training and experience to begin working as a surgical nurse. 
What are the Best Surgical Nurse Programs?
Methodology
This list is based on a number of factors including:
Reputation
NCLEX pass rate
Tuition
Acceptance rate, when available
Only ACEN and CCNE approved programs are eligible
Nurse Panel
Our selection panel is made up of 3 Registered Nurses with years of experience and multiple degrees:
Tracy Everhart, MSN, RN, CNS
Tyler Faust, MSN, RN
Kathleen Gaines, MSN, RN, BA, CBC
There are numerous surgical nurse programs and our panel of nurses ranked them based on factors mentioned in the methodology. Because individual nursing pathways and careers take various forms, the top 10 surgical nurse programs are ranked in no particular order. 
 Program Cost: $1110
Online: No
Program Length: 96 hours
Minnesota State University's perioperative training for registered nurses program requires 32 hours of classroom learning and 64 hours of clinical experience for a total of 96 hours. The program meets AORN standards and prepares nurses to immediately transition into a surgical nursing role. While the program does not allow for online study, Minnesota State does charge a low program cost, though nurses must also pay for required textbooks and materials. Nurses working in the North could benefit from this quick, affordable program. 
Program Cost: $3,000
Online: Hybrid
Program Length: 15 weeks
Created for RNs who already completed their BSN, the University of Massachusetts Medical School's perioperative nursing training course follows AORN standards and includes a free one-year membership to AORN. The hybrid program uses online modules but requires some in-person training at the university's campus in Worcester. UMass Medical School offers the program over the course of a semester, so full-time nurses don't have to commit much time each week. 
Program Cost: $3,995
Online: Hybrid
Program Length: 2 months
Based in Rockville Centre in Long Island, New York, Molloy College offers operating room training for current RNs. The program follows the AORN's guidelines for periop-101 and prepares nurses for surgical nursing careers in New York. Molloy College offers the programs four times a year, and students complete courses during the week either at the Rockville Centre or Suffolk Center campus, along with clinicals during the weekend. Nurses can complete most of the coursework entirely online, too. The program lasts just a few months, and while the tuition is steep, the costs include everything from training to required textbooks. 
Program Cost: $3,500 Rutgers School of Nursing Faculty, Students, Preceptors, and Alumni - $2,975
Online: No
Program Length: 10 weeks
Rutgers School of Nursing offers a 10-week operating nurse program at its Blackwood, New Jersey site. The program uses a 10-week in-person immersion program and a cohort system. Rutgers follows AORN guidelines for the program, and students finish with 120 surgical nursing contact hours. Anyone who previously attended Rutgers School of Nursing can also secure a reduced tuition rate. 
Program Cost: $980
Online: No
Program Length: 21-28 weeks
Founded in 1889, the University of New Mexico is located in Albuquerque, one of the largest metropolitan areas in the state. Through its hospital system, UNM offers a perioperative training program designed specifically for RNs looking to begin careers as surgical nurses. The program takes 21-28 weeks to complete, and students commit to a 3-year contract with a sign-on bonus to work as a surgical nurse at a UNM hospital. This option is perfect for any nurses currently located in or looking to move to New Mexico. 
Program Cost: $399
Online: No
Program Length: 8 weeks (Classes held weekly on Monday nights)
Bellarmine University, a private Catholic university, boasts a prime location just on the edge of downtown Louisville. Nurses in the perioperative nursing certificate program benefit from the location and enjoy clinical experience at top hospitals in the area. The perioperative certificate only accepts 20 students each term but terms only last eight weeks. Nurses must commit to four hours of classroom study and four clinical hours each week of the program. This option is best for nurses in Kentucky or the surrounding area who plan on continuing to work locally. 
Program Cost: $3,995
Online: Hybrid
Program Length: 6 months
Curry College, located in Milton, Massachusetts, offers a non-credit perioperative 101 program to prepare nurses for AORN certification. The program utilizes online courses and learning activities, though nurses gain in-person clinical experience. Curry College estimates that most students graduate within six months, but many certificate students take up to one year to complete the six required credits. This certificate is an excellent option for recent graduates or RNs with some surgical nursing experience. 
In-State Program Cost: $524.14 Out-of-State Program Cost: $1,337.20
Online: Yes
Program Length: 3 months
Dayton, Ohio-based Sinclair Community College offers quality programs at an incredibly low cost. Those interested in surgical nursing enroll in the short-term perioperative nursing technical certificate, a three-month program that prepares nurses to join AORN and eventually sit for the CNOR exam. The course requires just four credits, though students must complete it over the course of a semester. Any nurses currently working in Ohio should definitely consider this low-cost program. 
In-State Program Cost: $1,185 Out-of-State Program Cost: $2,025
Online: No
Program Length: 8 months
As one of the largest community colleges in Texas, Dallas College regularly helps thousands of students advance their careers. RNs looking to transition into surgical nursing can complete Dallas College's perioperative nursing enhanced skills certificate. Offered at the El Centro Campus, and applicants must have at least an associate degree and active Texas RN license. The program takes two months to complete but includes 15 credit hours of nursing experience, perfect for anyone looking for a long-term career in surgical nursing. 
In-State Program Cost: $750 Out-of-State Program Cost: $2,250
Online: No
Program Length: 3 months
Delaware County Community College, a top educator for those in the greater Philadelphia area, provides students with great career advancement programs. Available at DCCC's campus in Marple Township, the perioperative nursing certificate program prepares current Pennsylvania nurses for careers in surgical nursing. The certificate consists of six credits completed over three months, and students earn at least 90 clinical hours at hospitals in the area before graduating. Anyone who currently lives in Pennsylvania can take advantage of the incredibly low in-state tuition costs. 
Continuing Education Requirements for Surgical Nurses
Surgical nurses do not necessarily have specific requirements beyond state-mandated continuing education. However, advanced certification does require CEUs.
All surgical nurses are required to maintain an RN license.
Continuing education requirements for the license differ for each state. Monetary fees and other state-specific criteria are also associated with all license and certification renewals.  
Examples of continuing education requirements for RNs are as follows: 
California - 30 CEUs every two years
Florida - 24 CEUs every two years
Hawaii - 30 CEUs every two years
Oklahoma - 24 CEUs every two years
Pennsylvania - 30 CEUs every two years
Some states do not require CEUs to maintain an RN license. Examples include Arizona, Colorado, Connecticut, Maine, Maryland, and Indiana. Several states also require HIV/AIDS education such as Florida or mandatory child abuse such as Pennsylvania. It is important for nurses to check their state's RN credentialing body for exact CEU requirements.  A comprehensive list can be found here.  
Career Outlook for Surgical Nurses
The Bureau of Labor Statistics predicts that nursing employment will grow at a rate of 6% percent through 2032 – faster than the average for all jobs. It is estimated that there will be 177,400 job openings for registered nurses each year for the next decade. There is a shortage of nurses, with baby boomer nurses nearing retirement and the growing health demands of our aging population.  
Health care is undergoing tremendous change, with a focus on reducing the inpatient care provided in hospitals, even though tens of millions of inpatient surgeries are performed each year. Many surgeries and diagnostic procedures are now performed in ambulatory surgery facilities, also known as "day surgery."  
The CDC reported that in 2010, an estimated 48.3 million surgical and nonsurgical procedures were conducted in 28.6 million ambulatory surgery visits. For both males and females, 39% of procedures were performed on those aged 45–64. For females, about 24% of procedures were performed on those aged 15–44 compared with 18% for males, whereas the percentage of procedures performed on those under 15 was lower for females than for males. About 19% of procedures were performed on those aged 65–74, while about 14% were performed on those aged 75 and over. The demand for perioperative nurses will continue, as their care is essential regardless of the physical setting. 
Where Can I Learn More About Surgical Nursing?
Learn more about perioperative/surgical nursing by searching the web, and networking to find and talk with nurses currently working in the field. The following organizations can provide more information about perioperative/surgical nursing:
Perioperative Nurse Jobs
Many sources can get you started in your search for perioperative nursing positions. First, check the "Careers" pages of websites for hospitals and agencies that interest you, as well as career centers on websites of professional organizations. 
Many online resources are available these days, including social media sites, career sites, and dedicated nursing career sites such as our job board. 
Perioperative nursing provides you with many opportunities to make a difference – improving patient outcomes, reassuring patients and family members, supporting surgical teams and taking part in life-saving work every day.
As a perioperative nurse, you'll know that opportunities for learning, new challenges, and professional growth will be ongoing as medical science evolves.
RN
$70,000 - $90,000
Associate
Bachelors
Perioperative
Bedside
Surgical