A career as a Nurse Manager carries a great deal of responsibility but can be extremely rewarding. The role of a Nurse Manager, which is similar to a Nurse Administrator, can mean a variety of different things depending on the healthcare institution.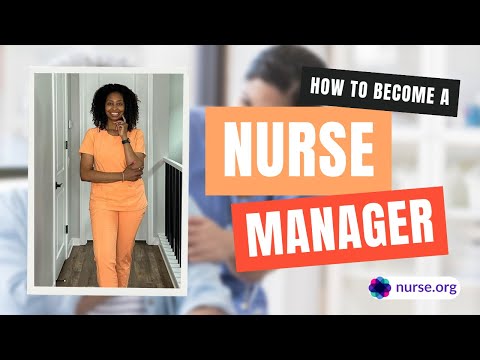 Part One What is a Nurse Manager?
Nurse Managers are typically advanced practice registered nurses who've earned at least a master's degree. They manage and oversee the nursing staff in a healthcare facility, and are also known as nurse administrators. Nurse Managers create schedules for employees, give annual performance reviews, and help create policies within the unit. They are licensed registered nurses who, in addition to having advanced nursing degrees, also have a strong clinical nursing background.
Nurse Managers are usually required to hold at minimum a Bachelor's in Science in Nursing (BSN). Most major health care institutions will also require completion of an MSN degree or current enrollment in a master's level program. Those individuals holding a master's degree will earn more than their counterparts without an advanced degree. Furthermore, some nurse managers find is helpful to obtain a Master's in Business Administration (MBA) if they intend on continuing to further their career. 
Additional responsibilities include:
Collaborate with medical staff
Develop educational plans
Function as a liaison between hospital administration and employees
Handle disciplinary action
Help carry out the mission of the healthcare facility
Improve quality and efficiency of care provided to patients
Interview and hire new nurses
Manage unit budgets
Oversee daily operations
Oversee unit schedule
Recruit new employees
Train new nurses and other healthcare professionals
Nurse Managers function primarily in an office setting and away from the clinical unit. They attend administrative meetings, work with new employees, and serve on different committees throughout the hospital. A Nurse Manager can work in a hospital, urgent care clinic, doctor's office, home health care services, and/or a nursing home. 
Part Two What Qualities Should a Nurse Manager Possess?
Not all nurses are destined to work in a leadership role. Individuals must be prepared to step away from bedside nurses and take on a role that supports the department. 
Strong Nurse Managers should possess the following traits:
Good listener
Clinical expertise
Flexibility
Organized
Analytical
Problem Solver
Leadership
>> Find MSN Programs Accepting Applications Now
Part Three Nurse Manager Salary
According to the U.S. Bureau of Labor Statistics (BLS), the median annual salary for medical and health services managers is $104,830 as of May 2022, though conditions vary based on area. The lowest 10 percent earned less than $64,100, and the highest 10 percent earned more than $209,990.  It is important to note that this does vary depending on the setting. General medical and surgical hospitals have the highest average pay at $125,280, while home health care services have the lowest pay at $93,610. 
Some health care systems pay Nurse Managers on an hourly scale while others have a fixed annual salary. Those paid on an hourly scale are able to earn overtime pay whereas salary employees would need to discuss that with the hiring committee. This can be extremely important as nurse managers generally work more than 40 hours a week. 
Highest Paying States for Nurse Managers
Currently, the following states have the highest pay scale for Nurse Managers according to the BLS.
New York $ 82.51 hourly, $171,620 yearly
District of Columbia  $75.42  hourly, $156,870 yearly 
New Jersey $73.70 hourly, $153,300 yearly 
Massachusetts $73.29 hourly, $152,450 yearly
Delaware $72.52 hourly, $150,840 yearly
Highest Paying Cities for Nurse Managers
Metropolitan areas tend to pay higher for nurse managers. Some of the highest paying cities include:
San Jose-Sunnyvale-Santa Clara, CA $162,110
Vallejo-Fairfield, CA $157,340
New York-Newark-Jersey City, NY-NJ-PA $156,370
California-Lexington Park, MD $150,900
San Francisco-Oakland-Hayward, CA $150,250
Highest Employment Areas for Nurse Managers
Nonmetropolitan and/or rural areas with the highest employment of Nurse Managers are: 
Kansas nonmetropolitan area
North Northeastern Ohio nonmetropolitan area
Northeast Mississippi nonmetropolitan area
North Texas Region of Texas nonmetropolitan area
Central Kentucky nonmetropolitan area
Despite a large number of Nurse Manager positions in the aforementioned areas, the pay scale is amongst the lowest in the country. Areas that have fewer Nurse Manager positions tend to pay more according to the BLS. 
Part Four What is the Career Outlook for a Nurse Manager?
Nurse Managers are currently in high demand. This number will only increase as the baby boomer generation ages and there is an increased demand for additional long-term nursing care facilities. On top of that, Nurse Managers are generally older in age as this job requires years of bedside experience. 
As the rate of employment for nurses is expected to grow, nurse managers will continue to be needed to manage these nurses. According to the U.S. Bureau of Labor Statistics, employment in health care administration is projected to grow 28 percent through 2031. There will be a need for approximately 136,200 new managers. Prospective applicants will find that the need for nurse managers will grow faster in outpatient settings versus inpatient hospital units. 
Part Five How to Become a Nurse Manager
In order to become a nurse manager, you'll need to complete the following steps:
Step 1: Become a Registered Nurse
Nurse Managers need at minimum a BSN degree. So aspiring Nurse Managers will want to either begin by attending and graduating from an accredited BSN program, or by earning their ADN and then completing an RN-to-BSN program to complete the additional education requirements. 
Step 2: Gain Bedside Experience
As we mentioned earlier, becoming a Nurse Manager requires years of bedside experience as you'll be overseeing other nurses in this role. Many healthcare facilities will want you to have at least five years of experience before taking on this role. 
Step 3: Advance Your Nursing Education
With the increasing popularity in nursing administration and healthcare management degrees, it is becoming more common for Nurse Managers to hold advanced degrees. 
Nurse Managers are advised to take master's level classes that focus on advanced nursing practices as well as ethics and policy. Some programs include a practicum where students must apply their knowledge in different administration situations. Other classes will include organizational management, leadership, and human and fiscal resource management. 
Part Six Nurse Manager Certifications 
The American Nurses Credentialing Center (ANCC) offers certification exams in Nurse Executive and Nurse Executive, Advanced. The exam has 175 questions and the certification is valid for five years. 
Requirements for the Nurse Executive certification include:
Active RN license
Bachelor's degree or higher in nursing
Have a mid-level administrative or higher position OR a faculty position teaching graduate students nursing administration OR a nursing management or executive consultation position full time for at least 24 months (or the equivalent) in the last 5 years
If you don't have an MSN in nursing administration, 30 hours of continuing education in nursing administration within the last three years. 
The requirements for the Nurse Executive, Advanced vary slightly and can be found on the ANCC webpage.
Another certification option for nurse managers is taking a certification exam to become a Certified Nurse Manager and Leader. The Association of Critical-Care Nurses offers this certification in conjunction with the American Organization of Nurse Executives. Eligibility requirements include: 
Bachelor's degree or higher in nursing
Two years of experience as a nurse manager OR a non-nursing bachelor's degree and three years of experience in a nurse manager role OR an associate's degree or nursing diploma and five years of experience as a nurse manager.
Experience should be a minimum of 1,040 hours for all scenarios.
Part Seven Top Nurse Manager Programs
In 2022, US News & World Report ranked the best nurse administration graduate schools in the country.
Top 5 Nurse Administrator Master's Programs
Duke University
University of Pennsylvania 
George Washington University
University of Alabama--Birmingham
University of Iowa
MSN programs are offered both online and in traditional classroom settings. Most of these programs are online though, as they are geared towards the working professional. Furthemore, students can expect to complete in-person leadership practicums. Coursework is generally more advanced than undergraduate programs and focuses on using the undergraduate curriculum as a foundation. 
The length of time it will take to complete a master's level program varies greatly on the individual. If a student is able to focus solely on their advanced degree it can be done in two years; however, most have family and work obligations and attend school on a part-time basis. Most programs require students to finish a program within five years. 
>> Show Me Online MSN Programs
Part Eight Where Can Nurse Managers Work?
Nurse Managers can work in a variety of settings. As the field of healthcare and nursing continue to evolve, the opportunities for Nurse Managers will continue to grow. 
Currently, Nurse Managers can work in the following areas:
Home Healthcare Agencies
Medical and Surgical Hospitals
Nursing Home
Outpatient Treatment Centers
Private Doctor's Offices
Urgent Care Centers
VA Hospitals
Essentially, Nurse Managers can work anywhere with a staff of nurses. The job possibilities are endless for this career. 
Part Nine CEU Requirements for Nurse Managers
Continuing Education Requirements vary depending on the state. All Nurse Managers are required to maintain an RN license. This license carries its own continuing education requirements which differ for each state. Monetary fees are also associated with all license and certification renewals.  
Furthermore, holding an advanced certification will also require CEUs.
Continuing Education Requirements
Examples of continuing education requirements are as follows: 
District of Columbia - 24 contact hours every 2 years
Illinois - 20 contact hours every 2 years
Minnesota - 24 contact hours every 2 years
Pennsylvania - 30 contact hours every 2 years 
Some states do not require CEUs to maintain an RN license. Examples include Arizona, Colorado, Mississippi, and Indiana. It is important for nurses to check their state's RN credentialing body for exact CEU requirements. 
Nurse Managers with advanced certifications must also complete a required number of Continuing Professional Education (CPE) hours. The American Organization of Nurse Executives which sponsors the CNML exam allows individuals to recertify two ways. Nurses can stay credentialed if they complete at least 45 contact hours of eligible continuing CPE hours within three years prior to the current certification expiration date OR nurses can retake the CNML examination one year prior to the expiration date.
The CEU requirements for the Nurse Executive and Nurse Executive, Advanced certifications through the ANCC are more complicated. All certification renewal candidates must complete 75 hours of mandatory CEUs as well as one or more of the eight ANCC Renewal categories. More information regarding these categories can be found here.  
Part Ten Where Can I Learn More About Nurse Managers?
A great resource for nurses interested in learning more about Nurse Managers/Nurse Administrators is the American College of Healthcare Executives and the American Organization of Nurse Executives. Information ranges from professional development conferences to research articles regarding nurse administrators.  
These professional associations provide support to individuals throughout their careers as Nurse Managers. It is important to join credible associations to stay up to date on the most current changes to healthcare administration and have the resources necessary to implement the changes in your job.   
Part Eleven Where Can I Find the Best Nurse Manager Jobs?
The BLS projects an upward growth for this job market. As with all jobs, employers will seek the most qualified candidates. For this reason, it is highly recommended to earn an advanced nursing degree and sit for a certification exam. 
Despite the need for Nurse Managers, some job markets are saturated and currently do not have many available openings. It is important to search the surrounding area and consider a longer commute or even relocation in order to broaden the job opportunities.
Top Cities for Nurse Manager Jobs
Nurse Manager jobs can often be found in the following metropolitan areas according to the BLS:
New York-Newark-Jersey City, NY-NJ-PA
Los Angeles-Long Beach-Anaheim, CA
Boston-Cambridge-Nashua, MA-NH
Dallas-Fort Worth-Arlington, TX
Chicago-Naperville-Elgin, IL-IN-WI
Washington-Arlington-Alexandria, DC-VA-MD-WV
Part Twelve Nurse Manager FAQs
How much money does a Nurse Manager make?

Medical and health services managers earn an average salary of $127,980, according to the U.S. Bureau of Labor Statistics (BLS).

Is being a Nurse Manager worth it?

For nurses looking for a greater challenge and increased responsibilities, being a Nurse Manager can absolutely be worth it. In addition to being a nice change of pace from your work as a shift nurse, Nurse Managers also have increased autonomy in their job and greater job security. 

What is a Nurse Manager's role?

Communicating with the medical staff and administration
Creating and approving work schedules
Developing department goals and objectives
Developing standards of care and excellence
Managing and overseeing the nursing staff in a healthcare facility
Managing finances
Ordering supplies
Preparing budgets
Recruiting, training, and supervising staff

What are the qualities of a good Nurse Manager?

Good listener
Clinical expertise
Flexibility
Organized
Analytical
Problem Solver
Leadership

What degree do I need to be a Nurse Manager?

Nurse Managers usually need a minimum of a Bachelor's in Science in Nursing (BSN) and most major health care institutions will also want you to have an MSN degree.
Management
$100,000+
Bachelors
Masters
Non-Bedside
RN