How to Become a Military Nurse
20 Min Read
Published September 28, 2023
What is a Military Nurse?
Military nurses share many similarities to civilian nursing, in which the common goal is to treat patients and promote their well-being. However, military nursing is a career under starkly different circumstances. Military nurses might work either at home or in foreign countries, often at military bases, military hospitals, and military clinics.
Nurses who wish to serve their country can be part of the Nurse Corps of any major military branch – Navy, Air Force, Army, and Coast Guard.
These nurses may also work in hospitals or global response centers alongside deployed military personnel during natural disasters or times of war. Military nurses can work in potentially dangerous environments, like foreign war zones, and work under extremely stressful conditions.
Military nurses have to be prepared to deal with the emotional demands of working in war conditions. As a reward for the extreme sacrifice and dedication of military nurses, the career also comes with amazing access to healthcare benefits, education, and the opportunity to rise in rank. 
Show Me Military Nursing Programs
How To Become a Military Nurse
Serving your country in the capacity of a military nurse is a great honor and privilege. It will also set you up for lifelong success beyond your time in service.
Earn Your Nursing Degree

In order to become a military nurse, you must earn a Bachelor of Science in Nursing (BSN) or an advanced nursing degree from an accredited school. (Because military nurses are commissioned officers, an associate degree will not be accepted). Find BSN programs here.

Take and pass the NCLEX

After you earn your BSN or advanced degree, you must pass the National Licensure Examination (NCLEX) to earn your certification as a Registered Nurse. 

Gain civilian experience or decide to enlist

At this time, you can begin working as a Registered Nurse (RN) in the United States. You can choose to work and gain experience in the civilian nursing field first, or you can decide to join the military as a new graduate nurse.

Talk to a recruiter

When you are ready to enlist, you should speak to a military recruiter of whichever branch you have interest in. Once you decide on a branch, make sure you meet all eligibility requirements determined by your recruiting branch.

Complete the application packet

Once you've met all of the eligibility requirements, you can begin to work with your recruiter on your application packet. This process will take about a year from initial onset to final approval from the commissioning board. 

Complete an Officer Basic Leadership Course (BOLC)

if you are selected, you are required to complete a 5-10 week commissioned officer course. Training includes education on leadership skills and an introduction to military life. You will also perform some amount of physical training during this time. Upon completion of this required military training, you will be a military nurse.
The other option is to apply to one of the military academies including West Point or the Naval Academy prior to becoming a nurse. Then, you can have the military pay for your nursing school tuition and put you on a path to becoming an officer.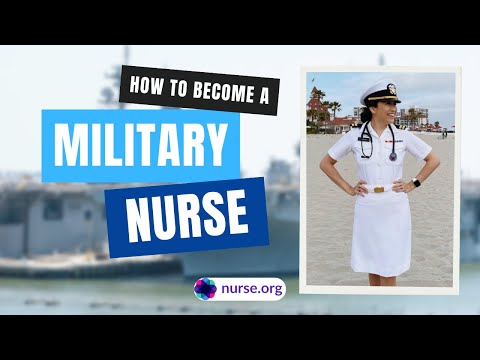 Show Me Military Nursing Programs
Certifications for Military Nurses
The main certifications you will need are a Bachelor's degree and an active RN license from a non-compact state. You will also need to be certified in Basic Life Support (BLS).
If Acute Cardiac Life Support (ACLS) and Pediatric Advanced Life Support (PALS) certifications are required for a particular nursing specialty, you should also have these completed as well. Any other specific certifications relative to your nursing specialty are helpful but not required (i.e. CCRN).
Currently, there is no specific certification for military nurses. However, it is important to remember that the military has their own set of requirements for the military aspect of the job. 
What is the Military Ranking System?
The military as a whole operates under a ranking system, and military nursing is no exception.
Rank structure determines pay grade and responsibilities based on your level of experience. Upon becoming a military nurse, you start as an Officer with the lowest pay grade "O-1" (Military Ranks). With further experience, specialty training, or education, your pay grade and rank climb up. 
The military ranking is important because it directly equates to pay scale. The pay grade which is part of the pay ranking is composed of two characters; the first one is a letter and the second one is a number. The first character of the pay grade is always the letter O capitalized. It is pronounced "oh". The O stands for Officer. The second character is always a number and corresponds to the current rank the officer or nurse is currently at. So, an O-1 is the lowest pay grade in the officer corps. The highest pay grade in the military is an O-10 and corresponds to the highest-ranking officer in that respective military service. 
For example, as a military nurse in the Army, you would start as Second Lieutenant, then First Lieutenant, Captain, Major, and so on. With each earned rank, different responsibilities and higher pay grades are awarded. 
Military Nurse Salary
The salary range of a military nurse ranges from $58,000 on upward. Your salary as a military nurse is based on your education level upon commissioning, your rank, and any special certifications you may hold.
The median annual salary for registered nurses was $81,220 per year or $39.05 per hour as of May 2022, according to the Bureau of Labor Statistics (BLS). The BLS doesn't specify salaries but according to ZipRecruiter.com, military nurses earn $75,776 per year or $36.00 per hour. 
Unfortunately, because military nurses are on a government pay grade scale - the exact pay of military nurses is not entirely known. 
Miltary Nurse Benefits
Military Sign-on Bonuses
In addition to your salary, you will have the option to accept a sign-on bonus or student loan repayment. A person who is a registered nurse and agrees to accept a commission as an officer may be paid an accession bonus of up to $30,000 for a four-year contract or up to $20,000 for a three-year contract.
Military Student Loan Forgiveness
Nurses who choose to accept the student loan repayment have the option of having their loans repaid up to a maximum of $40,000 per year.
Military Nurse Benefits
The benefits of becoming a Nurse in the military are numerous! You are provided with the tools you need to develop your career and continue training and growing as you become a respected leader in your field.
In addition to opportunities for continuing education and clinical specialization, you will receive low-cost or no-cost medical, dental and life insurance, generous retirement plan options, housing allowances, food stipends, and 30 days of paid vacation earned annually.
You'll also enjoy a reasonable work-life balance that provides plenty of time for family and recreational pursuits. The amount of your housing allowance and food stipend are dependent upon your rank, but as you get promoted these stipends increase.
Military Nurse Career Advancement
Pay increases in the military rely on many factors. Moving up in rank is the number one factor. This will increase not only your pay but also the stipends that you are allotted. Deployments will offer you things such as hazardous pay for the time you are deployed. 
In the military, nurses have many opportunities to advance their rank and assume more responsibilities. Commissioned Officers in the Army Nurse Corps hold the following ranks:
Second Lieutenant
First Lieutenant
Captain
Major
Lieutenant Colonel
Colonel
Brigadier General
Major General
There are three pathways for advancement: Clinical/Operational, Staff, and Executive/Leadership. 
Clinical/Operational Track
The clinical track is characterized by a solid clinical foundation with progression as a field grade officer into advanced practice nursing, clinical specialist, element leader, and flight commander roles.
While in the clinical/operational track, you can incrementally acquire the executive skills required for entry into the executive/leadership track.
Staff Track
In the staff track you will branch out to jobs or specialties such as readiness, quality, health promotion, prevention, case management, research, and education/training.
Squadron or group level staff jobs are an integral part of day-to-day business and overlap into the operational track. To advance within this pathway, you should develop your specialty to be competitive in major command or lead agent positions.
Executive/Leadership Track
The executive leadership track springboards from the operational and staff tracks and affords you the opportunity for potential promotion to colonel.
In this track, you must have a solid operational background with an intermingling of staff jobs. Officers in this track possess executive skills,  solid command potential, and the appropriate level of Professional Military Education (PME).
These tracks aren't set in stone, and movement between them is possible during the first half of your career. However, as your seniority increases, flexibility to switch tracks becomes limited.
>> Check out nursing jobs near you on the job board!
Job Outlook
The number of nurses and nursing students who wish to join the military and serve their country while helping their fellow men has greatly increased. There is a positive increase in the job outlook in military nursing occurring over the next decade predicted to be between 19% to 26%.
The Bureau of Labor Statistics predicts that nursing employment will grow at a rate of 6 percent through 2032 – faster than the average for all jobs.
Show Me Military Nursing Programs
What Does a Military Nurse Do?
Military nurses carry out similar responsibilities as traditional nurses in hospital or outpatient facilities. Upon arriving at their assigned area, military nurses may check in with their direct supervisors and perform care in a particular setting. If nurses are delegated to work in a hospital or clinic, common responsibilities include patient assessment, passing medications, and working with other healthcare professionals.
Patients in these settings are commonly military personnel, their families, or any other military employees in local support roles such as diplomats and educators. 
In areas of active war, military nurses may serve to triage patients or stabilize and treat patients with life-threatening injuries, like wounds from explosives and gunshots. 
Top 10 Military Nurse Programs
Methodology
This list is based on a number of factors including:
Reputation
NCLEX pass rate
Tuition
Acceptance rate, when available
Only ACEN or CCNE accredited schools are eligible
Because military nurses can attend any school, earning a quality education best prepares students for a career as a military nurse.
This list also takes into consideration schools with approval from NROTC, Army ROTC, and similar military scholarships. By accepting these scholarships, nurses commit to a minimum time commitment of working with the respective military branch. 
Nurse Panel
Our selection panel is made up of 3 Registered Nurses with years of experience and multiple degree:
Tracy Everhart, MSN, RN, CNS
Tyler Faust, MSN, RN
Kathleen Gaines, MSN, BSN, RN, BA, CBC
There are numerous programs fit for future military nurses and our panel of nurses ranked them based on factors mentioned in the methodology. Because individual nursing pathways and careers take various forms, the top 10 military nurse programs are ranked in no particular order. 
Annual Tuition: $27,440
Online: No
Program Length: 4 years
Located in New York, New York, NYU accepts high school graduates directly into their BSN program, introducing students to nursing topics early on. Knowing that you're accepted into the nursing program before enrolling at NYU is a huge bonus. Of course, applicants need to meet the program's rigorous admission requirements. Regardless, NYU hosts one of the best undergraduate nursing programs in the nation, so graduates can easily transition into a military nursing position. 
Annual In-State Tuition: $8,940  Annual Out-of-State Tuition: $28,317
Online: No
Program Length: 4 years
The University of Michigan's vast alumni network and high-quality nursing program are two reasons future military nurses should consider enrolling. BSN students choose either a freshman entry or sophomore transfer entry. Depending on which students are, this program takes 4-5 years to complete. Michigan's BSN also lets nurses minor in population health in a global context, a useful skill for future positions. Out-of-state students can save huge by taking advantage of an NROTC scholarship. 
Annual In-State Tuition: $12,773  Annual Out-of-State Tuition: $23,308
Online: Yes
Program Length: 4 years
Another NROTC-approved school and perhaps the best overall nursing program in Texas, the University of Texas at Austin's BSN accepts freshman applicants, internal transfer students, and external transfer students. Students who perform exceptionally well during their first semester can also apply for the Honors Program. The university's BSN emphasizes nursing leadership and the variety of community settings, both of which prepare students for a military nursing career. 
Quarterly In-State Tuition: $4,026 Quarterly Out-of-State Tuition: $13,302 
Online: No
Program Length: 4 years
Unlike other programs on this list, the University of Washington's BSN only takes two years to complete; however, nursing students must first complete 60 semester or 90 quarter credits to apply, making the entire process a four-year journey at minimum. Students also get to attend clinicals at some of the top sites in the region. While many of UW's BSN students end up continuing their education, others quickly find careers after graduating. With plenty of military posts in the region, UW graduates could quickly secure a military nursing position. 
Quarterly In-State Tuition: $5,360.16 Quarterly Out-of-State Tuition: $19,304.04
Online: No
Program Length: 4 years
Like the University of Washington's program, the University of Wisconsin's BSN takes just two years to complete. Of course, students must first complete at least two years of college, so the entire process takes at least four years. Outcomes for UW-Madison's are highly positive with 93% of graduates passing the NCLEX on their first try. After becoming licensed, UW-Madison notes that graduates end up working in all kinds of settings, including the military. 
Annual In-State Tuition: $37,448 Annual Out-of-State Tuition: $68,474
Online: No
Program Length: 4 years
UCLA's BSN program begins during the student's freshman year and takes four years to complete. Aside from being one of the best schools in the region, UCLA also puts nursing students on track to earn their nursing license in California, the highest paying state for nurses. However, graduates who become military nurses could end up working anywhere. While UCLA sets students up to eventually continue their education, many graduates enjoy good careers as RNs. Like other expensive out-of-state schools, non-California residents can take advantage of military scholarships to avoid heavy costs. 
Semester In-State Tuition: $4,723 Semester Out-of-State Tuition: $19,411
Online: No
Program Length: 2-4 years
Aside from being one of the top schools for undergraduate nurses in the nation, the University of Maryland boasts a prime location on the East Coast near the nation's capital. The four-year BSN program sets one goal for students: to become exceptional registered nurses. Aside from nursing skills and theories, Maryland's BSN also emphasizes interprofessional dialogue, ethics, and personal responsibility -- three traits required of military nurses. 
Semester In-State Tuition: $5,509.00 Semester Out-of-State Tuition: $11,541.50
Online: No
Program Length: 4 years
Most nursing students complete Ohio State's BSN in four years, though the school does offer a part-time format for those who plan on working while earning their degree. Students will likely complete the majority of their clinicals at Ohio State's renowned medical campus, making for an easy commute. The program aims to prepare students for a nursing career in nearly any setting, perfect for anyone considering military nursing. 
Annual In-State Tuition: $22,824 Annual Out-of-State Tuition: $59,092
Online: No
Program Length: 4 years
Another great nursing program with a prime location, the University of Virginia's BSN boasts an impressive 94% NCLEX pass rate and 89% employment rate within one year of graduation. UVA's campus also has one of the best hospitals in the nation, and nursing students get to gain clinical experience there. The program even offers a rare study abroad program in New Zealand or Australia, designed specifically for nursing students. The cost of the BSN is steep, but Virginia residents can save big with in-state tuition or with a military nursing scholarship.
Semester In-State Tuition: $7,536.65 Semester Out-of-State Tuition: $16,496.65
Online: Hybrid
Program Length: 4 years
Blending science, art, and humanities, Stony Brook University's BSN educates well-rounded nurses who are prepared for any nursing career. Anyone who has an undergraduate degree and wants to become a nurse can also enroll in Stony Brook's 12-month accelerated BSN. This fast route to licensure is excellent for current bachelor's degree holders who want to transition into a military nursing position. 
Things To Consider Before Becoming a Military Nurse
There are many things to consider before making the choice to become a military nurse.
There is a huge commitment involved with such a decision. You are not just a nurse, but you are also an active member of the Armed Forces. You will have to be deployed, many times for lengths varying 6 months to a year.
Other things to consider before joining the military are your future plans. For example:
How will the military benefit you?
Do you have plans to further your education?
Are you able to live a structured life, taking orders from higher-ranking individuals around you?
Are you able to be an active member of the team and step up to leadership positions?
All these are great questions to think about and consider in your decision to join the military.
The field of military nursing is fast-paced and can be emotionally, physically, and intellectually demanding. For the right candidate, it is an excellent opportunity for travel and personal and professional growth. 
Show Me Military Nursing Programs
FAQs 
What does a military nurse do? 

Military nurses can care for members of the military as well as patients in the areas they serve. 

What's a nurse in the military called?

Military nurses are called to whatever branch they are serving in. For instance, nurses in the Navy are called Naval nurses. There are also United States Army Nurse Corps. And United States Air Force nurses.

Do military nurses go to war?

Military nurses can go to war, but they can also serve in non-combat zones. 

Can I join the military as a nurse?

Not only can you join the military as a nurse, but you will be welcomed with open arms if you meet all the entry requirements. Nurses are always needed. 

How many years does it take to become a military nurse? 

Becoming a military nurse takes about 4 years and it will earn you your BSN. You can either enlist directly in the service and take classes throughout your service or earn your BSN, then enlist.

How much money do army nurses make?

Indeed lists the average army RN's salary as around $92K. Additionally, if you enlist and take classes through your service, the military will pay for your tuition. 

What is the difference between hospital corpsmen and military nurses?

The primary difference is that Hospital Corpsmen are enlisted military personnel and military nurses are officers. Hospital Corpsmen perform various roles within the military's medical field. Some Corpsmen operate biomedical equipment, some serve as operating room techs, some are trained to perform dental repairs, some deliver emergency care in the field, and some are assigned clerical duties.  

What is it like to be a military nurse? 

Nurses in the military provide nursing care for wounded and ill soldiers wherever they are stationed around the world. During combat, military nurses provide care on the front line overseas. In peacetime, military nurses work in a variety of settings providing ambulatory, maternal/child, acute and rehabilitation nursing care.
Meet Jay Quinn: Air Force Nurse and Hero
Why Did You Choose to Join the Military?  
I chose to join the military because I always wanted to serve my country in a larger capacity. I knew I wanted to be a nurse and I knew that being a nurse in the military would come with great benefits.
On top of my own personal goals of continuing my education, I have family members that are prior military as well as a brother who is currently still serving 20+ years in the Army. I was able to look at what the military has offered him in helping to formulate my decision.
Show Me Military Nursing Programs
What Did You Do Before Joining the Military?
Before joining the military, I was a student at the University of South Carolina Upstate in Spartanburg, SC. I had excellent professors that taught me all throughout my undergraduate career. I graduated USC Upstate December 15, 2015, studied for the NCLEX and passed in January of 2016.
In February of 2016, I moved from SC to Rochester, MN. I had accepted a new grad position in the Medical/Surgical ICU at the Mayo Clinic. It was there at the Mayo Clinic that I began my true nursing career.
The immense knowledge and guidance I received was far beyond what I could have expected as a new graduate. It was during the year of 2016 that I also was presented with an opportunity to join the Air Force. This opportunity came sooner than expected but I was thankful!
After a long application process and with the help of a recruiter, I found out I was accepted into the Air Force Nurse Corp in the beginning of 2017.
After working over a year and a half at Mayo Clinic, I said goodbye to the best hospital foundation I could have had a new graduate.
Beginning in Aug of 2017 I completed my five-week training course at Maxwell AFB in Alabama and from that point on I have been Active Duty in the operational Air Force as a Critical Care Nurse!
Where Can I Learn More About Military Nursing?
Click to learn more about the Air Force Nursing
Click to learn more about Army Nursing
Click to learn more about Navy and Coast Guard Nursing
RN
$70,000 - $90,000
Bachelors
Masters
Military
Non-Bedside