How to Become a Licensed Practical Nurse (LPN)
23 Min Read
Published August 24, 2023
If you're thinking about becoming a nurse, one of the first choices is what kind of nurse should you be? An entry-level option that many aspiring nurses turn to is the Licensed Practical Nurse (LPN) or Licensed Vocational Nurse (LVN) route.
Licensed Practical Nurses are nurses that perform basic patient care tasks and help to keep patients comfortable. They work under the supervision of Registered Nurses (RNs) and other medical professionals.
If you're looking to start working as a nurse fast without spending a ton of money, becoming an LPN could be the perfect path for you. Read on to learn more about what working as an LPN is like and how to become one. 
What Is a Licensed Practical Nurse (LPN)?
An LPN or LVN is a type of nurse that is responsible for providing patients with essential care. This includes helping them to eat, dress, bathe, etc. They assist Registered Nurses (RNs) and Doctors in keeping detailed records, maintaining clear communication between the entire care team and working with patients and their families to understand procedures and how to care for sick relatives.
While many nurses spend their entire careers working as an LPN, this position is also a great stepping stone to furthering your education and enjoying a pay increase by becoming an RN or Nurse Practitioner (NP).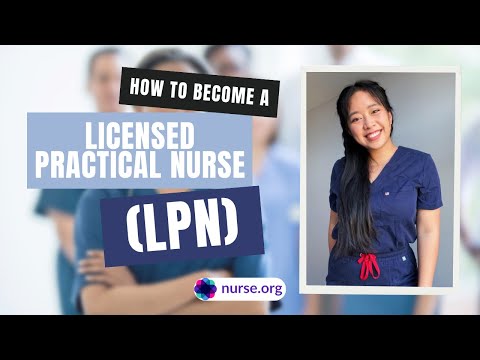 LPN vs RN
 

Licensed Practical Nurse

Registered Nurse (RN)

Duties
LPNs are directly involved in providing basic patient care and ensuring that patients are comfortable and well cared for. There will be times when an LPN administers certain medications and performs other duties such as taking blood pressure, inserting catheters and recording other vital signs.
RNs take on more of a management role and are in charge of overseeing LPNs and other healthcare aides. They are also more involved in administering medications, treating patients, creating and coordinating care plans, and working closely with doctors to ensure optimal outcomes.
Education Requirements


Becoming an LPN requires completing an accredited practical nursing certificate program, which is usually offered at community colleges and take about a year to complete. Students can expect to take courses in biology, pharmacology, and nursing while also receiving hands-on clinical experiences.

 

There are three main paths to becoming an RN.

Bachelor of Science in Nursing (BSN) -  Takes 4 years to complete
Associate Degree in Nursing (ADN) - Takes 2-3 years to complete
Nursing Diploma or Certificate - Takes 1-2 years to complete 

Testing


Once you complete your practical nursing program, you will receive a certification, but you will have to pass the National Licensure Examination (NCLEX-PN) in order to become officially licensed and begin your career.

No matter what path you take to prepare for your RN licensure, you will have to pass the NCLEX-RN exam before you are able to begin practicing.

Salary

While salaries vary according to location, the median salary for an LPN is $48,070 - according to the US Bureau of Labor Statistics. The good news is that this is a growing field with high demand and salaries are expected to increase significantly over the next 10 years.
The average salary for an RN is $77,600 per the BLS, although this number will vary according to educational background and area. Those with a BSN-RN will enjoy a higher starting pay rate and overall earning potential.
LPN vs LVN
If you have been doing your research and come across the term Licensed Vocational Nurses (LVN) you are probably wondering how this title differs from an LPN. The truth is, they are basically the same. The main difference is that the term LVN is used in California and Texas, so if you live in one of these states, you will need to look for LVN programs.
Otherwise, both positions require the same certification and licensing process, offer the same pay, and come with similar responsibilities. The exact details of each position can vary according to how different hospitals and facilities delegate tasks, but for all intents and purposes, LPNs and LVNs occupy the same positions.
What Does an LPN/LVN Do? 
LPNs are essential to hospitals, nursing homes, doctor's offices and other healthcare facilities. They also work with individuals to provide one-on-one, private care. As part of their daily routine, LPNs provide essential nursing care for patients that can range from feeding and bathing to checking vital signs and administering medication.
LPNs are often the first point of contact for family members of patients and are responsible for explaining procedures and care programs. 
What Skills Does an LNP Need?
Because LPNS interact with RNs, doctors, patients and their families, it is important that they have solid communication skills and are able to effectively and compassionately convey important information. A good bedside manner is a part of providing care and putting patients at ease. The best LPNs have a genuine passion for caring for others.
As an LPN, you will also need to have strong organizational skills. Nursing is a demanding, fast-paced job where people's health and well-being depends on your ability to manage information and multi-task. It can be easy to get frazzled and make simple mistakes if you don't have an organizational method in place. 
Perhaps most importantly, you need to have a certain tolerance for blood, bodily fluids and all the different things you will see, touch and smell while dealing with the human body. Not everyone is cut out for dealing with these challenges and it is important to be aware if you have any limits.
LPN Salary
The median annual salary for an LPN is $48,070 as of 2021 according to the BLS. However, LPNs in certain areas can earn over $50,000.  
In fact, the lowest 10 percent earned less than $37,150, and the highest 10 percent earned more than $63,790. Those numbers don't include bonuses, overtime, holiday pay, and other benefits. Certain facilities may even offer financial help if you choose to further your education. All of these different benefits are something to consider as you shop around for the right job.
How to Earn More as an LPN
Pay and benefits for LPNs will vary widely according to what area of the healthcare system you are working in and your actual location. In general, LPNs can volunteer for available overtime and earn 1.5 times their normal salary. Full-time positions also come with holiday pay and sick time. Depending on the healthcare facility, LPNs can also earn bonuses and may be able to enroll in profit-sharing programs. 
The best way to earn more money is to become an RN. From there, you can earn advanced certifications and become a specialist in a wide variety of areas, including:
Aesthetic nurse
Burn nurse
Critical Care nurse
Hospice nurse
Informatics nurse
Intensive Care nurse
Newborn Nursery nurse
Orthopedic nurse
Psychiatric nurse
Telehealth nurse
Specializations will allow you to earn upwards of $90,000 a year. Becoming an RN can also be a stepping stone to earning your Masters's in nursing (MSN) or becoming a nurse practitioner, both of which come with higher salaries and access to upper-level positions.
Highest Paying States for LPNs
If you are flexible about relocating, you might consider moving to one of the top-paying states for LPNs, according to the BLS, which include:
| State | Average Salary |
| --- | --- |
| California | $31.32 per hour or $65,140 annually |
| Alaska | $30.60 per hour or $63,650 annually |
| Washington | $30.41 per hour or $63,250 annually |
| Massachusetts | $29.72 per hour or $61,820 annually |
| Nevada | $29.08 per hour or $60,490 annually |
Top paying metropolitan areas for Licensed Practical and Licensed Vocational Nurses: 
Napa, CA - $76,890
San Jose-Sunnyvale-Santa Clara, CA - $ 75,880
San Francisco-Oakland-Hayward, CA - $ 75,410
Santa Rosa, CA - $ 71,180
Vallejo-Fairfield, CA - $ 70,720
Top paying nonmetropolitan areas for Licensed Practical and Licensed Vocational Nurses: 
Alaska nonmetropolitan area - $ 65,230
Eastern Sierra-Mother Lode Region of California nonmetropolitan area - $ 62,390
Western Washington nonmetropolitan area - $ 60,880
Massachusetts nonmetropolitan area - $ 60,690
North Coast Region of California nonmetropolitan area - $ 60,490
Career Outlook
One reason that becoming an LPN is an attractive career option is that the profession is forecasted to experience double-digit growth over the next few years. Some experts put the growth rate at as high as 25%.
That means that LPNs will be in demand and able to command higher salaries as healthcare facilities try to fill positions. This tremendous growth is due largely to an aging population that requires medical attention as they live longer, yet experience more chronic health problems. 
For those who want to start building a fulfilling career without having to complete extensive schooling, becoming an LPN offers a practical solution.
Instead of acquiring lots of student loan debt, nurses can quickly complete a degree and start earning money. Once they begin working, they can choose to further their education and take on additional responsibilities in order to earn more money and have access to additional professional opportunities.  
While there is a $20,000+ difference between the median starting pay of an LPN and an RN, some people find that working as an LPN is more fulfilling because they are able to interact with patients and their families and offer important care that provides comfort during vulnerable and stressful times. 
How to Become an LPN/LVN
The amount of time it will take to complete your LPN certification depends on which program you choose and whether you decide to go to school full-time.
There are accelerated LPN programs that can help you earn your certification in just 7 months. However, most people finish the program in 1-2 years depending on how many credit hours they are able to take. 
1.) Earn a High School Diploma or GED
You must have already earned your high school diploma before you can apply for an LPN program.
2. Enroll in an Accredited LPN/LVN Training Program
You can find LPN programs at many vocational and community colleges. You just want to make sure you're attending an accredited program. The main accreditation organization for LPNs is the National League of Nursing Accrediting Agency (NLNAC)
3. Apply for Authorization to Test
Once you have successfully completed the certification program, you will need to apply for Authorization to Test through your local board of nursing and with the National Council of State Boards of Nursing. 
4. Schedule your NCLEX-PN Exam
After you have been authorized to test, you will need to sign up for, and schedule your National Council Licensure Examination for Practical Nurses; AKA your NCLEX-PN exam. There are testing sites located across the country, but spots tend to fill up fast, so you will want to begin the scheduling process as soon as possible. When you register for a date, keep in mind that you will want to allow yourself plenty of time to study. 
5. Wait For Your Results
After you take the exam, you will be able to view your results in as little as 48 hours. If you passed the exam, you will be mailed official results and your State Board of Nursing will also mail you your license.
6. Start Working as an LPN
Finally, you can start applying for LPN jobs and begin your career as an LPN.
Top Licensed Practical Nurse (LPN) Programs
There are numerous programs that prepare students to become licensed practical nurses and our panel of nurses ranked them based on factors mentioned in the methodology. Because individual nursing pathways and careers take various forms, the top 10 LPN programs are ranked in no particular order. 
This list is based on a number of factors including:
Reputation
Tuition
Acceptance rate, when available
Only ACEN or CCNE accredited schools are eligible
Nurse Panel
Our selection panel is made up of 3 Registered Nurses with years of experience and multiple degrees:
Tracy Everhart, MSN, RN, CNS
Tyler Faust, MSN, RN
Kathleen Gaines, MSN, BSN, RN, BA, CBC
Program Cost: $4,690
Online: No
Program Length: 3 semesters
Santa Barbara Community College, located across the road from the beach, offers a full-time, three-semester vocational nursing program that leads to licensure in California, the highest-paying state for practical or vocational nurses. SBCC accepts new students into the cohort every 18 months, and graduates of the certificate program can transition into an associate of science in vocational nursing if they want. Best of all, SBCC charges the same tuition rate to all students, including those from out-of-state. 
In-State Program Cost: $8,138.88 Out-of-State Program Cost: $20,972.16
Online: Hybrid
Program Length: 21 months
Located in Lynnwood, Washington, Edmonds College provides the local community with various programs that lead to high-growth fields. The College's practical nursing program takes 21 months, equivalent to seven quarters, to complete, and applicants can only begin studying during the fall quarter. Courses use a hybrid format, meaning students complete some theory courses online but earn practical experience in-person. To qualify for the program, students need to have a 2.75 GPA on their high school transcripts and pass the Test of Essential Academic Skills (TEAS) which is offered through Edmonds College. 
Program Cost: $14,800
Online: No
Program Length: 15 months
The Career Technology Center of Lackawanna County, located in Scranton, Pennsylvania, offers a practical nursing program that is a 52-week course of study extended over 15 months, on a 5 day per week basis. Approximately 50 percent of the time is spent in the classroom and 50 percent of the time is spent in clinical experience. Students in the program split their studies evenly between coursework and clinical experience, and CTCLC connects practical nursing students with clinical opportunities throughout the region. Graduates can become licensed in Pennsylvania and find work in major nearby cities like Philadelphia or Pittsburgh. 
Program Cost: $226.16 per credit hour
Online: Hybrid
Program Length: 15 months
Based primarily in East Grand Forks, Minnesota, but with locations in Thief River Falls and online, Northland Community & Technical College reaches prospective practical nurses across the state. The college's program comes either entirely on-campus or in a hybrid format with some courses offered online. In total, practical nursing students complete 44 credits, and most students graduate in three semesters. Graduates from 2015-2019 enjoyed no worse than an 86% NCLEX-PN pass rate, consistently higher than the national average. 
In-State Program Cost: $5,173 Out-of-State Program Cost: $14,312
Online: No
Program Length: 15 months
Located in Montana's capital, Helena College boasts perhaps the best practical nursing program in the region with 100% of recent students graduating from the program, passing the NCLEX-PN, and finding a practical nursing position within six months of graduating. The certificate takes three semesters to complete with students taking roughly the same number of courses each semester. Graduates can also choose to enroll in Helena College's LPN-RN program if they want to continue on to an RN license. 
In-State Program Cost: $6,521.55
Online: No
Program Length: 12 months
Florida Gateway College, based in Lake City, offers an array of nursing programs, including a 12-month practical nursing certificate. The practical nursing program begins every spring, and graduates regularly enjoy NCLEX-PN pass rates well above both state and national averages. While the program leads to certification in Florida, LPNs can transfer their license to 33 other states thanks to the enhanced Nurse Licensure Compact. Those who live in Florida can also take advantage of a low in-state tuition rate. 
Program Cost: $4,837
Online: No
Program Length: 3 semesters
Copper Mountain College, a large independent college located near Joshua Tree, California, offers a high-quality education at an affordable cost. The vocational nursing program takes three semesters to complete, though some students need to complete prerequisite courses. Full-time students begin studying in June and graduate the following May. Copper Mountain College requires students to study at least five days a week with some courses completed on weekends or during the evening. 
In-State Program Cost: $7,740 Out-of-State Program Cost: $17,640
Online: No
Program Length: 15 months
A regional leader in education, River Valley Community College serves the New Hampshire cities of Claremont, Keene, and Lebanon. Courses in the practical nursing program blends classroom learning with simulations followed eventually by clinical experience. In total, nursing students earn 36 credits over three semesters of study. Graduates pass the NCLEX-PN at a higher rate than the national average, and 100% of graduates find employment as LPNs within six months of completing the program. Within six months of graduation from the River Valley Community College Nursing Program, ninety percent (90%) of the graduates will be employed as either Practical or Registered Professional Nurses.
In-State Program Cost: $6,786 Out-of-State Program Cost: $11,010
Online: No
Program Length: 12 months
Alvin Community College, one of the top two-year institutions in Texas, has a 44-credit LVN certificate program that takes just one year to complete. During the program, vocational nursing students complete clinicals in the nearby area, and graduates become qualified to take the NCLEX-PN and work as LVNs in Texas. Anyone who then wants to earn their RN license can enroll in ACC's transition RN program. For those looking to work as a vocational nurse in Texas, ACC's low costs provide a great route to licensure. 
In-State Program Cost: $166.60 per semester credit hour Out-of-State Program Cost: $366.70 per semester credit hour
Online: No
Program Length: 5 Semesters
Richmond, Virginia-based Reynolds Community College offers a three-semester practical nursing program that's ideal for anyone located in the area who can take advantage of the in-state tuition rate. The program has seen students succeed in recent years with all test takers passing the NCLEX-PN on their first try in 2016 and 2018. Students learn various useful skills and can use the community college's connections to help find their first LPN position after graduating. 
>> Related: Top Online LPN Programs
How to Advance Your LPN Career
Being an LPN is a flexible career path that will allow you to explore different areas of nursing and find your passion. While you might have been drawn to a certain area during school, you might find that once you are on the job, you are inspired by a completely different area of healthcare.
As an LPN, you'll have many opportunities to advance your nursing career. Here are just a few:
Go From LPN to RN
Becoming an RN requires either an Associate Degree in Nursing or a Bachelor of Science in Nursing. However, there are LPN to RN bridge programs that can make this process shorter.
Go From LPN to NP
The path from an LPN to an NP can be a long and challenging process, but it also provides a whole host of financial and professional benefits. Once you have earned your LPN, you will need to:
Earn a Bachelor of Science in Nursing or a similar 4-year degree. Your best bet is to go for a BSN because it will provide you will valuable and relevant coursework and plenty of clinical experience.
Become a registered nurse by passing the NCLEX-RN exam.
Gain 1-2 years of experience working as a registered nurse. 
Once you have gained some job experience, you can apply for a graduate degree in nursing, which can take 1.5 – years to complete. 
From there, you will need to choose a specialty and complete specific coursework along with at least 500 hours of supervised clinical hours.
Finally, you will have to pass a comprehensive exam in your specialty. Both local and national licensure organizations will need to approve your licensing. You can learn more specifics at the American Nurses Credentialing Center.
Earn Specialty LPN Certifications
As an LPN, you can easily transition into different areas of healthcare and become an expert through certification programs. There are over 20 specialty certifications for LPNs.
These certifications will make you better qualified to work in certain areas and there are plenty of opportunities available. Here are just a few examples:
Certified Hemodialysis LPN
Certified Peritoneal Dialysis LPN
Developmental Disabilities LPN
IV Therapy LPN
Long-Term Care LPN
Transplant Coordinator LPN
Urology LPN
Wound Care LPN 
Where Can I Work as an LPN?
If you want to use your LPN certification to work in a hospital setting, you may find that you face stiff competition when it comes to securing a position. A lot of hospitals are choosing to limit the number of LPNs they hire and instead delegate duties between RNs and nurses' aides.
While this isn't true across the board, areas that are struggling with budgetary issues may not be offering as many opportunities to LPNs.
The greatest area for growth is in the long-term care and hospice area. As mentioned above, Americans are living longer but experiencing poorer health. This means that they need more help with essential care from a qualified provider.
If you are looking to capitalize on your certification look for jobs in private ad hospice care or home health care where you will have the best chance of receiving offers from multiple facilities.
When you are feeling at your worst, an LPN is often your first point of contact. They serve an important role within the healthcare system and can add a human touch to scary medical situations.
Unlike most jobs, LPNs need to possess a certain combination of skills, knowledge and compassion in order to provide essential care when ailing patients and their families need it most.
It is a demanding job, but for those who love caring for people, nothing could be more fulfilling. Ultimately, there will be no shortage of demand for this unique type of individual who is willing to kindness and help.
LPN Resources
If you still have questions about what it means to be an LPN, what this career path could mean for your future and how to get started, you have a couple of options:
Check out our LPN to RN guide to find out how you can advance your career with an RN degree.
Visit and contact professional associations, such as:
FAQs
What is the difference between an RN and an LPN?

An RN is a Registered Nurse, while an LPN is a Licensed Practical Nurse. LPNs do not have the full scope of practice that RNs do. 

What is the role of a licensed practical nurse?

LPNs care for patients with lower acuity and cannot administer IV medications, perform wound assessments, or lead a code.

What is an average LPN salary?

According to the BLS, the average salary for an LPN is $48K. 

How long does it take to become an LPN?

An LPN program can be completed in as little as 1 year. 

Does an LPN draw blood?

LPNs are allowed to draw blood in most states, although the exact rules vary by state.
Related Healthcare Careers
If you're interested in becoming an LPN, you might also want to check out these other healthcare careers:
Certificate
$40,000 - $60,000
LPN
Bedside